Growing up in a housing project in the Culver City area of Los Angeles, actor Clifton Collins Jr. -- best known for portraying murderer Perry Smith in 2005's Capote -- witnessed drive-by shootings and occasionally dodged bullets himself. That journey, and his longtime friendship with ex-convict Gustavo "Goose" Alvarez, led him to co-write Prison Ramen: Recipes and Stories from Behind Bars (Workman Publishing), which pairs inventive ramen recipes with anecdotes from Collins Jr.'s celebrity friends who've served time. Here, the actor walks us through three highlights from the book: stories written by Danny Trejo, Shia LaBeouf, and Slash about their brushes with the law.
Recommended Video
The Fasties: The First Annual Fast Food Award Show Hosted by Timothy DeLaGhetto & David So
The inmate: Danny Trejo
The crimes: Various drug and robbery convictions
Trejo's Prison insight: "My fondest memories -- if you can call them that -- of being incarcerated were the weekends. It was like a potluck or picnic, but prison-style."
Collins Jr. says: "I've known Danny since I was 15 years old, before I was even acting, when I was hanging out with my gangbanger friends and we'd go to Venice Beach and stuff. It's Uncle Danny. I love that dude. He's a special individual. And he's an important individual. Here's a guy who did a lot of time and is now one of the highest-paid actors of 2015. He's constantly visiting friends in prison and helping out with troubled kids. He helps people keep sober, and he's helped out some of my friends who've had issues in this business. He's a beacon and a great example of how you can really turn your life around when you're at your absolute lowest point."
The inmate: Shia LaBeouf
The crimes: Shoplifting (twice), assault with a deadly weapon, criminal trespass (twice), and disorderly conduct
Shia's Prison insight: "Thinking about my screw-ups loosens the grip of fear. It's freeing to fuck up and recover."
Collins Jr. says: "It's a beautiful thing when people younger than myself take accountability for their actions. His story, it's obviously not the crazy violent story of Danny Trejo's, but to have a sensitivity and the awareness of what your craft means to you and to others, you get a hint of how much it means to him. That was heartbreaking to me. That guy is insanely talented, and I'm very honored to have his story in our book."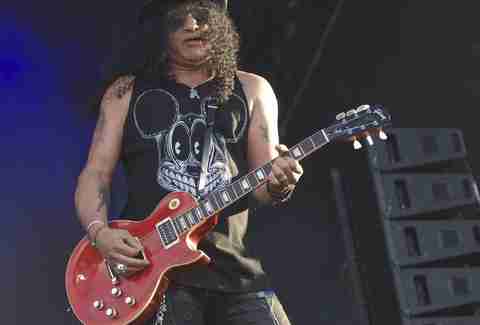 The inmate: Slash
The crime: Jaywalking (yep)
Slash's Prison insight: "To those of you who don't bother with those minor infractions... beware."
Collins Jr. says: "It's funny, because Slash forgot he went to jail that one time. Obviously it was a while ago. G 'N R signed their deal but hadn't recorded the album yet. And it's not like he got busted with heroin or hookers and blow. It was just some little frigging jaywalking infraction. I'm like, 'Dude, can you imagine? Had you gotten into a fight in county and busted your hand, you literally would have changed rock 'n' roll history.' We both started laughing. He said, 'Pay your jaywalking tickets.'"
Sign up here for our daily Thrillist email, and get your fix of the best in food/drink/fun.
Dan Reilly is a Brooklyn-based freelance writer who covers entertainment, sports, and more. He and his wife ate packaged ramen last week and aren't ashamed of it. Watch him tweet: @danreilly11.