Priyanka Chopra, India's Beyoncé, on Hollywood vs. Bollywood Fame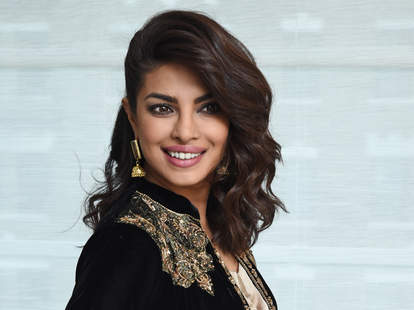 Ilya S. Savenok/Getty Images
In America, Priyanka Chopra is best-known as Alex Parrish, the impossibly gorgeous, ass-kicking heroine of ABC's new series Quantico. But Chopra is in no way a showbiz newbie. After winning Miss World back in 2000, Chopra has gone on to star in more than 50 films in her native India, becoming one of Bollywood's highest-paid actresses and earning the singer-actress the informal designation of "India's Beyoncé" in the American press. Not too shabby! We met with Chopra, who was promoting both Quantico and the new historical romance Bajirao Mastani, to discuss navigating fame on two different sides of the globe.
Americans are really into her eyebrows
Chopra's Indian films have a strong following in the United States, but she says that the uptick in fame in America since Quantico's debut is "a different feeling" because she's been sucked into the vortex of obsessive TV fandom over here. "I've gotten so much love from the media -- and my hair's got so much love," she jokes. "It's got its own Twitter handle. Like, wow, 'Alex's eyebrows.' Whenever I'm at the airport now I have people coming up and calling me Alex, people who don't know me as Priyanka. And security asks me who the terrorist is. It's really great to have that in a completely different country."
Embracing relative anonymity
"Of course, walking down the street everyone won't know me like they would back home maybe," says Chopra. "But I don't hate being a public person. That's all I've known my entire life. And people don't want to stab me and kill me, they just want love, they want to meet their favorite celebrity. But let's be real, when you're a public person, when you're going into show business, you're going to be recognized. Don't want to be recognized? Don't go into show business!"
While she acknowledges that the press with their intrusive "zoom-ass cameras" can be a hassle, having an army of militant, adoring fans does have its perks. "I've got so much love from fans around the world, they're literally the wind beneath my wings. They're like a mafia. You go on Twitter, say something [bad] about me," she laughs. "Just try it." (We're all good, thanks!)
No song and dance... for now
Song-and-dance numbers are an intrinsic part of Hindi film, and Chopra has put her musical talents to work stateside, too, performing hip-hop collaborations with Pitbull, Will.i.am, and DMX in recent years. She'd like to do more of that, but says she is spread too thin to go back into the studio. "Hopefully [we'll do that] for the show," she says. "We've been talking about doing a few songs here and there. Quantico is super musical, like how Grey's Anatomy was -- they put music in almost everything. So it's the same as [Hindi] movies -- we just don't dance." She pauses and grins, as if holding back a secret. "Which, also, we will. Maybe!?"
Her trailer is smaller...
Chopra's Quantico colleagues were so excited to be working with a bona fide global sensation that they came up with some nicknames to prove it. "My cast keeps calling me Priyoncé," Chopra laughs. "Or Priyoncess. That's what I'm called on set, [or they say] 'Where's Priyanka? She's priyoccupied.'" But her royal nickname hasn't translated to an upgrade in her on-set accommodations. "My trailer in India's ginormous," Chopra says. "It has everything. It has a dining table, it has a bed. That I miss. [Hollywood productions] don't have decadent trailers unless you're Will Smith. That's something I'm gonna need."
 
... but there's more poutine on set
Quantico films in Montreal, but the crew helps her stave off homesickness. "The crafties on my crew are super sweet, they try to make Indian food all the time. Because I'm Indian everyone on my crew gets Indian food twice a week, it's awesome," she tells us. "I like food, and I like food-food, so [Quebec's signature french-fry and gravy dish] poutine is keeping me really happy. They know I love it, so there's always a poutine stand." But when it comes to eating out at Indian restaurants, her cast and crew know how to work Chopra's fame to their advantage. "They get me to sign posters and then they exchange free food for it," she says with a laugh. "It works! A few of the people from the crew have done it. It's so funny. And I'm like, listen, if you're going to pimp me out, at least get free food for a month, not one meal!"
Playing badass women in both hemispheres
Chopra has taken on a number of boundary-pushing roles throughout her Bollywood career, from female boxer Mary Kom to autistic woman Jhilmil in Barfi!. However, she notes that Hindi film has been slower to introduce diverse roles for women, which is why she is particularly excited to play the ass-kicking Alex in Quantico, a show that is positively Shonda-esque in its commitment to onscreen diversity.
"In Hindi films, women are put into a box a lot of the times, but it's not really a diversity thing, because there are mostly Indian people in Indian movies," Chopra explains. "But America is made up of people from all over the world. It's great that America is pushing for the diversity it has, because the girl next door doesn't look like one person anymore. She looks different, she can be anyone. I play a half Indian, half Caucasian girl, and I get to bring my Indian culture in and yet my culture doesn't define my part, which I love. I get to be an unapologetic badass modern-day girl."
Sign up here for our daily Thrillist email, and get your fix of the best in food/drink/fun.
Anna Silman is a staff writer at Thrillist and an alum of Salon and Vulture. She wants to be Priyanka Chopra when she grows up. Find her on Twitter @annaesilman.