How to Watch the Puppy Bowl and Overdose on Cuteness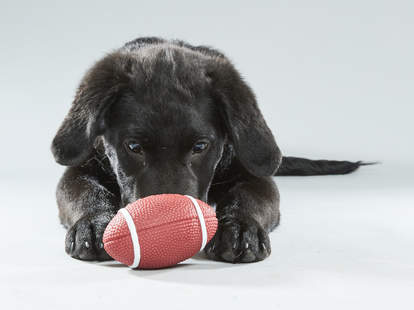 Discovery Communications Inc Animal Planet/Keith Barraclough
On the off-chance you don't care to watch the Atlanta Falcons OR the New England Patriots at the Super Bowl this year, have no fear: the 13th-annual Puppy Bowl is here to give you canine-induced diabetes.
As usual, this dog-eat-dog showdown will pit hound against hound on a pup-sized football field, and best of all, each of the 78 dogs is available for adoption. Check out some of the Puppy Bowl 2017 lineup here, and then realize that there'll be a Kitty Half-Time Show starring Kitty Gaga, who'll be singing her hit song "Puparazzi." It's honestly too much.
Running from 3-5pm EST, and repeating all day afterward, the Puppy Bowl's enough to warm even the most frostbitten of hearts -- but how do you watch the adorable proceedings?!
Tune into Animal Planet on your TV
If you happen to be one of those aged dinosaurs with a cable subscription, just head on over to Animal Planet at game time -- puppy game time, that is -- and you'll be all set for prime Puppy Bowl action. Honestly, that's it. You're done.
If you don't have cable, fear not: you can still catch a live stream of the rambunctious pups on Animal Planet's Puppy Bowl website. In fact, not only can you watch the regular livestream, but you can also fire up a virtual reality feed that'll give you a "Pup's Eye View" of the entire game (through the eyes of Buttons, one of the participating pups). What more could you ask for?
Gianni Jaccoma is an editor for Thrillist, and he's about to adopt way too many dogs and cats. Follow him on Twitter @gjaccoma