Quentin Tarantino Reveals the Story Behind the Infamous 'Reservoir Dogs' Torture Dance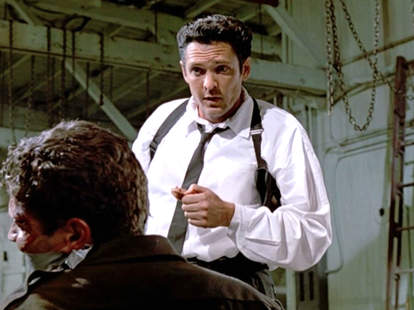 Reservoir Dogs still thrills. At least that was the case at the Tribeca Film Festival on Friday night, when director Quentin Tarantino unspooled his 35mm print of the movie for a lively Beacon Theatre crowd. Cheers drowned out the opening credits. Laugh lines got reactions that would make Louis C.K. jealous. And Mr. Blonde, in particular, got a lot of love. As Tarantino noted afterward, it was a decidedly different experience from the movie's premiere.
When the heist-gone-wrong first screened at the Sundance Film Festival 25 years ago, it was a disaster. "They didn't have a scope lens for the projector, and it's a scope movie," Tarantino explained. "I let them show it anyway, because I didn't know that you couldn't. So it looked like caca, all right?" Not only that, but during the climax, when the jewel thieves start arguing about their snitch, the lights came up. When they drew their guns, the power went out.
"OK, so this is what it's like to watch your movie in public," Tarantino thought at the time. Steve Buscemi, Tim Roth, Harvey Keitel, and Michael Madsen -- also on hand for Friday's retrospective -- agreed the debut could have gone better.
Technical snafus weren't the only problems plaguing the movie's early days. Attendees had trouble stomaching the scene in which Madsen's character, Mr. Blonde, cuts off a kidnapped cop's ear. Despite the fact that the camera pans away, the sequence and its aftermath were graphic enough to make some people head for the exits.
Since it was "the best scene in the fuckin' movie," Tarantino made it a practice to count these walk-outs as he continued along the fest circuit, one night tallying 33 in a single showing. The most notable? Wes Craven. Yeah, the guy behind The Last House on the Left couldn't handle Mr. Blonde cutting off an ear. 
It might be hard to imagine a time when the beloved movie received such careless treatment, but things began to turn around after more people saw it. Mr. Blonde's scene, in particular, became legendary in its own right, thanks largely to Madsen's disturbing dance. Set to Stealers Wheel's "Stuck in the Middle With You," it's arguably the movie's most iconic moment. Surprising, considering it was all a happy accident.
Miramax
For starters, Madsen wasn't immediately a lock for Mr. Blonde. Final auditions for the part consisted of doing three scenes, namely the torture one. Since he originally had his heart set on Mr. Pink, the only Mr. Blonde scene Madsen knew was the office chat with Joe (Lawrence Tierney). After a long day of 17 actors doing their best dance for Tarantino, Madsen brought bad news. "Yeah, I haven't worked on any of those other two scenes," he said, according to Tarantino. "I just worked a little further on the [office scene]."
"I couldn't believe the balls on this fucking guy," Tarantino told the Beacon crowd. "He was just gonna fucking ignore what I fucking said!"
Fortunately, a pissed-off Tarantino changed his tune after Madsen delivered a camera-ready office scene. "He was amazing," the helmer said. "More likely, you should follow what the director says; however, if you're gonna fuck around and do some things, you do have control in that room, and you can dictate shit if you're that good."
Though Madsen got Mr. Blonde, he never learned Mr. Blonde's dance. In rehearsals, he was too intimidated to try. He didn't know what to do or if he even wanted to do it. "In the script it said, 'Mr. Blonde maniacally dances around,'" Madsen recalled. "And I kept thinking, What the fuck does that mean? Mick Jagger?"
"We never actually did the dance to the song until the day we shot it," Tarantino added. In fact, they only shot the scene three times. When you see Madsen breaking into the dance in the movie, that's the first take. "I heard the music, and I said, 'Oh, fuck, I better do something,'" Madsen said. "I remembered this weird little thing Jimmy Cagney did in a movie I saw -- I don't remember the name of it, but he did this crazy little dance thing and it just popped into my head at the last second."
Now that crazy little dance is the stuff of legend. It's in the same league as Dustin Hoffman's "I'm walkin' here" and A Clockwork Orange's "Singin' in the Rain" -- ad-libbed gems that not only stand out in their respective movies, but also become inextricably linked to the actors behind them.
"I imagine myself at 80 years old, you know, somebody asking me to do the Mr. Blonde dance," Madsen laughed, amid bursts of applause. "It's been following me around forever." Not a bad legacy for a dance he never practiced.
Sign up here for our daily Thrillist email, and get your fix of the best in food/drink/fun.
Sean Fitz-Gerald is a staff writer at Thrillist Entertainment. Find him on Twitter @srkfitzgerald.