The 11 Best 'Radiolab' Episodes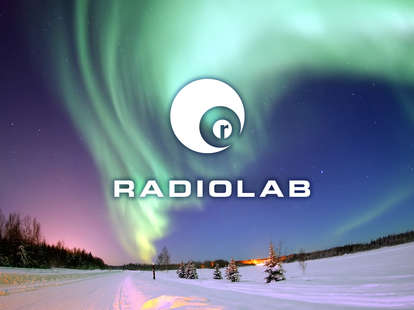 Radiolab/Jennifer Bui/Thrillist 
Radiolab/Jennifer Bui/Thrillist 
Radiolab came in like a one-two punch with This American Life, popularizing the podcast world with science-minded stories. In each episode, hosts Jad Abumrad and Robert Krulwich explore everything from neurology to social science to outer space. When Radiolab is at its best, listeners leave enlightened and thirsty for knowledge. Every episode feels like an adventure into the unknown. We've compiled Radiolab's 11 best to add to your iPhone, because you need to be listening to this show:
Original air date: April 28th, 2015
The gist: A photojournalist embedded with a medevac team in Afghanistan captured a soldier's final moments -- but there's a catch: his photos can't be released without permission from the next of kin.
Why it's great: If you've followed Radiolab for years, you've seen it evolve from asking explicit questions (e.g., what is time?) to weaving its ruminations into seamless narratives. "Sight Unseen" is indeed asking a large question -- who has the right to photographs of a dead man? -- but it's not overt in its questioning. Instead, it describes in intimate detail the difficulties a family faced when saying goodbye to their son and brother and deciding whether his death should serve a larger purpose. "Sight Unseen" finds Radiolab subtler and even smarter as it's evolved.

Original air date: December 29th, 2008
The gist: Abumrad and Krulwich poke and prod for answers to natural mysteries -- fires that mysteriously ignite, diseases that elude easy detection, and children who are always a little... off.
Why it's great: "Diagnosis" is an episode about upending expectations. The biggest wallop comes in the final 10 minutes, when Abumrad tracks down the reason doctors once irradiated the throats of thousands of children. It's one of those stories you'll want to repeat at dinner parties and to friends on road trips.

Original air date: September 18th, 2014
The gist: A family with an autistic son walks us through his evolution from mostly uncommunicative to chatty and nearly independent man -- achieved by parroting Disney movies.
Why it's great: Classic Radiolab takes controversial subjects and flips them hope-side up. Though "Juicervose" cautions that this method won't work for everyone, it focuses on one family's remarkable achievement. It ripples out from autism to explore the way all people relate to one another, how words become tangled and muddy and then ironed out. And, like any good story about families getting closer, it's not just the autistic young man who experiences personal growth. "Juicervose" takes a bleak, confusing topic and finds its unexpected, improbable silver lining.
Original air date: October 22nd, 2007
The gist:Radiolab sets its sights on the heavens, to consider whether we can ever really know what's out in the great beyond.
Why it's great: Way back in 1969, parents woke their children in the middle of the night to gather before the grainy television screen and watch the first man step foot on the moon. Then America fell out of love with the space program in 1986, when the Challenger exploded 73 seconds after liftoff. "Space" goes a long way to woo us back, beginning with an opening act that describes the lead-up to the Voyager Interstellar Mission of 1977, during which astrophysicist Carl Sagan and author Ann Druyan fell in love. Also, author Tim Ferris shoots down any hopes we might harbor of meeting other intelligent life, and then astrophysicist Neil deGrasse Tyson reminds listeners how very large space is and how very tiny we all are.

Original air date: August 9th, 2010
The gist: "Words" takes listeners into nebulous worlds where language does not yet exist.
Why it's great: Despite the fact that words form the very fabric of how we think, you probably haven't stopped even once today to marvel at the miracle that everything has a name. This episode opens with the story of a Mayan man who went nearly three decades without learning a word before finding someone prepared to unlock the world for him. Later, we hear about a woman whose mental chatter fell silent after a blood vessel burst in her brain, and learn about a group of deaf children who invented a new way to communicate. As with the best episodes of Radiolab, "Words" will simultaneously teach you, thrill you, and make you cry.
Original air date: September 7th, 2015
The gist: Investigative journalism that pokes holes in our notions of big-game hunters and the conservation of black rhinos
Why it's great: While Radiolab was wrapping this story, news broke that the beloved Southwest African lion Cecil was killed by an American dentist on a guided hunt. "The Rhino Hunter" landed in podcatchers at the exact right time. The episode gave the hoopla dimension, liberating it from the villain-victim binary and deepening listeners' understanding of the complexities of endangered species conservation. Even after its debut, though, "The Rhino Hunter" holds up as intricate, eye-opening journalism that skews your moral compass.

Original air date: September 12th, 2013
The gist: Our beliefs on blame are interrogated in three acts, including an examination of child pornography, a new sector of legal reasoning -- neurolaw -- that could change how we punish criminals, and an appraisal of forgiveness that will make even the most generous spirits feel impossibly unevolved.
Why it's great:Radiolab can aggravate the senses, make you cry, and mess with emotions, and "Blame" does all of the above. Of course, employing a brain to examine the brain is an inherently flawed enterprise, yet in Radiolab s hands, it feels like we're on the ground floor of an experiment that both acknowledges the limitations of our minds and pushes past them. In the end, listeners will question their notions of free will, their ideas and fears about felons, and how we access forgiveness. "Blame" simultaneously captivates us and holds us captive. Listen to this one in the privacy of your own home, or in a space where you feel comfortable displaying the entire spectrum of human emotion.
Original air date: September 8th, 2014
The gist: An exploration into how the title of an obscure philosophy book ended up on the back of Jay Z's jacket
Why it's great: Maybe it was a mere coincidence that a book authored by Abumrad's brother-in-law -- one he expected, nay, intended no one would read -- wound up as a fashion statement, or perhaps it was a sign of something larger at work. Getting to the bottom of it leads Abumrad into the dark world of nihilism, pessimism, and Dadaism. What could have been an episode about artistic appropriation and capitalism ignores easy questions and digs deeper, considering what it means when the height of cool trends toward the apocalyptic. This episode proves that philosophy, pop culture, and fashion can merge at one exact point.

Original air date: May 24th, 2007
The gist: On this hour of the most fun science class you never took, the crew speaks to scientists, professors, and specialists who examine the whys and hows of sleep.
Why it's great: Trust Radiolab to crack open a seemingly benign subject to reveal the strange biological and psychological machinations at play when we close our eyes. We all know that we can get a little groggy, sluggish, and cranky when we don't get a full night's rest... but why? Despite the fact that sleeping takes up large swaths of our time and applies to the entire animal kingdom, scientists still know very little about why it's necessary. It turns out sleep isn't just a biological imperative, it's also what makes us smarter -- assuming we don't get eaten when we turn out the lights.
Original air date: January 25th, 2011
The gist: A series of stories about people losing their way and trying to get back home again
Why it's great: This spectacular episode opens on a woman who describes a brain quirk that makes her unfamiliar with her surroundings from time to time. While people may lose their way, Radiolab reminds us, one animal almost never does: homing pigeons. These clever creatures have an innate, unrivaled sense of direction, which they've used to heroic results. Finally, we hear the story of a woman who was lost in an entirely different way, after she was struck by an 18-wheeler on her bike ride to work -- and how her boyfriend never gave up searching for her.

Original air date: June 26th, 2014
The gist: This episode explains how to make a sober brain clearer using targeted electricity
Why it's great: In one of its shiniest short segments, "9-Volt Nirvana" speaks to Radiolab's ability to give listeners sneak peeks of upcoming scientific advancements. The show starts off explaining how a woman underwent electric brain stimulation while in sniper training, and progressed from a failure to an ace at the skill. She said her residual bliss and mental clarity lasted for days. When our neurons have a direct path to where we want them to go, our lives become easier and happier. Even Jad Abumrad gets dosed with 50 stereograms of juice. The show itself serves as a stimulant, sending neurons firing off questions: is electricity safe? Is it a new type of drug? Where can we get some?
Sign up here for our daily Thrillist email, and get your fix of the best in food/drink/fun.
Eric McQuade, Laura Standley, and Devon Taylor run The Timbre, a site dedicated to the emerging art of podcasts. Follow the site on Twitter: @timbretweet.