Jason Ritter Breaks Down That Stunning 'Raising Dion' Mega-Twist We Didn't See Coming
This story contains spoilers for Netflix's Raising Dion.
On the surface, Raising Dion looks like your average coming-of-age tale of a young boy named Dion (Ja'Siah Young) and his newly discovered superpowers. But underneath that is a multi-layered exploration that runs the gamut, from following Dion's mother Nicole (Alisha Wainwright) as she struggles with the mysterious loss of her husband, Mark (Michael B. Jordan), to watching Dion come to terms with his super identity, to ultimately witness the family unit turn their pain into strength as they come together to fight an ominous threat.
The threat in question takes the form of a storm -- with an agenda. Within the flurry of clouds and rain, a giant lightning man wreaks havoc throughout the series. A pattern in the anomaly begins to take shape as people with superhero abilities are picked off by the beast one-by-one.
This brings us to Mark's best friend, Pat (Jason Ritter). The two scientists were together in Alaska during a cosmic spectacle referred to as the "Aurora Event," which left the onlookers with powers.
Netflix
Four years after their time in Alaska, Mark learned he had superpowers. But instead of informing his loved ones, he kept it a secret. His research led him to New Orleans where he met with Charlotte Tuck (Deirdre Lovejoy), another person affected by the Aurora Event. Together, they briefly worked to find answers, until that strange storm appeared. Its focus was on Charlotte, but Mark stepped in to protect her, being killed by the lightning man in the process.
This led Pat to regularly check in on Dion and Nicole. And throughout the first half of Season 1, it seemed as if Pat -- with all of his endearing, geeky quirks -- was just remaining involved in Dion's life out of the love he had for Mark's family. But, as we learned, there's a terrifying darkness to Pat. His feelings for Dion and Nicole end up revealing a different side to the guy, giving hints of toxic masculinity hiding just underneath his fun exterior.
Jealousy, loneliness, and guilt finally bring Pat out of his shell towards the end of the series, revealing the true identity of the giant man in the storms that Dion calls "The Crooked Man." It was a jarring moment in the series, to view Jason Ritter as the big bad everyone has been trying to stop this whole time. And, honestly, it's a moment we've been unable to get out of our heads.
To make some sense of things, Ritter spoke with Thrillist about playing the geeky mentor to Dion, the work he did to keep the character's real identity under wraps, and just how tragic things ended.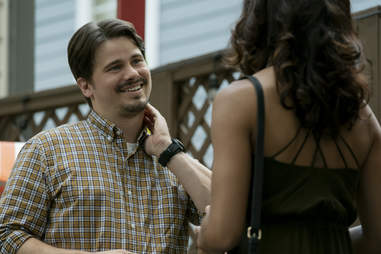 Netflix
Thrillist: The character of Pat feels super relatable. His geekiness felt endearing, as opposed to forced. We all have at least one Pat in our lives. Was that basically what drew you to this character? 
Jason Ritter: That was a lot of it, yeah. You know, there was a lot of the character that I really responded to, and like you said, I feel at once like I am him. I know him. I have been around people like him. And I thought it was interesting, because I felt like within that community and within even myself, there's these lovely elements, passionate elements. And then also, there's these slightly darker emotions that you see Pat sort of going through: feeling overlooked, feeling like he's not getting his chance, feeling like people are taking him for granted. I just liked his lovely qualities and quite enjoyed some of his pettier ones. 
One of the things this show does is sidestep certain genre expectations and tropes. When your big reveal happened, suddenly, all these lights went off in my head. I just thought he was having migraines because of work stuff. You really pulled the wool over my eyes -- and the eyes of many viewers, I'm sure.
Ritter: That's what I hope. I was trying to fool you. I was trying to trick you. I didn't want to tip it too early. And so yeah, I had this whole sort of secondary chart. And when I was doing all my organizing of where we were going to be shooting, and what my sort of story arc was, I was like, here's what we see... and then here's what I know is happening throughout all of this. So it helped to track when I was a little bit more tired, when I was a little bit more energized... because, you know, last night had been a good meal. 
Usually, an actor doesn't play a villain as the actual bad guy, right? Unless, of course, you're supposed to be some sort of mustache-twirling evil-doer. But, I gotta admit, that whole good meal comment sounded a bit sinister.
Ritter: [Laughs] You don't ever cast yourself as the villain in your own story. I found that some of the things that Pat says are kind of off-the-cuff and seem okay when it's coming from a person that we think is inherently sort of nice and good. Like, you know, You're fine, as long as you don't get caught, you know. All these bending of the rules or [cutting corners], or ends justifying the means type of things. A lot of people do bad things, and they just go, I needed to do that to survive.
Netflix
In this circumstance, though, Pat literally needs to kill these people with superpowers in order to survive.
Ritter: The thing is, this happened to him. He was 40 or 50 feet away from having the powers that everyone else got, you know? But he just happened to stay in the yurt and he got the poisonous part of what happened instead. And so, it turned him into something that is continuously weakening and ailing and dying. So he has to go through some sort of moral acrobatics, to justify what he's doing.
There's also this Dr. Jekyll and Mr. Hyde sort of thing going on here, too.
Ritter: Mhmm, yes.
The first moment when Pat witnesses Dion teleport, and he sees he has these powers, it feels like it's a comic book nerd witnessing his fantasies coming to life. But when you look back, with the knowledge that he's actually the Crooked Man, it becomes apparent there's this other thing going on entirely. You both have this connection to a shared trauma that gave you both epic abilities. When playing these scenes -- and considering your new role as a father in real life -- was there anything in you that thought to go after Dion as if he was Pat's surrogate son?
Ritter: Yeah, and I think another element at play is that Pat truly loved Mark, and he did not mean for that to happen. So there's this incredible guilt, you know? It's not just like, Oh, I promised I'd be your godfather. It's like, I am responsible for your dad not being here. And I need to try in my best way to replace and step in for someone who I could never compare to -- who just was always 10 steps ahead of me, better than me, stronger than me, smarter than me. And here I am now trying to fill his shoes, and it's my fault that he's gone. 
And to think, on the surface, Pat seemed so innocent and harmless. 
Ritter: Mark shut Pat out. He didn't tell me that he had powers. Pat had no idea. He didn't even know Mark was in New Orleans. He didn't know what he was doing. But yeah, I think now that he sees Dion, it's like a second chance. It's like, Maybe I can redeem myself by shaping this person. You know, like maybe becoming a father figure to him. Then he starts to see himself as maybe he could just completely step in for Nicole as well and right this wrong by trying to fill the holes that he left in these two people's lives. 
Once Pat's secret is revealed, we see him unraveling. There's this desperation. You want to get healed, but it almost feels like a father being separated from his child. It started making me think, how would I react in this situation?
Ritter: Pat doesn't have many people in his life. You see him kind of awkwardly interact with an ex at a certain point, but she's angry with him by the time they leave the party. Nicole and Dion are really his only connection. He's not well liked at work, you know? Suzanne [his boss] certainly doesn't like him, another co worker kind of makes fun of him for playing video games at work. He's sort of a lonely guy, and he feels appreciated by Dion. He loves Dion, and Dion loves him. I think that's a powerful feeling, to feel like you're part of a family. And when he feels like that's being taken away from him… he doesn't like it.