Everything We Know About Netflix's 'Raising Dion' Season 2
The superhero series returns in early 2022.
Ja'Siah Young in 'Raising Dion' Season 2

| Netflix
Ja'Siah Young in 'Raising Dion' Season 2

| Netflix
Raising Dion is one of Netflix's many bingeable sci-fi offerings. Based on the comic book and short film of the same name by Dennis Liu, the series follows single mom Nicole (Alisha Wainwright) and son Dion (Ja'Siah Young) as they deal with the loss of Dion's father, Mark (Michael B. Jordan). An already complicated situation becomes impossible when Dion begins to manifest supernatural powers, from the Matilda-esque ability to levitate his cereal to the capacity to teleport out of risky situations. Like any good "strange powers appearing out of nowhere" drama (see: NBC's Heroes or even Netflix's Stranger Things), Nicole must protect Dion from risky situations, like strange enemies or agencies looking for the chance to research his abilities.
Netflix released the first season of Raising Dion in October 2019, leaving us with a few cliffhangers that cry out for a second season. Here's everything we pieced together about the future of the series.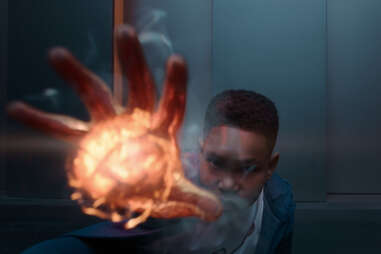 When will Season 2 of Raising Dion premiere?
Get ready to have a super winter because Raising Dion is scheduled to return to Netflix on February 1, 2022. Fans of the series have had to be very patient for new episodes, considering Season 1 first aired way back in fall 2019. While the show was renewed in January 2020, the pandemic accounted for delays on the series being able to move into production.
Is there a trailer for Raising Dion Season 2?
Yes! Netflix dropped a trailer just a few weeks out from the premiere date, and it appears as though the show is amping up the intensity from Season 1. The clip shows that the Crooked Man is refusing to be taken down by Dion, and is enlisting another kid, Griffin Robert Faulkner's Brayden, to help "destroy him." Although Brayden looks pretty creepy this season, now that he's looped into whatever dangerous plan is brewing, it also looks like Dion is getting a hang of his powers more than ever in order to take him on. Fans will be pleased to know there's a pretty sweet preview of some gravity-defying stunts and his ability to play with the elements, and we even get a glimpse of his new trainer (Rome Flynn) in action.
How many episodes will there be in Raising Dion Season 2?
With the news of the series being greenlit for Season 2, Variety reported that there will be eight episodes in the next installment. That's unfortunately one less episode than the debut season's nine, but we'll take what we can get. They'll probably be just as, if not more, jam-packed with wholesome sci-fi antics from the titular, budding superhuman.
Who will return for Season 2?
Raising Dion wouldn't be Raising Dion without the titular character and his mother, so obviously Ja'Siah Young, who plays Dion, and Alisha Wainwright, who plays Nicole, will be back. Jazmyn Simon's Kat and Sammi Haney's Esperanza are confirmed for Season 2, as well. Plus, given that Dion's father, Mark, still technically isn't dead, we could be seeing a bit more of Michael B. Jordan on screen.
As for the rest of the cast, we'll be seeing more of Suzanne Wu, the head of BIONA, as Deadline reported in February that Ali Ahn who plays her, has been upped to a series regular. The same goes for Griffin Robert Faulkner, who portrays Brayden, another one of the second-gen supers like Dion. Since we saw a storm-like entity possess Brayden after Pat (who hid his identity for nine episodes) was defeated, it makes sense that he'll be even more of the forefront in the coming episodes. In terms of Jason Ritter who plays Pat, it's yet to be confirmed whether he'll make an appearance. The actor did take to Twitter to express his excitement for Season 2 upon the series' renewal, though, so that could mean we'll see him again.
Are there any new cast members?
In February 2021, Netflix announced a whole slate of new cast members. Rome Flynn, of How To Get Away With Murder fame, is one of the new additions, taking on Tevin Wakefield, a former Olympic track coach who becomes "Dion's trainer and mentor." He's said to become close to Dion and Nicole, so figure he'll be around a bunch next season.
It also sounds like another super kiddo is coming to town with the new character Janelle Carr, who's played by Aubriana Davis (Genius: Aretha). According to Netflix, after the 15-year-old was labeled "destructive and dangerous," her concerned mother Simone (who's played by another newcomer, Sweet Magnolia's Tracey Bonner) brought her to BIONA for answers. The teen's said to bond a great deal with the Warren family.
As it sounds like we'll be spending a lot more time at BIONA, the series is rounding out the staff there with Josh Ventura (P-Valley), who will play David Marsh, the research facility's new V.P. of Operations who has a personal past with Suzanne Wu.
What about the showrunners?
When the series was renewed in early 2020, Variety confirmed the same names who were behind the scenes in Season 1 will be on for round two. Carol Barbee will return as showrunner, and even though it's still unclear if we'll get to see Michael B. Jordan on screen, he'll definitely be executive producing behind the camera. That also goes for Kenny Goodman, Kim Roth, Dennis Liu, and Charles D. King.
What's the plot of Season 2?
The Season 1 finale put a pin in the Crooked Man's pursuit of Dion and other supers after Nicole, Dion, and BIONA managed to disintegrate Pat. However, the finale's cliffhanger ending revealed that the stormy entity managed to possess Brayden, the son of one of the superpowered men the Crooked Man had absorbed. That sets us up for a Season 2 conflict between Dion and Brayden, bringing the fight primarily to the second generation of super kids.
According to Netflix's official logline for the season, the rising tension between them will definitely be at the forefront of the season. They might not face off immediately, though. It's said to be set two years after the events of Season 1 and Dion supposedly befriends Brayden as he continues his training with a new trainer Tevin. Once they connect, "a series of alarming events unfold, and Dion learns that danger is still looming."
It's unclear what that danger might be, but it seems graver than Season 1, as Dion and his mom are said to have to protect the entire city of Atlanta. It's possible the threat that's culminating has answers about the fates of those who were absorbed by the Crooked Man, notably Dion's father, Mark. During the Season 1 finale, we saw his spirit briefly become corporeal, allowing him to speak with Nicole and Dion before fading away once again. Mark isn't quite alive, but he's not quite dead either—that means that his fate is still up in the air. It's possible Season 2 to be devoted to bringing Mark and those who were absorbed by the Crooked Man (and whose spirits were released during his disintegration) back to life.