Rambo: Last Blood, the final chapter in the Rambo saga, is currently caught in the political crosshairs. The brutally violent and moderately ruminative sequel, which attempts to put the soulful, musclebound action hero out to pasture with an Unforgiven-like swan song, has already faced down reviews labeling it "toxic," an "ugly showcase of xenophobic carnage," and a "laughable Trumpian fantasy." Some fans will likely dismiss the harsh criticism as a product of the current cultural moment, one where blockbusters often get kicked around like partisan footballs. You can imagine the exasperated Facebook comments: Jeez, it's just an action movie. 
But the Rambo series, birthed from the traumatic wreckage of the Vietnam War and nurtured during the rah-rah imperialism of the Reagan era, has always been a tricky ideological minefield. Judged only by the DVD covers and the posters, the franchise might appear to be a collection of gleefully dumb, proudly meat-headed extravaganzas, filled with fiery explosions and gory shootouts. On one level, that's what they are: Rambo wears a bandana, carries a machine gun, and slaughters people. But a closer look at the writing about the series and Stallone's own comments about the work reveal an ethically fraught terrain. 
The character, created by writer David Morrell in the 1972 novel First Blood, is a mess of blunt contradictions and loaded signifiers. With his cascading hippie-hair and bulging bronze biceps, he can pass as an antiauthoritarian peacenik or a vengeance-seeking warrior. As J. Hoberman puts it in his recently released '80s movie history Make My Day, 1982's runaway hit First Blood, which grossed $125 million worldwide and solidified Stallone's post-Rocky super-stardom, "articulated Viet-vet resentment while incorporating all manner of free-floating leftist critiques." Rambo is a super-soldier with ambiguity running through his rope-like veins.
Recommended Video
Art of the Meal: Chloe Rose Makes Super Mario Bros Art With Hot Sauces
According to the file read aloud by Charles Napier's sniveling bureaucrat Marshall Murdock in 1985's Rambo: First Blood Part II, John Rambo was born on July 6, 1947. That makes him almost the exact same age as Stallone, the 73-year actor who embodies his combination of unchecked aggression and unvarnished wisdom. The character works so well for Stallone because it calls on him to put his gargantuan body on display in movie after movie; taken together, the five Rambo films, which span more than 30 years, play like a Boyhood-esque meditation on one man's quest to turn himself into a slab of rippling muscles. 
But the Rambo movies have never been just about Rambo -- or Stallone's increasingly distracting physical shape. In his mostly positive three-star review of First Blood, writer Roger Ebert criticized the movie's climactic speech, which finds Rambo lamenting the handling of the Vietnam War and telling his mentor Sam Trautman that "nothing is over." Where most of the film plays like a gritty action-adventure, this monologue serves as a showcase for Stallone's impassioned acting and his muddled sloganeering. Cannily, Ebert identifies this sequence as being derivative of other dramas of the era like Coming Home, Rolling Thunder, and Taxi Driver. "Some things are scarier and more emotionally moving when they're left unsaid," he writes. 
Rambo: First Blood Part II, which featured a script co-written by Stallone and Terminator director James Cameron, continued the tradition of saying the quiet part loud. Really loud. In the first scene, Trautman recruits Rambo, hacking away at giant rocks in a prison quarry, to lead a search-and-rescue mission to locate POWs thought to be stuck behind enemy lines in Vietnam. (The narrative drew from a popular national news story with little basis in fact.) "Sir, do we get to win this time?" asks Rambo, implying that if Rambo had been in charge of the war, it would have ended differently. The New York Times' Vincent Canby noted the nationalistic wish fulfillment in his largely ambivalent review, writing the the movie is, "designed to win the war that officially ended 10 years ago in humiliating defeat."
The rest of the film, directed with borderline parodic macho gusto by George P. Cosmatos, carries through on enacting that militaristic fantasy. Using knives, boats, guns, helicopters, and, yes, an obscene amount of mud, Rambo lays siege to Soviet troops and Vietnamese soldiers in his dogged efforts to rescue his fellow Americans. The message was strong enough that then-President Ronald Reagan heard it clearly. "Boy, after seeing Rambo last night, I know what to do the next time this happens," he joked on a hot mic before a televised speech in 1985. But even in this over-the-top cartoon version, Rambo still directs his most righteous anger at Murdock, a symbol of cynical and feckless American leadership whom he attacks with a knife in the film's final moments.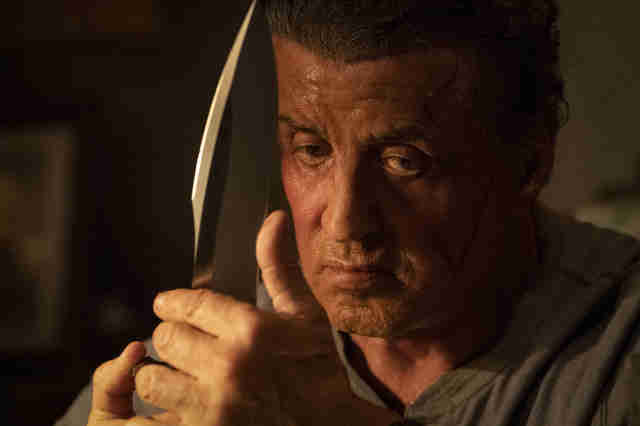 The biggest flaw of 1988's bloated Rambo III, and also the glaring problem with Rambo: Last Blood, is that the film doesn't give Rambo a worthy authoritarian pseudo-ally to rebel against. The character demands a boss-like antagonist, like Brian Dennehy's Sheriff Teasle or Napier's Murdock; without such a figure, the movies lack the proper ideological tension. Early on in Rambo III, Kurtwood Smith is introduced as a CIA field operative, but the character disappears quickly and never remerges to thwart Rambo's plans. Instead, the US government's reluctance to assist Rambo on his mission to Afghanistan, where he provides support to the mujahideen and rescues Trautman from the Soviets, is taken as a given. He knows he'll be disavowed.  
The Rambo movies are a product of ethical triangulation: Rambo unleashes deadly force against his enemies on the battlefield, blowing them up and shooting them full of arrows, but he's equally enraged by the hypocrisy of those in power. In his vehement distrust of leaders, he's not that different from an older action protagonist Dirty Harry Callahan or a more contemporary one like Jack Reacher. Over the last 20 years, as Stallone has attempted to update the character to modern times, he's occasionally struggled to square the demands of the formulaic plot, which requires Rambo to pick up his weapons one more time, with righteous sentimentality of the character and the shifting geopolitical winds of the present. He feels unstuck in time. 
Where 2008's Rambo achieved a kind of horrific power through sheer pulverizing excess, Rambo: Last Blood plays like a mash-up of Liam Neeson's Taken series with a sleazy Home Alone remake for the VOD market. On a filmmaking level, it's not hard to see why some critics have responded so negatively to it. Even Rambo creator David Morrell felt the need to speak up, writing on Twitter that the movie was "a mess" that he was "embarrassed" to have his name associated with. Though the highly politicized response to the film supposedly doesn't trouble Stallone, who continues to insist that he's "not a political animal," if there's a lesson to be taken from 35 years of Rambo, it's that the world has a way of making political animals out of everyone.