If you tuned into last night's Republican Debate (hopefully you just used it as grounds for a GOP drinking game, like I did), you know the 11 candidates spoke for hours, but didn't really say anything at all. Rather than boring you with more double-speak, squabbling, and copious Reagan fanaticism, this article is gunning straight for the superficial -- just like those guys.
We visited the famous Barber's Blueprint in Manhattan's Little Italy (a hirsute institution, if there ever was one) to ask for professional opinions on the hairstyles of the talking heads broadcast around the country on CNN last night. Mike, Gregory, Pasquale, and George had a lot to say. And they definitely did not disappoint.
Recommended Video
Here's Your First Look at Disney's Star Wars Land
We decided to skip the debate's only female participant (and last night's overwhelming winner) because A. These guys only cut men's hair, and B. She obviously has a better haircut than the dudes. Sorry! 
 
"He looks absolutely ridiculous"
"Ostensibly worse than Trump - he's the worst so far, I don't even know what I do with it."
"Hopefully, he's just trying to hide a bald spot."
"It looks like he combed his hair with firecrackers."
Overall Score: 1/10 
 
"This guy kind of reminds me of Pe-wee Herman, right?"
"He needs a softer part, needs it more lifted in the front."
"Yea, the part is much too hard -- and growing it out a little would be good for him."
"It just looks really bad...one of the worst.
Overall Score: 3/10
"He's a fake Tony Soprano."
"Needs to be tighter on the sides, fuller on top...that might not be 'professional' but it would make him look better."
"It's messy, and doesn't look Presidential anyway though."
"I don't really care, he better not close the bridge again though."
Overall Score: 4/10
 
"He's got hair like his Dad! Not a horrible thing."
"It doesn't look like a high quality cut, even though he could afford it -- it looks like he hasn't had it trimmed in a while."
"This is not the hair of a strong leader."
"It looks like he's going for a 'nerdy' look, trying to look smart -- probably so people don't confuse him with his brother."
Overall Score: 5/10
 
"This is a pretty solid cut, for a politician."
"Nothing special here. Not horrible though."
"Even on the sides...pretty nice."
"Conservative. Not bad.
Overall Score: 6/10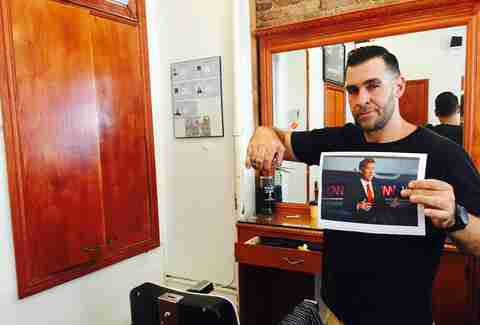 "This is a nice, conservative haircut. Not much he can do there."
"Agreed, but the facial hair has to go. There hasn't been a President with facial hair for a hundred years."
"The Yankees aren't allowed to have facial hair. The President shouldn't either."
Overall Score: 6/10
 
"I don't know this guy. But his hair is pretty alright."
"Good shape -- needs a little product though."
"Yea, needs some texture, could definitely use some grease."
"It's a good look for a politician."
Overall Score: 7/10
 
"Looks good, actually."
"Well tapered, it's a solid scissor cut."
"Blends down well...very nice."
"He takes care of this. He probably gets a trim every week or so."
Overall Score: 8/10
"This is better than everyone."
"It looks full, shaving is good. Probably one of the best."
"Old-school, fits him well. It's classy -- surprisingly."
Overall Score: 9/10
 
 
"Okay. Look: it's horrible, but it's him."
"It's his entity...where would he be without that awful hair?"
"Is it even hair? I think it's a piece..."
"I'd cut the sides, definitely the back -- he has wings, they look weird. He needs a good trim."
"Can you even trim a wig?"
"Yea you can trim a piece, I've done it."
"It's unique, it's part of his persona, he wins -- surprisingly."
"And he's from New York..."
Overall Score: 10/10
 
 
Wil Fulton is a Staff Writer for Thrillist. He also has hair. Follow him @WilFulton
Sign up here for our daily Thrillist email, and get your fix of the best in food/drink/fun.