Why 2015 Was the Year of Pathetic Rap Beefs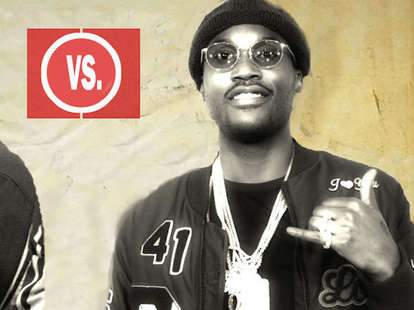 Noel Vasquez/GC Images/Getty Images/Monica Schipper/FilmMagic/Getty Images (edited)
Thirty years ago, if rappers had beefs with each other, they'd usually settle it with diss tracks or battle-rap sessions. Twenty years ago, if rappers had beefs with each other, it unfortunately led to gunfire and people getting shot or killed. These days, if rappers have beefs with each other, they do it the only way they know how: they bitch about it on social media.
It's been slightly depressing keeping tabs on all of the shit that caused high-profile (and low-profile) rappers to go into shots-fired mode on Twitter, Instagram and other outlets, but welcome to 2015, the year of pathetic rap beefs. Let's recap the many visible hip-hop spats that took place over the past 12 months.

Drake vs. Meek Mill
The beef: The most talked-about beef of the year started when the Philly MC went off on the Canadian emo-rap king with a series of tweets, accusing him of not writing his own raps. Instead of going to social media, Drake actually took it back to the old school. First, he dropped a diss track called "Charged Up," which people thought was just OK and which Meek himself called "baby lotion soft." Drake must've thought the same thing, since he followed it up with the more charged "Back to Back." After a few days of silence, Meek came with his own diss track, "Wanna Know," which sadly proved he may not be cut out for the beefing life.
The victor: Drake. "Back to Back" recently became the first diss record to get nominated for a Grammy, while people in the industry are still reminding Meek who won.

Meek Mill vs. Wale
The beef: Still fuming about Drake, Meek Mill went after his Maybach Music Group crew-mate Wale when the noted Seinfeld fan called Meek out for bringing "a pencil to a gunfight" against the victorious Canadian. Ol' Twitter Fingers took his pain to Instagram this time and encouraged Wale to "jump off a roof like u been tryna do chump." Wale took the nonsense in stride, even tweeting that he was "currently lookin for a roof." Even though boss man Rick Ross swooped in and initially diffused the whole situation, they're still going after each other on social media.
The victor: Wale. He has stayed classy throughout. Plus, The Album About Nothing is way more better than Dreams and Nightmares.

Rick Ross vs. 50 Cent
The beef: Speaking of the Teflon Don, Ross spent most of the year in an Instagram blood feud with old rival Fiddy. In between frequent reminders that Empire is just a pale knockoff of Power (which he produces), Curtis Jackson targeted Rozay for his "body tattoo" T-shirt and Wingstop franchise, which caused Ross to hit below the belt by saying that 50 Cent's estranged son had applied for an internship at MMG and that he'd be taking the boy under his wing. Yeah, Fif didn't take that well.
The victor: Neither. Ross gained the upper hand by fighting dirty to get the trolling 50 all riled up, but did anybody really win in this snitty bitch-off?
Action Bronson vs. Ghostface Killah
The beef: In July, Action Bronson appeared on ESPN's SportsNation, where he was asked about being constantly compared vocally to the Wu-Tang legend. "He's not rapping like this no more," he said. Tony Starks responded by posting a rather hilarious, six-and-a-half-minute video on YouTube, where he basically tore into Bronson (the words "fat fuck" came up a lot), all while Harold Melvin and the Blue Notes' "Be For Real" played in the background. Bronson eventually apologized on Twitter, and Ghost later acknowledged the beef was squashed. "He threw a dart. I threw one," he later told the Village Voice. "And I'm not really trying to go all the way into that shit right now."
The victor: Ghostface. To paraphrase another Tony -- Pretty Tony from The Mack -- Ghost basically told Bronson to shut the fuck up when grown folks is talking.

Slim Jesus vs. a lot of people
The beef: Not only does this Ohio-born, Opie Cunningham-looking viral sensation look like Eminem, he's also picking up a habit of easily acquiring beefs with other rappers, just like Slim Shady used to do back in the day. Chicago rapper ReeseMoneyBagz said everything about Jesus's "Drill Time" was stolen from an earlier song he did called "Drillin." (Jesus claims he never heard of the dude.) Lil Mister, another rapper from the Chi, accused Slim of "swag-jacking" him, requested to fight him for $1500, and taunted him on Twitter. Then 16-year-old MC Lil Mouse went off on Slim and "Drill" on "Kill Time," and followed it up with "Nail 'Em to the Cross." Oklahoma boy Ben Sommers also went after Slim with his own diss track.
The victor: Slim did show respectable restraint when he was hit with all these disses. However, I'm still shocked anyone takes Slim Jesus seriously as an MC. (Just when you thought there couldn't be another white rapper out there more mediocre than Iggy Azalea, here he comes!)

Tyler, The Creator vs. Hodgy Beats
The beef: The Odd Future buddies had a blink-and-you-missed-it back-and-forth during the Camp Flog Gnaw Carnival last month. Hodgy was the first to strike, when, during a performance with other Odd Future members, he called Tyler a "fraud" and accused him of turning his back on Wolf Gang. Tyler addressed the situation during his set. ("I put too many niggas on. I helped too many of my motherfucking friends out. And niggas gonna come foul? And you know who the fuck I'm talking about, nigga.") Following the show, Tyler and Hodgy made up in a since-deleted Instagram video. "Tyler told me to stop being a bitch," Hodgy said, "so I said all right."
The victor: Both. It really didn't last that long for anybody to give a shit.

Kid Cudi vs. Lupe Fiasco
The beef: If Lupe didn't call out Cudi during a show a couple of weeks back, people probably would've forgotten about the beef they've been having since the beginning of the year. It all began when Cudi expressed his outrage on Twitter about remarks Kendrick Lamar had made involving Michael Brown and the black community. Fiasco told the Kid to shut up, adding, "How about you stop shitting on the people who really cared about your well being when this biz was ripping you apart?" Cudi dropped another tweet where he called Lupe "Poope." Judging by how he went off on Cudi on-stage, Fiasco's probably still sore about that.
The victor: Kendrick Lamar. Although he had no involvement in this, he is the only one who came out of this with his dignity intact.
Sign up here for our daily Thrillist email, and get your fix of the best in food/drink/fun.
Craig D. Lindsey is a freelancer whose work has been seen in Vulture, RogerEbert.com, Nashville Scene, and The Raleigh News & Observer. He quietly wept when he saw that Slim Jesus video. You can holler at him at @unclecrizzle.