Ray Liotta Was so Much More Than 'Goodfellas'
The actor died at the age of 67.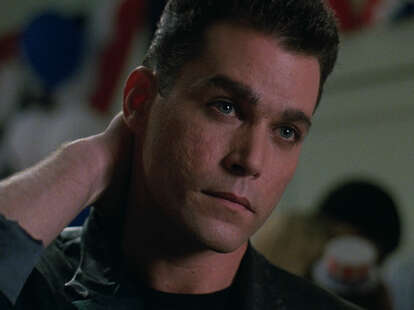 Goodfellas was always destined to be the first film mentioned in Ray Liotta's obituaries, and that was the case when the actor died suddenly, in his sleep, at the age of 67 this week. His performance as Henry Hill in Martin Scorsese's gangster epic is one for the ages. Close your eyes and you can hear his voice-over, that distinctive, almost sour lilt saying, "As far back as I can remember, I always wanted to be a gangster." As Hill, in those striped knit shirts, he was seductive and dangerous, luring you into his life of crime just as he lures his hesitant girlfriend Karen (Lorraine Bracco). When, in the last act, he becomes strung-out and jittery—paranoid from the coke and his impending downfall—Liotta's piercing blue eyes bear the weight of that anxiety.
Henry Hill made Liotta an icon, but he was an actor who was always so much more than his most famous role.
Even before Goodfellas came out in 1990, Liotta was submitting performances that could completely upend a movie, bending the narrative to his will. In Jonathan Demme's sort-of-rom-com Something Wild, he appears around the midway point as Ray, the violent, volatile husband of the heroine Lulu, portrayed by Melanie Griffith. Lulu starts the film as an unstable force for the audience. She traps nervous, philandering yuppie Charlie (Jeff Daniels) in her car and under her spell, taking him back to her hometown to attend her high school reunion. That's where Ray comes in, hijacking Charlie and Lulu's night by bringing them along on a low-stakes robbery. Liotta is arguably at his most physically beautiful, but he uses that beauty to terrifying effect. The threatening energy radiates out of him, even when he laughs, a cackle that can chill your spine, his mouth gaping as if to devour the out-of-his-depth Charlie.
Liotta was so good at playing unhinged that you might forget how sensitive he can be. Just a year before Goodfellas, he had the small but pivotal role of Shoeless Joe Jackson in Field of Dreams, who walks out of a cornfield years after he was banned from baseball for fixing the World Series. It's trite to say a performance is "haunted," but Liotta's is. In just a few scenes, you see the weight of a man's unfulfilled wishes when he is unstuck in time. It's ghostly but lovely. "Man, I did love this game"—the way his eyes search as he whispers these words will break your heart.
More recently, Liotta had been turning in expectedly great work. He was hilarious as a bullish divorce lawyer in Marriage Story, sparring with Laura Dern in her Oscar-winning performance, and once again thoroughly scary as an abusive mob boss in Steven Soderbergh's No Sudden Move. In the Sopranos prequel The Many Saints of Newark, he gave dual performances as twin brothers, representing two sides of the mafia life. And he has more performances on the way, including Cocaine Bear, directed by Elizabeth Banks, and a Charlie Day-directed comedy co-starring Kate Beckinsale, Jason Sudeikis, and Edie Falco.
So while no one can blame you if you fire up Goodfellas to memorialize Liotta—it's the best, after all—don't forget he was so good in so much.