We Found the Greatest Razor Scooter Video of All Time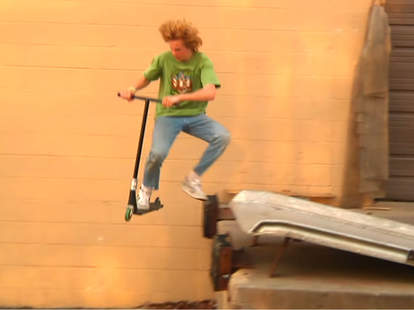 In 2000, the gaming world and my parents' backyard were rocked by one of man's greatest inventions: Razors.
Razor scooters, that is. The compact metal contraptions that look like human mouse traps, but are actually motorless mopeds for people who like to stand, swept the nation. Some said "Razor" on the deck. Some didn't. A Razor freestyle scooter game, appropriately named Razor Freestyle Scooter, gave Razor kids their Tony Hawk's Pro Skaters and Dave Mirras, capping the craze before the end of the year. The Razor was well on its way to cementing its place as an "icon of American culture" and "an essential ride for anyone on the move." The only thing missing was a true star, a Tony Hawk or Rodney Mullen, to become synonymous with the game-changing vehicle and inspire the equivalent of skater vids. We never got one. We never got them.
Until now.
Dust off your tricktionaries. What we have for you today, found nestled in YouTube's under-seen, underrated abyss, is the all-star Razor trick tape you never got but always needed: expertly shot, expertly edited, complete with slow motion, crowd work, and cigs. Behold this recent work of genius, from user Erik Karl and his merry band of scooter bois:
Highlights
Because you probably need to see some of that again:
Erik Karl/YouTube
Erik Karl/YouTube
Erik Karl/YouTube
Oh, did you think only skaters could do wall rides?
Erik Karl/YouTube
Or these things?
Scooter Man: Yo, you're that famous dumpster, right?
Dumpster: ... 
Scooter Man: Cool. Tail five!
Erik Karl/YouTube
Erik Karl/YouTube
Biggest criticism: not enough of this guy. Nowhere near enough.
Sign up here for our daily Thrillist email, and get your fix of the best in food/drink/fun.