Realtors Appraise the TV Apartments of 'Jessica Jones,' 'Mr. Robot,' and More
<strong>Jessica Jones | </strong>Netflix
We've spent years scoffing at the notion that Monica could afford that massive two-bedroom in the West Village and wondering how Carrie Bradshaw could sustain her enviable walk-in closet on a journalist's salary (ask me how I know). But with depictions of New York living become increasingly realistic, we're noticing that more and more on-screen homes resemble the grungy studios, eclectic artists' lofts, and upscale crash pads that New Yorkers actually inhabit. To help us assess just how desirable and plausible some of the year's most notable TV apartments really are, we called up Victoria Terri-Cote and Cristina Cote, a mother-and-daughter duo at luxury agents Town Real Estate, who had some strong words for Kimmy Schmidt and company.
Netflix
Jessica's apartment/office (Jessica Jones)
Location: Hell's Kitchen
Estimated rental price: $2,900 to $3,200 per month in modern-day Manhattan, but between $1,500 and $1,900 based on what we know about the decimation of Hell's Kitchen in the Marvel Comics Universe
Estimated purchase price: $650,000 to $895,000 in the current market
Netflix
Is it realistic?
While this one-bedroom might be a little steep on a private investigator's salary, Jessica Jones' Hell's Kitchen is likely more affordable than the Hell's Kitchen we know, given that much of it was destroyed during the aliens vs. Avengers battle that decimated Midtown in 2012. "I went through 9/11, so I know that like the back of my hand," says Victoria, who was working in Battery Park when the Twin Towers fell. "The prices came down by maybe 25% for a year to fill the buildings. The city would probably have reduced rents in this area while they're rebuilding and healing. In that case I would say [Jessica's] apartment would be maybe $1,500 to $1,900 depending on how severely affected things are."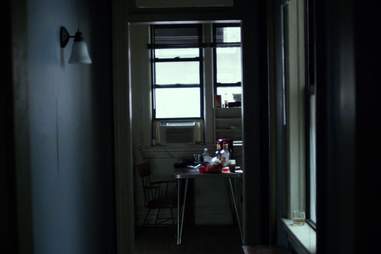 Netflix
How they'd sell it:
"This is one of those buildings that looks junky from the street but is pretty nice inside," says Victoria. "And this neighborhood is transforming a lot, it's only on the upswing. I like this apartment. I think the features that are outstanding are that the rooms look very spacious, the ceilings look high, and there's a fireplace, which I bet is a wood-burning fireplace. There are also built-in bookcases, crown moldings, and some really nice pre-war touches. And it's an elevator building! There's no doorman, but some people like that, because you have more privacy. You don't have someone tracking your every move."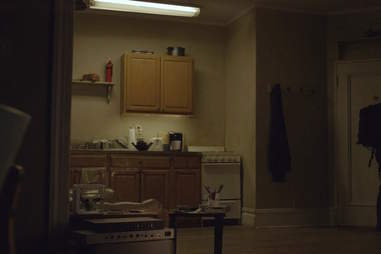 USA
Elliot's apartment (Mr. Robot)
Location: 217 E Broadway, Lower East Side
Estimated rental price: $1,900 to $2,000 a month
Estimated purchase price: $550,000 to $795,000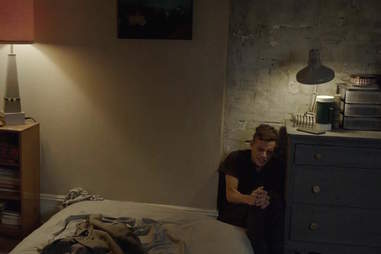 USA
Is it realistic?
Even though the apartment is situated on the Lower East Side, Angela's comment that it's in "a bad neighborhood" doesn't ring true. "The Lower East Side is not a bad neighborhood," laughs Cristina. "There's pretty much nowhere in Manhattan that this could actually be. And this place isn't as decrepit in real life as they're making it seem, not if you look at that exposed-brick wall. Not if you look at Ian Schrager's new hotel going in a few blocks away, or Soho House moving down there."
USA
How they'd sell it:
"This would be great for somebody who has a specific budget," says Victoria. "Maybe they don't have a steady paycheck and they want to buy a place on their own and they don't have support from their family. This is a place that could be your space, a space that's very sacred if you're a thinker and you need somewhere safe. It's a little bit more old school, more old New York. It's even a bit upscale for old New York." Adds Cristina: "It's not funky, but I think it has a good vibe."
Netflix
Tituss and Kimmy's apartment (Unbreakable Kimmy Schmidt)
Location:
While the show suggests the apartment is in Manhattan, Victoria says "it feels like Brooklyn to me, in terms of the way you walk in and go down to the garden level -- that's called an English basement. Maybe it's in Bushwick or Bed-Stuy." (Internet sleuths have discovered that the exterior is shot at
75 Freeman St
in Greenpoint, Brooklyn.)
Estimated rental price:
$1,300 a month
Estimated purchase price:
$275,000 to $375,000
Netflix
Is it realistic?
On the show, Tituss tells Kimmy he owes Lillian $950 for two months' rent, which our experts say is pretty much impossible. "They're on crack!" laughs Victoria. "That's '90s prices. That's not going to happen anywhere, even really far out in Queens or Brooklyn." Cristina agrees: "That's like
Monica in Friends
having that Greenwich Village apartment."
Netflix
How they'd sell it:
"It's garden level, which is fantastic," says Victoria. "It's private, it's quiet. People love the townhouse feel too; they have a stoop, which is very classic New York, very Cat Greenleaf on
Talk Stoop
. And there's a freaking window in that office/closet/study! And you know you can't have a legal bedroom unless you have a window and a closet, so a window
inside
a closet? Perfect! If you're a short person, you would do great in a room like this." (Or an Indiana mole woman, perhaps?)
Comedy Central
Abbi's apartment (Broad City)
Location: Astoria
Estimated rental price: $2,200 to $2,500 a month
Estimated purchase price: $475,000 to $825,000
Comedy Central
Is it realistic?
In one episode, Abbi says that $700 is the equivalent of "a whole month's rent for her," which seems implausibly cheap. But, as Cristina points out, maybe her (unseen) roommate Melody is shouldering some of the financial burden. "I could see her roommate, since she's a lawyer, paying a little more for the bigger room," says Cristina. "Maybe 50% more." (And in a perfect world, Melody would chip in more for essentially allowing grating boyfriend Bevers to have the run of the place.)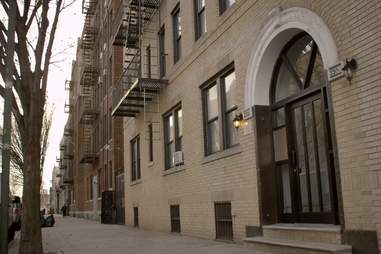 Comedy Central
How they'd sell it:
"This is a cute apartment with a lot of nice light," says Cristina. "I'm amazed at how wide it is, it's unusual to have three windows across. It would be very comfortable for two people." And as Victoria astutely points out, "Anything would feel cramped with a roommate like Bevers -- it wouldn't matter if you were in Versailles." But what about Astoria? "It's hot right now," says Victoria. "It's like the next Brooklyn, but it's more affordable. It's safe, quiet and residential, it feels like a community, and it's a hop, skip, and a jump to Manhattan."

Netflix
Dev's apartment (Master of None)
Location: Unknown, but Victoria says "it feels like Lower East Side or Alphabet City. I think it's on an avenue because it looks like east-west light, which is less common to find than an apartment with a north/south exposure."
Estimated rental price: $3,000 to $3,300 a month
Estimated purchase price: $799,000 to $1,150,000
Netflix
Is it realistic?
Dev could afford this place if his acting career was going well -- especially after Rachel moves in and adds her income to the mix. But given the types of gigs he's getting, the apartment seems like a stretch. "I hope he's getting a lot of work and booking a lot of commercials, or that he has a guarantor," says Cristina, "because he'd have to earn at least 40 times the rent to qualify, or he would need a guarantor who makes 80 times the rent in annual income." Daaaad?
Netflix
How they'd sell it:
"This is a cool place, I really like it here!" exclaims Victoria. "Here's what gets me: the French doors between the rooms, the brick walls, the light, and the high ceilings. Those are all value added. And the fact that there's three windows across -- that's wide. It's very loft-like and spacious for a one-bedroom. I'm envisioning it near Tompkins Square Park, with a lot of cool bars and restaurants. And you might just hop downstairs and get a coffee next door, because I bet you've got a coffee shop on the street. It probably serves organic, Fair Trade coffee only."
Netflix
Matt Murdock's apartment (Daredevil)
Location: Hell's Kitchen
Estimated rental price: $3,400 to $3,700 a month in present-day Manhattan, but assuming around $2,900 to $3,100 in the battle-scarred Midtown of the Marvel world
Estimated purchase price: $800,000 to $1,175,000 in the current market
Netflix
Is it realistic?
Matt Murdock doesn't seem to have much money, but in the pilot episode he explains that he got his corner apartment "at a hell of a discount" on account of the glowing billboard outside his window. "That's plausible," says Victoria. "If the rest of the building sold out at the going market prices with the most coveted apartments in the building probably selling above market rate, an apartment that seemingly has a 'defect' and that perhaps was the last one to sell in the building (or rent) could likely go at a discounted amount." We also have to assume, as in Jessica Jones, that prices would have fallen in a post-alien invasion Hell's Kitchen. "There would be a significant reduction in pricing for rental or purchase depending upon the degree of destruction in the neighborhood, like with Jessica Jones' property," says Victoria.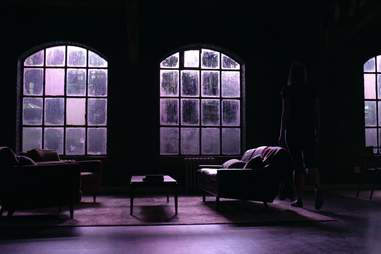 Netflix
How they'd sell it:
"That's a spacious apartment with huge windows," says Victoria. "Those windows are something, and they would add value. I'd say it's a guy's apartment, no girl would ever choose that. But it's a cool place, a chick-magnet apartment. Exposed brick, sexy windows. It's not cookie cutter. It's for an independent spirit."
Showtime
Alison and Noah's city pad (The Affair)
Location: The Cielo Condominium, 450 E 83rd St
Estimated rental price: $18,000 to $20,000 a month, "depending how high up it is," says Cristina. "That's a luxury high-rise building, so you're paying for views."
Estimated retail price: $3,400,000 to $3,900,000
Showtime
Is it realistic?
Victoria and Cristina agree with the assessment made by Alison's mom, Athena, that it's very suspicious that Alison and Noah can afford this place, even though the pair do think that the sale of Alison's
Montauk beach house
would more than cover the cost. "Montauk's all the rage," says Cristina. "That Hamptons house would be worth way, way more than the apartment. You could have a shack in Montauk and it would be worth a ton."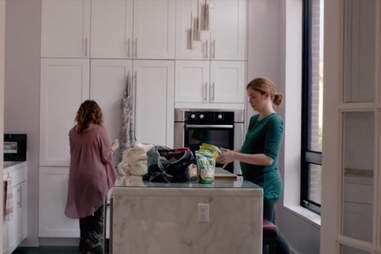 Showtime
How they'd sell it:
"I know this building well," says Victoria. "It's a luxury condo, upscale, beautiful amenities, full service, doorman. This is great if you want a place that is light and bright and in a quiet residential neighborhood. And that's a huge unit -- to have a bigger unit is rare, there's not a ton of four-bedrooms -- so it feels more like being in a house in the suburbs, especially when you're in a neighborhood that's so green and so close to the East River. I think it's an awesome place for a couple who wants to have a family, who wants to grow into it and plan to be there for a while."
TV Land
Maggie's artist loft (Younger)
Location: 140 Metropolitan Ave in Williamsburg, Brooklyn
Estimated rental price: $3,800 to $4,200 a month
Estimated purchase price: $950,000 to $1,300,000
TV Land
Is it realistic?
While this apartment -- next to beloved neighborhood hotspot
Nitehawk Cinema
-- would be super pricey nowadays, Victoria and Cristina say that it's believable that Maggie could have got a bargain on this place before gentrification overtook Williamsburg. "Six years ago the neighborhood was still transforming," says Victoria. "She definitely could have got it for $500,000 or under."
TV Land
How they'd sell it:
"Williamsburg near Bedford is hot, and the monthly costs tend to be low so you'd pay more on the price," explains Victoria. The wood-beamed ceilings and loft style will push up the cost, too, says Cristina. "People love that industrial feel," she says, "and to be so close to the Bedford stop -- there's so much happening there, and you're so close to the city. It's probably not a building that's super amenity-rich like some of the boutique condos, so you would get a different kind of person in there, but the beauty is that it's loft-like and cool and more artsy. It's a funky loft with character, which makes it more valuable."
Sign up here for our daily Thrillist email, and get your fix of the best in food/drink/fun.
Anna Silman is a staff writer at Thrillist and an alum of Salon and Vulture. Find her on Twitter: @annaesilman.