'Rick and Morty' Composer Ryan Elder Is Very Serious About Making Silly Songs
Warner Bros. Television Distribution
Television and film composer Ryan Elder is best known for his music for Adult Swim's Rick and Morty. On September 28, Sub Pop Records will release the animated show's first official soundtrack, including pieces from Elder's score, and on October 7, at the Adult Swim Festival, he'll take the stage with a 37-piece orchestra and a series of special guests to conduct a live performance of an episode's music for an event called the Rick and Morty Musical Ricksperience. Thrillist talked to Elder about his writing process, what we can expect from the album and the festival, why he wrote a song called "Doo Doo Butt," and lots more.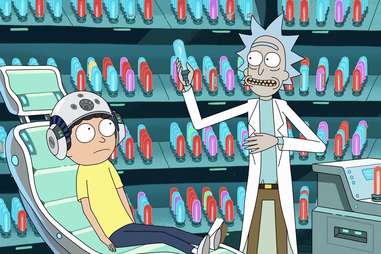 Thrillist: Are you a Doctor Who fan?
Ryan Elder: Yes, I am. I'm assuming you're referring to the main title theme. I'm definitely a Doctor Who fan. I watched the original one when I was a kid, but I was really into the reboot and I'm a David Tennant guy.
Can you think of the Doctor that most reminds you of Rick?
Elder: Well, it's got to be Peter Capaldi, right? I mean, people always say Peter Capaldi could play Rick if they made a movie.
I could see that. So, how did you come up with the show's main theme?
Elder: Interestingly enough, that main theme was written for another pilot that Justin Roiland and I were working on. He was pitching it. It was called Dog World, and I guess the elevator pitch would be "a planet where dogs evolved from men," but it was more kid-oriented. He wanted something that was adventurous, and he referenced the Farscape theme song and Invader Zim and Doctor Who, and I kinda put all those in a blender and came up with something that I felt had a nice adventurous build to it, a sense of anticipation, and forward momentum.
We used that for this Dog World pitch that eventually went nowhere, and when we started working on Rick and Morty, we thought, "Hey, let's just throw some music on for now, and later we'll try to replace it." And we could never bring ourselves to take it off. It just worked so well with the way they had built the animation for the pilot. We couldn't beat the champ, and it ended up on there. I think it works really well, and I think it was destined to be on Rick and Morty instead.
One of the things a lot of fans love about Rick and Morty is its spontaneity, and how sometimes the vocal tracks are finished after the first take -- the voice actors have been riffing, and the riffing worked, and they kept it in. What has been different for you as a composer working on a show like Rick and Morty than for other shows?
Elder: I'm co-composer on Boss Baby: Back in Business on Netflix, and the process is very different for Rick and Morty. I get to sort of figure out where the music should go myself and make those decisions myself. I get a ton of freedom to decide where and when the music should go, and often I will make all those decisions and write all my first passes of the music before Justin and Dan even know where my head is at on an episode.
So usually, when they figure out what I want to do is when they're hearing it for the first time. Then they give their notes and we go back and we tweak it, then when the final animation comes, I tighten it up for that. But for the most part, I would say that compared to other animation and other shows that I've worked on, even live action, I have a lot more early agency in the process. I get to make a lot of decisions on my own at the very beginning and then tweak them later on, in a collaborative process with Justin and Dan.
I know you've also worked individually with Justin and Dan, with Justin on the Real Animated Adventures of Doc and Mharti and with Dan on HarmonQuest. What's the difference between working with them solo and working with them together?
Elder: In some ways they're very similar, and in some ways they're very different. I would say that Dan is a little less experimental when it comes to music. Usually he really knows what he wants right away and sometimes that's "I don't want music at all here," and sometimes he hears it and it's good to go. With Justin, I think there's a little more experimentation, a little more, "I'm not sure, let's try this, let's try that." You know, Justin is a musician too. He played in bands and stuff growing up, so I think he's maybe a little more hands-on than Dan when it comes to the music. I know Dan has a reputation for being very hands-on, but when it comes to music, he kinda lets me do my thing and then he'll jump in if need be.
Two Rick and Morty-related musical experiences are coming up -- one is the soundtrack, and one is the Ricksperience at the Adult Swim Festival in LA in early October. Have you ever played a music festival before?
Elder: I have not. I'm really excited. As a composer, I'm often waiting in the wings or backstage working on stuff. So this will be fun to get out in front of people and really share the show's music with hopefully a very large crowd. We'll see. And the fact that we have this live orchestra is so exciting. I think people are really going to be able to experience the music of the show in a way that no one ever has.
What are the most exciting and most daunting things to you about taking this live?
Elder: The most exciting thing is getting to hear my music played by real honest to goodness humans. It's actually going to be real human music up there on stage, which is really exciting. You know a lot of my process is sitting in my office or my studio coming up with sounds and ideas like all by myself and occasionally getting a musician here or there to fill in the blanks. But for this, every instrument is going to be live, and that's really exciting.
In terms of challenging, for me, it's kind of two sides of the same coin. On the other hand, everything is out there for everyone to hear, and the feature is the music. Normally, I get to sort of hide back and let people discover my music in their own time. But this time we're saying, "Hey, check this out, listen to this music." And that's a little daunting for someone who normally works in a studio all by himself.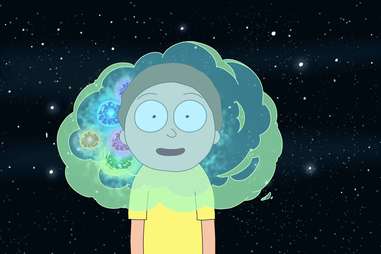 When you compose, do you use software? Is the finished product live instrumentation?
Elder: Most of the music for Rick and Morty is done using software, samplers, and recordings of real instruments I can control in the computer. But occasionally, I do get live musicians. "Goodbye Moonmen" was all live recording musicians. Occasionally I'll need a solo instrument -- there was a trombone solo in this last season -- and things like that, where I'll get a single player here or there. But for the most part the score is done in the box, as they say.
For "Goodnight Moonmen," was that live instrumentation done because you wanted to capture what it would be like if David Bowie were doing a song for Rick and Morty?
Elder: Yeah, absolutely. You can't really fake that. If that's what you're trying to go for, you know, those songs were written in the '70s, and it's really hard to fake that live-recorded, real-person sound with computers for that style of music. And I also knew that the song was going to be heavily featured in the episode at least once, probably twice. And I really knew Jemaine Clement [from Flight of the Conchords] was going to be singing it. So I really wanted it to stand out as a really big moment musically in the show.
Did that feel challenging, to step into a different kind of music from what you were normally doing for the show?
Elder: Well, I'm a huge David Bowie fan, so that one actually wasn't that challenging. I sat down and plucked out some chords and started singing the words over it and it kinda just was one of those times where the song wrote itself in a way. Those are so rare, and often, when that happens and the song is good, it's like you just know, "Oh, this is really going to work." As a composer, I haven't experienced that as often as I'd like, but when it does happen, it's pretty amazing.
What was one of the trickier songs to make?
Elder: One of the ones that really I had to sit down and think about for a while was in Season 1, there's a scene where [Beth's colleague at St. Equis Hospital] Davin puts on what he calls "African dream pop." That's all the direction I was given, those words "African dream pop." So I had to sit down and listen to a bunch of African music -- I have a bunch of West African bands that I love, so I kind of listened to them and figured out how their instruments were working and how that could apply to the dream pop genre, which I know in Dan Harmon and Justin Roiland's minds means early to mid-'90s, female vocalist, kinda chill, rock instrumentation, but a little electronica. It ended up working out pretty well. And for the soundtrack, I actually lengthened the music you hear in the episode into a full length song. Now the genre of African dream pop has exactly one song.
What are some of the West African bands you like?
Elder: I really love Magic System and Orchestra Baobob -- I think they're from Senegal. They sing a lot in French. I grew up obsessed with Paul Simon's Graceland, which is South African, but my wife was in the Peace Corps in Guinea, West Africa, and she brought home all this music with her and she fell in love with there, and I really was like, this is amazing stuff.
Are there other extended versions of songs on the soundtrack? I can't imagine an extended version of "Human Music."
Elder: "Human Music" is on there! There are a couple of music cues that I wrote just as cues that I get a lot of requests for full versions of. One is when Jerry is saying goodbye to Doofus Rick in Season 1, and it's this emotional piece of music, and especially the music when Rick is reading Unity's letter at the end of the Unity episode -- this kind of emotional guitar-piano-bass thing. Both of those I extended into full songs. Also, some of the thematic elements that I used in "The Rickantis Mixup," which is the [Season 3] episode with tales from the Citadel of Ricks, I've made a full version of that song all blown out, with orchestral elements and rock elements. It's pretty cool. I'm excited for people to hear that.
What's the weirdest story behind one of the songs on the soundtrack?
Elder: The song "Fathers and Daughters," which was in Season 3, came together very late in the process. The episode was basically done. We were mixing it in a week and we needed a song that could go into a montage of Rick and Beth interacting together, doing something as father and daughter. And Justin and Dan both wanted a folky, emotional, Harry Nilsson or Cat Stevens kind of a thing there. And I had written the song and I knew they were going to have Dan sing something over it. I didn't know what the lyrics were going to be, so I just, in order to make Dan's job easier, I just put some scratch vocals in there, of me singing "Doo doo doo, doo doo doo," right? Just as a placeholder. And I could have chosen any syllable, I could have chosen "ooh" or "la" or anything, but I chose "doo" randomly. And if you listen to the song, which is now commonly referred to "Doo Doo Butt," Dan really took the "doo doo doos" and and ran with them.
When you're writing a song for an episode that is a parody of a particular pop culture property -- like the episode that parodies Zardoz -- do you watch the things Dan and Justin are riffing on and consciously channel some of that music? Or do you just see what Dan and Justin come up with and go from there?
Elder: I think it varies. For that episode, I did not rewatch Zardoz -- and it definitely is worth a re-watch -- because it's sort of in the fiber of the episode instead of in a very specific moment where I can really play to it. An example I can think of where I specifically did listen to a soundtrack is a post-credit scene that is kind of an E.T. parody, I think in Season 3, and I absolutely knew I have to listen to the E.T. score just for fun, but also to listen to get this scene and make sure that my music is really selling a joke of it being an E.T. parody. And I did it in "Anatomy Park" too, when there's the "welcome to Anatomy Park" bit, it's very clearly a Jurassic Park reference. I knew I needed to get that right too.
Is there anything particularly interesting in the story of how the album got put together?
Elder: I got to work a little bit with .clipping. I gave them the audio stems for the main title theme for them to sort of mine for inspiration on their track, which was great. Both Chad VanGaalen and .clipping did original songs inspired by the show for the soundtrack and they're both very good and pretty exciting to hear. I was pretty, pretty involved in the whole process, from basically the beginning. Once we brought Sub Pop on board [as the record label] and it really started to take shape, stuff really started moving. But it was always kind of the idea that I, along with Sub Pop and people at Adult Swim, would curate the entire soundtrack. And frankly, I'm a child of the '90s. When I found out Sub Pop was producing the record, I was so excited. Huge fans their work. They were, like, my favorite record label in college.
What are some of the Sub Pop bands that you were listening to?
Elder: I mean, Postal Service was number one, when I was out first out of college. Give Up. For me, it was one of the most important records of my post-high school life. It was sort of like, "Oh, this is what music is going to be like going forward now." I love that record. And then of course, when I was in high school, it was Nirvana. No question.
Did the attention to "Get Schwifty," in particular outside of the show's audience, surprise you?
Elder: Everything about the attention this show gets surprises me. It all exceeds expectation in every possible way. "Get Schwifty" is so funny though. That's all Justin. He's the genius behind "Get Schwifty." That whole episode is based on those two songs, "Get Schwifty" and "Head Bent Over," which Justin recorded for a small flash game that Adult Swim put out called Rick and Morty's Rushed Licensed Adventure. It was right around Season 1. They put the game out, and there was this scene where you could go into Summer's bedroom and you found her iPod, and on her iPod were three songs: "Get Schwifty," "Head Bent Over," and there's another one that appeared in that same episode at a different point, or maybe a different episode. But the writers just loved those songs, those Easter eggs in this game, so much that they wrote a whole episode around them.
Now that we're talking about the "Get Schwifty" episode, I remember that episode has a lot of really weird alien musicians. What was the strangest way you've had to change the sound of an instrument to make it work for the show's universe?
Elder: I always turn to world music for inspiration when I have to do these aliens sounds because there are so many cool instruments out there that even I'm unfamiliar with that sound like they're from other planets. One of my favorite things to do is take a recording of an East Asian instrument or something and pitch it weird or reverse it or affect in some way where it sounds even stranger and use that as kind of the inspiration point for the song. I did that with the alien band that gets disqualified in "Get Schwifty," when they play their dumb little song. The goal there was to make it both sound alien but also really unimpressive, because they lose, right? We want the audience to go, "Oh yeah, I totally get why the [giant floating] head would destroy an entire planet over this terrible song." So yeah, I often will dig into that area of the sounds that I have at my disposal.
Certain pockets of Rick and Morty's large fanbase have caused some controversy that even Dan Harmon and Justin Roiland have been exasperated about. As a composer, are you ever worried that your songs might be misappropriated by fans who might be expressing things you don't believe in?
Elder: Well, I wasn't worried until you brought it up! Honestly, it's one of those things where I have very little control over how the fans use the show and how they get into the show. I try not to worry about it too much and just do my job and make fun, interesting music, and try to tell the story in the best way I can, and not worry about things that are out of my control like that.
Sign up here for our daily Thrillist email and subscribe here for our YouTube channel to get your fix of the best in food/drink/fun.