With the season-long murder case solved in the penultimate episode, the finale of Riverdale Season 1 dug into a core question: Is Archie Andrews' hometown fundamentally good or evil?
Oh, it's evil. Most definitely.
Leading up to Riverdale's major death
Last week's episode, "Anatomy of a Murder," revealed that bewigged patriarch, Clifford Blossom was the one who pulled the trigger on his son, Jason. Soon thereafter, the Riverdale police discovered that the Blossom family fortune came from the heroin trade, not maple syrup.
In the finale, "The Sweet Hereafter," Riverdale appeared to be settling down. Sure, Cheryl was suicidal and giving away all her prized possessions (even her spider brooch!). And, OK, Jughead was being kicked out of the Andrews home at the behest of social services and enrolled at Southside High. And, yes, Alice Cooper revealed that Polly and Betty had a mysterious older brother that she had given up for adoption as a teenager. But as far as Riverdale goes, that was relatively normal.
Until, of course,  Archie and Veronica decided to do the nasty in the heat of the moment. Then Jughead, shortly after declaring his love to Betty, was interrupted by a coterie of Southside Serpents, who, due to his father's loyalty, offered the younger Jones a jacket and a membership. More surprising, Jughead accepted the offer breezily. All of that could be course-corrected.
That was until the final moments of the episode, when a masked intruder attempted to rob Pop's Chock'lit Shoppe, only to shoot down Fred Andrews at the feet of his son. Is he dead? He looked it. Then again, this is comic book melodrama, where even the most fatal injury can be mended for maximum shock value.
But for now, Fred looks to be out of the picture, which raises the question: what's next for Riverdale? Innocence is lost, and the future is grim. "There definitely will be a big genre element to Season 2," series creator Roberto Aguirre-Sacasa told Entertainment Weekly earlier this season. "It won't suddenly just be a coming-of-age drama. There will definitely be a very strong, bold genre statement."
Many have speculated that there would be a supernatural element that would involve Sabrina making an appearance and potentially creating a zombie apocalypse (similar to what Aguirre-Sacasa established in the Afterlife with Archie series). Fans went into the finale with expectations set by those involved; Aguirre-Sacasa hinted at the possibility months ago and K.J. Apa, who plays Archie on the series, all but confirmed it at last year's San Diego Comic-Con. "Sabrina ... she's going to come," Apa said, "she comes in our last episode." Not quite.
Could she appear in Season 2? Maybe, but we have another guess as to where the show's headed.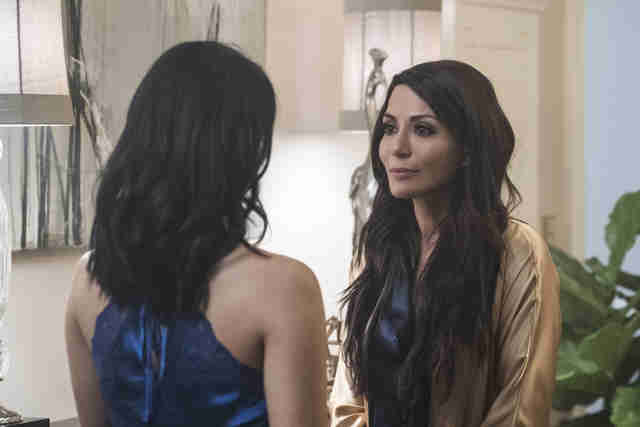 The Godfather: Riverdale
Perhaps the most telling line of the episode was Jughead's offhand reassurance: "Kevin, relax, this isn't The Wire." Riverdale loves irony and planting seeds, so it would be very fitting if the quiet little town of Riverdale turns into a gritty, surreal crime drama.
Aguirre-Sacasa spilled earlier this year at a Coast-to-Coast ComicCon panel: "We'll be teasing in the big bad for Season 2. It's someone who has long, deep ties to the Archie universe. It's definitely a character people know. I think it's a character that people won't see coming."
If anyone from the finale fits the bill, it's Hiram Lodge, Veronica's father, who has canonically had extreme disapproval of Archie and Veronica's relationship in the comics. All through season one, Hiram has stirred up trouble despite being confined by prison walls. How much worse will it be once he gets out? At the very least he'll become corporeal next season  -- he's slated to be played by Mark Consuelos.
Or could the new big bad be Hiram's wife, Hermione, whose sugary facade has hardened each time her husband inches closer to freedom? (Could it be that she had put the hit on Fred Andrews for not being -- ahem -- cooperative?)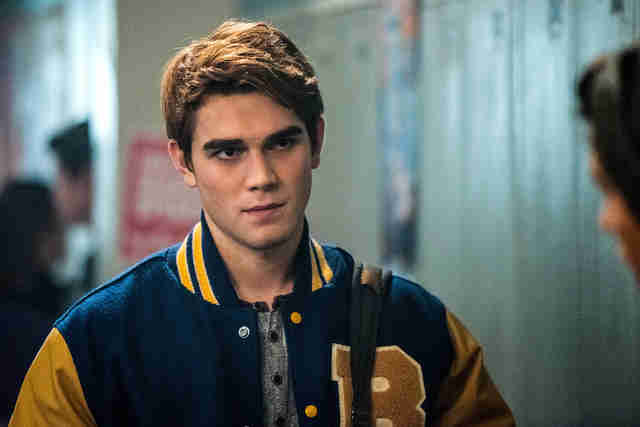 The clues for Season 2's crime wave
Aguirre-Sacasa strengthened the Godfather theory in a post-finale interview, stating that "I can only say that when Mark Consuelos arrives, as handsome and charming as he is, we're definitely going to get a sense that a young Michael Corleone has arrived in Riverdale."
Potentially, if the Riverdale writers don't want to lose the Lodges, being such strong, canonical characters as they are, there's the potential for Chic Cooper, Betty and Polly's long-lost older brother to swoop in and steal the mantle of big bad. Having seen the dark side of Betty earlier this season, perhaps Chic is an American-Psycho-type with a sadistic streak?
Expect the crime genre to weigh on the core four, too. In particular, Jughead, who gladly and eagerly accepted his father's jacket from the Southside Serpents as Betty, horrified, looked on. Jughead, who, in his own words, has always been weird, seems to embrace these ruffians who accept his rough edges.
And as Aguirre-Sacasa has said, Archie will be forever changed by the moment at Pop's: "What Archie witnessed in Pops is the equivalent of what Bruce Wayne witnessed when he saw his parents gunned down in that alley or when Peter Parker learned his Uncle Ben had been murdered by a burglar he could have stopped." Spider-Archie in Season 3?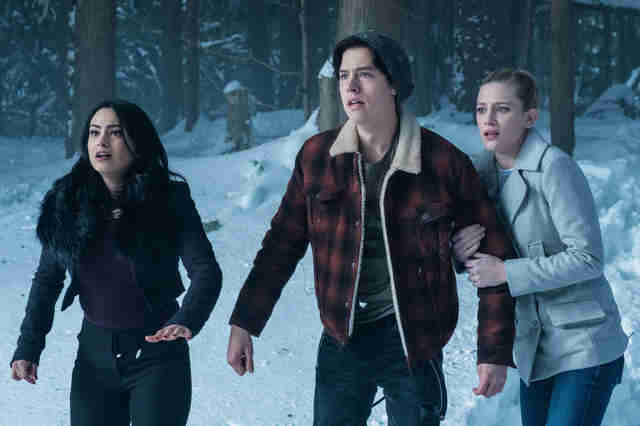 The unanswered Riverdale questions
For everything set up in anticipation of the second season, there are still loose ends from Season 1 in need of resolution.
Will we get more Reggie next season? (Even if he does have to be recast.)


Will Betty go full dark, no stars with Jughead?


If Fred is dead, where will Archie live?


Will Jughead's mom and sister make an appearance?


Does Jughead actually get Hot Dog now?


Will we see Archie become a version of his comics alter-ego Captain Pureheart?


Will we ever see Sabrina? I mean, we have to see Sabrina. Right? Please.
Only the Riverdale writers know for sure, but expect plenty of not-so-subtle teasing along the way until the show returns next fall.
Sign up here for our daily Thrillist email, and get your fix of the best in food/drink/fun.