The Women of 'Rock of Love' Do Not Want a Do-Over With Bret Michaels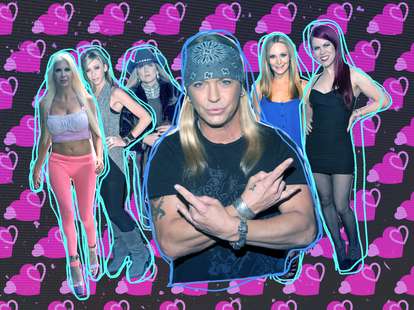 Evan Lockhart/Thrillist
Evan Lockhart/Thrillist
Welcome to Partial Recall: 2007, a week of stories dedicated to trying to remember what life was like a decade ago.
On July 15, 2007, Poison's bandana-wearing frontman, Bret Michaels, began his quest for a soulmate on VH1's Rock of Love, selecting from a pool of reality television's wildest and most explosive, inebriated and exhibitionistic cross-section of tattooed bachelorettes. For three seasons, the reality "romance" contest played out in a land of rock 'n' roll, sex, and alcohol, where fake boobs are referred to by a contestant as the "best birthday present I got from my parents last year" and the runner-up is stuck with "Bret" tattooed on the back of her neck.
But what happens after you walk out the door once Bret decides not to ask you to stay and "continue to rock my world"? We caught up with five former contestants to hear about life after getting stabbed by the rose's thorn.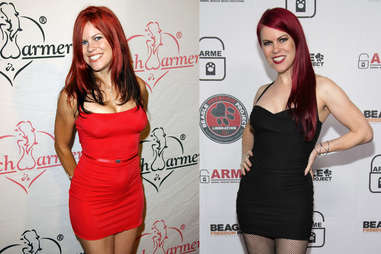 Lacey Sculls
Season 1
Memorable for: Being Rock of Love's first villain, screaming pro-PETA dogma at carnivore roommate Dallas, and getting annihilated in Vegas and crawling on -- then falling off -- the bar. Bret's assessment during the show: "Lacey is either going to make passionate love to me or possibly kill me in my sleep."
Her life since the show
Lacey has remained a musician (her current band is called Halo) and an animal-rights activist, and is now launching a Kickstarter to fund her own Daily Show-esque comedy show called Indecent Exposure, geared to motivating teens to get involved in politics, activism, and social justice. She inspired many Rock of Love fans to become vegetarians, so "If I can do that on just a stupid dating show, what can I do when I really focus and fine tune this passion I have, and take it from dating to issues I actually really truly care about?" If the show comes to fruition, do not expect time to have mellowed her. "I'm not going to be walking on eggshells," she says, "I'm fucking blasting through that shit."
If she had won Rock of Love, would she still be with Bret?
"We all have people that we just instantly are like, "Oooh, I wanna be with that guy,' and then there's like, 'Oh, that guy is fucking awesome, I want him to be my best buddy.' And Bret sort of fell in that [friend] category... Even if I had been romantically interested in him, I knew right away that that was not why he was here... He was playing a part, and to me it was obvious that there wasn't real emotion behind that -- it was him just going through the motions."
Would she do the show again?
In a heartbeat -- if she was single (she's been married to her husband Jonny for nearly four years). Lacey says doing Rock of Love opened up many opportunities for her that wouldn't have been available to her if she hadn't done the show (and Rock of Love: Charm School). "I was able to get things and do things and have opportunities in a lot of different areas," whether it's the dog rescue organization she founded or Indecent Exposure. "Where if I was like, 'Hi, I'm a random person off the street, will you hear my idea?' it'd be like, 'Sorry, there's ten thousand of you. Click.' But now I can be like, 'Hey, I'm Lacey, the crazy person from Rock of Love, and they're like, 'Oh cool, we love crazy people from Rock of Love, what do ya got? Lay it on me.' So that's been hugely helpful."
Cindy "Rodeo" Steedle
Season 1
Memorable for: Her raucous laughter, how often she cried about missing her son, her omnipresent cowboy hat (she still wears the same one)... oh, and that time she put Lacey in a wrestling hold and dragged her up the stairs to stop a fight. "Lacey and I, we're cool, she's good, it's OK, it was just, I had to handle that situation at that moment."
Her life since the show
Rodeo rode the VH1 wave with stints on I Love Money and Rock of Love: Charm School and then eventually moved home to Georgia, where she started the foundation Imagine No Bullying Now and "built an empire," launching several luxury lifestyle companies dealing with exotic cars, fashion, and even yachts.
She's also planning a Rockstar Women's Business Conference, during which she'll auction off the cowboy hat Bret gave her when he eliminated her in the fourth episode of Season 1, sending her home to be with her son. Along with the hat is a letter Bret wrote her at the time, which she says has never been read by anyone but her. "It's incredible. It's like a freaking song," she says. The proceeds from the auction will raise money for diabetes, in honor of Bret, who suffers from it.
Would she do the show again?
Maybe. "I would love to do a show to help other people find love. Maybe [Bret] and I could team up and help people do it." But she's grateful to the show and all that came from it. "I don't regret it at all. It helped me continue my career, it helped me worldwide -- there are people who have flown from all over the world to come see me and meet me and see what I've built." But, she adds, "That stuff can be taken away in a heartbeat, in a flash. I don't take anything for granted."
Angelique "Frenchy" Morgan
Season 2
Memorable for: Getting naked. Often. Frenchy, a self-identified "streeper," was called a "trailblazer" by Bret for being the first woman on the show to take off her shirt, and subsequently got in trouble for getting completely nude at a burlesque club. "People really remember me for being, like, wild and crazy and loud and getting naked, pretty much is what made my mark on that show," Frenchy says. "I was just being me."
Her life since the show
After Rock of Love, Frenchy kept her reality-television career going on Rock of Love: Charm School, I Love Money, and Celebrity Big Brother. She popped up on E!'s Botched when she wanted to go from 650 cc boobs to 1000, and the 41-year-old is returning to that show next season, though she won't reveal why. She's also dabbled in singing, and last year released a video for her song, "Rising Star."
But recently she got more attention for her politics than her art. An outspoken Trump supporter, she scrawled "Vote Trump" on her bikini'd body last year and claims her "Facebook got hacked twelve times in three months" as a result. She supports Trump because "he's kind of like me, he speaks the truth, he doesn't care if it hurts you, he just tells it the way it is." Frenchy says people don't understand what's going on in the world and have been conditioned by the news and the TV. "You know, most people just don't want to hear what's going on because they are all asleep, and I'm wide awake."
Her one lingering regret from the show
"I would say I regret trusting too many bitches, because, you know, I'm very honest and direct, and sometimes I keep forgetting bitches just go behind your back."
Jessica Kinni
Season 2
Memorable for: Having her shit together. Jessica was constantly painted as the "good girl" who couldn't handle Bret's lifestyle, and that was probably for the best. "Yeah, Bret was like, 'Maybe you can't hang,' but honestly, I don't think I was ever really meant to hang for that lifestyle," she laughs. "I have a little bit of a different vibe, I guess."
Her life since the show
Jessica also did Rock of Love: Charm School and then stayed on with VH1 interviewing other reality show contestants behind the scenes. She covers red carpets, has worked with the Television Academy and the Emmys, and emcees tech and celeb events. She also owns a social media management company called Kinni Creative.
Would she do the show again?
Although she often tells people looking for advice on doing reality TV to run in the opposite direction -- "there's no way to emotionally prepare yourself for what you're about to see" -- she doesn't know how she could say no to doing it all over again. "It was one of the most fun experiences I ever had, and one of the most chaotic, dramatic, exhausting, you name it. It was a whirlwind." Not only did it launch her on-camera career, but "It's given me a really strong sense of self and knowing what I do like and what I don't like, because you're thrown into something that is so volatile and crazy that you quickly figure out what your boundaries are and figure out what works for you."
What she thinks about reality TV in 2007 vs. today
"It didn't seem so formulaic. I think that's why people really gravitated to it, because it was just so much fun, like: What fresh hell are we walking into?"
Aubry Fisher
Season 2
Memorable for: After she voluntarily left the show early to let her close friend Kristy Joe stay to have a chance with Bret, the producers deviously edited a montage for the reunion show that painted the two friends as lesbians. "I'm not gay," Aubry says. "And I'm still single. Yeah, ten years later, yay!"
Her life since the show
Aubry went on to appear on season 3 of LA Ink in 2009 and toured a bit as DJ A.F.I. However, since she was 17 she has suffered from Crohn's disease (which flared up during Rock of Love she suspects it was exacerbated by the production company ignoring her special dietary needs). Now, after six years in and out of the hospital, she writes an "Ask Aubry" column on the website Give Crohn's A Slap For Me, works a bit on freelance graphic design, and DJs in the virtual reality world Second Life when she's feeling too ill to leave the house. "I didn't know if I could back to DJing or not. But I heard about Second Life and people marketing [their music] on there, so I went in and go, 'Oh, this is weird,' and all of a sudden I just became one of the top DJs in Second Life, as myself."
If she had stayed and won, would she still be with Bret?
"I don't think that Bret and I had the chemistry for me to have won, and I'm very OK with the fact that I didn't. I wasn't like a huge Warrant fan." You mean Poison? "Yeah, I wasn't a huge fan of like -- oh, Poison, sorry. I liked C.C. [DeVille]… I just was never into Bret."
Is she still recognized on the street?
"You know, it's so funny because I was on LA Ink as a regular cast member for two years, and I still get people going, 'Oh my god, you're that girl from TV,' and I'm like, 'Oh yeah, LA Ink,' and they're like, 'You were on Rock of Love!' I was there for like eight days."
Would she do the show again?
No way. "It comes down to a moralistic humane situation." She claims that the production company, 51 Minds, had such an intense schedule that they wouldn't let women break to use the bathroom. "A girl really needed to go pee and she ended up having to pee in the driveway because they wouldn't let her in to go to the restroom. I thought that was kind of Auschwitzy. That was a little Holocausty for me, so I wasn't really into that." Because the on-set food was bad for her Crohn's, "I thought, 'If I had to go, what happens to me?' I was so afraid to have diarrhea on set that I took so much Imodium, it's probably half of what messed me up." (A spokesperson for 51 Minds declined to comment.)
Sign up here for our daily Thrillist email and subscribe here for our YouTube channel to get your fix of the best in food/drink/fun.

Celia Darrough is the news editor at Bustle. Follow her on Twitter
@celiadarrough
.