8 Shows Nickelodeon Should Bring Back After 'Rocko's Modern Life'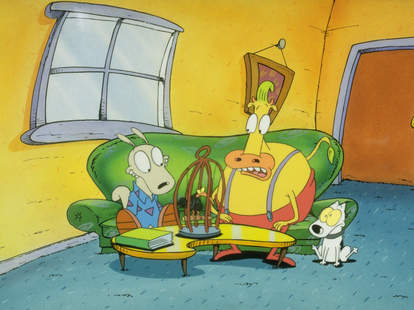 Hollywood has reboot fever and Nickelodeon, the network responsible for 80% of your childhood memories, is no exception. Nick already has a Hey Arnold! TV movie in the works, along with a Indiana Jones-style take on Legends of the Hidden Temple. Now we can add one more project to the mix: an update of the animated sitcom Rocko's Modern Life. 
Thursday, the 25th anniversary of Nick's first animation block, the network announced an original one-hour TV special, with Rocko's original creator Joe Murray on board as executive producer. According to a press release, the new Rocko's Modern Life TV special will "bring back all the show's classic characters and offer some surprising new takes on life in O-Town."
Rocko's Modern Life holds a place in many a millennial heart. Off-kilter, tempered, and overflowing with brain goo, the serrated series thrived in Nick's creator-driven animation utopia. It didn't look like anything else on TV then, and it certainly doesn't now. 
If Nick's secure enough to revive Rocko's particular brand of peculiar, can we suggest a few more shows that totally deserve the reboot treatment? We know they'll never happen -- let's face it, there's a limit to nostalgia-vs.-commerce -- but we can dream.
You Can't Do That on Television
What it was: A kid sketch show that made firing squads funny, introduced us to Alanis Morissette, and dumped more green slime on the heads of children than parents could possibly have been comfortable with.
Why it'll never come back: We can't see Nick reverting back to Canadian imports for its programming, let alone for comedy that would get modern elementary schoolers sent to the principal's office.
Welcome Freshmen
What it was: First a sketch show, then a sitcom, all set inside a high school. Saved by the Bell for cynics. Many fart jokes.
Why it'll never come back: Early '90s Nick shows had a mean streak, and Welcome Freshmen was the meanest. Completely, blissfully unacceptable with hazing becoming a headline-worthy American issue. 
Hey Dude
What it was: A sitcom about a New York divorcée who buys a dude ranch with horny teenagers for employees. Starring Christine Taylor of Zoolander fame.
Why it'll never come back: Let's face it, Salute Your Shorts' camp setting is a thousand times more marketable than a dude ranch. 
Wild & Crazy Kids
What it was: A sports series where playground games became large-team competitions. The Braveheart of Nick game shows. Hosted by Cuba Gooding Jr.'s brother Omar.
Why it'll never come back: The show looked like a promotional video for a day camp (the best day camp of all time, but still, a day camp). This is the Golden Age of Television! The wee ones need production value. Guts will come back looking like Game of Thrones before a Wild & Crazy Kids reboot.
KaBlam!
What it was: A cartoon anthology featuring action figure stop-motion and Jack Handey-like interstitials. 
Why it'll never come back: YouTube creations killed any chance of a KaBlam! revival. OK, the stoner attitude to kids comedy killed any chance of a KaBlam! revival, but the digital era hammered the last nail into the coffin.
Space Cases
What it was: Nick's answer to Star Trek. Offered threads of serialization before it was cool. Costarring a pre-Firefly Jewel Staite.
Why it'll never come back: Too expensive for a one-off TV movie, too nerdy for a full series order, too cult for the nostalgia to burn bright enough. 
The Mystery Files of Shelby Woo
What it was:Murder She Wrote starring a Chinese-American teenager. The Karate Kid's Pat Morita as a wise old grandfather.
Why it'll never come back: Despite airing regularly on Nick's throwback network The Splat, we don't see this mature detective series making a comeback unless Nick throws it to CBS and adds "CSI" to the title. 
Avatar: The Last Airbender/The Legend of Korra
What it was: A fantasy series and its sequel, set in a war-torn world where part of the population can bend natural elements. 
Why it'll never come back: M. Night Shyamalan screwed up the movie version of The Last Airbender. Then Nick bungled the release of the sophisticated, provocative follow-up series, eventually yanking the final season from TV and dropping it all on its digital platform. There's plenty of room for the Avatar universe to expand -- real talk: it's as or more dense than Game of Thrones -- but unless Netflix swoops in to save it, business may prevent this one from rebooting down the road.
Sign up here for our daily Thrillist email, and get your fix of the best in food/drink/fun.
Matt Patches is Thrillist's Entertainment Editor. He previously wrote for Grantland, Esquire.com, Vulture, The Hollywood Reporter, and The Guardian. Find him on Twitter @misterpatches.