A Boxing Trainer Reviews the 'Rocky' Movies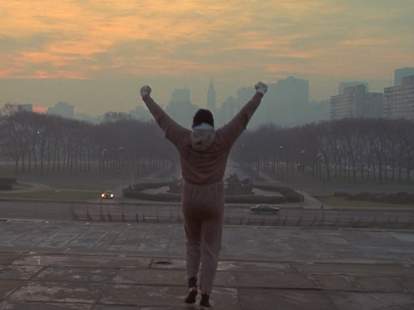 Most fighters are happy if they get a solid decade of professional boxing. Rocky Balboa has lasted 40 (completely fictional) years, not counting that little retirement spell in the '90s or the fact that, in the newly released Creed, he's merely the corner man of Adonis Johnson Creed, son of Rocky's longtime rival and friend Apollo.
But how would Rocky have matched up against real foes in the square circle? Thrillist took the question to Bob Jackson, a trainer at Gleason's Gym with plenty of personal fighting experience of his own, and asked him to fact-check all six "Rocky" movies with us. Here's the tale of the tape.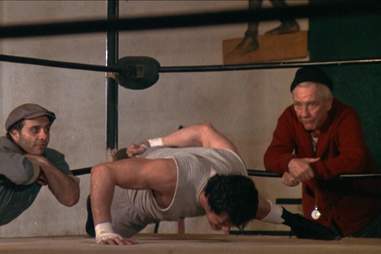 United Artists
Rocky
Plot: A scrappy boxer from Philly decides to take on Apollo Creed, the heavyweight champion of the world.
Bob says: "Chuck Wepner sued Stallone and said he used me, and blah blah blah. He got some kind of settlement. I'm very close with Webner, I've worked with him. I could see Wepner in Rocky.
"There are assignments that we give boxers with their regular duties. Running up and down stairs is basically very good for the heart. Stamina. That's what a fighter needs. So that running up the stairs gives you the feeling that the fighter is showing a desire. He's got the tiger in his eyes. And he's doing whatever it takes. So that would be genuine."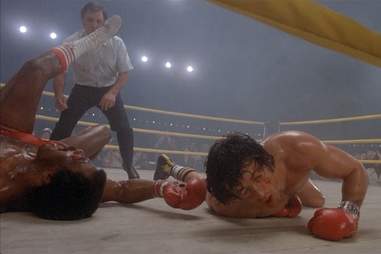 United Artists
Rocky II
Plot: Rocky and Apollo Creed face off once again in the "rematch of the century."
Bob says: "Athletes, no matter what field they're in, they play a regular schedule, but there's always a team or person they really want to beat. And they play them rather intensely. There's always that edge.
"[Carl Weathers] was -- these actors, they'll go to a gym and they'll introduce themselves to fighters, ask the kind of questions you're asking to get that input. The writers knew what they wanted Creed to say, but for him to say it the right way, that was on him. And he did a terrific job. But you can bet he did a lot of research. Good actors always seek something that strikes a live note about the character they're playing. The fact that he spent a lot of time in gyms with old fighters -- he might've even talked to Ali!"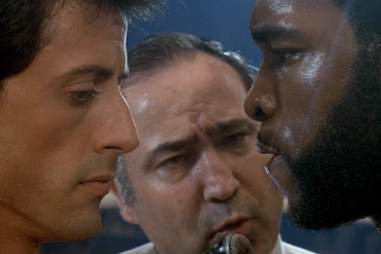 MGM/UA
Rocky III
Plot: Rocky is successful and complacent, until a loudmouth boxer named Clubber Lang challenges him to a fight.
Bob says: "[Mr. T] fit the character in real life. Everybody could accept that. When they were picking out people for the movies, they tried to get close to reality. Mr. T, although personally he's 1,000% gentleman, his image was just [screams]. He fit right in. The acting lessons weren't necessary. He just needed boxing lessons."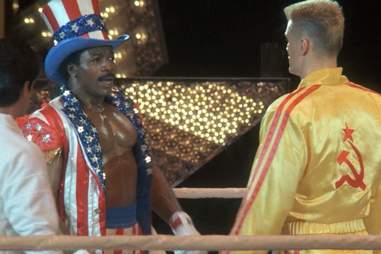 MGM/UA
Rocky IV
Plot: After Apollo Creed dies in a match against remorseless commie Ivan Drago, Rocky steps in to avenge his friend's death.
Bob says: "[I've seen it] too many times. Everybody is shocked when you lose a fighter in the ring. It happened to me in the amateurs. A young man that I loved, who loved me and my partner, he got injured and he died. He had been in a street fight and he got hit in the head with a 2x4. Nobody knew that, he never said anything. It was no big deal to him, but when he had the fight, the crack that was there started to bleed in the fight and eventually, bang. We carried him in our arms into the car, rushed to the emergency room right out of the ring. We spoke to the surgeon, the brain surgeon. We asked him, 'Is John going to be alright?' He predicted what would happen. He would be on the machine, but he would be brain dead because of the damage. And that's exactly what happened. We lost the kid. And we were in shock for quite a while.
"[Drago] couldn't care less. There are people like that. If you want to see a picture that will help you understand, watch The Harder They Fall. It really shows the seedy side of boxing. You'll get a world of experience seeing that."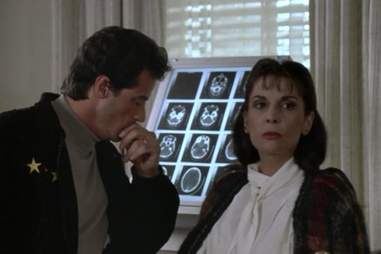 MGM/UA
Rocky V
Plot: After sustaining permanent brain damage, Rocky retires from boxing. But he still needs money, so he trains an up-and-comer who turns on him.
Bob says: "I think [the brain damage issue] doesn't sell movies. Whether I think they do enough or not enough, doesn't matter. It's dollars and cents.
"A lot of what goes into fighting is based on loyalty between the trainer, the manager, and the fighter. There are times when the person that you believe to be totally loyal will turn on you and it's shocking. It really is. There was a guy named Dave Jacobs who worked for Sugar Ray Leonard. He raised Leonard -- taught him, kept him off the streets. It's what made him what he is. And Leonard, once he started to make money, he got a lawyer. That was strictly a business guy. The trainer usually gets 10% -- whatever the fighter gets, the trainer gets 10%. When [Leonard] was fighting for $6,000, [Jacobs]'d get $600. $10,000, he'd get a thousand. But then when he started getting up in the $300,000s or whatever, the lawyer said, 'That's too much money for that guy.' And he talked Leonard into putting Jacobs, who discovered him, on salary. Jacobs quit. And all the people in boxing respected him for that.
"That was another section out of real life. They tried to get everything that they knew could happen into those movies and, for the most part, they did."
MGM/Columbia Pictures/Revolution Studios
Rocky Balboa
Plot: After ESPN airs a simulated fight pitting Rocky in his prime against a current star, he comes out of retirement to take on the kid for real.
Bob says: "Ali was involved in something like that, in a computer fight, with Rocky Marciano. They made bags of money.
"There's rare occasions where a fighter leaves boxing and that's it. He'll make appearances, he'll announce. There are so many ex-fighters that do commentary. Because you gotta keep making money, make a salary."
Sign up here for our daily Thrillist email, and get your fix of the best in food/drink/fun.
Kristin Hunt is a staff writer for Thrillist, and still hasn't forgiven Ivan Drago. Follow her to justice for Creed at @kristin_hunt.