The release of lauded Rocky spinoff Creed is in step with Marvel's ever-expanding movie slate, the many upcoming Star Wars films, and the recently announced widening of Fast and Furious' vehicular saga. But to give Mr. Balboa and pals a leg up, we've devised five additional film ideas tangentially related to Rocky''s cinematic universe that we'd like to see fast-tracked into production. Because as Mickey once said (or at least we think he did), "You're gonna eat lightnin' and crap sequels until the studio loses interest in this valuable intellectual property!"
Lang
The pitch: In this gritty sports drama, retired boxer Clubber Lang (Mr. T) runs a suburban California sandwich shop called Baddest Ham in the World, until his life gets turned upside down by the arrival of his estranged daughter Jacqueline (22 Jump Street's Amber Stevens West), who demands he train her to be a UFC fighter. Can Clubber overcome his sexism, fear of emotional intimacy, and obsession with sandwich meats to help his daughter?
The tagline: Don't pity these fools!
Sample dialogue: "Dad, put those delicious sandwiches down for one minute and look me in the eye." "Dead meat."
Rolling Thunderlips
The pitch: In this sex romp, retired wrestler Thunderlips (Hulk Hogan) works at a Florida yoga studio, where he sells ecstasy and beds female patrons. But when a sex tape of him and the governor's wife (Susan Sarandon) leaks online, Thunderlips must chase down the blogger (James Franco) who uploaded the video. Can Thunderlips clear his name, defeat the blogger, and redefine the First Amendment?
The tagline: See him in the flesh, baby!
Sample dialogue: "Oh, Thunderlips, what do you call this yoga move?" "The ultimate meatball."
Ivan's Childhood
The pitch: In this time-travel noir, retired boxer-turned-private eye Ivan Drago (Dolph Lundgren) investigates the brutal murder of Russia's Olympic boxing team, leading him to confront his checkered past by time-traveling through a wormhole in his friend Rocky's closet full of fedoras. Can Drago catch the killers, save the Olympics, and prevent our universe from folding in on itself because of a rip in the space-time continuum?
The tagline: If he dies... we die.
Sample dialogue: "Drago, what are you doing in that closet of expensive fedoras?" [Blank stare]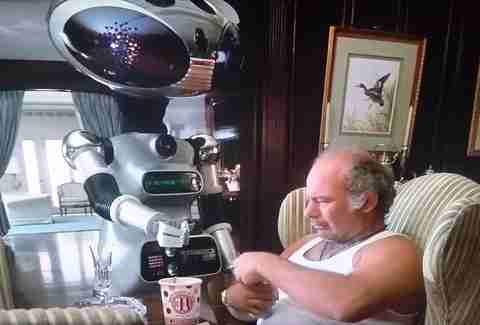 Walking Trash Can
The pitch: In this sci-fi epic, Paulie's robot from Rocky IV (played by Chappie from the film Chappie) wanders a post-apocalyptic landscape until discovering a community of young Rocky and Adrian clones enslaved by a sentient piece of meat (meat from Rocky). Can Paulie's robot free the clones, defeat the sentient piece of meat, and pass the Turing test?
The tagline: I am Chappie!
Sample dialogue: "Help us, Paulie's robot from Rocky IV! You're our only hope." "I am Chappie!"
Creed vs. Creed
The pitch: In this gritty crossover event, Adonis Creed (Michael B. Jordan) and the ghost of Apollo Creed (Carl Weathers) team up to fight Scott Stapp of the band Creed and the Florida Marlins of Major League Baseball. Who will win? Who cares? Is there a God? 
The tagline: It is me, your God, Chappie!
Sample dialogue: "Come on Marlins, make us proud!"
Sign up here for our daily Thrillist email, and get your fix of the best in food/drink/fun.
Dan Jackson is a staff writer at Thrillist Entertainment and he wishes his first name was Clubber. He's on Twitter: @danielvjackson.