Everything We Know About the Next 'Star Wars' Movie, 'Rogue One'
Walt Disney Pictures/LucasFilm
Update: New Rogue One behind-the-scenes footage and art debuted at Star Wars Celebration in London -- and it's already online. Scroll down for a revealing look. 
Star Wars: Episode VII - The Force Awakens is the biggest movie of all time in the United States. You saw it. Your parents saw it. Your kid sibling saw it. Your crazy uncle and your frail auntie saw it. Your dog saw it. Everyone saw it. 
Logically, there are more Star Wars movies on the horizon (no, that VII in the title wasn't just to be cute), but the next installment isn't a sequel to the misadventures of Rey and Finn. The movie's called Rogue One: A Star Wars Story, it's a prequel, and it's hitting theaters just one year after The Force Awakens (December 16th, 2016). What do we know about it? More than you'd think. Here's the skinny, to be read in your best, wise Obi-Wan voice (beware of spoilers, Luke):
Here's the first trailer
Always a good place to start, although the two-minute sizzle reel prioritizes bold images -- the Death Star! AT-ATs! Creepy new villains! -- over details. Luckily, we already know a ton.
Walt Disney Pictures/LucasFilm
What is Rogue One about?
According to Star Wars mastermind Kathleen Kennedy, who announced the film last March at the Star Wars Celebration event, Rogue One fills in a missing piece of original. The spinoff will "revolve around a rogue band of resistance fighters who unite for a daring mission to steal the Death Star plans and bring new hope to the galaxy." Basically, an off-handed mention in Luke's X-wing assault prep session becomes the saga's first heist movie.
20th Century Fox
It's set between trilogies
Rogue One reportedly takes place after Episode III - Revenge of the Sith, where fans saw Darth Vader and the Emperor constructing the first Death Star, and before Episode IV, when the war machine's blueprints are already in Princess Leia's hands.
 
The movie sports the franchise's most eclectic cast yet
Felicity Jones, who earned an Oscar nomination for her role in 2014's Stephen Hawking biopic The Theory of Everything, stars as Jyn Erso, a rapscallion recruited to steal the Death Star plans. As evidenced in the trailer, she'll lead a team of spies to infiltrate the Empire and steal the Death Star plans. Diego Luna (Elysium), Donnie Yen (Ip Man), Jiang Wen (Devils on the Doorstep), Forest Whitaker (The Last King of Scotland), Mads Mikkelsen (TV's Hannibal), Alan Tudyk (Serenity), and Riz Ahmed (Nightcrawler) costar.
LucasFilm
And here's what the crew originally looked like
During a panel at the 2016 Star Wars Celebration convention, John Knoll, chief creative officer of LucasFilm's Industrial Light & Magic visual effects studio, revealed this concept art depicting an early version of the Rogue One team. In conceiving both the movie and its players, Knoll referenced the men-on-a-mission war movie The Guns of Navarone and Ocean's 11.
LucasFilm/Walt Disney Pictures
Bloodline's Ben Mendelsohn stars as the villain
And we even know his name: Director Krennic, the "Director of the Imperial Military," which brings back memories of Dwight Schrute's "Assistant Regional Manager" vs. "Assistant to the Regional Manager" debate. The recent leak of a Rogue One companion book revealed Mendelsohn's character, along with a new class of Stormtrooper ("Death Troopers") and a new Imperial craft ("The TIE Striker").
It's brought to you by the guy who rebooted Godzilla
Gareth Edwards only had indie experience when Hollywood hired him to direct a remake of Godzilla. The roaring, resourceful blockbuster earned raves and, suddenly, the guy was in demand. But when he took the Rogue One job, it was Edwards who was gushing. "I couldn't sit in a cinema and know that someone else made this film," he said at the March Celebration panel.
Here's what that looks like
Kennedy and Edwards revealed an extended look at the movie at the 2016 Star Wars Celebration event in London. The above sizzle reel is chock full of action sequences, redesigned costuming, and peaks into the war-filled world of Rogue One.
 
Rogue One will depart from the usual Star Wars look
Edwards hired Zero Dark Thirty cinematographer Greig Fraser to make his one-off Star Wars movie look like a war movie (they may even shoot portions on coveted 70mm film). He hired Alexandre Desplat (Grand Budapest Hotel) to reinvent the music, the first composer after John Williams to take on a live-action Star Wars movie. Franchise staples are involved, too; veteran Industrial Light & Magic visual effects supervisor John Knoll, who worked with George Lucas in the 1980s and designed effects for the Star Wars prequels, returns for Rogue One.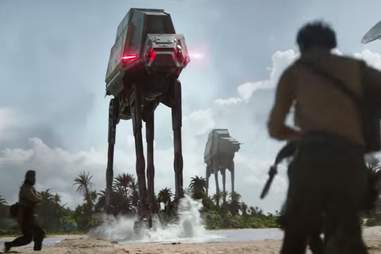 LucasFilm/Walt Disney Pictures
But it won't depart too much
According to The Hollywood Reporter, Edwards and his cast will reshoot scenes of Rogue One this summer, in order to make it more of a classic Star Wars movie, or more specifically, "lighten the mood, bring some levity into the story and restore a sense of fun to the adventure." The trade also suggests that the additional work could squeeze in an appearance by Han Solo, setting up a prequel movie starring Hail, Caesar! actor Alden Ehrenreich.
There was already a teaser trailer
Technically. The guys at visual effects studio Industrial Light & Magic cobbled together this test video -- brought to you by a rogue band of resistance fighters who snuck cameras into the panel -- which shows off the scale of the incomplete Death Star.
Donnie Yen
This is the only other photo we've seen from the shoot
A Facebook photo shared by Donnie Yen is our only glimpse into Edwards' realized vision. Helmets! Unique helmets. The snapshot explains little, but eagle-eyed fans have a few ideas on how it may come together...
Walt Disney Pictures/LucasFilm
Jones' character might be tied to Episode VII
Though the folks in charge are tight-lipped on Rogue One details, Internet sleuths believe the shot of The Force Awakens' protagonist Rey (Daisy Ridley) futzing around with a Rebellion pilot helmet on her home planet of Jakku provides the multi-pronged series with connective tissue. Could Jones' character potentially be Rey's mom? OK, if Jones' character is in her 20s during Rogue One, steals the Death Star plans just a few years before the original Star Wars, hangs out for four years until the Battle of Endor in Return of the Jedi, waits 11 more years to have a kid... sure, that could work.
 
Another Force Awakens character could make an appearance
The opening crawl of Episode VII touts Max von Sydow's character Lor San Tekka as "an old ally." We aren't told how he became a close friend, or why he was entrusted with the map to Luke Skywalker's current location. Could Rogue One shed some light? Was Lor San Tekka around for the big Death Star heist? The detectives on Reddit think so.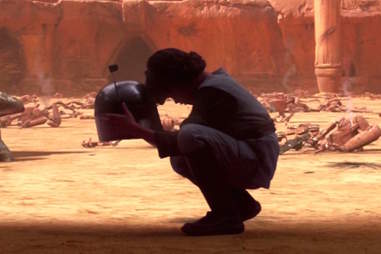 20th Century Fox
Jones could be Boba Fett's daughter
A reporter claiming to have inside sources says it's true. Why it would matter if Jones' intergalactic Danny Ocean is also Fett's kid? An explanation didn't arrive with the rumor, but if the prequel trilogy and The Force Awakens are any indication, this is a franchise that loves its callbacks.
20th Century Fox
Or maybe she's just a woman trying to undo her dad's wartime goof?
A rumor originating at the Making Star Wars fan site claims Mikkelsen will play a "Robert Oppenheimer-type character" in the movie, a defector stricken by guilt after building the Galactic Empire a war machine. Jones would play his daughter, who leads the operation to screw the space pooch.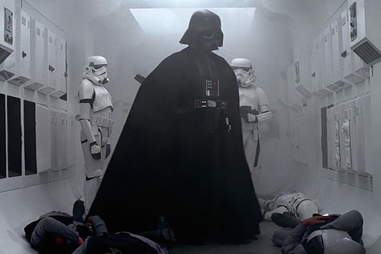 20th Century Fox
Get this: Darth Vader is supposed to show up
He may bump into our heroes in the hallway or pop up on a hologram screen, but since Darth Vader is menacing the galaxy during the time period of Rogue One, all signs point to a cameo.
20th Century Fox
Edwards might revive Grand Moff Tarkin with CG
Original trilogy actor Peter Cushing died in 1994, but thanks to the advances in computer technology, could return in some shape or form in Rogue One. He commanded over the Death Star in Star Wars '77. His Nazi-light presence would fit right in here.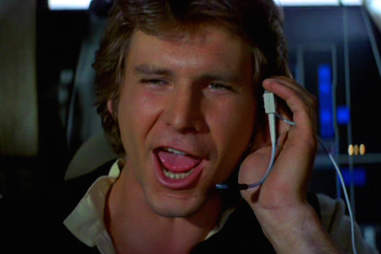 20th Century Fox
And now they're talking about a young Han Solo flyby
Lucasfilm and Disney are keen on resurrecting their no-bullshit smuggler in another Star Wars Story spinoff. And if they find a Harrison Ford replacement quickly, there's room for him in Rogue One. Hollywood trades report that the search is on for a smug, 20-something dude to fill Ford's shoes, with hopes of introducing him on the big screen.
Check back for more updates on Rogue One: A Star Wars Story as more details escape the clutches of the Galactic Empire.
Sign up here for our daily Thrillist email, and get your fix of the best in food/drink/fun.
Matt Patches is Thrillist's Entertainment Editor. He previously wrote for Grantland, Esquire.com, Vulture, The Hollywood Reporter, and The Guardian. He really doesn't need more Boba Fett in his life. Find him on Twitter @misterpatches.