What's Real and What's Fake in Martin Scorsese's New Bob Dylan Documentary on Netflix
"Life isn't about finding yourself or finding anything," muses Bob Dylan early on in Rolling Thunder Revue: A Bob Dylan Story, the new Martin Scorsese tour documentary that debuted on Netflix and in select theaters last week. "Life is about creating yourself and creating things." Delivered in the singer's raspy voice during one of the modern day talking-head interviews in the film, it's one of those classic Dylan statements: cryptic, playful, and koan-like. But it's also a useful skeleton key for unlocking, understanding, and enjoying the pleasures of this fascinating riddle of a movie.
As many reviews have noted, Rolling Thunder Revue is itself an act of impish deception, a puzzling magic trick, and a self-conscious attempt at myth-making. If you're looking for a straightforward concert film, like Scorsese's The Last Waltz (which also features Dylan), about The Band's 1976 farewell performance, or a more conventional piece of biographical portraiture, like Scorsese's Dylan-focused No Direction Home from 2005 about the folk singer's turbulent 1960s, then you'll likely find Rolling Thunder Revue a bit maddening. Like Dylan himself, the movie, which chronicles the singer's freewheeling 1975 and 1976 tour (The Rolling Thunder Revue) of smaller concert halls featuring a rotating cast of opening acts and collaborators, often feels like it's putting you on.
What exactly does that mean? On a basic level, some of the material in the movie simply isn't true. For example, a few of the people interviewed in the film, like director "Stefan van Dorp" are actually made-up characters. (In the credits, Ocean's Eleven screenwriter Ted Griffin and Silence screenwriter Jay Cocks are listed as "humble scribes.") Many of the contemporary interviews feature real individuals: Dylan, singer Joan Baez, actress Sharon Stone, playwright Sam Shepard, and others telling stories that intentionally blend fact and fiction. To help you figure out exactly what's what, we've broken down some of the movie's mysteries below.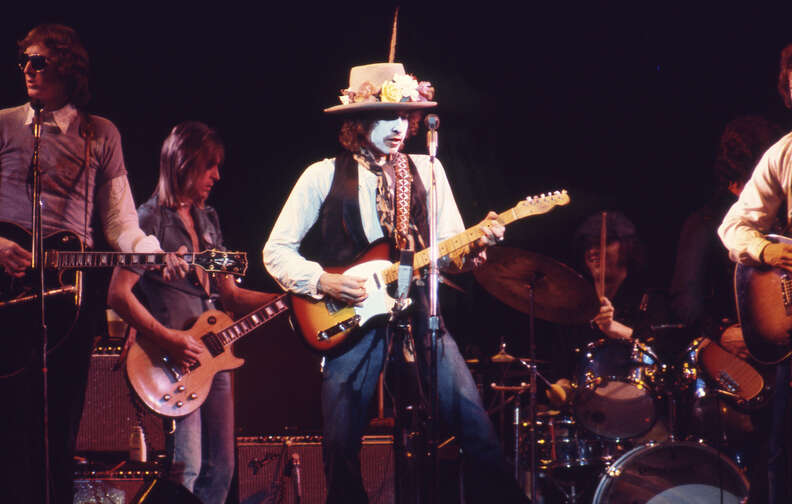 What was the Rolling Thunder Revue?
For all its non-musical digressions and prank-like flourishes, the most compelling footage in Rolling Thunder Revue is the least complicated. The scenes where you see singers like Dylan, Patti Smith, Joni Mitchell, Joan Baez, and more perform their music on stage, and occasionally in more intimate rehearsal settings, form the backbone of the movie, and are the parts you won't be able to look away from. Obviously, this incredible footage is real, captured during the tour by a filmmaking crew that recorded each performance in the tour, which kicked off in the Northeast in the fall of 1975 and continued into the Spring of 1976, ending with a show in Salt Lake City, Utah.
Following his motorcycle accident in 1966, Dylan had spent years away from touring. While he still recorded and released albums, he didn't go on the road again until 1974, when he joined his frequent collaborators The Band for a mega-successful stadium tour. The Rolling Thunder Revue was a different, more layered beast. In the midst of the social and political turmoil of the '70s, he was looking to recapture an older idea of what a tour could be.
In the documentary, Dylan describes it as "a combination of different acts on the same stage" and says it was to take "the traditional form of a revue." That could mean Allen Ginsberg reading poetry to the crowd or Ramblin' Jack Elliott performing folk songs. It also meant Dylan playing new material like "Isis" and "One More Cup of Coffee" from his 1976 album Desire, assisted by brilliant musicians like T-Bone Burnett, Steven Soles, David Mansfield, and violinist Scarlet Rivera, who lends an incredible sense of drama to tracks like "Hurricane." Wearing a flower-covered cowboy hat and white face-paint, Dylan tears into these songs and rearranges some of his other songs with an almost punk-like, sneering ferocity. The music is the real star here.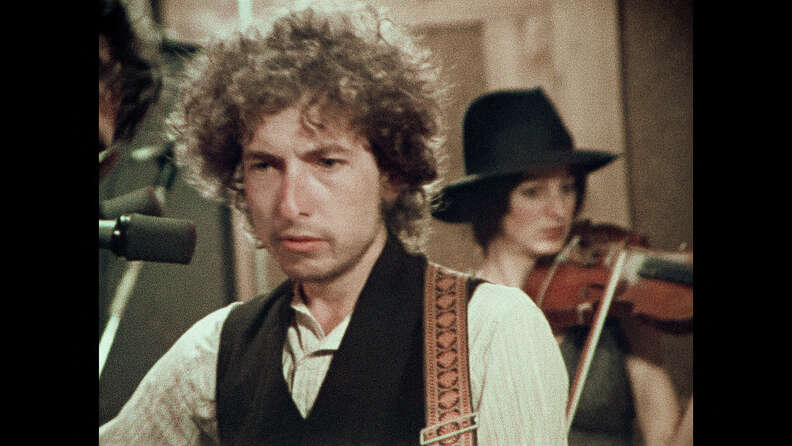 Is the behind-the-scenes footage in the documentary real?
Here's where things start to get complicated. Much of the backstage material you see in Rolling Thunder Revue, which often finds band members hanging around and having slightly off-kilter personal conversations, is apparently outtake footage from Renaldo and Clara, a four-hour-long experimental film directed by Dylan and released to mostly negative reviews in 1978. (The movie is hard to obtain an official copy of, but appears to be streaming on YouTube at the moment.) It was written by Dylan and Shepard, who pops up in a modern day interview to say, "I was just kinda there for the ride, basically." Presumably, a lot of improvisation was involved.
This backstage footage captures the haphazard quality of the Rolling Thunder Revue, the vague feeling that everyone just tumbled out of buses in different towns and made their way on stage. It presents touring as a creative, personal quest narrative with no fixed destination or larger goal. The fleeting connection with the audience, best displayed here in a moving shot of a fan crying when the lights come up after a show, is the point, along with the sense of community fostered by the artists themselves. For a figure like Dylan, it seems like the mundane aspects of touring kept him grounded at a time when celebrity threatened to overtake his life. Again, Sam Shepard sums it up perhaps most succinctly: "It wasn't stardom. They were looking at a band."
Are the people in modern-day interviews in the movie all real?
If you don't know what you're getting into when you watch Rolling Thunder Revue, some of the talking-head interviews might strike you as weird. Director "Stefan van Dorp" is played by Martin von Haselberg, the husband of Dylan's friend Bette Midler, and many of his quotes sound like parodies of a slightly pompous, antagonistic filmmaker. But it's not that extreme or ridiculous, either. Similarly, Paramount Pictures CEO Jim Gianopulos shows up as a concert promoter also named Jim Gianopulos, a man fond of making gangster-like proclamations like, "There was money everywhere... all you had to do was bend down and pick it up," and, "Some things you don't talk about." He's the funniest, most cartoon-like creation in the film.
In addition to van Dorp and Gianopulos, we also get an oddball appearance from Congressman Jack Tanner, the protagonist of Robert Altman and Garry Trudeau's political mockumentary Tanner '88. (Tanner is played by actor Michael Murphy, who viewers might recognize from recent roles in movies like White House Down and X-Men: The Last Stand.) Actress Sharon Stone, who appeared in Scorsese's film Casino, also shows up to tell a few personal anecdotes about her Dylan fandom, but the details, like a photoshopped image of her in a KISS sweatshirt, feel intentionally foggy. What you're watching is a performance of a faux-memory.
In a year with no shortage of lengthy music documentaries, including HBO's impactful Michael Jackson examination Leaving Neverland and Showtime's captivating Wu-Tang Clan epic Of Mics and Men, it's not unreasonable to wonder why you need to watch another documentary about Dylan. How much is too much? There's no shortage of books, films, and magazine articles about him. But Rolling Thunder Revue is more than a big in-joke for the Dylan faithful: By embodying Dylan's mischievous side and showcasing his gifts as a live performer, Scorsese's documentary offers a valuable look at the musician that pushes beyond the image of him as the Greenwich Village troubadour and Nobel Prize-winning lyricist, capturing the touring musician traveling the world in search of experience and enlightenment. As a filmmaker, Scorsese isn't content with finding the legend; instead, he creates it right in front of your eyes.