Ronda Rousey's Comeback Fight Just Got Announced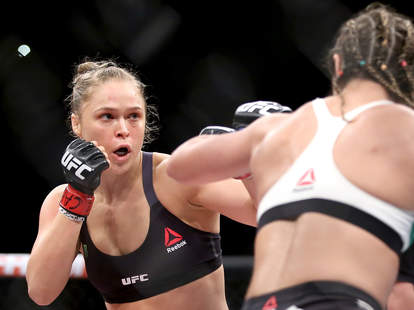 Matthew Stockman/Getty Images Sport/Getty Images
If you just felt a tremor under your feet, felt a rush of heat against your brow, we now know why: Ronda Rousey, MMA fighter extraordinaire, is back doing what she does best.
UFC President Dana White officially announced today that Rousey will officially be back in the ring in 2016. After her crushing knockout at the hands of Holly Holm last November, everyone wondered when (or indeed, if) the former Women's Bantamweight champ would return to fight in the UFC. It's not easy to recover from the "Kick Heard Round the World," after all. Well, not only did Rousey recover enough to return to the octagon, but she'll be doing so in two months' time at UFC 207 on December 30th.
Rousey will attempt to regain her title from current Bantamweight champ Amanda Nunes, who snagged the title from Miesha Tate at UFC 200, who in turn took it from Holly Holm at UFC 196. In other words, while this won't be a revenge fight per se, she'll still be fighting the woman who beat the woman who beat her face in last year, which is well within the six degrees of separation required by Kevin Bacon's cosmic law.
For those of you who don't remember her stunning defeat in 2015, here's a quick recap: following months of trash talk and undefeated hype, Ronda Rousey entered the octagon with Holly Holm for one of the most anticipated UFC fights in recent memory. What followed was an astonishingly quick match, which ended in the second round with a devastating knockout kick to Rousey's head. Ouch.
In the weeks that followed, a humbled Rousey claimed it would be a while before she'd be well enough to even bite an apple -- and then four months after the Kick Hear 'Round the World, she posted a video of herself doing just that. She's since been spotted training at her gym this summer, fueling speculation of an upcoming redemption match. Well, speculate no more, because that match just became official.
Win, lose, or draw, this'll be one hell of a fight.
Sign up here for our daily Thrillist email, and get your fix of the best in food/drink/fun.