6 Poorly Rated Rotten Tomatoes Movies That Are Actually Good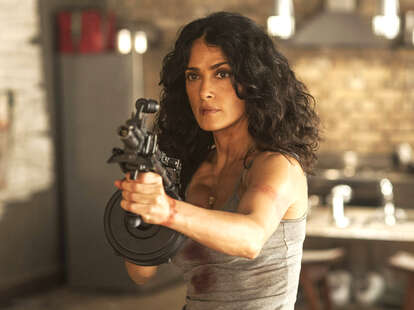 Rotten Tomatoes makes movie-hunting easier, but as we've noted before, sometimes the site's soiled goods are really underappreciated gems. Maybe the mainstream consensus didn't quite grasp the meaning of the movie. Maybe poor timing and half-baked distribution made the project go splat. Whatever the case, the six movies below deserve a second look.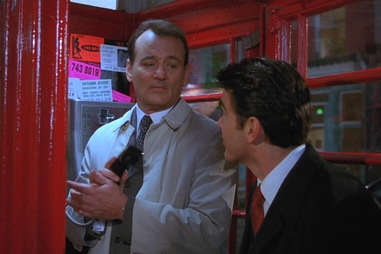 The Man Who Knew Too Little
Released: November 14, 1997
Starring: Bill Murray, Joanne Whalley, Peter Gallagher
Director: Jon Amiel (The Core)
Tomatometer reading:41%
Why it's better than it looks: Two wildly different stories collide in this action-comedy: First, there's the plot to assassinate world leaders at an Anglo-Russian banquet. Then there's Wallace Ritchie (Murray), a Blockbuster employee celebrating his birthday with a live theater troupe in the streets of London. The mayhem starts when Wally picks up the wrong phone call and, consequently, accepts the wrong "mission." What follows? A string of hilarious mix-ups, steered by a clever script and a lovable fool. The entire cast is good, but Murray's deliveries in particular have aged like the finest of wines. It's the kind of movie where ignorance and ineptitude are heroic, so if you try to take it too seriously, the joke's on you.
Where to watch: Rent on iTunes, YouTube, and Amazon Video
The Glass House
Released: September 14, 2001
Starring: Leelee Sobieski, Diane Lane, Stellan Skarsgård
Director: Daniel Sackheim
Tomatometer reading: 21%
Why it's better than it looks: Orphaned after a car crash, two kids (Sobieski, Trevor Morgan) move in with a pair of trust fund-hungry family friends in Malibu. Forgotten star Sobieski appears at the top of her game, complemented nicely by her new guardians, Lane and Skarsgård, the latter at his most menacing. The movie is mostly predictable, but the actors make the ride engrossing as a whole, capitalizing on suspense and playing up the same kind of "how can this be happening and why won't anyone believe me?" paranoia found in Rosemary's Baby.
Where to watch: Rent on iTunes, Amazon Prime
Rambo: First Blood Part II
Released: May 22, 1985
Starring: Sylvester Stallone, Richard Crenna, Charles Napier, Julia Nickson
Director: George P. Cosmatos (Tombstone)
Tomatometer reading:30%
Why it's better than it looks: Admittedly, the First Blood Part II story, which sends Stallone's human action figure back to Vietnam solely to take pictures, is ridiculous. The dialogue is ridiculous. The characters are ridiculous. But would you really watch Rambo for peerless quality in any of those categories? Only if you were clinging to the surprisingly serious, action-light original, First Blood. With Rambo, you want explosive special effects, acrobatic helicopter firefights, stealthy swamp kills, and rockets out the wazoo. Mission accomplished, Part II.
Where to watch: Rent on Amazon, buy on iTunes
Heavyweights
Released: February 17, 1995
Starring: Ben Stiller, Tom McGowan, Aaron Schwartz, Kenan Thompson
Director: Steven Brill (Sandy Wexler)
Tomatometer reading:29%
Why it's better than it looks: Overweight campers band together to wrest back their summer fun from the clutches of a new arch-nemesis: fitness entrepreneur Tony Perkis. Stiller, not yet in his Meet the Parents phase, plays the Tony Little caricature who's supposedly good with children. He's not. It's a simple idea, but it's near-endless fun for everyone involved. Written by Judd Apatow and Steven Brill, this Disney movie tells a goofily heartwarming underdog story that isn't just for kids.
Where to watch: Rent on iTunes, Amazon, and YouTube
Everly
Released: January 23, 2015
Starring: Salma Hayek, Hiroyuki Watanabe, Laura Cepeda
Director: Joe Lynch (Wrong Turn 2: Dead End)
Tomatometer reading:29%
Why it's better than it looks: Hayek wastes no time painting the screen with blood in Lynch's frenetic, self-aware thriller. She stars as the title character, a prostitute hell-bent on killing her criminal overlord after he threatens the life of her daughter. A dumb threat, considering Everly's the type of badass who can pass as John Wick's long-lost sister -- even if she has to be stuck in the same room for 92 minutes. The movie never tries to be anything other than cheeky, non-stop action, and it's successful. It pulses with the surreal desperation of Fury Road while inducing the same claustrophobia you'd experience in Onimusha's Dark Realm. Buckle up.
Where to watch: Stream on Netflix
Lizzie Borden Took an Ax
Released: January 15, 2014
Starring: Christina Ricci, Clea DuVall, Gregg Henry
Director: Nick Gomez (Drowning Mona)
Tomatometer reading:43%
Why it's better than it looks: In 1892, Abby and Andrew Borden were found brutally slain in their Massachusetts home. Some claim the couple's killer was never identified; others believe Andrew's daughter, Lizzie, was to blame. In 2014, Lifetime took creative liberty with the still-unsolved case, enlisting Christina Ricci to breathe new life into the well-worn mystery. The actress gives an unnerving performance as the conspicuous Lizzie, who's promptly tried and acquitted. You'll be surprised to see how much this Lifetime TV movie doesn't feel like a Lifetime TV movie, thanks to period flair, intrigue, and the perfect pinch of speculative camp. Converted fans can turn to Lifetime's Lizzie Borden Chronicles for more.
Where to watch: Stream on Netflix
Sign up here for our daily Thrillist email, and get your fix of the best in food/drink/fun.
Sean Fitz-Gerald is a staff writer at Thrillist Entertainment. Find him on Twitter @srkfitzgerald.