A Recap of the Royal Wedding, for People Who Slept Through It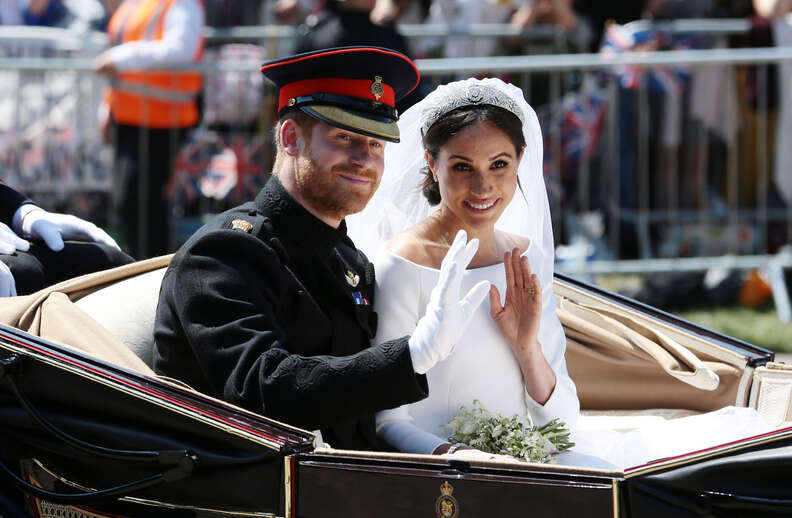 The season finale of The Greatest Love Story of Our Time™ reached its thrilling conclusion early Saturday when actress Meghan Markle and noted second child Prince Harry tied the knot at Windsor Castle's St. George Chapel. You most likely didn't watch it. But whether you skipped it because you value sleep over getting up at the crack of dawn to see the Suits co-star get married to a prince and not become a princess or because of your innate aversion to pomp and circumstance, you're probably hearing a lot about it. So here's a quick recap of what what down in Windsor town.
The most important thing to know is that the wedding defied expectations in every possible way. All the gossip and drama that led up to the event faded away as the ceremony unfolded. There were old choral hymns and staid clergymen, of course, but also a beautiful rendition of "Stand by Me" and a fervent sermon from American Episcopalian Bishop Michael Curry that invoked Martin Luther King, Jr. The occasion was as much of a reflection of Meghan's African-American background as it was a product of Harry's regal British lineage, and was all the more meaningful for that.
But yeah, there were also a lot of celebrities. And hats. And celebrities in hats.
There were tons of celebrities. Like, so many celebrities.
All the A-list talent on hand made it easy for us Americans to tune out a lot of information we'd quickly forget. Sorry, random fifth cousin of the groom -- Oprah Winfrey's here! So were Serena Williams, George Clooney, Elton John, Posh and Becks, Carey Mulligan and her Mumford, Priyanka Chopra, and Idris "Freaking" Elba. Also: Tom Hardy, who probably did some weird voice at some point during the festivities. The rest of the cast of Suits turned up, too, and if you've never heard a British commentator talk about a basic cable television program, you're missing out. How was your wedding?
Beatrice and Eugenie frustrated hat-watchers
The last time we watched one of these things -- back in 2011 for William and Kate's wedding -- Princesses Beatrice and Eugenie, the spawn of Fergie and Prince Andrew, showed up wearing the most delightfully absurd fascinators. (Also delightfully absurd? The word fascinator, which is just a fancy way of saying "fancy hat.") Back then, Beatrice, notably, wore a thing that could best be described as a vaguely vaginal-looking sea creature that was in the process of hatching. Sadly, in the seven years that have passed, the two early-20-somethings transformed into a pair of late-20-somethings who aren't keen on being roundly mocked on the internet. So they turned up with subdued headwear, looking more Jackie O than Jackie Oh No, much to the dismay of Fascinator Twitter.
But at least Camilla brought it
Beatrice and Eugenie may have seriously let us down in the fascinator department, but Camilla, the Duchess of Windsor, knows what everyone in America is waking up before sunrise to see: big ass hats. Prince Charles' significant other wore a giant thing resembling a pink platter of ruffles. Thank you for the hat, Camilla.
Harry kept the beard
"The beard is there!" NBC's panel squealed upon first sight of the Duke of Sussex. First Captain America and now Prince Harry? The year of the beard is upon us and has now been confirmed on both sides of the pond.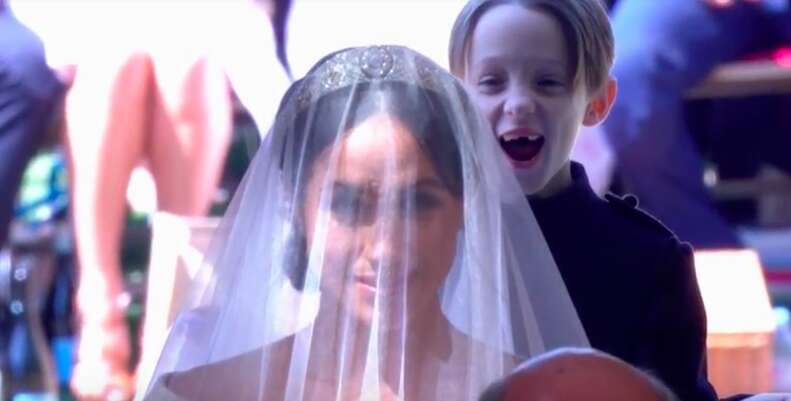 This kid made a funny face
Just as Meghan was set to enter the chapel, one of the children tasked with holding her train decided it was his big moment. Was he smiling? Yawning? Slyly telling his parents he needs a trip to the dentist? Who cares! It was adorable!
Meghan's wedding dress
Goodbye, cynicism. Wearing a Givenchy dress with an enormous veil and Queen Mary's tiara, Meghan was not just beautiful, she was every darn synonym for beautiful. Beardy Harry was also impressed, as well he should have been. Cameras caught him telling her, "You look amazing," just one of many little public displays of affection that could make you plotz with their cuteness.
The Dean of Windsor saying "sexual union"
During this part of the ceremony my mom texted me: "Did he say sexual union?" I responded: "Yes." If you giggled, you're in good, if totally immature, company here.
Bishop Michael C. Curry's amazing sermon
All joking aside, one of the most moving moments was when Michael Curry, the current presiding bishop of the Episcopal Church, took the podium and preached a sermon about the power of love that was centered on a quote from Martin Luther King Jr. which reads: "We must discover the power of love, the redemptive power of love. And when we do that, we will make of this old world a new world. Love is the only way." As he spoke, Curry made the case for love in all forms, not just the love between two people getting married. He described how there were "old slaves in America's Antebellum South who explained the dynamic power of love, and why it has the power to transform," citing the spiritual "There Is a Balm in Gilead."
Curry argued: "When love is the way, we will let justice roll down like a mighty stream and righteousness like an ever-flowing brook. When love is the way, poverty will become history. When love is the way, the earth will be a sanctuary. When love is the way, we will lay down our swords and shields, down by the riverside to study war no more. When love is the way, there is plenty good room for all of God's children. Because when love is the way, we actually treat each other like we are actually family." You can read the full text over at Vanity Fair.
People on Twitter were thrilled, but some also speculated about how the Queen might have been reacting:
#CelloBae was crowned
Harry and Meghan weren't the only people to get new titles today. As they went off to sign the registry, the crowd was entertained by music from 19-year-old cellist Sheku Kanneh-Mason, the first-ever black winner of the BBC Young Musician award. He was personally selected by the royal couple, and Twitter decreed that he must be crowned as well.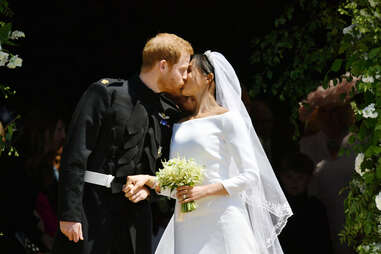 And, of course, the kiss
You didn't think we would leave you without a photo of the long-awaited kiss? Well, here you go.
But really, Cord and Tish's basset hound
Over on HBO, Cord Hosenbeck and Tish Cattigan, a.k.a. Will Ferrell and Molly Shannon, had the appropriate level of excitement about the kiss. But yeah, they also had a basset hound named Manfred.
Esther Zuckerman is a regular contributor to Thrillist and gets up early to watch royal weddings every seven years or so.