RuPaul's Drag Race is the most challenging reality competition on television. Not only must contestants know how to apply makeup and cobble together their own clothing, they need to be masters in the art of wigs, tout impeccable lip-sync skills, be funny as hell, and know how to work a crowd.
I've been a huge fan of Drag Race since the first episode aired on Logo in 2009, and have devoured every episode since then. In my professional capacity as a TV writer who used to run a New York gay nightlife magazine, I've interviewed RuPaul, recapped the seasons, and spent tons of time getting to know the Big Apple's drag scene. In more casual situations, I've clocked time debating the best queens and rooting for my favorites. Drag Race is the closest gay culture gets to a sports league and I'm an unofficial ESPN color commentator. So, no tea no shade, but that's why I'm ranking the queens and you're not.
One hundred insanely talented queens have run RuPaul's gauntlet. Some made bigger impressions than others. In time for this week's ninth season premiere, here's a ranking of every contestant who ever appeared on the show. In the eternal words of Mama Ru: Don't fuck it up.
100. Phi Phi O'Hara (Season 4, All Stars 2): Yes, this queen had some great looks (especially when she reinvented herself as a sci-fi alien creature for All Stars) and was responsible for some excellent drama on the show. Still, Phi Phi is literally the worst. She was a cruel villain both times she was on the show, snapping at and shading her fellow queens. When she returned she demanded a better edit from producers. But when there's no good behavior to go on, it's hard to piece together favorable footage. Congrats, Phi Phi, you finally won something: this dubious distinction.
99. India Ferrah (Season 3): One of the worst drag names of all time.
98. Kelly Mantle (Season 6): Raggedy.
97. Laila McQueen (Season 8): Hot Topic wants its wigs back.
96. Jessica Wild (Season 2): Huh. Nope, don't remember her. A quick Google leads you to a porn star anyway.
95. Akashia (Season 1): Say who?
94. Kandy Ho (Season 7): Nope, not that sweet.
93. Phoenix (Season 3): There were no ashes for her to rise from.
Logo TV
92. Jasmine Masters (Season 7): Remember that awful beard she painted on herself because she thought the facial hair challenge was dumb? Horrible.
91. Madame LaQueer (Season 4): She was on Season 4. That's about the most we can say about her.
90. April Carrion (Season 6): She was pretty.
89. Magnolia Crawford (Season 6): She had a pointy nose, hated Khloe Kardashian, and would apologize for neither.
88. Serena ChaCha (Season 5): We get it, you went to art school. Too bad your drag sucks.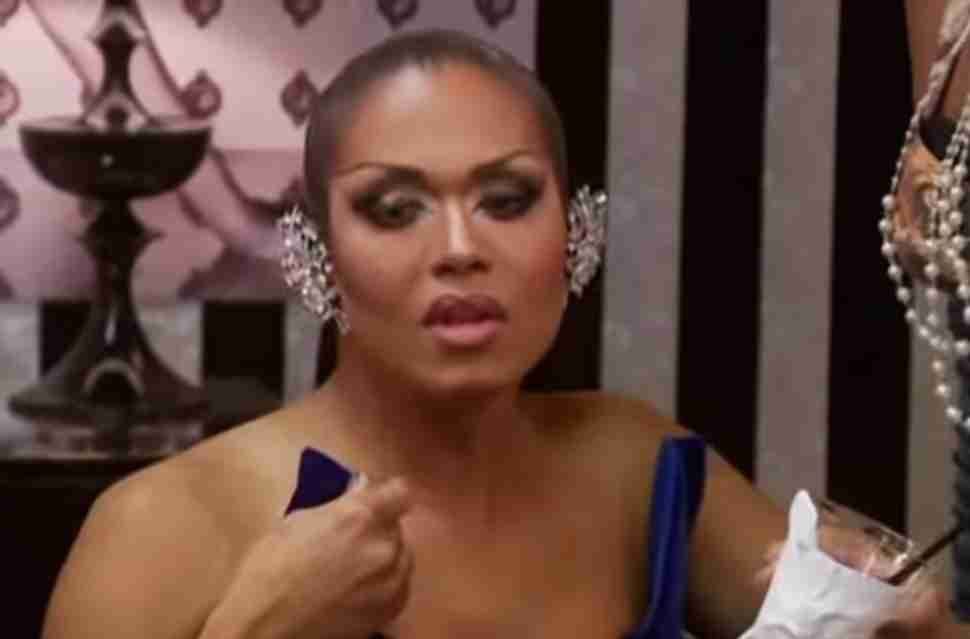 87. Mariah (Season 3): If you can't do a good Joan Crawford impersonation during Snatch Game, then your shit is busted.
86. Nicole Paige Brooks (Season 2): She was the one with the son, remember? Yeah, me neither.
85. Sonique (Season 2): A bad Lady Gaga impersonation in the Snatch Game is always cause for dismissal.
84. Alisa Summers (Season 4): She makes a real cute boy. That should count for something.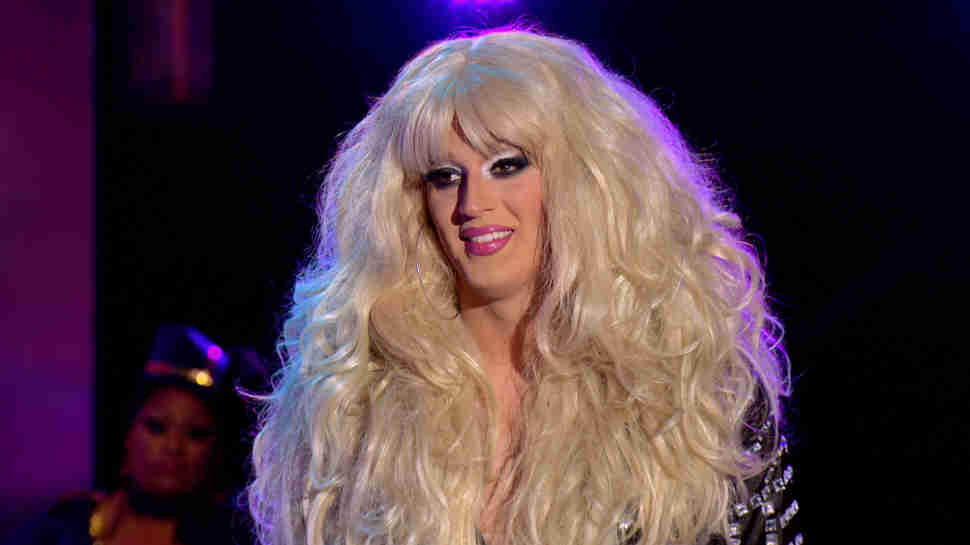 83. Sasha Belle (Season 7): Can you tell the difference between her and Tempest DuJour?
82. Tempest DuJour (Season 7): Can you tell the difference between her and Sasha Belle?
81. Jade (Season 1): I mean, she's no Jade Jolie.
80. Penny Tration (Season 5): The Facebook fan choice was the first one sent home. The people can never find talent.
79. Venus D-Lite (Season 3): Bad, bad, bad, but she gets bonus points for being "addicted to being Madonna" on an episode of My Strange Addiction.
78. Jaidynn Diore Fierce (Season 7): Yeah, I guess she was OK.
77. Dax ExclamationPoint (Season 8): We hardly knew this punctuated queen who was like a comic-book character come to life, but she probably should have stuck around longer.
76. Mystique Summers Madison (Season 2): This big girl's biggest claim to fame is fighting with Morgan McMichaels on Untucked and winning an eating challenge. Poor thing.
75. Joslyn Fox (Season 6): How did this sloppy, disheveled mess get so far in the competition? That's almost a reason to love.
74. Lineysha Sparx (Season 5): With a name this memorable you think she would be better at singling herself out. You'd be wrong.
73. Rebecca Glasscock (Season 1): A boring girl with a bad name -- who made it to the final three. So, a miracle.
72. Naysha Lopez (Season 8): Another boring fishy queen.
71. Monica Beverly Hillz (Season 5): The show's first openly trans contestant with one of the best names ever, but still she couldn't stand out from the crowd.
70. Shannel (Season 1): She always thought she was cooler than she was. Not horrible though.
69. The Princess (Season 4): Her bald-headed future-beyond schtick was a lot better than some of the other queens' signatures, but she was a bit of a snooze.
68. Honey Mahogany (Season 5): Her '70s disco-glam style was a bit underrated, but her lackluster lip syncing led to the show's first double elimination.
67. Vivienne Pinay (Season 5): The definition of "resting on pretty," the first time she was asked to do something other than look fabulous was when she lip synced for her life, and both she and Honey Mahogany got chopped.
66. Max (Season 7): Like a Rodney Dangerfield character, Max never really got the respect she deserved. Maybe it's because all she did was look good. (But boy did she look good.)
65. Morgan McMichaels (Season 2): The only queen in series history to win the first competition and not end up in the final three. That's a dubious distinction indeed.
64. Kenya Michaels (Season 4): It takes a special kind of queen to be sent home twice, so I guess Kenya is kinda special. Her Beyoncé during Snatch Game wasn't, though.
63. Victoria "Porkchop" Parker (Season 1): The original big girl is memorable mostly for her place in Drag Race legend as the original loser.
62. Vivacious (Season 6): Ornacia was the real star of Season 6.
Logo TV
61. Lashauwn Beyond (Season 4): We have her to thank for "This is not RuPaul's Best Friend Race." Classic.
60. Derrick Barry (Season 8): We get it, she can do Britney Spears. Can she do anything else? Oh, be petty and not funny? Oops, guess she did that again.
59. Jade Jolie (Season 5): Her candy-coated rainbow drag was always a bit underrated. She's also the one who accused Alyssa Edwards of having back rolls. Back rolls?!
58. Gia Gunn (Season 6): Fishy and mean, Gia Gunn made it very hard for the other queens to like her (especially Milk, who she said dressed like a man). But you will never, ever forget her.
57. Alexis Mateo (Season 3): Not nearly as good as some of the other queens this season, this pageant girl still managed to win three challenges and make it to the final three.
56. Stacy Layne Matthews (Season 3): A shy country girl, Stacy Layne was undone by a challenge with cakes. No, like real, actual cakes. She deserved better.
55. Robbie Turner (Season 8): She lip synced in roller skates and was vaguely annoying. That's a lot better than many queens did.
54. Kennedy Davenport (Season 7): One of the best lip-syncers of all time, she has the distinction of kicking the much superior Katya out of her season.
53. Dida Ritz (Season 4): The judges never liked her lewks, but her winning lip sync against The Princess to Natalie Cole's "This Will Be" is still one of the all-time greatest.
52. Mrs. Kasha Davis (Season 7): You gotta have a gimmick, and this old broad gave us grande dame glamour, whether you liked it or not.
51. Cynthia Lee Fontaine (Season 8): No one is sure if this daffy queen was in on her own joke, but scrambling around talking about seeing her "cucu" sure was cuckoo in the best possible way. She was barely around, but they loved her so much she was named Miss Congeniality.
50. Milan (Season 4): I don't know about Rome and Paris, but Milan was a killer lip-syncer, an amazing dancer, and a stunner. Next time there's an All Stars, please bring her back.
49. Mimi Imfurst (Season 3): This comedy queen had two disappointing showings, but we'll never forget when she decided to pick India Ferrah up in an airplane spin during Season 3. Who knew drag was a contact sport?
48. Yara Sofia (Season 3): Remember when she played her "little person" cousin during the stand-up challenge in Season 3? One of the best comedy moments of all time.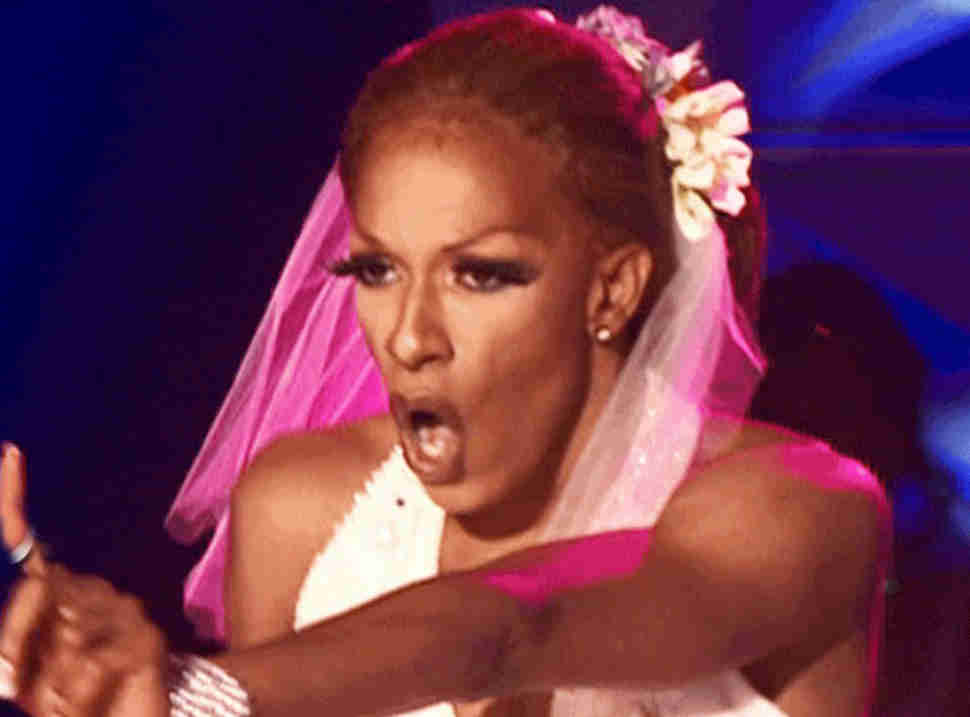 47. Sahara Davenport (Season 2): She often ended up in the bottom two, but she always slayed her competition with some of the fiercest dance moves the show has ever seen.
46. Ivy Winters (Season 5): Everyone all together now, "Ivyyyyyy Winnnnteerrrrrrrrsssss." Don't you feel better?
45. Tyra Sanchez (Season 2): The original girl to rest on pretty, she rested on it all the way to win the second season. Since then, she's been totally forgotten. If she had competed in the more stacked later seasons she wouldn't have made it past the halfway mark. Jujubee and Raven were both robbed.
Logo TV
44. Tammie Brown (Season 1, All Stars): Darling Tammie was on four total episodes of Drag Race over two seasons, but no one can forget her signature look (as if Tammy Faye Bakker gave Edith Piaf makeup lessons) or her absolutely insane approach to drag. She's just too brilliant to really blossom in this format.
43. Jiggly Caliente (Season 4): Never has a drag name been more apt than this plus-sized girl who was hotter than hot. Never the most polished, Jiggly always had a good time.
42. Acid Betty (Season 8): Though her name refers to LSD, it could also apply to her tart tongue. She had a unique approach to drag, with bigger-than-life costumes, fantasy-inducing wigs, and ornate makeup. Sadly, when she didn't dress up like Madonna by wearing a kimono like everyone else, they sent her packing.
41. Delta Work (Season 3): You can't keep this big girl down, and with a sassy mouth and a frank attitude, she was on the rise before being beaten out by Manila Luzon in one of the best lip-sync battles of all time.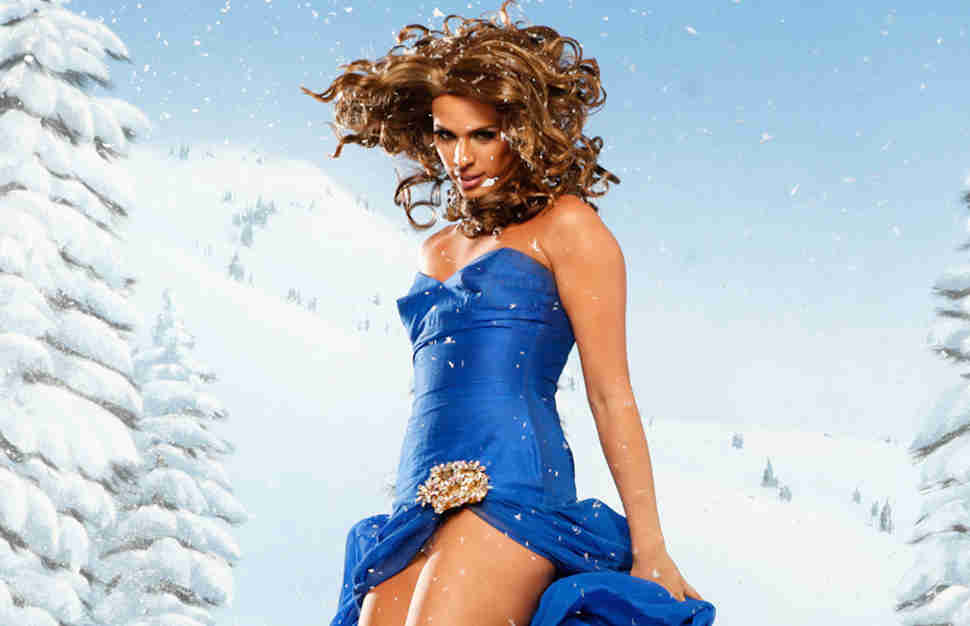 40. Carmen Carrera (Season 3): As a member of the Heathers clique with Delta Work, Raja, and Manila Luzon, she was one of the powerhouses of Season 3. After the season aired and she transitioned, Carrera was an even bigger star as a fashion model in W magazine and other places. It was also Carrera complaining about the show's "she-mail" that got that feature booted forever. Thanks, Carmen.
39. Miss Fame (Season 7): Never the sharpest tool in the shed, this chicken lover could beat her face like no one else. She wasn't much of a singer, dancer, or really anything else, but she always looked absolutely flawless.
38. Ongina (Season 1): Perky and fashion-forward, what Ongina will always be remembered for was her teary story on the runway about living with HIV. It was a moment of bravery and pathos in the show's first season, when Drag Race was much more of a parody of itself than it would later become.
37. Trinity K. Bonet (Season 6): She talked so much about how she wasn't prepared that you wanted to slap this girl in the face. Yet she managed to pull it out week after week with serious lip-sync skills and a stand-up act about growing up poor that destroyed RuPaul.
36. Milk (Season 6): Say what you will about this divisive queen, but there was nothing more revolutionary than when she dressed as a man -- and RuPaul, no less -- on this show for drag queens. Gia Gunn was disgusted, but Milk's insistence on wearing a mustache always pushed the boundaries of fashion, taste, and the art of drag itself. (Also, she's totally the cutest contestant as a boy.)
35. Coco Montrese (Season 5, All Stars 2): When many people think of Coco, all they can think of is the bright-orange rectangles on her face when doing her makeup, and her feud with Alyssa Edwards. She bested her rival during Season 5 but was eliminated first in the second season of All Stars.
34. Darienne Lake (Season 6): Yes, everyone was pissed when BenDeLaCreme went home instead of her, but this constant bottom-dweller managed to save herself from elimination countless times with her superior skill and bitchy attitude. But, yeah, DeLa was still the better queen.
33. Pearl (Season 7): Yes, she was boring. Yes, she talked in a drowsy monotone. But boy, you don't get a better-looking girl than Pearl. She was always absolutely stunning, and her fight with RuPaul offered some of the only drama during a snoozy Season 7. (Also, she might be the only boy cuter than Milk.)
32. Laganja Estranja (Season 6): This toking joker had a slew of annoying catchphrases and always seemed on the verge of a nervous breakdown. Her conflicts in the Interior Illusions Lounge are as legendary as her giant feather wig, and that is what made her TV gold.
31. BenDeLaCreme (Season 6): Who doesn't love a '50s housewife? Michelle Visage, that's who, who constantly accused DeLa of hiding behind a costume. Still, her transforming praying mantis look is one of the best ever.
30. Trixie Mattel (Season 7): More of an art project than a drag queen, the determined Trixie was very rigid in her huge wigs, technicolor clothes, and signature blocky makeup. She fought her way back into the competition after being eliminated and managed to stick around a lot longer. Trixie never gets her due for being a true original and an absolute YouTube star.
29. Chi Chi DeVayne (Season 8): As a boy, her hair looked like NSYNC-era Justin Timberlake, but as a girl, we watched Mx. DeVayne grow week after week into a force to be reckoned with. There's something to be said for a drag queen who can add something new to a lip sync of worn staple "And I'm Telling You I'm Not Going," and Chi Chi did just that.
28. Courtney Act (Season 6): This Aussie queen was already a hit down under, but even though she made it to the finals, she never quite took off Stateside in the same way. Yes, she had some great costumes and was one of the best natural singers on the show, but her skimpy clothes and blasé personality left a bit to be desired.
27. Thorgy Thor (Season 8): Quirky, dreaded, and dedicated to getting a laugh, this classically trained musician never really got to show off her skills playing an instrument, but her somewhat clownish take on drag was always wonderfully theatrical.
26. Violet Chachki (Season 7): When Violet looks good, no one looks better. When she came out in the Season 8 finale with her signature cinched waist, blue veins painted on her bust, and cockroaches glued to her body, it was absolutely revelatory. And let us not forget her two looks in one dress. Too bad all she can really give you is looks for days and unearned attitude.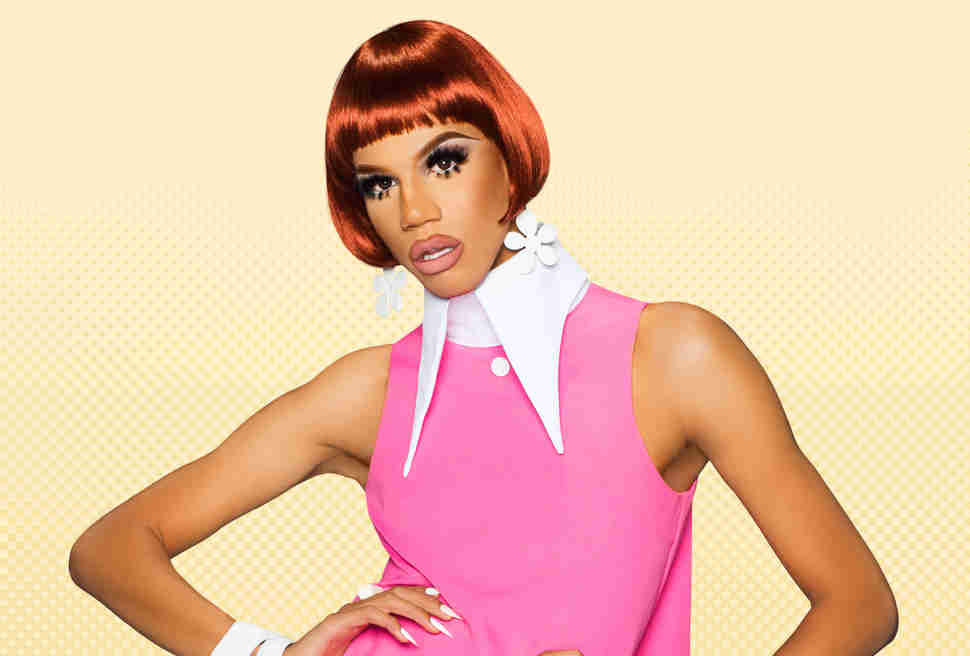 25. Naomi Smalls (Season 8): She's all legs and no dairy. Never the smartest or the best performer, Naomi was always the prettiest with a dedication to fashion unlike anyone else we've seen before. If she weren't up against stellar competition like Kim Chi and Bob, she might have won the whole thing.
24. Pandora Boxx (Season 2, All Stars): Sweet, hilarious, and with a Carol Channing impersonation that would make anyone want to eat raspberries, Pandora was absolutely beloved. Too bad Santino hated her looks, which is probably what led to her too-early exit. Still, she has a Miss Congeniality booby prize.
23. Adore Delano (Season 6, All Stars 2): The narrative of Adore going from sloppy to polished in Season 6 was a great arc for the character, but when she showed up in All Stars unable to take criticism and decided to leave early it tarnished her reputation. Too bad, because she's an excellent singer with a '90s punk aesthetic that no one else has.
22. Shangela Laquifa Wadley (Season 2, Season 3): You can't even turn on an episode of Drag Race without worrying that Shangela is going to come popping out of somewhere. She was the first queen booted off Season 2 because she didn't have enough experience. She came roaring back during Season 3, going quite far in the competition. If she ever learned to sew, she might have done a lot better. Hallelooo!
21. Ginger Minj (Season 7, All Stars 2): Her clothes weren't as polished as some of her competition, but with some great pipes and a quick drawling wit, Ginger always managed to entertain.
20. Tatianna (Season 2, All Stars 2): She was the villain the first time around and nearly forgotten when she returned years later as the only representative from the early seasons in the second All Stars. Time really was on her side, as she proved herself as a gorgeous queen who can do a killer TLC impersonation.
19. Roxxxy Andrews (Season 7, All Stars 2): There's only one reason she's this high on the list: the wig under the wig. That stunning reveal cemented her place in history. The villain the first time around for the way she treated Jinkx Monsoon, she was much nicer her second season, though her friends Alaska and Detox kept her in the competition much longer than she deserved.
18. Kim Chi (Season 8): From her first winning furry look to her gorgeous Korean-inspired final outfit, Kim Chi always looked absolutely flawless. She was a master of makeup, and could make a dress out of nothing. Too bad she couldn't really sing, and was perhaps the worst dancer to ever do a step ball change.
17. Manila Luzon (Season 3, All Stars): Just watching her unhinged lip sync to "MacArthur Park" is enough to convince you of this queen's genius. Always hilarious and with a crazy take no one saw coming, she should have shined when she returned for All Stars if it weren't for the awful paired eliminations.
16. Willam (Season 4): She puked on stage and then got disqualified from the competition in the same episode. We will never ever forget this funny troublemaker, more for the drama she provided and her stinging zingers than anything she ever showed on the runway.
Logo TV
15. Chad Michaels (Season 4, All Stars): The problem with this polished pro is that when we think of her, we only think of Cher. That's what happens when a queen's look is so reliant on a celebrity impersonation. That said, her Cher is flawless, and her calm demeanor and work ethic make her an all-time great.
14. Raja (Season 3): She was always about as calm as Woody Harrelson after three bags of pot gummies, and her aesthetic was equally wacky. The professional makeup artist could surely serve face, but her inventive costumes and askew take on beauty is what made her memorable.
13. Jujubee (Season 2, All Stars): Consistently funny and an absolute delight, we have her to thank for the classic read, "Legendary. Looks like leg and dairy." Yes, that was an insult of her bestie Raven and they are two great tastes that taste great together. Their melancholy lip sync against each other to "Dancing on My Own" will still bring you to tears.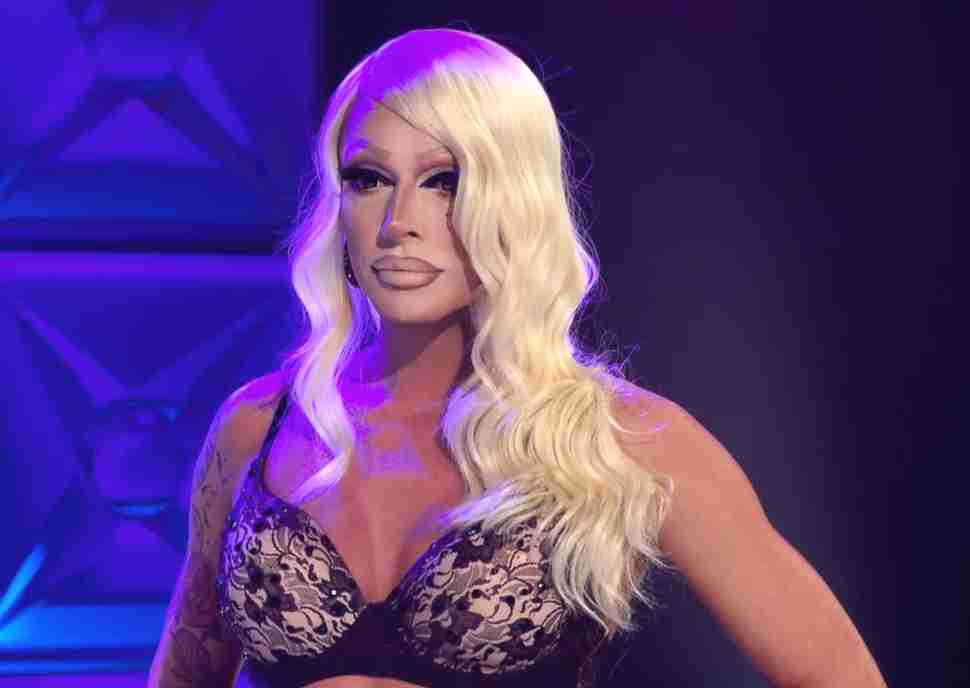 12. Raven (Season 2, All Stars): Can you believe this flawless, funny, and fashionable queen lost to Tyra Sanchez? Yeah, no one is over that. Chad Michaels cut her chance for redemption short, too, during the All Stars season. Sorry, but Raven is no one's runner up.
11. BeBe Zahara Benet (Season 1): There's something to be said for being the first, and this winner was consistently great when America was still learning just what charisma, uniqueness, nerve, and talent was all about. Cameroooooon!
10. Detox (Season 5, All Stars 2): Between her funny lines, signature wobbly lip syncing, and a drag closet that looks like Mugler took some magic mushrooms and time traveled to the future, Detox has always been an absolute original. As one of the stars of two of the most talent-heavy seasons, she doesn't have the trophy she deserves.
9. Jinkx Monsoon (Season 5): For a narcoleptic comedy queen with ears that stick out and outfits that made Michelle Visage's eyeballs want to bleed, this outsider managed to win in the ultimate display of "water off a duck's back." Her Little Edie was not only flawless, but brought Grey Gardens to a whole new generation of queens who needed an education on the camp classics. Jinkx is a throwback, and we would never want to give her back.
8. Nina Flowers (Season 1, All Stars): The first androgynous queen in the show's history is still one of the best, toying with the idea of drag as something more than just creating a female illusion but turning it into something else altogether. She has a style all her own that's never been duplicated and can never be matched.
7. Bob the Drag Queen (Season 8): Bob walked right into the room purse first and absolutely dominated her entire season. With tons of great comedy, some eye-rolling commentary, and a black Carol Channing impersonation that was perfect in its absurdity, Bob was always the one to beat. Too bad she focused more on the funny than on the pretty.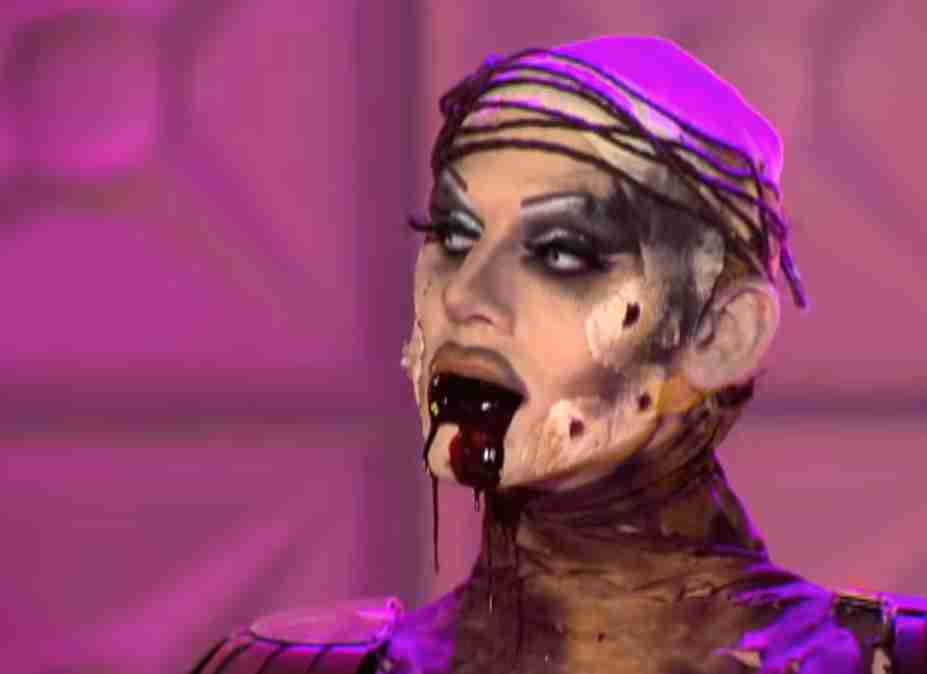 6. Sharon Needles (Season 4): No one changed the game like Sharon. Sure, Raja was a little bit odd, but no one was as actively weird and spooky as Sharon, who always looked like Beetlejuice dressed up as Peg Bundy for Halloween. Her goth aesthetic and outsider humor led her to more challenge wins than any contestant ever, and don't let her bad attitude since being on the show make you forget that.
5. Katya (Season 7, All Stars 2): This Russian-inflected beauty can tell a joke, do the splits, and pull off a back bend like no one's business. What does she have to do to win a crown around here? Whether she's dressed as a Russian doll or a sailor being devoured by a shark, no one is as crazy as Katya. A staple on YouTube, she's proven she can win without a trophy.
4. Latrice Royale (Season 4, All Stars): Latrice was in prison (like prison prison) before Drag Race, and was an inspiration to everyone with her earth-shattering performances. She destroyed a lip sync of "You Make Me Feel Like a Natural Woman" without even moving from her spot on the stage. In the finale, she delivered the closest Drag Race ever gets to an inspiration quote: "It's OK to make mistakes. It's OK to fall down. Get up, look sickening, and make them eat it."
3. Bianca Del Rio (Season 6): You don't get closer to the full package than this. Bianca is not only the funniest queen on the show, she also clashed with just about every other contestant, from the exasperating Laganja Estranja to the dour Trinity K Bonet, making for even more compelling television. On the other hand, she showed her sweet side helping Adore Delano polish her looks and giving her some sewing advice. Salty and sweet is a great combination. Bianca commanded from start to finish, and even Joan Rivers was a fan, so you know she has something special.
2. Alyssa Edwards (Season 5, All Stars 2): Alyssa Edwards was created in a lab by reality television scientists, because she's the absolute perfect being for this genre. She makes a catchphrase like most of us make the bed, and her signature tongue pops have infiltrated gay culture in a way that hasn't been seen since poppers. It's not always clear she knows what makes people respond to her, but they do respond, and she keeps giving the people what they want: her being her. Nearly every superfan's favorite, Alyssa captured attention without ever reaching the finale, and somehow it seems better that way. Always and forever, Alyssa Edwards.
1. Alaska (Season 5, All Stars 2): The funny thing about Drag Race is that its influence changed the way that drag is done. No one understands that better than Alaska, who's taken the very concept, dismantled it, reassembled it for the reality TV age, and taken it straight to the bank. In All Stars, she dressed up as Li'l Poundcake, a doll she created during Season 5, and everyone gagged for it. A lover of both the absurd and the beautiful, Alaska looks just as good with a wig made of garbage bags as she does doing glamorous drag. That's because for Alaska, glamour and absurdity are about the same thing: excess. She may have started out as Sharon Needles' boyfriend, but Alaska stands on her own as the best the show has ever seen.
Sign up here for our daily Thrillist email, and get your fix of the best in food/drink/fun.