Everything We Know About 'Russian Doll' Season 2
This story contains spoilers for Russian Doll Season 1.
With every death, more and more people fell in love with the first season of Natasha Lyonne's twisted time-loop comedy Russian Doll. The Netflix original centers on Nadia (Lyonne), a hard-partying New Yorker whose 36th birthday turns fatal, throwing her into a Groundhog Day-like scenario in which she must die repeatedly to solve the mystery of what killed her in the first place. Midway through the season, Nadia meets Alan (Charlie Barnett), who's trapped in a similar loop. Together, the two of them form a time-bending odd couple trying to get unstuck, and the result was a wildly popular show that's already made just about every best TV of 2019 list out right now.
While many laud the series for being perfectly self-contained, Russian Doll co-creators Lyonne, Amy Poehler, and Leslye Headland have indicated that the door has always been open on doing more seasons of the dark comedy. Here's a rundown of everything we know about what they're planning, and what Season 2 might have in store for fans.
Will there be a Season 2 of Russian Doll?
It's official! In a tweet on June 11, Netflix confirmed that Russian Doll will be returning for a second season. Headland had confirmed that the trio initially pitched the show as a three-season story -- now, we'll see if they'll end up greenlighting a third season prematurely. They've made similar moves before.
When will Season 2 of Russian Doll be released?
It's likely that the earliest we'd be getting it is the first quarter of 2020, given how Netflix programming schedules usually work. Lyonne most recently returned to Netflix in the final season of Orange Is the New Black, which premiered on July 26. In July, Lyonne told Deadline that she and Amy Poehler had begun talking about the new season but that they weren't officially "in the room" yet.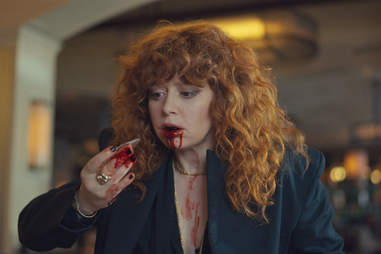 Netflix
Who will be in the cast of Russian Doll Season 2?
Spoiler alert: The ending of the first season, where Nadia and Alan (Charlie Barnett) finally escape their time loop and roam about lower Manhattan like wolves in the night, does work as a proper resolution. However, Headland noted in an interview with The Hollywood Reporter that no matter the direction they take the show in, Nadia will always be a part of it in some way. "When initially pitched, Nadia was a presence throughout all three of [the proposed seasons]. But it was not in a very conventional way, if that makes sense. She was always a presence, as we knew Lyonne would always be the beating heart and soul of this show. Whether she was being haunted or she was haunting the narrative, she would be there."
Headland's answer doesn't give an indication of the fate of the recurring characters played by Greta Lee, Rebecca Henderson, Yul Vasquez, and Elizabeth Ashley, but given their importance to Nadia, there's a chance they'll stick around -- and maybe become the show's focal point. No word yet as to whether or not we'll be seeing more of Charlie Barnett as Alan or Chloë Sevigny as Nadia's mother, but it's definitely a possibility.
Will Nadia at least be able to stay alive for a little bit?
Who knows? Lyonne told IndieWire, "The show certainly has some legs for more bizarre scenarios." With the somewhat autobiographical show reflecting Lyonne's past issues issues with addiction, the actress also indicated that the next step of the show could be to reflect what it's like to be years out of the struggle, feeling like there is more life to live. For a character that died so many times over the course of one bingeable season, living certainly seems well-earned.