Everything We Know About Netflix's 'Russian Doll' Season 2
Will we experience Nadia's madcap Manhattan time-loop again?
With every death, more and more people fell in love with the first season of Natasha Lyonne's 2019 twisted time-loop comedy Russian Doll. The Netflix original centers on Nadia (Lyonne), a hard-partying New Yorker whose 36th birthday turns fatal, throwing her into a Groundhog Day-like scenario in which she must die repeatedly to solve the mystery of what killed her in the first place. Midway through the season, Nadia meets Alan (Charlie Barnett), who's trapped in a similar loop. Together, the two of them form a time-bending odd couple trying to get unstuck, and the result was a wildly popular show that garnered a great deal of critical acclaim and Emmy nominations.
While many laud the series for being perfectly self-contained, Russian Doll co-creators Lyonne, Amy Poehler, and Leslye Headland indicated that the door was always been open on doing more seasons of the dark comedy. Here's a rundown of everything we know about what they're planning, and what Season 2 might have in store for fans.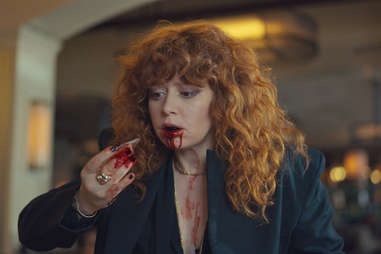 Will there be a Season 2 of Russian Doll?
It's official! The series was renewed for an additional season in June 2019, several months after it premiered in February 2019. While we don't want to get ahead of ourselves, showrunner Leslye Headland did confirm that the trio behind the series initially pitched the show as a three-season arc—so hopefully there's even more Russian Doll down the line.
When will Season 2 of Russian Doll be released?
For fans who watched the show when it first premiered in winter 2019, it feels like forever since we saw Nadia's horrified reflection in that bathroom mirror (over and over again). Production on the series was put on hold when the coronavirus pandemic hit, which halted spring 2020 plans to film. The wait shouldn't be too much longer, though. When a handful of casting announcements were made in April 2021, Deadline reported that Netflix was aiming for a summer 2021 release for Season 2. Based on an Instagram post from Natasha Lyonne, it looks like filming wrapped in late June, so it seems like the show is meeting more of a fall release at this point—but if the show was hoping to debut earlier than later, it seems like it could come in October. We'll travel through the multiverse with Nadia whenever we can.
How many episodes are in Russian Doll Season 2?
Although no official episode count has been announced, it looks like eight new installments are on the way, according to IMDb—that's the same number of episodes that were in Season 1.
Who in the cast will be back for Russian Doll Season 2?
The ending of the first season, where Nadia and Alan (Charlie Barnett) finally escape their time loop and have a little parade in lower Manhattan, may have seemed like a proper resolution to their stories. However, Headland noted in an interview with The Hollywood Reporter that no matter the direction the show goes, Nadia will always be a part of it in some way. "When initially pitched, Nadia was a presence throughout all three of [the proposed seasons]. But it was not in a very conventional way, if that makes sense. She was always a presence, as we knew Lyonne would always be the beating heart and soul of this show. Whether she was being haunted or she was haunting the narrative, she would be there."
For awhile, though, it was unclear whether Nadia's friends and partner-in-traveling-through-time-loops were also going to return. Based on cast photos shared by Lyonne, it looks like just about everybody is coming back—which makes sense, given their importance to Nadia. It seems like we'll be seeing more of Charlie Barnett's Alan, Greta Lee's Maxine, and Rebecca Henderson's Lizzy. Aside from them, there's no word yet as to whether or not we'll be seeing more of Chloë Sevigny as Nadia's mother in flashbacks, but it's definitely a possibility.
Are there any new cast members?
It seems like the long wait for more Russian Doll is definitely going to pay off based on the exciting names joining the cast. In early March 2021, Variety reported that Schitt's Creek breakout Annie Murphy (aka Alexis Rose) will appear in Season 2. It's not been revealed who she'll be playing, but given her outlandish, Emmy-winning performance on the sitcom, the more tense comedy of her new AMC series Kevin Can F**k Himself, and Russian Doll's style, her role should be fun. Could she be playing another socialite? TBD, but we could see it!
Carolyn Michelle Smith (Colony, House of Cards) is another addition to the cast, which Deadline reported in mid-March. It's also unclear who she'll be playing, but she's been tapped to recur in the new season. South African actor Sharlto Copley (Chappie, District 9) is another actor who's been cast in an also unknown, but recurring role. Broadway star Ephraim Sykes (Hamilton) is another newbie. He's set to guest star, and of course, Netflix is keeping its lips sealed so to not reveal any character details. With all of the secrecy shrouded in the season, we can only hope they'll be playing some eccentric personalities.
What will Season 2 of Russian Doll be about?
Who knows! There have been literally zero details about the plot of Season 2 that have been announced! Lyonne told IndieWire, "The show certainly has some legs for more bizarre scenarios." With the somewhat autobiographical show reflecting Lyonne's past issues with addiction, the actress also indicated that the next step of the show could reflect what it's like to be years out of the struggle, feeling like there is more life to live. For a character that died so many times over the course of one season, living certainly seems well-earned.
In a postmortem about the ambiguous ending of the first season, Lyonne also hinted that there could be multiple versions of the characters walking around, depending on how successful they were at escaping their loops: "It raises the question of how many versions [of the characters] are there all together? That's certainly something that was considered. In this video game sense, it presents a question of do they in fact just enter a whole new sort of scenario in that moment, that they kind of completed that round?" Perhaps someone like Maxine or Lizzy will take the spotlight next season. At the very least, it sure sounds like plenty of material for about 50 more seasons.