Was 'Drive' Actually a Good Movie?
Daniel Fishel/Thrillist
Daniel Fishel/Thrillist
Let's return to the summer of 2011, just moments before College and Electric Youth's "A Real Hero" spent a year dominating your car radio.
When director Nicolas Winding Refn's Drive premiered at the Cannes Film Festival that May, it was received warmly as a crackling genre-arthouse crossover -- a stylish and likable retro throwback. Drive impressed critics and wowed the punters. It made the kind of splash every independent film wants at the luxurious festival: the Best Director prize, a raucous standing ovation, a lucrative deal for American distribution.
When Drive opened theatrically that fall, reviews were ecstatic. "Pop art of the highest degree." "A reminder of how powerful the genre can be." "Some kind of masterpiece." It topped dozens of year-end best-of lists. It was nominated for hundreds of critics-guild awards. Certainly the movie had its naysayers and skeptics. But as indie action movies go, Drive was a hit.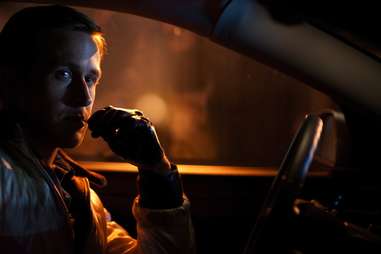 The enthusiasm wasn't limited to professionals. Drive managed, improbably, to reach arthouse escape velocity and penetrate the popular imagination. The film graced the MTV Movie Awards and the Teen Choice Awards (it lost Best Drama at the latter to the Nicholas Sparks movie The Lucky One). The Johnny Jewel-curated soundtrack would prove to be the most influential movie-music record since Garden State. "Nightcall" and "A Real Hero" became ubiquitous practically overnight. Ryan Gosling's Kenneth Anger-inspired satin scorpion jacket turned into a hipster fashion staple on the order of "Vote for Pedro" T-shirts, while Gosling's "Driver" was the unlikely Halloween costume of choice that October, happily for blond men everywhere. Even the poster typeface seemed instantly iconic.
All of which is rather odd. Drive is a $15 million slow-boil art-house drama by a pugnacious Danish auteur. Its pacing is glacial. Its violence is repulsive. It seems almost sociopathically committed to putting people off. And while many serious critics objected to the film precisely on the grounds of its slickness and superficiality, to ordinary moviegoers, it could hardly have seemed more demanding or dense -- not least because it was marketed as a conventional thriller.
Like Spring Breakers two years later, Drive was seized upon by its distributor as an opportunity to smuggle an art movie into theaters under the guise of an energized Ryan Gosling vehicle. Were people liable to flock to the cinema in droves for contemplative brooding and a few crushed skulls? Perhaps not. But make it look like Noah Calhoun doing car chases and nobody is going to stay away.
Drive made good money at the box office, considering its budget; an ad campaign which emphasized romance and action evidently drew people in. But the people drawn by and large weren't happy. So notoriously deceptive was the film's trailer that an American woman filed a lawsuit against FilmDistrict, the distributor, claiming to have been intentionally mislead. Meanwhile Cinemascore, a polling house that measures audience satisfaction, lists Drive as a fairly pitiful C-, indicating that most people who saw the film hated it.
Personally I'll always cherish having seen it opening weekend, when a man in the front row, fed up with a particularly languorous long take, shouted "Do something!" at Gosling's emotionless face on screen.
Were they in the wrong, or did the aura of Drive -- the music, the costumes, the title cards, the slowed-down machismo -- dupe pop culture? I know many critics -- myself included -- who praised the movie quite rapturously when it was released but who have cooled on it somewhat in the five years since. The glossy panache that once made it appealing began to look chintzy, and what once seemed like an effort to undermine sensationalism now looks like sensationalism proper. In retrospect the whole thing feels pretty thin. Probably even its most fervent admirers will concede it's not the classic it once briefly seemed. As time goes on Drive may simply enter the "college canon," sitting alongside Donnie Darko and Fight Club as an inoffensive, entry-level art movie for cinephiles in training.
The ascendancy of Drive from Cannes premiere to mainstream breakthrough to cultural touchstone, however short-lived, seems to have had a significant effect on the cache of its director. Between the mega-success of Drive and the arrival of its follow-up, Refn transitioned from a talent to watch to public enemy No. 1. His interviews are widely and intensely ridiculed. (And, in fairness, describing yourself as "punk rock in all its glam and vulgarity" is a risky move.) His last movie, the neon-swathed Bangkok anti-thriller Only God Forgives, was savaged by critics: "Just about the worst fucking thing I've ever seen," quoth David Edelstein, representatively. Audiences were just as apoplectic. By the time the trailer for his new movie, The Neon Demon, hit social media, people had already started jeering. At Cannes this May reactions ranged from "hypnotic art piece" to, ahem, "putrid atrocity." Even people who like the film a great deal seem slightly embarrassed.
It's hard to know exactly why animosity gathers around a given subject. Maybe we were suspicious that a poseur had become a phenomenon. In any case, today, as The Neon Demon arrives in theaters, the anti-Refn sentiment persists as strong as ever. Until the pendulum of style swings back the other way, it isn't likely he'll have another Drive, a fleeting moment of cinematic cool.
Sign up here for our daily Thrillist email, and get your fix of the best in food/drink/fun.
Calum Marsh is a freelance writer born in Great Britain and based in Toronto. His writings have appeared in
The Guardian
,
The New Yorker
, and
Playboy
. Follow him: @calummarsh.