Sad Movies on Netflix That'll Make You Cry
Grab the tissue box and let it all out.
'Girl, Interrupted'

| Columbia Pictures
'Girl, Interrupted'

| Columbia Pictures
While Netflix may have a reputation as a seemingly infinite repository of rom-coms and mostly mediocre original movies, sometimes you're in the mood for a good cry. When that feeling hits you, sit down with one of these tearjerking dramas, which range from deadly serious to schmaltzy and uplifting—something for everyone.
ALSO READ: Our curated guides to the best teen movies on Netflix and the most romantic movies on Netflix
All the Bright Places (2020)
Based on the international bestselling young adult fiction novel by Jennifer Niven, All the Bright Places tells the story of high school students, Violet (Elle Fanning) and Theodore, who likes to go by his last name, Finch (Justice Smith), both of whom are suffering from mental illness caused by trauma in their pasts. It's a tender love story, growing from two broken people who, together, begin the process of healing. The film is both gentle and heartbreaking, and a rare entry in the excess of teen Netflix originals that truly tries to handle mental health with care.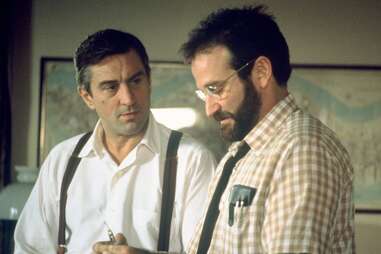 Awakenings (1990)
It's very possible you watched Awakenings once in high school biology and found yourself tearing up at the back of the class. The Penny Marshall-directed drama is loosely based on neurologist Oliver Sacks' memoir, about a doctor (Robin Williams) in the Bronx in the '60s who works with patients who have developed catatonic conditions following the encephalitis lethargica. When he realizes what stimuli they respond to and how they communicate, he begins testing a drug to treat Parkinson's on one patient named Leonard (Robert De Niro), who miraculously seems to "awaken." With the long-term effects unclear, a human test subject at the center, and two powerhouse lead performers, you've got to expect you're going to into a heart-wrenching tearjerker with this one.
Beasts of No Nation (2015)
Cary Fukunaga's (True Detective, Maniac) wartime drama is not a movie you put on in the background. Adapted from Uzodinma Iweala's novel of the same name, this visceral character study tracks a preadolescent after he's recruited to be a child soldier in an African civil war (its specifics are left purposefully ambiguous). Lorded over by a gruff commander (Idris Elba), the movie is loud, tender, and violent—a coming-of-age story in which the characters may not live to come of age.
Ben Is Back (2018)
The ever-shifting dynamic between Ben, a struggling addict played by Lucas Hedges, and his mother Holly, played with nerve and determination by Julia Roberts, gives this small-scaled character study its much-needed dramatic charge. Even if the plot occasionally feels contrived, attempting to gin up suspense and tension with some mostly unwelcome thriller beats, the strained relationship between Hedges and Robets remains wisely calibrated and carefully observed. The two are incredibly strong together, grounding the melodrama around them. The insights into addiction offered up by Ben Is Back are shopworn—nothing you haven't seen from similar tales of upper-class domestic life disrupted by drug use—but the performances keep the film from drifting into after-school-special territory.
Big Fish (2003)
Albert Finney stars as Edward Bloom, a dying fabulist struggling to connect with his estranged son (Billy Crudup), and a grinning Ewan McGregor plays the younger version of Bloom as an earnest and wonderstruck adventurer. A mermaid, a werewolf, and a tender-hearted giant pop up as well. Despite all the wild creatures, Big Fish is perhaps director Tim Burton's simplest and most emotionally direct movie, an old-fashioned tearjerker tricked out with fanciful special effects, quirky performances, and one of Danny Elfman's best scores. It tugs at the heartstrings with studied precision.
The Danish Girl (2015)
Eddie Redmayne plays Lili Elbe, a transgender Danish painter who is the first person to undergo gender-reassignment surgery. Director Tom Hooper took great pains to recreate Lili's 1920s Copenhagen, and the end product is gorgeous, from the costumes to the canals to the brushstrokes of every artist who crosses the screen. Alicia Vikander's Oscar-winning supporting performance as Gerda, Lili's wife, lends an aching pathos to the transition.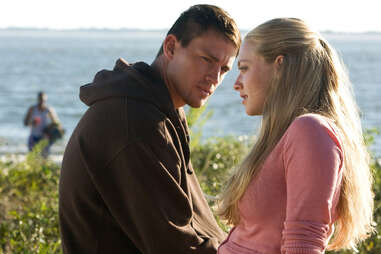 Dear John (2010)
First things first, Dear John is named after a Dear John letter, or what you would send a man to dump his ass, so as you can guess, this is the sappiest of Nicholas Sparks' oeuvre. The drama hits all of the marks of a stereotypical romance movie, starring Channing Tatum as a solider living with his reclusive father (Richard Jenkins) while he's home from war and Amanda Seyfried as the do-gooder college student he falls for under the warm South Carolina sun, but there are enough passionate kisses in the rain to make all the melodrama worth it.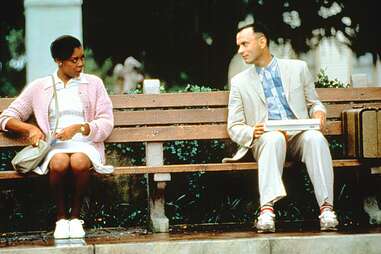 Forrest Gump (1994)
Unlike a box of chocolates, you always know what you're gonna get when you queue up this Robert Zemeckis classic: heartwarming life lessons and Bubba Gump. No matter how many times you've seen America's dad Tom Hanks running across the country and traipsing through every major 20th century historical event, you can always be sure that he'll bring you to tears in this sentimental film.
Girl, Interrupted (1999)
Multiple members of this ensemble give some of their career-best performances in this drama, from leads Winona Ryder and Angelina Jolie to supporting cast members like the late Brittany Murphy. Based on Susanna Kaysen's memoir, which Ryder attempted to buy the rights for and became a passion project of hers, the sobering film chronicles a young woman's 18-month stay at a psychiatric hospital in the late '60s after a suicidal episode. As she's surrounded by myriad women who are seemingly dealing with more intense conditions, Girl, Interrupted makes for a compelling portrait of the varied but valid degrees of sadness and pain in young women.
Into the Wild (2007)
Jon Krakauer's book about the life and untimely death of Christopher McCandless is all the more poignant when soundtracked by Eddie Vedder. Emile Hirsch's McCandless waxes poetic about philosophy and alienates everyone who loves him, which can grate at times, but it's balanced out by the profound beauty of the wilderness. When McCandless' pride proves to be the ultimate peril, the outcome is no less tragic.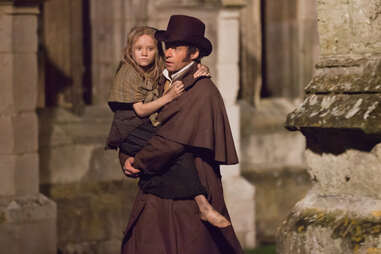 Les Misérables (2012)
Tom Hooper's adaptation of Les Misérables is a glorious spectacle in bringing stage to screen—one that's earnestly flooded with emotion. Set against the anti-monarchist June Rebellion of 1832, the epic follows the redemption story of Jean Valjean (Hugh Jackman) who was imprisoned for stealing bread and, once freed, volunteers to look after the daughter of a factory worker (Anne Hathaway) as he continues to run from the ruthless officer Javert (Russell Crowe) after breaking parole. Even those who roll their eyes at musical, particularly sung-through ones, will be impressed by this explosive period piece and each member of its scene-stealing ensemble. It's a blockbuster through and through.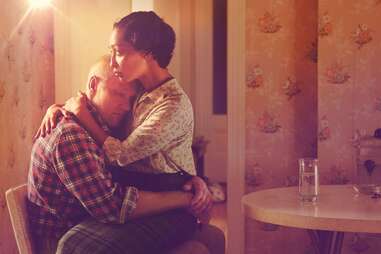 Loving (2016)
Loving brings one of the most pivotal love stories in history to the screen. The biographical drama from Jeff Nichols tells the story of Mildred and Richard Loving, the couple who challenged state laws banning interracial marriage all the way to the supreme court with the landmark case Loving v. Virginia. For being such a sweeping romance with so many groundbreaking implications, it's the gentle, muted way it's told in this historical film nestles into your heart. From Joel Edgerton's hushed performance as the distant but caring Richard and Ruth Negga's thoughtful simplicity to Mildred to Nichols' warm direction, it finds a quiet profoundness that makes it all the more beautiful.
Marriage Story (2019)
Like his 2005 film The Squid and the Whale, writer/director Noah Baumbach again finds laughter and pain in the often excruciating personal details of ending a relationship. This time, the bickering couple—a Brooklyn-dwelling actress and a theater director played with tenderness and anger by Scarlett Johansson and Adam Driver—takes center stage. Instead of watching the two fall in and out of love, the story opens with the separation already in motion, allowing Baumbach to focus on the soul-sucking, money-draining legal shitstorm that follows. While Driver and Johansson are both excellent in tricky, emotionally demanding roles, some of the sharpest moments come courtesy of their attorneys, collaborators, and extended families. (Laura Dern and Alan Alda rightfully earned praise for their parts, but Ray Liotta's gruff divorce expert deserves his own spin-off.) In showing how divorce ripples outward, Marriage Story complicates its own simple premise as it progresses.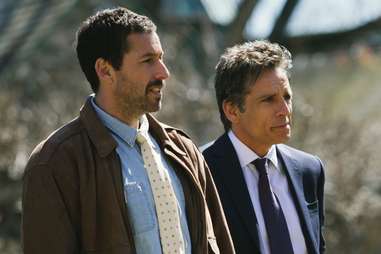 The Meyerowitz Stories (New and Selected) (2017)
When Danny (Adam Sandler), Matthew (Ben Stiller) and Jean (Elizabeth Marvel), three half-siblings from three different mothers, gather at their family brownstone in New York to tend to their ailing father (Dustin Hoffman), a lifetime of familial politics explode out of every minute of conversation. Their narcissistic sculptor dad didn't have time for Danny. Matthew was the golden child. Jean was weird... or maybe disturbed by memories no one ever knew. Expertly sketched by writer-director Noah Baumbach, this memoir-like portrait of lives half-lived is the kind of bittersweet, dimensional character comedy we're now used to seeing told in three seasons of prestige television. Baumbach gives us the whole package in two hours.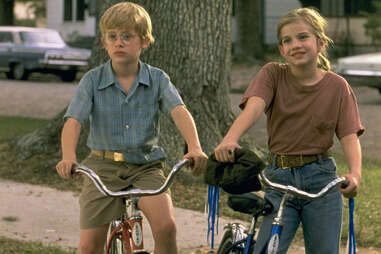 My Girl (1991)
It's been 30 years since My Girl, and if you don't already know what happens: Our sincerest apologies, your heart is about to be destroyed. The movie about a girl (Anna Chlumsky) growing up in a funeral home with her widowed father (Dan Aykroyd) is as sweet as a popsicle on a hot summer day, and a compelling story about the throes of adolescence. Chlumsky and a teeny, tiny Macaulay Culkin are adorable as Vada Sultenfuss and Thomas J., and their chemistry as best friends from down the block only makes the inevitable tragedy that much more painful. (Unless you're heartless, it's impossible not to cry when Vada shouts, "He can't see without his glasses!") My Girl will bring you back to those raw, 12-year-old feelings.
Mudbound (2017)
The South's post-slavery existence is, for Hollywood, mostly uncharted territory. Director Dee Rees rectifies the overlooked stretch of history with this novelistic drama about two Mississippi families working a rain-drenched farm in 1941. The white McAllans settle on a muddy patch of land to realize their dreams. The Jacksons, a family of black sharecroppers working the land, have their own hopes, which their neighbors manage to nurture and curtail. To capture a multitude of perspectives, Mudbound weaves together specific scenes of daily life, vivid and memory-like, with family member reflections, recorded in whispered voice-over. The epic patchwork stretches from the Jackson family dinner table, where the youngest daughter dreams of becoming a stenographer, to the vistas of Mississippi, where incoming storms threaten an essential batch of crops, to the battlefields of World War II Germany, a harrowing scene that will affect both families. Confronting race, class, war, and the possibility of unity, Mudbound spellbinding drama reckons with the past to understand the present.
Other People (2016)
Other People was a deeply personal film for screenwriter/director Chris Kelly (SNL, The Other Two) to make. Resembling his own experience dealing with the death of a parent, the dramedy examines the relationship between a struggling comedy writer named David (Jesse Plemons) and his mother Joane (Molly Shannon) as he moves back home to be closer to his family while she's dying of cancer. With David's down-on-his-luck situation and having to face strained relations with his homophobic father on top of Joane's terminal fate, the film is meant to tear your heart out—and that's exactly what Shannon does in her sublime, moving performance. Its funny moments and intimacy of the leads' relationship, as well as the personal experience its derived from, make this film all the more authentic and a lovely piece about loving the family we've got.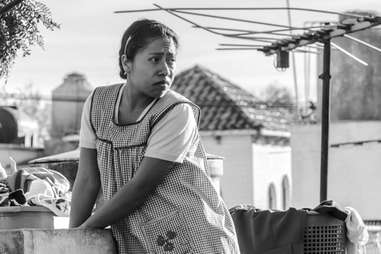 Roma (2018)
Alfonso Cuarón's black-and-white passion project seeks to stun. A technical craftsman of the highest order, the Children of Men and Gravity director has an aesthetic that aims to overwhelm—with the amount of extras, the sense of despair, and the constant whir of exhilaration—and this autobiographical portrait of kind-hearted maid Cleo (Yalitza Aparicio) caring for a family in the early 1970s has been staged on a staggering, mind-boggling scale. Cuarón's artful pans aren't just layered for the sake of complexity: He's often placing different emotions, historical concepts, and class distinctions in conversation with each other. What are these different components in the painstakingly composed shots actually saying to each other? That remains harder to parse. Still, there's an image of Cleo and the family eating ice cream together after a devastating dinner in the foreground while a wedding takes place in the background that you won't be able to shake. The movie is filled with compositions like that, tinged with careful ambiguity and unresolvable tensions.
Silver Linings Playbook (2012)
Jennifer Lawrence, Bradley Cooper, and David O. Russell's first collaboration—and the film that turned J-Law into a bona fide golden girl—is a romantic comedy/dramedy/dance-flick that bounces across its tonal shifts. A love story between Pat (Cooper), a man struggling with bipolar disease and a history of violent outbursts, and Tiffany (Lawrence), a widow grappling with depression, who come together while rehearsing for an amateur dance competition, Silver Linings balances an emotionally realistic depiction of mental illness with some of the best twirls and dips this side of Step Up. Even if you're allergic to rom-coms, Lawrence and Cooper's winning chemistry will win you over, as will this sweet little gem of a film: a feel-good, affecting love story that doesn't feel contrived or treacly.
6 Years (2015)
Breaking up is hard to do. It's the subject of Hannah Fidell's understated 6 Years, which closely examines a relationship falling apart, focusing on a couple played by Taissa Farmiga and Ben Rosenfield, who have been together the entirety of their young adult lives. As a character study of the two together and apart, the film is extremely mundane, but their powerful performances make the slice-of-life concept something fierce and worth watching. It starts by breathing the freshness of a first love, but comes to exhale nothing but a volatile violence that will leave you feeling suffocated.
Soul Surfer (2011)
In 2003, 13-year-old rising pro surfer Bethany Hamilton thought she would never be able to surf again after losing her arm in a shark attack. Soul Surfer chronicles the athlete's recovery and determination to eventually be able to get back on the board, featuring AnnaSophia Robb as Hamilton and Dennis Quaid and Helen Hunt as her parents. Fans of inspirational stories will find the film particularly compelling based on its biographical story and commitment to providing hope, but its ardent message (no matter how enthusiastically drilled in it may be) that one can overcome whatever obstacle, no matter how great, in pursuit of their passion will strike even the biggest cynic.
Stand By Me (1986)
Although you may not have been aware that Stand By Me is based on Stephen King's novella The Body, it's undeniably the best King film there is. Decades after its release, it remains every bit as affecting, heartbreaking, and entertaining. A writer recalls a time from his childhood involving his best friends and the rumor of a dead body down by the railroad tracks, and while the film's about the art of writing and the importance of memory, director Rob Reiner brings the characters so perfectly to life that it becomes a beautiful reminder of our own triumphs and tragedies from our youth. There's a very good chance you'll see yourself or someone you knew in this movie, and the memories it dislodges can be unexpected gifts.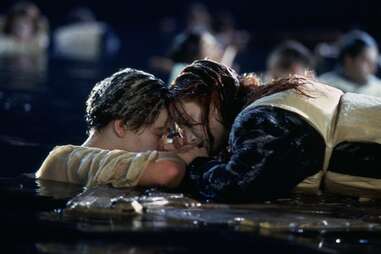 Titanic (1997)
Grab a box of tissues, review your favorite super-dramatic quotes, then travel back to the time when Leonardo DiCaprio was the biggest heartthrob in the world. Over two decades after its release, James Cameron's retelling of the R.M.S. Titanic tragedy still earns its runtime and unspools as one of the greatest love stories in movie history. Never seen this classic? You gotta. Its 11 Academy Awards are no joke, and there's no doubt DiCaprio and Kate Winslet will leave you misty-eyed by the end of this emotional marathon.
We the Animals (2018)
We the Animals sees the world from a child's perspective: absolute and mystical, and terrifying at the same time. Adapted from Justin Torres' novel, the coming-of-age indie follows three young brothers growing up in a working class, mixed race family in Upstate New York—their days spent wildly outdoors, and the complex relationship with their parents inside their humble home. The child actors will pull on your heartstrings like no other, and Jeremiah Zagar's expressive, dreamy direction captures the scope of the young protagonists' world to illustrate the inner turmoil that comes with processing identity all the more.