While Netflix may have a reputation as a seemingly infinite repository of rom-coms, sometimes you're in the mood for a good cry. When that feeling hits you, sit down with one of these tearjerking dramas, which range from deadly serious to schmaltzy and uplifting -- something for everyone. 
Recommended Video
Ghost Kitchen: Restaurant Gets Help From Community During Coronavirus Pandemic
Beasts of No Nation (2015)
True Detective Season 1 director Cary Fukunaga's wartime drama is not a movie you put on in the background. Adapted from Uzodinma Iweala's novel of the same name, this visceral character study tracks a preadolescent after he's recruited to be a child soldier in an African civil war (its specifics are left purposefully ambiguous). Lorded over by a gruff commander (Idris Elba), the movie is loud, tender, and violent -- a coming-of-age story in which the characters may not live to come of age.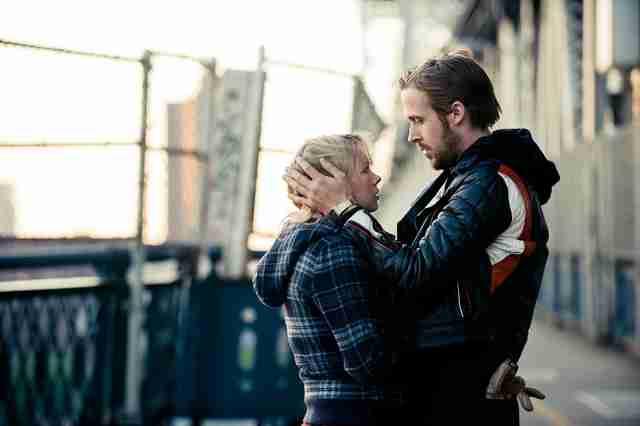 Blue Valentine (2010)
Sometimes it's impossible to pinpoint where a relationship went wrong. They can be messy and self-destructive, but comfortable and familiar when you're in them. Derek Cianfrance's (The Place Beyond the Pines) Blue Valentine is a case study on one relationship in particular: a working class couple, played by Ryan Gosling and Michelle Williams, whose marriage is hanging by a thread. Cutting between the present and their past as hopelessly enamored young lovers, their relationship at its best and worst is placed under a microscope to show what happens when you fall hard, then fall apart. Blue Valentine is hot and cold -- so cold watching love freeze over.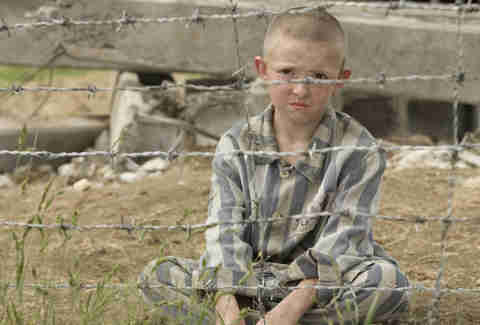 The Boy in the Striped Pajamas (2008)
Historical events often appear differently through the eyes of a child. For some, events are especially devastating, while others may be privileged enough to be ignorant to what's really unfolding around them. The Boy in the Striped Pajamas tells the latter sort of story, following the experience of 8-year-old Bruno in Nazi-occupied Germany. The film, adapted from John Boyne's novel, follows the innocent friendship between Bruno, who happens to be the son of a concentration camp commander, and a young Jewish boy held captive in the camp, and the unexpected consequences of their relationship. The fictional period piece is a heartbreaking look at youth's naivety in times of crisis at the hands of adults, and the humanity that exists in everyone. 
Dear John (2010)
First things first, Dear John is named for a Dear John letter, or what you would send a man to dump his ass, so you can guess that this is one of most treacly of Nicholas Sparks' oeuvre. The drama hits all of the marks of a stereotypical romance movie, starring Channing Tatum as a solider living with his reclusive father (Richard Jenkins) while he's home from war and Amanda Seyfried as the do-gooder college student he falls for under the warm South Carolina sun, but there are enough passionate kisses in the rain to make all the melodrama worth it.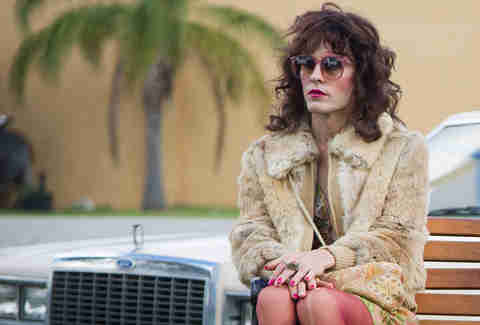 Dallas Buyers Club (2013)
The movie that earned Matthew McConaughey his Best Actor Oscar (and gave the world that brilliant speech and white tux) tells the true story of Ron Woodroof, an AIDS patient in Texas who smuggles treatment from Mexico during a time when the disease still carried a stigma and had few effective treatments. McConaughey's performance is reason enough to watch; Jared Leto's Oscar-winning role as a transgender woman who forges an unlikely business relationship with McConaughey's Woodroof is a bonus.
Marriage Story (2019)
Returning to the topic of 2005's caustic comedy The Squid and the Whale, which tracked the fallout of a divorce from the perspective of children, writer and director Noah Baumbach again finds laughter and pain in the often excruciating personal details of ending a relationship. This time, the bickering couple -- a Brooklyn-dwelling actress and a theater director played with tenderness and anger by Scarlett Johansson and Adam Driver -- takes center stage. Instead of watching the two fall in and out of love, the story opens with the separation already in motion, allowing Baumbach to focus on the soul-sucking, money-draining legal shitstorm that follows. While Driver and Johansson are both excellent in tricky, emotionally demanding roles, some of the sharpest moments come courtesy of their attorneys, collaborators, and extended families. (Laura Dern and Alan Alda have rightfully earned praise for their parts, but I'd watch Ray Liotta's gruff divorce expert in his own spin-off.) In showing how divorce ripples outward, Marriage Story complicates its own simple premise as it progresses.
The Meyerowitz Stories (New and Selected) (2017)
When Danny (Adam Sandler), Matthew (Ben Stiller) and Jean (Elizabeth Marvel), three half-siblings from three different mothers, gather at their family brownstone in New York to tend to their ailing father (Dustin Hoffman), a lifetime of familial politics explode out of every minute of conversation. Their narcissistic sculptor dad didn't have time for Danny. Matthew was the golden child. Jean was weird... or maybe disturbed by memories no one ever knew. Expertly sketched by writer-director Noah Baumbach (The Squid and the Whale) this memoir-like portrait of lives half-lived is the kind of bittersweet, dimensional character comedy we're now used to seeing told in three seasons of prestige television. Baumbach gives us the whole package in two hours.
Moonlight (2016)
Chronicling the boyhood years, teenage stretch, and muted adult life of Chiron, a black gay man making it in Miami, this triptych altarpiece is at once hyper-specific and cosmically universal. Director Barry Jenkins roots each moment in the last; Chiron's desire for a lost lover can't burn in a diner booth over a bottle of wine without his beachside identity crisis years prior, blurred and violent, or encounters from deeper in his past, when glimpses of his mother's drug addiction, or the mentoring acts of her crack supplier, felt like secrets delivered in code. Panging colors, sounds, and the delicate movements of its perfect cast like the notes of a symphony, Moonlight is the real deal, a movie that will only grow and complicate as you wrestle with it.
Mudbound (2017)
The South's post-slavery existence is, for Hollywood, mostly uncharted territory. Director Dee Rees rectifies the overlooked stretch of history with this novelistic drama about two Mississippi families working a rain-drenched farm in 1941. The white McAllans settle on a muddy patch of land to realize their dreams. The Jacksons, a family of black sharecroppers working the land, have their own hopes, which their neighbors manage to nurture and curtail. To capture a multitude of perspectives, Mudbound weaves together specific scenes of daily life, vivid and memory-like, with family member reflections, recorded in whispered voice-over. The epic patchwork stretches from the Jackson family dinner table, where the youngest daughter dreams of becoming a stenographer, to the vistas of Mississippi, where incoming storms threaten an essential batch of crops, to the battlefields of World War II Germany, a harrowing scene that will affect both families. Confronting race, class, war, and the possibility of unity, Mudbound spellbinding drama reckons with the past to understand the present.
My Girl (1991)
It's been nearly 30 years since My Girl, and if you don't already know what happens -- our sincerest apologies, your heart is about to be destroyed. The movie about an adolescent girl (Anna Chlumsky) growing up in a funeral home with her widowed father (Dan Aykroyd) is as sweet as a popsicle on a hot summer day, and a compelling story about the throes of adolescence. Chlumsky and a teeny, tiny Macaulay Culkin are adorable as Vada Sultenfuss and Thomas J., and their chemistry as best friends from down the block only makes the inevitable tragedy that much more painful. (Unless you're heartless, it's impossible not to cry when Vada shouts, "He can't see without his glasses!") My Girl will bring you back to those raw, 12-year-old feelings. 
The Notebook (2004)
"If you're a bird, I'm a bird." It's a simple statement and a declaration of devotion that captures the staying power of this Nicholas Sparks classic. The film made Ryan Gosling a certified heartthrob, charting his working class character Noah's lovelorn romance with Rachel McAdam's wealthy character Allie. The star-crossed lovers narrative is enough to make even the most cynical among us swoon, but given that their story is told through an elderly man reading (you guessed it!) a notebook to a woman with dementia, it hits all of the tragic romance benchmarks to make you melt. Noah's commitment to following his heart -- and that passionate kiss in the rain -- make this a love story for the ages. 
The Pursuit of Happyness (2006)
In this Oscar-nominated role, Will Smith portrays real-life entrepreneur Chris Gardner, who spends nights on the street and in homeless shelters as he attempts to get a job. The Pursuit of Happyness is a strong-willed, sentimental father-son story, riding entirely on Smith's relationship with his on-screen son, who just happens to be his real son, Jaden Smith. The pair together will most definitely make you cry.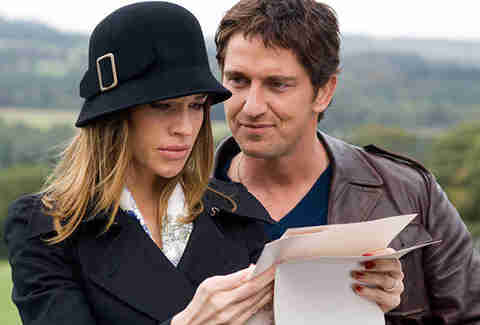 P.S. I Love You (2007)
First and foremost, P.S. I Love You is a sob-fest: When the love of Holly's (Hilary Swank) life Gerry (Gerard Butler) dies of illness, she finds that he's left her a series of letters to help her through her grief. And as tragic as that is, his words help her to not only learn that his love will always be with her, but to love herself. Eventually inspiring her to go on a journey with her friends to lush and lively Ireland, this oddly therapeutic film feels like a heavenly romantic meditation on love and loss. (Just don't cry too, too much.)
Roma (2018)
All those billions Netflix spent paid off in the form of several Oscar nominations for Roma, including one for Best Picture and a win for Best Director. Whether experienced in the hushed reverence of a theater, watched on the glowing screen of a laptop, or, as Netflix executive Ted Sarandos has suggested, binged on the perilous surface of a phone, Alfonso Cuarón's black-and-white passion project seeks to stun. A technical craftsman of the highest order, the Children of Men and Gravity director has an aesthetic that aims to overwhelm -- with the amount of extras, the sense of despair, and the constant whir of exhilaration -- and this autobiographical portrait of kind-hearted maid Cleo (Yalitza Aparicio) caring for a family in the early 1970s has been staged on a staggering, mind-boggling scale. Cuarón's artful pans aren't just layered for the sake of complexity: He's often placing different emotions, historical concepts, and class distinctions in conversation with each other. What are these different components in the painstakingly composed shots actually saying to each other? That remains harder to parse. Still, there's an image of Cleo and the family eating ice cream together after a devastating dinner in the foreground while a wedding takes place in the background that you won't be able to shake. The movie is filled with compositions like that, tinged with careful ambiguity and unresolvable tensions.
Room (2015)
The big-screen adaptation of Emma Donoghue's best-selling novel, about a mother raising her son in captivity after being abducted as a teenager, has built-in challenges. Most of the film takes place in an 11x11 garden shed. And the drama plays out from the perspective of a 5-year-old. But Lenny Abrahamson's film version is as much a cinematic triumph as the book was a literary one. Anchored by stirring performances from young Jacob Tremblay and Oscar winner Brie Larson, who cements her status as one of the finest actresses working today, Room is a haunting tribute to survival in the most horrific of circumstances.
The Theory of Everything (2014)
In his Oscar-winning performance, Eddie Redmayne portrays famed physicist Stephen Hawking -- though The Theory of Everything is less of a biopic than it is a beautiful, sweet film about his lifelong relationship with his wife, Jane (Felicity Jones). Covering his days as a young cosmology student ahead of his diagnosis of ALS at 21, through his struggle with the illness and rise as a theoretical scientist, this film illustrates the trying romance through it all. While it may be written in the cosmos, this James Marsh-directed film that weaves in and out of love will have you experience everything there is to feel. 
What's Eating Gilbert Grape? (1993)
This low-budget indie flick was the first of Leonardo DiCaprio's many Oscar snubs, and one that relied heavily on the immense sincerity of the young actor to make the film as potent as it is. Here he plays Arnie, the mentally disabled kid brother to Johnny Depp's titular Gilbert Grape, and the film follows the two leaning on one another while living in poverty with their morbidly obese mother after their father's death. It's a story about the bond and burden of family, and these two deliver performances that make you so deeply believe in their brotherhood and the sentimentality that lives in their world. 
6 Years (2015)
Breaking up is hard to do. It's the subject of Hannah Fidell's understated 6 Years, which closely examines a relationship falling apart, focusing on a couple played by Taissa Farmiga and Ben Rosenfield, who have been together the entirety of their young adult lives. As a character study of the two together and apart, the film is extremely mundane, but their powerful performances make the slice-of-life concept something fierce and worth watching. It starts by breathing the freshness of a first love, but comes to exhale nothing but a volatile violence that will leave you feeling suffocated.
50/50 (2011)
Cancer always sucks, but it's a different kind of suckiness when you find out you're diagnosed in your 20s. Joseph Gordon-Levitt stars in this dramedy as a young man who learns he's dying of a rare form of spinal cancer, and is understadably  pissed. But with the comfort of his best friend, played by Seth Rogen, and a young, unconventional therapist (Anna Kendrick), he finds strength and humor despite his jaded worldview to just embrace life as it comes. The somber comedy may give a harsh look at mortality, but it proves humor and connection is sometimes enough to get us through hardship -- so don't worry, you'll be laughing through the tears. 
Need help finding something to watch? Sign up here for our weekly Streamail newsletter to get streaming recommendations delivered straight to your inbox.