'I'm Obsessed With Judge Mathis': Everything Comedian Samantha Irby Streamed in a Week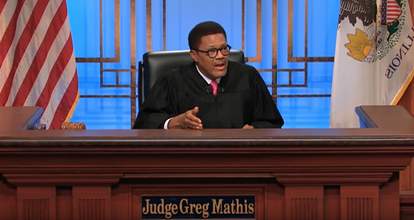 Welcome to Stream Journal, a new column where we ask our favorite authors and internet personalities to document their viewing and listening habits for all the world to read. Anything that can be streamed over the internet is fair game: movies, TV shows, music, podcasts, viral videos, whatever.
First up: Samantha Irby, who you may recognize as @wordscience on Twitter. She's the author of several books of essays, including Meatyand We Are Never Meeting in Real Life, as well as a very funny comedian, a prolific blogger about Judge Mathis and other cultural ephemera on her site BITCHES GOTTA EAT, and a self-professed garbage TV watcher. So naturally we asked her to track her streaming consumption for nearly a week for the inaugural edition of Stream Journal.
Friday
The Voice
I was just out of town for a week and I didn't take my computer because I tricked myself into believing that I wanted to be "in the moment," which is honestly a phrase I don't actually understand. When in the history of the universe has real life ever been better than what could be found on TV? I didn't do anything other than wish I had my laptop and watch sports on the hotel television. So the minute I got home, I was like, PUMP SOME SHOWS DIRECTLY INTO MY LARGEST VEIN.
As a homely person, the premise of The Voice appeals to me: empty out your soul onstage to prove your talent to a group of people who would otherwise probably throw garbage at you as they passed by you on the street. I love this show, and I cry at every single soft-focused "meet my hardscrabble grandma and watch me fake make a pizza for my 19 kids" introductory video and hold my breath watching Carson Daly hold the nervous accompanying dad's hand backstage. At some point in my life I just stopped knowing when the new television season begins, and I checked Hulu only to find out this shit has been back for either two months or two years. (It's hard to gauge because there are, like, nine episodes on every week so how can anybody keep track?)
I will watch the show with a burning passion and hunt down all of my faves on Instagram and listen to their Soundclouds or whatever, but I can only watch it until the episodes where America starts voting and deciding who gets to stay or has to leave. I wouldn't let my neighbor suggest a pizza topping to me, let alone decide if my favorite 29-year-old widowed country dad should be allowed to get a record deal with John Legend or whatever the fucking prize is. America always gets it wrong, they always kick off the weird people and the old people and the fat people until the herd is culled to two teenage Claire's employees, and THAT'S FINE but it's not my ministry, so I tap out while I still have hope that an elder goth from Pittsburgh can rocket to stardom on primetime TV.
Inside Man
I really love Spike Lee and, because I don't know how to talk about what makes a movie good, I do not have the vocabulary to explain why. I like a stylized movie, and I like the way he tells a story. Once upon a time I went through a very deep and all-consuming Clive Owen phase, and I watched Inside Man and Closer and that one movie where he has an affair with Jennifer Aniston and gets robbed by her boyfriend and almost kills his daughter (remember that one? Xzibit is in it!) a dozen times each. Inside Man ticks a lot of boxes for me: a beautiful New York bank, Clive (DUH), a seasoned Denzel, a young and hungry Chiwetel, and Jodie Foster looking savagely hot.
Saturday
Teen Creeps podcast
I live in the harsh and desolate flat lands of the great Middle West, where if you want to buy something that comes from someplace other than Kohl's you have to strap on an emergency diaper and pack a picnic basket to take a road trip to a bigger city that actually has a decent shopping mall. I have a new-ish Honda CR-V that has satellite radio, but it also has some fancy thing that allows you to plug your phone in (OK, all cars have that now) and all the phone stuff pops up on the display screen. Wild, right? Your map, the call log, texts from booty calls you'd rather not broadcast to whatever losers you're driving around in the backseat of your car: Everything is right there where everyone can see all your business.
So I decided to drive to the good mall to get some fancy soap and when I plugged my phone in, all these podcasts I forgot I subscribed to popped up and I decided that instead of weeping to a Dave Matthews live album like I usually do, I would catch up on some of my faves. The news stresses me the fuck out so I skipped past all the smart topical shit I subscribe to in case I die under suspicious circumstances and a detective goes through my phone to try and discover things about my life and instead put on a bunch of episodes of Teen Creeps, which is this excellent podcast hosted by two comedians named Kelly and Lindsay who devote each episode to a trashy teen horror novel (or sometimes a movie!) from their youth. It's all hilarious jokes and deep dives into, like, Christopher Pike and Sweet Valley High Super Thrillers, which is extremely my shit.
black-ish
Despite having watched approximately ZERO other current network comedies this year, I feel fairly confident saying that black-ish is the funniest show on regular TV. I got home from the mall and rather than do something productive like degrease the oven or put a single one of the many discounted goods I'd purchased away, I decided instead to clear out the DVR. Yes, we still pay for cable. As a matter of fact, we pay for a fucking satellite dish. Can you believe that, in the year of our lord 2019? Welcome to the heartland, where we have a dish the size of a small Toyota affixed to the deck of our crumbling farmhouses and have never heard of "arugula." Anyway, I live for the thrill of watching a show in real time, except when I forget to and have a backlog of episodes piling up and giving me anxiety. Everyone on this show is funny, even the kids, and not in an irritating way. It's one of the few shows where I have seen every single episode, some of them multiple times, which feels like an incredible feat considering how much available television there is.
Survivor
Am I the last remaining dinosaur watching this fucking show? Probably! There were a handful of Survivors chilling in the DVR, too, so I watched them all. Man, this show is still good, even after all these fucking years. It still gives me a thrill to hear Jeff Probst shout "Come on in, guys!" to a group of seemingly smart and cunning people who flew to Tahiti to starve and get stung by exotic bugs while wearing filthy underwear for the chance to compete in punishing physical challenges for the chance to win an Applebee's cheeseburger. I cannot believe we are lucky enough to still have this show. Will Jeff ever get tired of risking malaria exposure to narrate lawyers with vacation beards wearing stained boxer briefs trying to knock down targets with a coconut? I hope not!
Sunday
Power
I first started watching Power after the first season, when STARZ did one of those "get this channel free for a week so we can bamboozle you into paying double the price for it later" promotions, and they played the entire season on a loop for that free weekend. It has everything I ever want in a show: rich, ruthless people; men in suits; men shouting in suits; men fighting in suits; badass women; sumptuous interiors; a killer theme song. It's why I like Succession so much. And Billions, except change "killer theme song" to "Damien Lewis's cashmere hoodie collection."
Power is about a drug kingpin with a heart of gold (of course) who wants to go legit. Well, kind of legit. He wants to open a fancy nightclub and sell drugs there but he also wants his kids to be smart and go to private school. No really, he shoots a lot of people and evades the law and cheats on his wife, but he looks good and he's nice about it. I love a gritty melodrama, which is probably the way your dad would describe it so please forgive me. It's really good, and this is the last season so the plot is getting ridiculous in the absolute best way. Anyway, I mainlined six episodes because I love this shit and forgot this final season had started. Oh, also 50 Cent is on it. I should have led with that!
Wendy Williams' Hot Topics
I love celebrity news, but I like when that news is extremely specific and full of conjecture and unfounded opinions. This is why I love Wendy. I don't want a cheerful man with too many teeth to give me a puff piece on Bradley Cooper's dogs, I want to listen to a perimenopausal woman in a good wig speculate on who Bradley Cooper is boning! I want Real Housewives gossip breathlessly delivered to me like it's the fucking news!
Now listen, I don't want to watch Wendy Williams interview HGTV house-flipping stars or whoever the hell is on the second half of her show, I want to watch her make faces at the camera while trying to pronounce "Gigi Hadid," so I skip the daily broadcast and watch all of the week's Hot Topics clips on YouTube with my phone right up to my eyeballs while screeching "DRAKE DID WHAT?" alone in my bathroom.
Who? Weekly podcast
Speaking of celebrity news that only matters to me: I am obsessed with the podcast Who? Weekly. Like, "I get stressed out if I let a few episodes pile up" obsessed. Like, "pay money for the bonus newsletter and outtake podcast" OBSESSED. It's hosted by Lindsey Weber and Bobby Finger and basically they talk about all of the celebrities you have maybe heard of but don't really know who they are, which is my favorite genre of famous person. I was late to the party because I like to pretend that I am too busy to listen to podcasts even though I literally am never doing anything, but all my friends were on the bandwagon years ago, so now I'm trying to listen to the two new weekly episodes plus a couple of old episodes until I get fully caught up. It's a project. But worth it.
Drag Her podcast
I really don't want to do anything productive! But I love wearing headphones and looking like I'm concentrating very seriously, so I pretend to organize my dresser while listening to some Drag Her. I am very proud of anything I've been hip to from the beginning, and I started listening to this podcast when it was called something else and hosted by Joel Kim Booster and Nicole Byer, however many moons ago that was, and have faithfully stuck with it. Drag Her is a hilarious RuPaul's Drag Race recap show, and instead of talking about it I'm gonna go on a tangent and talk about how much I FUCKING LOVE TV recaps.
Back in the olden days I was a faithful reader, never commenter because commenting on things is terrifying, of Television Without Pity, the best website on the old internet. I don't remember how I found it but I would watch Project Runway then read the snarky TWOP recap the next day and it was truly my favorite thing about being alive. I am an Extremely Basic watcher of television programs: I just let it wash over me like a soothing bath of blue light and if it's funny I laugh at it, but sometimes I miss the subtle nuances or the social commentary or whatever deep thing I'm not smart enough to understand. Also there are just a lot of things I don't fucking know. So a recap is not only fun but also helpful!
I'm old and there's too much damn news and sometimes it's just nice to know exactly what the fuck a person is talking about. Anyway, I love Drag Race and I love listening to Mano Agapion (the new host!) make jokes about Drag Race, and the new season is fun because they're recapping the British version and breaking down all the slang which is great because now I know what the fuck a MINGE is.
Monday
Florence + the Machine, How Big How Blue How Beautiful and Tori Amos, Under the Pink
OK, I got an email from my editor that was like TURN IN YOUR WORK OR I WILL MURDER YOU IN COLD BLOOD so I put on a bunch of witchy shit to help me write and no, it didn't really help me reach my word count but I did add some candles and incense to the mix and it was a really nice vibe.
Various Beauty YouTubers
In the middle of the day I took a break from not working to engage in my favorite pastime: watching young people put makeup on their faces while talking to a camera. I had no idea this was even a thing until my friend Stef sent me a Jaclyn Hill video years ago and I watched, mesmerized, as she transformed herself from a regular person to… a regular person with shiny cheeks and five layers of eyeshadow that just end up being brown. I can spend hours down these rabbit holes with Jackie Aina, Manny Gutierrez, Patrick Starr, Kathleen Lights, et al, just watching them apply creams and lotions and powders to their luminous faces while hunched protectively over a plate of pizza rolls, grumbling like an ogre in a crusty sweatshirt I've had on for the last three days.
Tuesday
James Blake, Assume Form and The Colour in Anything
For a change of scenery and maybe some inspiration I went to my studio to work. It's a beautiful, light-filled space above my friend's coffee shop and every time I'm there I think "Wow, I should come here to work more rather than staying up until 3am like a zombie person trying not to wake up my wife with my reckless typing." James makes good music to write to, because sometimes it's hard for me to write when songs have a lot of words (see: yesterday) and James makes the kind of songs that sound like gorgeous digital moaning, so you can be soothed by it without having to give it your full attention.
The Affair
I have been in an abusive relationship with this fucking show from the beginning, and now I'm just impatiently waiting for it to divorce me so I can move on to my next thing. This show used to be appointment television for me but somehow I've fallen off, and I realized there were like four episodes in this final season that I hadn't watched yet, so I sat down and forced myself to. It's not even that it's bad, there are just so many shiny, newer things to watch. How can I be expected to rush home to the same old show when there are so many younger, hotter shows vying for my attention?!
Wednesday
Judge Mathis
I am obsessed with Judge Greg Mathis. His court TV show came out when I was 19 and I have been a loyal consumer of it ever since, and I am about to turn 40 in a few months. It is, unfailingly, my longest relationship? I mean, my parents died when I was 18, so technically I've known him longer than I knew them. Would it be weird if I started calling him Dad? A month ago I was home during the day, avoiding a deadline I had already missed, and his show came on so I settled in to watch it because how could I not, and as a joke I tweeted, "should i write a blog about who's on judge mathis every day?" and enough people responded YES that I, 1. immediately regretted having asked this joke question on a public forum that would hold me accountable, and 2. started that blog. I record the episodes every day on the DVR but I have to share that television with the other people who live in this house (a crime!) so a lot of times I watch old cases on my laptop so I can write about them. His YouTube channel (omg why do I even know he has one!) is a treasure trove of old eps, so sometimes I just buckle in and watch five in a row (each case is like 12ish minutes long) so I can write a bunch of recaps at the same time and set them to post automatically. How fucking stupid am I to let an offhand joke that I thought would make three people laugh turn into a JOB that I have committed to doing EVERY FUCKING DAY? I am my own worst enemy, truly.
Gone Girl
I'm not a freak but Gone Girl is one of my favorite "comforting, put it on in the background while doing other things" movies. I'm not sure what that says about my personality, but I love love loved the book, and (if I think about the movie as a separate entity from the book because movies are never as good as the books upon which they are based) I love the movie, too. Maybe I just love Ben Affleck and a dark, gloomy bar, but it's so creepy and unsettling and is the perfect backdrop for "thinking about things while staring into space," aka "writing."
Thursday
Schitt's Creek
I have a wife, and one of the worst things about my wife is that she enjoys books more than television shows. I will watch literally anything if I force myself to sit through three episodes of it. That's all it takes, three episodes, to get me to commit myself to a dozen seasons of practically any scripted show. BUT NOT HER. If she's not hooked on something five minutes in, she'll just throw the whole show away. She has discerning tastes and doesn't care about TV, qualities I admire yet will never adopt. So when she came home from an out-of-town trip and demanded I show her how to watch Schitt's Creek, a show I'd definitely heard of and added to my endless list yet hadn't gotten to yet, my heart exploded into a thousand rainbows. I fired up the Apple TV and we watched the entire first season in one sitting, and she laughed harder than I have ever seen, which bruised my ego as a comedy person but filled me with joy as a child who once asked if I was allowed to marry the TV. We're gonna watch Season 2 tomorrow!