Netflix's Latest Food Show Is Like 'Anthony Bourdain' With a Samurai Twist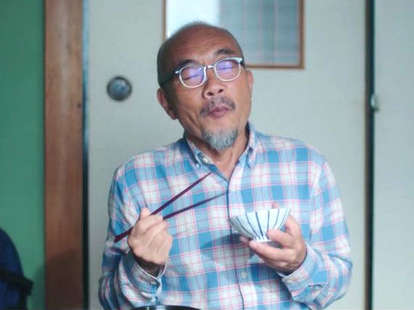 Samurai Gourmet, the new Japanese show now streaming on Netflix, is not about cooking. Unlike many of the platform's successful foodie-friendly originals, such as the culinary artist-worshiping Chef's Table, this isn't a show where you learn about life in a kitchen. There's no pressure on Samurai Gourmet. No ticking clock. No judges. No screaming Gordon Ramsay. It's the most relaxing food show ever made.
The delightfully odd series, which is based on a Japanese manga by Masayuki Kusumi and Shigeru Tsuchiyama, ditches many of the clichés we've come to associate with "food TV." Instead of focusing on chefs, it's centered around a hungry guy with simple tastes, a retired businessman named Takashi Kasumi (Naoto Takenaka). Unlike Anthony Bourdain: Parts Unknown, it's not a documentary travelogue series about real people; instead, it's a fictional comedy that blends super-low-stakes narrative storytelling with brightly lit food porn. And, yes, there's a samurai involved.
If you're curious, check out the Japanese trailer, which doesn't quite capture the show's leisurely pace, but does give you a sense of its offbeat style.
The first episode of Samurai Gourmet lays out the premise of the show: Kasumi recently retired from a vaguely corporate job at the age of 60 and he's got a lot of free time on his hands, so he's going for more walks, enjoying time with his wife, and eating out. The big "conflict" of the first episode is whether he should order a beer during the middle of the day at lunch. He initially doesn't order one, but soon works up the courage to get his beer on and ends up loving it. That's it. Really.
Occasionally, Kasumi has visions of a gruff, sword-wielding samurai who serves as a cooler, risk-taking alter ego. The samurai, played with a sly wink by Tetsuji Tamayama, is a wandering man willing to ask for seconds, order sake for lunch, or tell a stand-offish restaurant owner that her cooking sucks. The buttoned-down Kasumi is hesitant and constrained by social customs, but sometimes he acts on the daring impulses of his warrior pal. Both the samurai and Kasumi like pickles. In a show like this, that counts as an important character detail.
This might sound like a boring viewing experience -- honestly, the cheesy music might put you to sleep -- but if you give it a chance, each episode's tranquil rhythms slowly draw you in. Kasumi contains shades of Larry David in Curb Your Enthusiasm, often finding himself in awkward social situations, like scolding his phone-obsessed millennial niece when they eat at a BBQ restaurant. Thankfully, the writers never push the comedy into cringe-y territory. Everything simmers. Nothing burns.
My favorite episode, the quaintly titled "Mackerel in the Morning," resembles a short story in its elegant construction. After a late evening playing the popular board game Go with an old friend, Kasumi spends the night at a local bed and breakfast near the ocean. The next morning, he's served some dried mackerel, which sends him on a nostalgic, Ratatouille-like reverie about a high school trip to the beach with his teenage friends. There's a shot towards the end of the episode that uses a dissolve to achieve a beautiful note of melancholy wisdom and youthful yearning.
As Netflix expands its global reach, foreign-language programs have become an essential weapon in its streaming arsenal. Shows like Samurai Gourmet or the Brazilian dystopian drama 3% provide creative inroads in growing markets, but they also allow American viewers to explore shows outside their comfort zones. That adventurous, inquisitive spirit is at the heart of the calming, slightly surreal Samurai Gourmet. "I should explore more," says Kasumi at one point. "This is what freedom really means." Don't be afraid to follow his lead.
Sign up here for our daily Thrillist email, and get your fix of the best in food/drink/fun.