Samurai Jack's Toughest Enemy Wasn't Aku in the End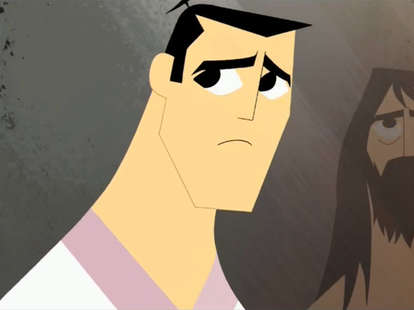 This post contains spoilers for "C" the latest episode of
Samurai Jack
. Read our full reviews for the other episodes of
Samurai Jack
Season 5: "XCII" "XCIII" "XCIV" "XCV" "XCVI" "XCVII" "XCVIII" "XCIX" "C" "CI"
Well, that's a twist.
It turned out that despite a lot of teasing last week, the Guardian's time portal (and possibly Jack's eventual victorious prophecy?) turned out to be a red herring in favor of -- wait for it -- a showdown in which Aku took control of Ashi's body to try to kill Jack. It turns out that the magic voodoo that allowed Aku to impregnate Ashi's mother is what allows him to take control of her. In essence, she is a part of Aku. This spelled doom for Jack, who was barely able to fight back against her.
Remember, Samurai Jack's final, very-adult season has given our favorite samurai a body count, a girlfriend, serious PTSD to work through, a sweet beard, a penis joke, and a lot more. Beautifully animated and almost impeccably written, it's been a best-case scenario for extended fan service paying off into artistic merit. If Jack doesn't get back from this to defeat Aku and save Ashi, it will have all been for naught. Aku and Ashi have now taken Jack's sword, so he now needs to figure out how to fight his beloved and his worst enemy without his ultimate weapon. Also, the Scotsman, his daughters, the Archers, and hopefully every other character who talked a big game about helping Jack when he needs it most, absolutely have to return for the finale.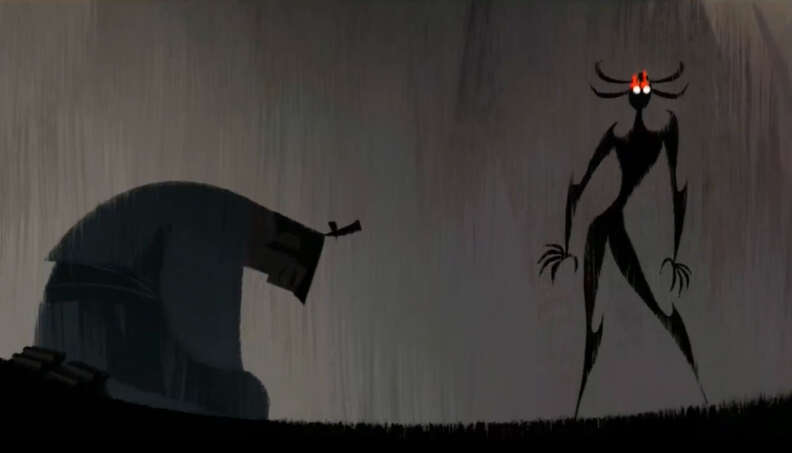 Predictably, the final Adult Swim promo for the final episode of Samurai Jack (!) didn't offer any insight or clips for the finale, but it's hard to imagine that next week's episode "CI" doesn't finally wrap up the story of Jack, Aku, Ashi, and the rest of the characters of Samurai Jack. Gotta get back, back to the past.