What Samurai Jack's Sword Will Mean for Rest of the Show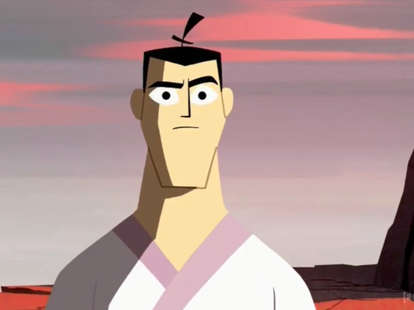 This post contains spoilers for "XCVIII," the latest episode of
Samurai Jack
. Read our full reviews for the other episodes of
Samurai Jack
Season 5: "XCII" "XCIII" "XCIV" "XCV" "XCVI" "XCVII" "XCVIII" "XCIX" "C" "CI"
It finally happened.
After weeks of patient waiting and theorizing, Samurai Jack followed up the white-knuckle intensity of last week's suicidal final minutes with a treat for its fans: Jack finally got his sword back again. All it took was a lot of meditation, a tea-making ceremony, and Ashi killing her mother. Here's what all this means for the final three episodes we have left in the show.
Jack's faced his demons and won
The sword was returned to the samurai following an extended meditation atop a mountain as Ashi fought off an army of his enemies (including her own mother). Jack's mental wanderings took him to a teahouse located in a kind of spirit realm, where a short old man told him he had to make tea in a traditional Japanese tea ceremony.
Jack made the tea perfectly, but it tasted "terrible," the old man said, because he did not have the crucial ingredient: balance. Jack immediately manifested a hateful avatar of himself that resented the man's implication, but Jack -- after the events of this season -- conquered that hatred, and banished the vile version of himself away. Don't expect to see any of these mean-spirited Jacks again.
Once he did that, the gods handed him back his sword.
Jack's sword is the only thing that can hurt Aku
The gods Odin, Ra, and Vishnu forged the sword for Jack's father and imbued it with cosmic energies from amongst the stars. Not only is it the only weapon on the planet that can defeat Aku, it's inextricably linked to Jack and his mission to vanquish evil. That's why it disappeared for so long while Jack had lost his sense of balance.
The IDW Samurai Jack comic book, published between 2013 and 2015 for 21 issues, also featured a storyline written by Jim Zub called "Samurai Jack and the Quest of the Broken Blade" -- where Jack had to contend with having broken his sword. It actually ended in a similar fashion as I pointed out when this season started, with the power of the gods manifesting itself in the form of a new sword. Genndy Tartakovsky, creator of Samurai Jack, doesn't consider the comics canon, but this reveal happened in much the same way.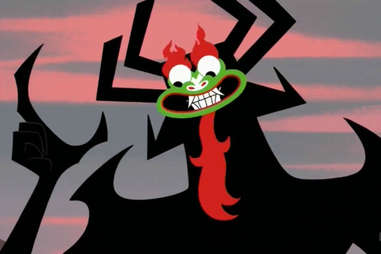 Aku has no clue what's going on
Presumably, in the next episode or the series' penultimate one, Scaramouche brings Aku his (outdated) intel that Jack is traveling without a sword. As soon as Aku learns that he'll set his sights on the samurai, but Jack has the upper hand in this regard, and that element of surprise will prove important because...
It's looking like Jack will lead an army
Remember the Scotsman's "Celtic magic"-powered plan from beyond the grave. He's marshaling forces to defeat Aku and will need to lean on Jack's power to do it. Ashi's already proven that she can obliterate legions of soldiers on her own. With warriors like her, the Scotsman's daughters, the Archers, everyone else we saw in the episode last week who loves the samurai, it looks more and more like the future foretold by the Guardian will come to pass -- even if Jack won't exactly be sporting a beard when he gets there.
We'll just have to wait and see. For now, revel in the moment. As the gods who forged the sword told Jack: "You are worthy."
According to this promo from Adult Swim, next week's episode, "XCIX" will focus on Ashi and Jack heading to face Aku and hitting some snags on the way. We'll see how that goes.
Sign up here for our daily Thrillist email, and get your fix of the best in food/drink/fun.