All Rise: Sarah Steele Is Now in Session
The actress reflects back on a decade growing up with her character Marissa Gold while being surrounded by acting legends in 'The Good Wife' and 'The Good Fight.'
Photo by Cole Saladino for Thrillist
Photo by Cole Saladino for Thrillist
By "cosmic" circumstance, as Sarah Steele puts it, the sweltering August day we meet in Greenpoint became a tiny farewell party not just for the coming end of The Good Fight, but to say goodbye to the neighborhood itself. The Paramount+ legal drama's soundstage, tucked away in an industrial pocket not far from the imposing, bulbous silhouette of the Newtown Creek Wastewater Treatment Plant, was a seven-minute walk from her boyfriend's apartment. The following day, he'd move into her Brooklyn Heights co-op. "I love Greenpoint and we've had such a fun, free portion," Steele tells me over cocktails and a vegetarian bowl at the custom birch-paneled record bar Eavesdrop, not even a full block away from one of her favorite classic Greenpoint haunts, Five Leaves, at the northern tip of McCarren Park. "We lived half of our life in this neighborhood."
Over the past 11 years, the 33-year-old Steele has been trekking to North Brooklyn to play Marissa Gold in both The Good Fight, which just began streaming its sixth and final season, and The Good Wife, its Emmy-winning progenitor starring Julianna Margulies as the titular wife resuscitating her dormant legal career. Initially, Steele was cast as Marissa, the wisecracking 18-year-old daughter of Alan Cumming's political strategist Eli Gold, for a two-episode arc in Season 2 during a time in her life where she already felt detached and jaded about the business. "When you don't care about showbiz is when you get your best opportunities," quips Steele, who manages to fit magnanimous energy, deferential humility, and self-assured confidence into her 5'0" frame. A student at Columbia University, she had just returned from Seattle, where she was hanging out in the experimental theater scene and riding a feeling of creative liberation when the audition opportunity popped up on her phone while she was walking out of a yoga class. "I said, 'Okay, this fits into my Christmas break,'" Steele sasses in evoking her younger self. "I think I walked in with a real Marissa Gold confidence that I don't necessarily naturally possess, but I was just having a moment where I was like, 'I don't even care about mainstream art,' and I walked in not giving a fuck, and I got the job, of course."
Eventually, a two-episode bit part, where she's introduced sarcastically eye-rolling during a spat with her dad, turned into a recurring role in The Good Wife's last two seasons, often counseling Margulies' Alicia Florrick through work and personal issues with surprisingly astute wisdom. (After shooting episodes of Season 6, Steele would share a van with Cumming to Times Square for their respective night gigs performing in The Country House and Cabaret. "That was very bonding," she says.) She learned at The Good Wife's wrap party that the series' creators, Robert and Michelle King, wanted her back for the spinoff series, along with Christine Baranski reprising Diane Lockhart and Cush Jumbo as Lucca Quinn. On the set of The Good Wife, Steele admits she was "completely starstruck" by Baranski. "We had no scenes together, really," Steele says. "She just came up to me one day and was like, 'You're so great on this show.'" For The Good Fight, however, she'd be an integral part of the series, sharing scenes with Baranski in practically every episode and learning to love, as all the lawyer shows say, The Law.
"What's beautiful about the Kings is they find people they like and then the whole world opens up," Steele says about the spouses' penchant for deploying certain actors, including the likes of Carrie Preston, Gary Cole, and Mike Colter, who currently stars as a Catholic priest in Evil after playing a buttoned-up drug lord in the Good-verse. "Who would've ever thought that it would lead to everything it's led to?"
It would have been impossible for Steele to predict that she'd be surrounded by acting legends—Baranski, Audra McDonald, Delroy Lindo, Mandy Patinkin, and many more—for all of her 20s and change, but she knew she wanted to act by the time she was 8 years old, when she overheard a kid in the school cafeteria talking about taking acting classes. "I just had a jolt in my whole body where I was like, 'That's it. That's what I'm supposed to be doing,'" remembers Steele, her body shooting up straight as if reliving the moment all over again. "I was like, 'I'm done with ballet. I'm done with sports. This is my thing. I know it.'"
Growing up outside of Philadelphia with an older sister and physician parents, pinpointing her career in the arts at such a young age wasn't exactly discouraged, but her parents approached the idea from a practical sense of worry. "My mom especially would say things from the time that I was 9 years old: 'Well, I just don't want you to end up waiting tables,'" Steele says in her best concerned-mother voice before deadpanning: "I was like, 'I'm not really thinking about that. I'm 9.'" As her family often recounts, her dad lambasted the classes as "an incredible waste of money." Still, Steele joined a company at the Walnut Street Theater, the oldest performing-arts venue in the United States, "which was huge for me," she says, praising Philly as a great theater city, in part because of its proximity to New York, where she was able to start auditioning for parts at a young age. "I really have been in it since I was a baby," Steele says.
Her first big Hollywood break came when she was 15, starring alongside more legends as Adam Sandler and Tea Leoni's middle-school daughter in 2004's Spanglish. "That was just a crazy time," Steele recalls. "I felt like an alien. I felt like I was on another planet. LA, to me, might as well have been Mars." She had gained weight and wore a fat suit for the role, and was generally disoriented. "I became this just totally different kind of persona because the truth was, when I did Spanglish, I was already hooking up with boys. I'm 15, but that character was so innocent and I could feel and see that's what that world wanted from me. So it felt like I played a part during the whole experience."
Though it launched her on-screen career, which would ladder up into small parts on shows like Girls and Gossip Girl over the years, the experience of filming in Los Angeles sparked a mandate of self-preservation within her. "After that I really just went home and I didn't work again for years," Steele says. "I couldn't have put it into words at the time, but I think I knew, If I stay here, it will destroy me at this age. I can get back to it once I have power and agency and know a little bit more who I am. I feel so grateful to my younger self for knowing that."
In Marissa Gold, Steele says she feels like she "hit the jackpot" with a series that respected both her and her character's maturation. "The anxiety of working as a kid is like, 'Are people going to let me grow up? Are people going to let me also have a journey as an adult or not?'" Steele says. "And I got to do this weird, wild thing where I actually did it as one character, but that was like, 'Well, hopefully people now see that I'm a grownup,' because Marissa's a grownup, but she wasn't really when I got the part."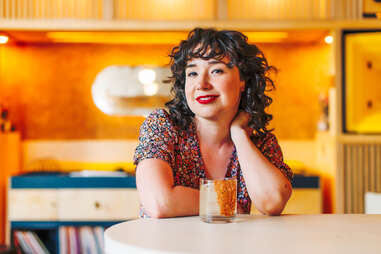 During The Good Fight's run, Marissa has risen from assistant to private investigator, mentored by Nyambi Nyambi's cool-headed Jay Dipersia, to a clerk in a kangaroo court run by Patinkin's quirky but justice-minded judge Hal Wackner. By the start of Season 6, she's a full-on attorney, blowing her first hearing thanks to a case of the yips. (Meanwhile, Diane is getting into a new form of microdosing with the aid of a physician played by John Slattery.) Even through all of these shifts to find Marissa's calling, Steele has felt an almost eerie kinship with the character she portrays.
"I think the more they got to know me and the more I played Marissa, the more similar she became to me," she says. "The Kings have an uncanny ability to just read who you are and slip it into the script in a way that you're like, 'Wait, did I tell you that about me, or did you just somehow infer that?'" She mentions a scene from Season 6 where Charmaine Bingwa's first-year attorney Carmen Moyo moves into a spacious loft apartment with no intention of filling it with things like a couch or TV. "Charmaine was like, 'How did they know I have no furniture?' They are definitely geniuses."
Steele gives another example of Robert King's rare prowess, specifically at the multitasking on display during the episodes he's directed. "It is astounding to watch him and everybody's trying to shadow him because it's just so fascinating," she says. "He'll literally be directing, talking to people on a Zoom, editing, and reading the news. It's insane. I don't understand how he does it, but he does. He has like four things going on and then nails it when he comes in to direct you."
That sense of controlled chaos permeates the episodes of The Good Fight, reflecting a pathos that's trying to make sense of increasingly stupefying current events when there's seemingly no sense to be found. The pilot aired in February 2017, barely a month after Donald Trump was inaugurated, and the 10 episodes that followed felt so ripped from the headlines that you'd think the writers' room was churning out weekly scripts on a grueling South Park-ian timeline. When I bring this up to Steele—that it feels like something just happened in the world—she finishes my sentence: "It's on The Good Fight. I know. It's weird." She's grateful she's had the opportunity to be on a show that speaks so directly to the political moment even as reality felt more and more detached from itself. As the seasons have unfolded over the past five years, The Good Fight has gotten progressively more surreal; Jay, feverishly ill with COVID, hallucinates talking to Frederick Douglass, Karl Marx, and Jesus, and Diane, feeling desperate about the crumbling social order, chats with the recently deceased Ruth Bader Ginsberg.
"I don't see how you could even make art that's not surreal and addressing that we are living in a dystopian reality right now," Steele says. "It's like, 'I don't think I want to do a flashy musical right now,' even though I think we need that—we need escapism too. For me, personally, I really liked being with the show that was addressing the stuff that we were all thinking about and tortured over."
At the same time, some filming days were extremely difficult to bear. Unlike an office gig where you can log off of Slack after societally distressing news happens, Steele and her castmates had to press on with their shooting schedule. She recalls one of this season's hardest days of, "which also speaks to Michelle and Robert's psychic powers, almost. We were shooting a scene where they overturned gay marriage the day that [the Supreme Court]overturned [Roe v. Wade]. Christine had just been shooting it. She's always standing up completely straight, so poised, so giving, so sweet, and I just got to set and—I'm almost going to cry talking about it—she was just kind of crumpled on some steps. I was actually like, 'I don't want to mess up my makeup. I can't even talk with her or I'm going to start sobbing.' But I did. I was just like, 'Hi. You okay?' And she was like, 'How can you be okay?' And I was like, 'I don't know.' It was horrible. It was really hard to work that day. I was like, 'I want to just curl up on my floor and sob.'"
At the start of Season 6, protests have erupted outside the law firm's Downtown Chicago offices. Literal bombs seem to be exploding, but 20-odd stories above, the attorneys hardly bat an eye at the din as they debate defense strategies and manage the addition of a new wild-card boss played by Andre Braugher. ("He's interpersonally the funniest person we've ever had on the show," Steele posits. "As an actor, he's very serious, he's very intense. So good. And I didn't expect to just be howling laughing.") Eventually Marissa starts obsessing over the warning signs of a country on the brink of civil war. By all accounts, The Good Fight's final season is aiming to go out on a note that shatters the reality-bending mirror it erected for itself. "Without giving too much away, it ends in a big departure for us, that being it ends very physically. Suddenly we're doing stunts and glass is exploding and stuff that we don't normally do," Steele teases about the finale. "It was so different and I loved that because it just felt like everything's a mess, the world's a mess, and we're all taking breaks to cry because it's the last day."
When the series wrapped in late July, McDonald and Baranski gave closing speeches about finding and following your joy and being proud of putting "something into the world that wasn't trash." Steele, who says both actors have been "incredibly" supportive since day one, was understandably emotional. "I couldn't believe that Diane Lockhart was not going to exist," she says. "She's done this for 13 years, and my brain was exploding that that was her last shot as Diane."
Steele hasn't fully processed that the Marissa Gold chapter of her life is behind her either. "Not to compare myself to her, but what Sarah Jessica Parker says about Carrie Bradshaw: It's just like she's never gone," Steele says. "And same thing [for Marissa]. She's so specific. She's absolutely still in me." She did an audition the day before we met for a character that was "much angrier than Marissa," which she enjoyed. "I think not until I'm really, really deep into another character will I really feel like, 'Oh, Marissa. Oh, Marissa's gone. How weird.'"
Since The Good Fight finally addresses what the show had been careful to avoid throughout its run—what happened to Alicia Florrick—I joke with Steele about reuniting Marissa and Alicia. She laughs yet responds as if the whole cast has been kicking around ideas for a spinoff of the spinoff. "Well, I know actually Christine said that on one of the last days, she was like, 'I would love it if they just kept passing that torch Julianna passed it to me, and if I passed it to you and Charmaine,'" Steele says. "I was like, 'Yeah, I love that. I'd love to take the baton.' I think there's a tiny part of me still being like, 'Me and Alan, another spinoff?' A tiny little part of me is holding out hope of a Marissa and Jay spinoff, but I mean, it's very unlikely."
At the moment, however, Steele is giving herself leeway to not feel the pressure of accepting another intense, yearslong role right away. These days, she's finding herself inspired by the work of her close friends, with whom she's made a handful of documentary shorts. But she remembers what Baranski told her on the first day they ever worked together. It was the final day of shooting The Good Wife, with a big party scene and a send-off to the series' characters. Later, Steele would head to her theater gig performing in The Humans. "I came up to her and I just said, 'Thank you so much for always being so nice. You're incredible, and it was so nice to meet you,' and she just said, 'Oh, no goodbyes in this business. I'll see you backstage at your show,'" Steele remembers. "And then the 'no goodbyes,' of course, was we did a series for six years together. That is the kind of thing that, as a veteran, she knew we are not done working together. Whether it's this, whether it's something else, there's no goodbyes."