The 21 Best 'SNL' Sketches This Season, Ranked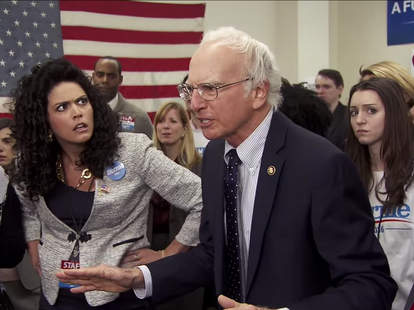 Saturday Night Live 's 41st season wrapped up this past weekend with a Fred Armisen-hosted finale that appropriately capped off a year filled with poignant highs (Tracy Morgan's post-accident return), thundering lows (that Donald Trump episode), and space pants. Now that it's all over, we can finally count down our 21 favorite sketches of the season.
After lying to our faces for months, HBO finally pulled the least shocking plot twist of all time by resurrecting Jon Snow on Game of Thrones. But it took two full episodes to get there, and SNL brilliantly mocked the show's stall tactics in this sketch. Brie Larson and Cecily Strong's exasperated extras are all of us.
Settl is the brutally honest dating app for women who are looking to just get married already. That means you can't swipe left, you can only upload passport photos, and you're bound to meet charmers like Henry, the mustachioed manager of Petco. Hey, he has a 401(k).
19. "A Thanksgiving Miracle"
If only all contentious family conversations could be solved with an Adele sing-along.
18. "Santa Baby"
A Christmas party takes a dark turn, thanks to Ryan Gosling and Vanessa Bayer's demented couple. They give off strong Pumpkin and Honey Bunny in Pulp Fiction vibes -- if those two were obsessed with Santa Claus.
17. "Yo! Where Jackie Chan at Right Now?"
Do NOT say Asia. These guys won a Peabody!
Sometimes the sketches cut for time outshine the ones that made the show. That's certainly the case in this Kyle Mooney and Amy Poehler sketch about slyly adorable feuding siblings.
Hopefully the Discovery Channel is on the phone with Peter Dinklage and Leslie Jones right now, because this preview of their Naked and Afraid episode was A+ entertainment.
14. "Golden Globes"
The main takeaway? Liev Schreiber is a very gracious houseguest and threesome participant.
13. "Family Feud: Extended Family"
SNL does Family Feud sketches all the time, but not like this. Kenan Thompson's flustered Steve Harvey is great. Leslie Jones' spurned ex-wife is even better.
Writer and former cast member Mike O'Brien has carved out a great niche for himself with his short films. They tend to be sweet oddballs, and this tale of Jen and her Uber driver is no exception.
11. "Screen Guild Awards"
Capitalizing on the #OscarsSoWhite controversy, Saturday Night Live took us inside this fake awards show, where white librarians in Thurgood Marshall biopics and white cameramen in Beasts of No Nation copycats were recognized over any black actors.
SNL struggled all season to properly skewer Trump. First there was the casting shake-up. Then there was the unfortunate episode that Trump hosted, which is already regarded as a low point in series history. But this fake political ad was by far the show's best Trump takedown: blunt, blistering, and brutal.
9. "The Day Beyoncé Turned Black"
All the absurd pearl-clutching over Beyoncé's "Formation" music video was ripe for parody, and SNL seized the opportunity with this horror-movie trailer.
8. "First Got Horny 2 U"
The women of SNL have produced a number of excellent music videos over the past couple years -- see "(Do It on My) Twin Bed,""Back Home Ballers," etc. This is the latest hit, and it sees the ladies in the all-white garb typically reserved for '90s boy bands, crooning about the first men they masturbated to.
7. "Bern Your Enthusiasm"
The 2008 election had Tina Fey's Sarah Palin. The 2012 election had… Kate McKinnon's Ann Romney, if anything. In 2016, Larry David's Bernie Sanders is the impression to beat. It started off strong in debate cold opens, and reached its apex in this perfectly produced Curb Your Enthusiasm mash-up.
6. "Undercover Boss: Starkiller Base"
Yo, Kylo Ren (excuse us, "Matt") straight-up sucks.
Can a bitch get a donut? Someone has to ask the tough questions, and in this case, that someone is gaudy '90s relic and "human puzzle" Kevin Roberts, played by Larry David.
You think this is a skit about a mob deal gone bad, but it's really about Peter Dinklage singing "Space Pants," the best synth-pop song about novelty pants this side of the solar system.
3. "Meet Your Second Wife"
This game-show parody feels like a fake NBC show from the 30 Rock universe. And just like Fey's trademark sitcom, the skit is a sharp satire that still boasts a bit of silliness. Be careful out there with those kayaks, people.
2. "Close Encounter"
If you needed one more reason to get excited for Ghostbusters (whining man-babies, step to the left), just check out Kate McKinnon's runaway hit of the season. This is one of those sketches where everyone cracks up, but you can't blame Baby Goose for breaking -- we also lost it over McKinnon's account of her "super off-the-books" alien encounter.
Sign up here for our daily Thrillist email, and get your fix of the best in food/drink/fun.
 
Kristin Hunt is a freelance writer for Thrillist who would marry
SNL
if that were legal. Follow her on Twitter: @kristin_hunt.