The Radical Way 'Say Yes to the Dress' Speaks to Women
Val, a teary-eyed bride, stood on a pedestal, addressing a group of women -- among them a lymphoma therapist, a plastic surgeon, and a best friend -- seated on the plush sofa in front of her. "I've been climbing a hill, and I'm finally up at the top," she said to the entourage. "You've supported me through cancer, but I just wanted to share a joy with you." As the women erupted into a chorus of howls, a sales associate asked the requisite question: "Are you saying 'yes' to the dress?"
Yes, Val, a subject on the latest season of Say Yes to the Dress, had found a wedding gown, a process that included an emotional roller coaster of frustration at her self-image in other dresses, reflections on her victory over cancer, and an eventual happy ending. This was par for the course for TLC's underestimated reality show, currently in its 16th season of subliminally empowering its female viewers.
Since its premiere in 2007, a team of bridal sales consultants and TV-ready employees at Manhattan's Kleinfeld Bridal have been outfitting brides eager to tie the knot and get their 15 minutes of reality star fame. With prices ranging from just below $1,000 (for an on-sale sample) to couture creations going for over $10K, big-spenders have popularized the bridal boutique, which now sells upwards of 10,000 dresses a year. The show's marketability resulted in spin-offs like Say Yes to the Dress: Atlanta and Say Yes to the Dress: Big Bliss, which focuses on plus-size brides. Characters like Randy Fenoli, a Kleinfeld fashion consultant and dress designer, helped define the show's personality: a tumultuous whirlwind of outfit shopping for a milestone event.
Say Yes to the Dress
Say Yes spotlights brides from the moment they arrive for an appointment with their "entourage" -- an extroverted group of friends and family -- in tow. Each woman is assigned to a consultant who takes the bride's wedding theme and gown expectations into consideration when making dress selections. Sometimes the woman has an idea for a dress in mind, sometimes she can't afford said gown, sometimes she has a bitter rival with her sister who gives petty feedback. Drama usually ensues, but ultimately, in true reality-TV fashion, the episode resolves neatly when the soon-to-be-newlywed finds her dream gown, and says "yes" to the dress, a slogan that's trickled into bridal salons across the country.
As a viewer, it's a show with low stakes and high reward, highlighting all the glamour and crises of shopping without the discomfort of going to a store, luxuriating in the excess of the wedding industry without making comment or judgment. However, Say Yes is a show with a curious appeal: it's one of the only programs whose premise centers around a woman feeling pleasure in her body, in her choices. For years, it's shared a message of adoring the female form in the outfit she feels is most representative of her personality and desires, worn on a day deemed to be one of the most significant in life. This in itself is radical when women's ownership over their bodies is a crucial conversation.
The show's premise centers around a woman on a mission: to feel a level of elation upon choosing a wedding gown. Each episode's top honors, a woman getting what she wants --  not a cash prize nor a business deal, but self-love -- sets Say Yes apart from other reality shows, where women are portrayed as superficial, competitive, and in combat with one another. (Or in other wedding-centric shows, as "bridezillas.") The show does not attempt to reshape the spectacular profligacy of the wedding industry, and the financial privilege of many of the show's subjects. Instead, it's indulgent, catering to a woman's every desire. "It's not our wedding," is a frequent saying among Kleinfeld employees, a sign of the program's pointed effort to please.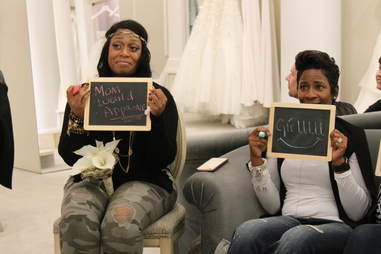 Say Yes to the Dress
Turning a woman's body and how she chooses to clothe it into spectacle may seem like murky territory, especially when brides struggle with body image upon being shown sample-size gowns (usually a size 6 or 8), short timeframe to find the "perfect" dress, budget constrictions, and the occasional changing body (several pregnant brides have appeared on the series), there runs a risk of the show's premise backfiring. The kink in this thread is the short-lived Big Bliss spinoff, which aired from 2010 to 2011, a well-intentioned effort that ultimately falls into clichéd domain: the tension of limited stock, and the drama of a dress that won't zipper, the delineation that fat women must be sorted out to a separate program.
Still, self-consciousness is frequently handled head-on. In a Season 5 episode of OG Say Yes, the affianced Theresa must come to terms with her body post-weight loss in order to find a gown she feels comfortable in. The show's narrator frequently refers to her as the "insecure bride." Sensing frustration -- Theresa claims she won't find her dress at Kleinfeld -- Fenoli combs through the stockroom and vows to provide an endless stream of options until Theresa finds the one. The first of Fenoli's alternatives proves to be a winner, his efforts successfully navigating a sensitive situation.
Many episodes feature frustrated and tearful brides uttering some iteration of the statement "I just want to feel beautiful." While beauty itself is subjective, each woman has her own standard of elegance, and the staff at Kleinfeld aim to help her achieve it. Whether rebelling against an overbearing sibling or bridesmaid's opinion, or deciding to walk out of the shop empty-handed, the show has a moral of "self before others." Of course in reality TV, all plots are tied up neatly and adorned with a big bow, but even without the spectacle of matrimony and privilege, Say Yes to the Dress offers a thrill in witnessing a woman get what she wants.
Sign up here for our daily Thrillist email and subscribe here for our YouTube channel to get your fix of the best in food/drink/fun.
Allie Volpe is a writer based in Philadelphia. She has contributed to
Rolling Stone
,
The Washington Post
,
Glamour
, and more. Follow her on Twitter @allieevolpe.