Freaky Movies You Should Never Watch Alone
If you have a strong aversion to being alone, that's called monophobia, and it's a pretty serious phobia that afflicts millions of people. In previous articles, we've covered "solo protagonist" thrillers like Buried and Hush, but there are actually lots of movies that deal with the dangers of spending excessive amounts of time by yourself. So, with that in mind, here are a few more examples of horror flicks and thrillers that you shouldn't watch alone.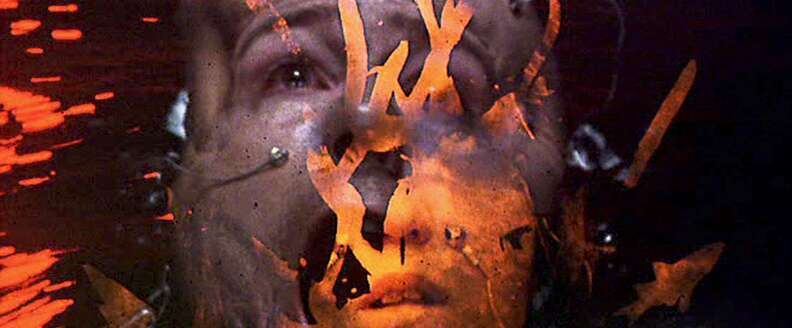 Altered States
William Hurt plays a college professor who loads up on drugs, locks himself in an isolation tank, and discovers all sorts of disconcerting things about the nature of mankind. Or maybe he's just tripping face inside of a dark water tank. You can decide for yourself, but director Ken Russell (Tommy) keeps everything slightly bizarre and off-balance in this psychedelic look at self-experimentation.
Where to watch it: Rent on iTunes, Amazon Video, YouTube
A Lonely Place to Die
A group of hikers discover an abused child in the middle of nowhere, and promptly split up to inform the authorities. That's when the evil bastards responsible for the crime catch wind of what's going on. While there's a supporting cast full of potential victims, it's the smart and resourceful Melissa George who is forced down a dangerous mountain to escape crueler forms of harm.
Where to watch it: Stream on Netflix; rent on iTunes, Amazon Video, YouTube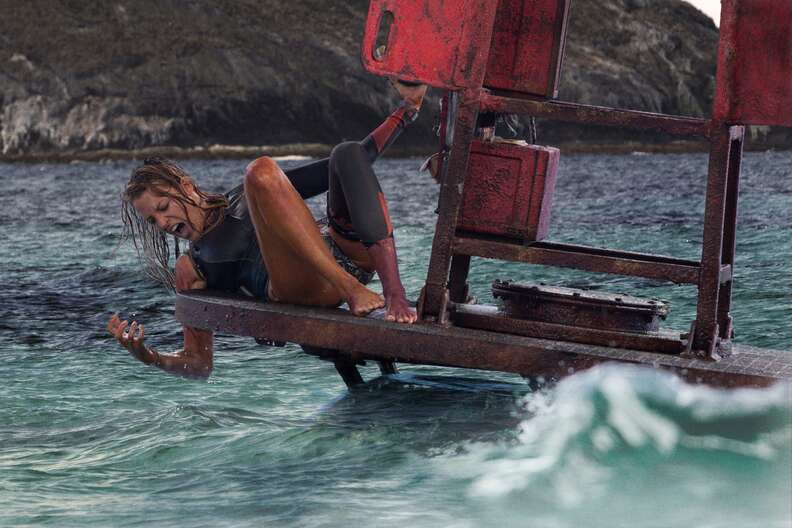 The Shallows
If Jaws made generations afraid to dip a toe into the ocean, this new shark-related suspense thriller offers a more specific lesson: do not go swimming alone! Blake Lively plays a clever young surfing enthusiast who decides to hit one more wave after her new friends call it a day. She quickly regrets the decision when a hungry shark swims by and she's forced atop a rock barely 200ft from shore. Is it the best shark flick since Spielberg's immortal horror tale? It's in the running, at least.
Where to watch it: Coming soon to VOD
127 Hours
An amiable young outdoorsman decides to do a little mountain climbing (ALONE) and ends up with his arm trapped beneath a massive boulder. Based on actual events, this highly acclaimed drama offers equal doses of suspense, humor, and gruesome intensity. Plus, it features some of the most horrific, body-originating sounds you'll ever hear in a movie. You'll know what I mean when you hear it from behind your blanket.
Where to watch it: Rent on iTunes, Amazon Video, YouTube
Misery
Mostly known for his hilarious comedies (This Is Spinal Tap), subtle dramas (Stand by Me), and heartwarming family flicks (The Princess Bride), director Rob Reiner's one firm swipe at the horror genre proved to be one of his crowning achievements. The adaptation of Stephen King's novel is about an injured author who is held prisoner by a maniacal fan out in the middle of nowhere, and it still packs quite a suspenseful kick after all these years.
Where to watch it: Rent on Amazon Video
I Am Legend
This post-apocalyptic Will Smith thriller will cure you of that desire to see everyone just disappear so you could spend a little time alone. Mr. Smith may have a loyal canine assistant as he contends with a barren landscape overrun with tenacious vampires, but he also has to deal with some of the most complete loneliness imaginable. Even if you saw this one back in a crowded theater in 2007, beware of revisiting solo.
Where to watch it: Stream on HBO Go; rent on iTunes, Amazon Video, YouTube
Inside
Arguably the most intense (and graphically violent) movie in the "home invasion" genre, this French horror masterpiece is about a very pregnant woman stalked by a very crazy woman. Definitely not to be watched alone, but if you want to do a double feature, be sure to include (the also French) High Tension. Don't say I didn't warn you.
Where to watch it: Rent on iTunes, Amazon Video, YouTube
Demon Seed
Hey, remember that movie in which a house governed by an advanced artificial intelligence fell in love with Julie Christie? Yes, this actually happened -- and Dean Koontz provided the source material. The computer-controlled domicile does makes some... intimate... moves on our leading lady, all creepy and distasteful and firmly planted in a mid-'70s definition of insanity.
Where to watch it: Rent on Warner Archive
Phone Booth
Colin Farrell spends an entire movie trapped inside a phone booth because there's a sniper hiding on a rooftop who wants to mess with him really bad. Sure, it's a relatively simplistic "gimmick" thriller, but it also features effective suspense, and Farrell at his most enjoyably frantic. You'll be even more scared when it dawns on you that there are no longer phone booths in which to hide for cover.
Where to watch it: Stream on Cinemax; rent on iTunes, Amazon Video, YouTube
Buried
This unexpectedly clever Ryan Reynolds-led thriller is the Citizen Kane of "buried alive." Director Rodrigo Cortés and screenwriter Chris Sparling do a fine job of keeping things both visually inventive and narratively compelling from within the suffocating confines of a coffin, where 99% of the action takes place. Plus, it's really intense.
Where to watch it: Stream on Hulu, Amazon Prime Video; rent on iTunes, YouTube
Wait Until Dark
One of the earliest (and still finest) examples of the home invasion subgenre features a blind woman (Audrey Hepburn) who must fend off a gang of ruthless crooks when a heroin-filled doll ends up in her apartment. Laden with suspenseful moments and dark humor, this classic thriller features some riveting work from Richard Crenna and Alan Arkin, who plays against type as a delightfully evil infiltrator.
Where to watch it: Rent on iTunes, Amazon Video, YouTube
Moon
Now here's a "one character" movie that actually features several renditions of Sam Rockwell -- so you won't feel terrifyingly alone the entire time. Rockwell plays the caretaker of a lunar station who is only a few short weeks from returning home... until he learns of a terrifying secret involving his job, his family history, and the truth about his employment contract. Backed by a great score, a very clever script, and more than one fantastic Sam Rockwell performance, this is one of the best sci-fi films of the past 10 years.
Where to watch it: Rent on iTunes, Amazon Video, YouTube
Sign up here for our daily Thrillist email, and get your fix of the best in food/drink/fun.
Scott Weinberg is a film writer and critic who has written for outlets such as Playboy, FEARnet, Nerdist, and many others. He tweets @scotteweinberg but ignores mean people.