Everything We Know About 'Search Party' Season 5
The HBO Max series, starring Alia Shawkat, is set to return with a fifth and final season in the new year.
Sarah-Violet Bliss and Charles Rogers' dark comedy Search Party, about a bored Brooklyn-based post-grad named Dory (Alia Shawkat) who dragged her self-absorbed friends into hunting for a missing acquaintance from school, premiered on TBS in 2016. It immediately developed a cult following, but ever since then—as the show changed in form, becoming more of a thriller, and moved to HBO Max—the Search Party obsession has only grown.

A long-awaited Season 3 arrived shortly after HBO Max launched in 2020, which was followed up with a fourth season just months later in early 2021. While all of Season 4 was a gripping watch, with Dory herself gone missing and her friends reluctantly forced into searching for her, it all built up to a particularly shocking finale that led us to believe she had died until the very last moments revealed otherwise. It could've been a powerful end to the series, but the cliffhanger also felt like it could be another reset for Dory's, and her friends', stories. Thankfully, any questions surrounding that ending were put to rest when HBO Max ordered another season in February 2021. With that jarring conclusion in the show's wake and more on the horizon, we're looking at everything we know about Season 5 of the hysterical thriller so far.
When will Search Party Season 5 be released?
The Hollywood Reporter announced in November 2021 that Search Party will return on Friday, January 7, 2022. It comes exactly a year after Season 4, which aired in January 2021. Fans should be excited to know that all of the Season 5 episodes will hit streaming that day, which differs from the show's past release schedule with a few episodes dropping weekly.
While those who have been following Dory and her friends' ridiculous misadventures for the past couple of years should be thrilled it's coming back soon, they'll also have to say their goodbyes to their favorite Brooklynites. When THR shared the release date, the publication also reported that Season 5 will be its last. Don't be too upset, though: It should wrap up as creators Sarah-Violet Bliss and Charles Rogers intended (and probably in a very wild way), and if you're a fan of their work, they landed an overall deal with HBO Max to create even more projects for streaming.
How many episodes are there in Search Party Season 5?
When the premiere date was announced, it was confirmed that the show will wrap up with 10 installments—no more or no less than Seasons 1-4.
Is there a trailer for Search Party Season 5?
Less than a month out from the fifth season's release, HBO Max released the trailer for the last batch of Search Party episodes and it looks just as wacky as one could hope. Dory, after her near-death experience, is newly awakened, convinced she knows a new truth about life—but a panel of psychiatrists think she's completely detached from reality. With "Age of Aquarius" playing over the trailer, she goes from being in a mental facility back to the outside world preaching New Age-y wellness with the support of Jeff Goldblum's new character, Tunnel Quinn (more on him in a second), doing "something never before accomplished: To sell enlightenment." Her friends, Portia, Drew, and Elliot, seem to think this is another bout of narcissism, but follow her along for the ride anyway.
Other notable highlights: Dory embracing her hippy calling, a glimpse at Kathy Griffin's new character, Liquorice Montague, Chantal (Clare McNulty) shooting a gun, a small red-haired boy looking creepy, some suspicious-looking lab experiments, John Early squared up to John Waters, tiny knives that probably have some made-up symbolism attached to them, everyone predicting doom, an exploding bus, and, maybe most importantly, Portia saying to Dory, "You did it again?" Our instinct there is that Dory hasn't evolved as much as she's claimed and has killed again. We can only know for sure once all the episodes drop.
Who in the cast will be back?
Despite the surprising Season 4 finale that led us to believe Dory died until the final scene that revealed the entire episode was a dream sequence before popping back to life, Alia Shawkat's complex, somewhat scary, certainly lost-in-life Dory will be back. The rest of her titular search party, Drew (John Reynolds), Portia (Meredith Hagner), and Elliot (John Early), will return as well. The show wouldn't be anything without their (at times toxic and confounding but heartwarming, nonetheless) friendship. And because the show has continued to follow Chantal's very wayward path ever since the gang "found" her, Clare McNulty who plays her will also return.
Aside from the core cast, Dory and her pals still have unfinished business with Chip Wreck (Cole Escola) after he got away with kidnapping Dory and holding her hostage and his aunt Lyla (Susan Sarandon) helping to cover it up, so we could be seeing more of them going forward.
Will there be any new cast members?
One of the many joys of Search Party is its ability to wrangle fun, new faces every season. Throughout its run, not only has the show managed to cast hysterical new talent like Shalita Grant, who played Dory's lawyer Cassidy Diamond in Season 3, but also secured a wide variety of guest stars from Rosie Perez back in Season 1 to Chloe Fineman, Busy Phillips, and even… horror author R. L. Stine.
Thankfully, it seems like Season 5 will be no different. Jeff Goldblum has been tapped for a recurring role, as reported by Variety in July 2021, and it sounds like he's taking on your typical expertly crafted, insufferable Search Party character, playing Tunnel Quinn—yes, first name Tunnel—"a charismatic tech billionaire who enters a very public business partnership with Dory" after she comes out of her near-death experience a changed woman. Expect him to play a pretty big part in the coming episodes as Dory's said to pull her main crew into her wellness business venture, leading them on "an altruistic but terrifying journey." Sounds like the exact opposite of what they need!
Goldblum isn't the only big name in the upcoming season. Kathy Griffin was added to the cast in August 2021, and first-look images shared in November revealed that John Waters is making an appearance. While it's unclear who the camp legend is playing, it seems like as Dory is teaming up with Goldblum's Tunnel, Chantal is cozying up to Griffin's character. Deadline reported that the comedy icon will play another character with a wonderful name, Liquorice Montague, "a conspiracy theorist who takes Clare McNulty's Chantal under her wing as a codependent apprentice." So, yeah, sounds like exactly the opposite of what Chantal needs after running away and going into hiding for no reason, going to prison, and writing a bizarre, failed book. What conspiracies they'll be racking their brains over, TBD, but it's sure to be annoying in that uniquely Chantal way.
They'll be joined by a handful of other new names on their journey. Deadline reported in October 2021 that a bunch of rising comedians are joining the cast as "Dory's disciples." New recurring characters include Elodie Revlon, played by Angela Trimbur (The Final Girls, The Good Place); Pepper Southerland, played by Grace Kuhlenschmidt (who is very funny on Twitter and has appeared on Ziwe); Leonora Hamsdale, played by Greta Titelman (Los Espookys); Marty Plushfeld, played by Joe Castle Baker (The Other Two); Ritchie Thinky, played by Larry Owens (Modern Love); and Winnie Miranda, played by Michelle Badillo (One Day at a Time, The Great North). In the same casting announcement, it was also shared that Aparna Nancherla (Crashing, Mythic Quest) will appear as Tunnel Quinn's head scientist, Benny Balthazar. So, as you wait for Season 5, a fun game you can play is trying to come up with as many ridiculous Search Party character names as possible.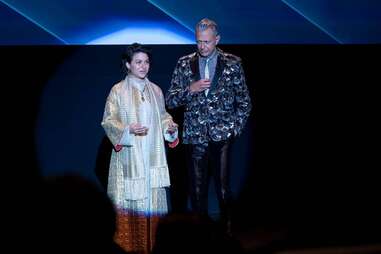 What will Search Party Season 5 be about?
Search Party began as a mystery in Season 1, evolved into a full-blown thriller come Season 2, then morphed into a legal drama before Season 4 took a turn with its kidnapping narrative—while also returning to form as Drew, Elliot, and Portia played detective in order to find Dory. Now, since co-creator Charles Rogers told us at Thrillist that the writers are considering exploring "what it would be like on the other side of death," Season 5 might be Dory's own psychological thriller as she forces herself to come to terms with who she really is, and the choices she's made and long ignored the consequences.
Throughout much of Season 4, everybody in Search Party wrestled with identity—Dory now ashamed of where her Nancy Drew cosplay took her as she endures the knit recreation of her old apartment in Chip's basement, Drew running from his problems to a literal fantasy land, Portia playing Dory in a movie, and Elliot abandoning all of his values for right-wing fame. Rogers told Variety that the next season will focus on "this topic of what it would be like to be on the other side of death and to have had an epiphany." He explained that not only does Dory start to go through that in Season 4 with her "white light" experience, so do her friends when they all have a breakdown about not knowing who they are when they fail to rescue her. He expounded upon this to Deadline as well, saying now that Dory is "enlightened," her "pursuit for meaning is going to come to a head." He added, "Would could go wrong?" With this bunch, probably a lot!
Based on Jeff Goldblum's casting, it sounds like everything is going to culminate in Dory's project with his character. It's unclear exactly what their business venture exactly entails outside of a cultish devotion to a new age for humanity, but it sounds like she'll be attempting to reclaim her story in the media through some very cringe-y, public self-reflection. It also sounds like an opportunity to get herself and her friends in even more trouble. While it's hard to say what exactly that is, the showrunners told Vanity Fair that "everyone's madness comes to a boiling point" this season, and promised that it will be "very, very scary." We also won't discount the possibility that Goldblum's Quinn is bankrolling the cryptic research featured in the Season 5 trailer and the very thing that Griffin's Montague is digging into as a conspiracy theorist.
If you were hoping that the show getting somehow even darker meant Dory seeking revenge on Chip (Cole Escola) and his Aunt Lyla, don't get too excited. Escola explained to Vanity Fair that they think the cinnamon bun-fortune heir will use his privilege to escape and skirt any consequences. While a major game of cat-and-mouse seems unlikely, it's not like our favorite Brooklynites don't know who the culprit in Dory's kidnapping was or how to find him, so it's possible some sort of confrontation between them will play out (before Chip and his aunt eventually slip away unscathed, rolling in Lil Sticky's cash).