Every 'A Series of Unfortunate Events' Actor You Need to Know About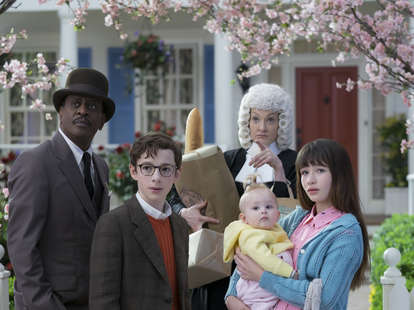 Netflix
Netflix
Warning: This post contains spoilers from the premiere episode of Netflix's A Series of Unfortunate Events.
Another week, another bingeable show. Netflix's adaptation of A Series of Unfortunate Events is a treat for the millennials raised on the Lemony Snicket books of the same name, but it should also appeal to any Netflix-obsessed adults who love the work of Tim Burton and Roald Dahl.
The Baudelaire orphans at the center of this enthralling tragicomedy suffer an endless string of can't-look-away calamities and encounter many eccentric characters along the way. Get to know the actors behind the crazy costumes and makeup by consulting the primer below.
Neil Patrick Harris
On the show: Harris plays disguise extraordinaire Count Olaf, the Baudelaire orphans' menacing new guardian.
In real life: Before inhabiting the role of How I Met Your Mother's Barney Stinson and having the worst sex ever in Gone Girl, Harris was doing cool psychic stuff in Starship Troopers and waiting for his balls to drop on Doogie Howser, M.D. You should also know this 43-year-old acting vet from his Tony Award-winning turn in Hedwig and the Angry Inch, Dr. Horrible's Sing-Along Blog (where he fine-tuned his evil laughing and singing), and his family's peerless Halloween portraits.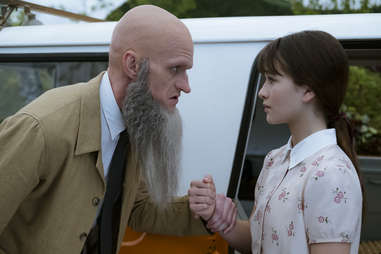 Malina Weissman
On the show: Weissman plays Violet, the eldest Baudelaire, who makes MacGyver look like a slacker.
In real life: This 13-year-old New Yorker has already started to make a name for herself with Supergirl (young Kara Zor-el) and Nine Lives (Kevin Spacey's daughter). She likes bunnies and #Caturdays more than you do.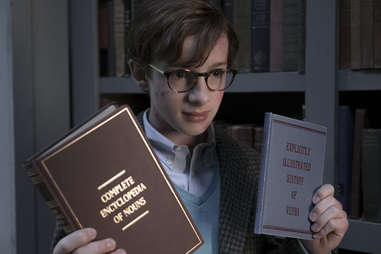 Louis Hynes
On the show: Hynes plays Klaus, the bespectacled, bookish middle Baudelaire who has the kind of esoteric knowledge that would put most trivia teams to shame.
In real life: A truly fresh talent, Hynes has appeared on the History Channel's Barbarians Rising and in Bruno Ravella's production of Intermezzo, which The Guardian called one of "the most touching and effective" interpretations of Richard Strauss' opera to date.
Presley Smith
On the show: Smith plays Sunny, the baby Baudelaire known for her razor-sharp chompers.
In real life: Is a baby. Chill.
Patrick Warburton
On the show: Warburton plays Lemony Snicket, the narrator behind the Baudelaires' Series of Unfortunate Events.
In real life: This New Jerseyan once wanted to be the next Jacques Cousteau, but instead he became the handsome dude you know from Rules of Engagement and, maybe, the criminally short-lived live-action Tick. His deep, deadpan delivery should also sound familiar to fans of The Venture Bros. (Brock Samson), The Emperor's New Groove (Kronk), and Family Guy (Joe Swanson), among several other 'toons.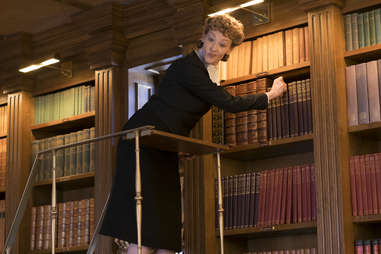 Joan Cusack
On the show: Cusack plays Justice Strauss, the ever-so-sweet and meek high-court judge who lives across the street from Count Olaf.
In real life: Twice nominated for an Oscar -- and five times for a Golden Globe, one of which she won for her work on Shameless -- Cusack is known as a supporting force. After a season on Saturday Night Live, this New Yorker made noise with such projects as Broadcast News, Working Girl, the Toy Story franchise (remember Jessie?), and Grosse Pointe Blank.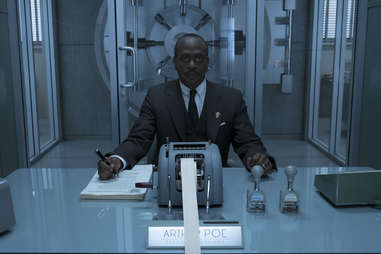 K. Todd Freeman
On the show: Freeman plays Mr. Poe, the executor of the Baudelaire estate.
In real life: This two-time Tony nominee has split his time between the stage (The Song of Jacob Zulu, Airline Highway) and the screen (The Dark Knight, Teenage Mutant Ninja Turtles, and Mr. Trick on Buffy the Vampire Slayer). If you like his performance here, please send him very expensive, very dry French red wine.
Matty Cardarople
On the show: Cardarople plays Count Olaf's "Henchperson of Indetermined Gender."
In real life: Shaq calls him Napoleon Dynamite. Jurassic World 's gyrosphere customers yell at him. Red carpet photographers like to take pictures of him with pizza. Cardarople's a connoisseur of the peculiar, the hilarious, and the bumbling -- his latest character shouldn't disappoint.
Usman Ally
On the show: Ally plays the Hook-Handed Man, one of Olaf's scariest henchmen.
In real life: This African-born actor has recently beefed his résumé up with stints on Agents of S.H.I.E.L.D., Veep, and Madam Secretary. Also a decorated stage performer, he's earned kudos for his turns as Bagheera in Disney's Jungle Book and as Bashir in The Invisible Hand.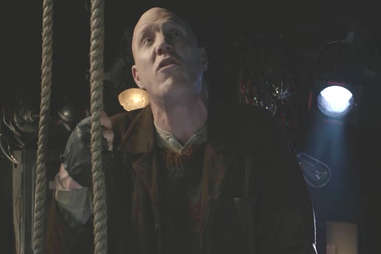 John DeSantis
On the show: DeSantis plays the Bald Man, Olaf's most devious (and tallest) associate.
In real life: If you know The New Addams Family's Lurch, you know DeSantis. This Canadian actor has turned his towering 6-ft-9 figure into an asset, with memorable spots in Supergirl, Supernatural, Falling Skies, and Master and Commander.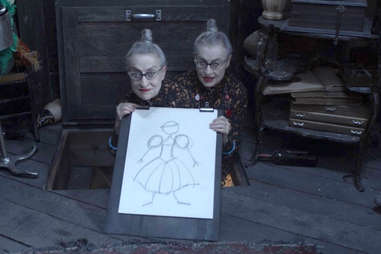 Jacqueline and Joyce Robbins
On the show: The Robbinses play the White-Faced Women, Olaf's deceptively harmless delinquent duo.
In real life: These identical twins also came as a package deal in The Wicker Man, Anxious Oswald Greene, and Mina.Minerva -- a short that was tailor-made for them. The Calgary-raised sisters got their start acting in the background of Robert Altman's Buffalo Bill and the Indians before further pursuing showbiz; they say they "started as womb mates, then roommates, and joke they'll be tomb mates." Also, they will school you in "Heads Up!"
Cobie Smulders
On the show: Smulders plays "Mother," a mysterious character who surfaces at the end of the pilot.
In real life: Robin Scherbatsky. Maria Hill. Anni. Whether playing a tough Marvel commander or a self-conscious carriage horse trying to go to the bathroom on the street, Smulders' wide-ranging decade of credits proves she can bring a unique combo of intensity and humor to any role.
Will Arnett
On the show: Arnett plays "Father," opposite Smulders.
In real life: Another supporting force, this Canadian actor came close to winning four Emmys for his juice work on 30 Rock. He also voices Netflix's depressed horse on BoJack Horseman, as well as plays Arrested Development's dumb magician and Flaked's recovering alcoholic. If you haven't enjoyed recent Batman showings, rest assured: Arnett's coming to save the day.
Aasif Mandvi
On the show: Mandvi plays Uncle Monty, the Baudelaires' reptile-loving guardian.
In real life: Mandvi has come a long way since his Michael Jackson days, unearthing tot conspiracies (10 years of The Daily Show), working on the big screen (Spider-Man 2, The Dictator, Margin Call), and publishing books (No Land's Man) along the way. If you haven't seen his web series Halal in the Family, which seeks to "challenge stereotypes and misinformation about Muslims and communities associated with Muslims," you should -- he's a talented and smart guy.
Alfre Woodard
On the show: Woodard plays Aunt Josephine, the Baudelaires' guardian with a wide window.
In real life: You already know Woodard, and you should know her well. Whether that's from St. Elsewhere, Desperate Housewives, True Blood, Hill Street Blues, Luke Cage, or Captain America: Civil War, this four-time Emmy-winning actress has proved time and again that she can pull her weight.
Cleo King
On the show: King plays Eleanora, Poe's headline-loving wife.
In real life: An NAACP award winner (Turning Points) with credits that stretch back to the late '80s and early '90s, King got her start as a guest on The Cosby Show and Six Degrees of Separation. Nowadays, you might know this St. Louis native better as Carl's Nana on Mike & Molly or as The Hangover's Officer Garden.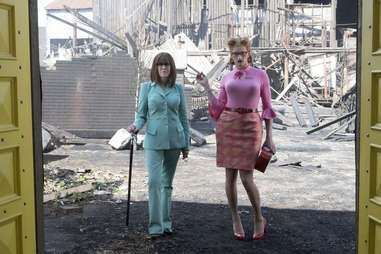 Catherine O'Hara
On the show: O'Hara plays Dr. Orwell, an optometrist with a hypnotic bent.
In real life:SCTV. Beetlejuice. Home Alone. The Nightmare Before Christmas. Six Feet Under. No dearth of Christopher Guest mockumentaries. This Emmy-winning Canadian has a lot to brag about. Oddly enough, this isn't even her first brush with the Unfortunate saga -- she played Justice Strauss in the 2004 flick.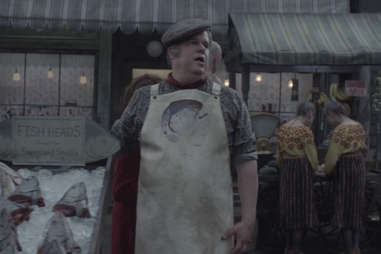 Daniel Handler
On the show: Handler cameos as a very persistent Fish Head Salesman.
In real life: Also known as Lemony Snicket -- ever heard of him?
Sign up here for our daily Thrillist email, and get your fix of the best in food/drink/fun.
Sean Fitz-Gerald is a staff writer at Thrillist Entertainment. Find him on Twitter: @srkfitzgerald.