Why Everyone Is Obsessed with Netflix's New Rom-Com 'Set It Up'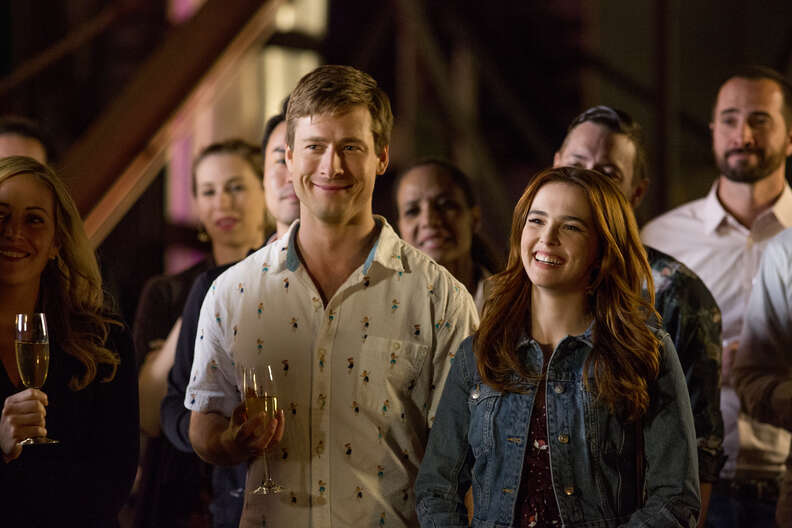 Netflix
Netflix
I often log onto Netflix looking to settle into a piece of pop culture that will put me at ease, a soothing brain cleanse after a long day. That's why the new Netflix movieSet It Up is so darn exciting. It's not perfect, certainly, but it's an emotional support blanket of a film, an old-fashioned rom-com led by stars with palpitating chemistry. I see myself putting it on every so often, scanning to hit my favorite scenes. (Or, rather, one scene in particular -- more on that later.)
Zoey Deutch and Glen Powell are Harper and Charlie, the eventual lovebirds. She's toiling away as an assistant to Lucy Liu's Kirsten, a hard-hitting sports reporter now running her own website. He's in the trenches as the right-hand man to Taye Diggs' venture capitalist Rick. They meet while clashing over a late night dinner order, but antagonism fades into alliance when they bond over their demanding employers. They hash out a scheme to make their lives a little bit easier: They'll surreptitiously convince their bosses to bone. Harper thinks it's a Cyrano situation; Charlie imagines it more along the lines of Nancy Meyers' Parent Trap remake vibes. It doesn't really count as a spoiler to say that the underlings, of course, are destined to find real love along the way with each other, and, oh gosh, it's tons of fun to watch it happen.
That's in large part credit to Deutch and Powell, two actors who have been on my radar since Richard Linklater's 2016 college baseball hangout comedy Everybody Wants Some!! They weren't love interests in that movie, but they were both standouts thanks to their natural effervescence on screen. Pairing them in Set It Up makes perfect sense. Both Harper and Charlie are Type-A strivers willing to put themselves through the ringer to achieve their goals. Still, neither Deutch nor Powell fall prey to the clichés that come along with their archetypes, shading their performances with warmth and recognizable millennial career anxiety.
You first are convinced to root for Harper and Charlie's friendship, until they unleash a torrent of sexual tension over a box of pizza. That scene -- which fans are already raving about -- is a rare thing: It's genuinely heart-swelling, making you want to yell at your screen, "Oh my God, just kiss already!!!" After climbing up a fire escape with a late night snack, their drunken affection for the bread and cheese morphs into a silent appreciation of each other's company. Their mouths are greasy, and their eyes are trained on one another. The encounter ends before anything actually happens. Director Claire Scanlon -- a veteran of TV comedies like Unbreakable Kimmy Schmidt and Brooklyn Nine-Nine -- lets their unspoken realization about their feelings for one another just hang there, and it's wonderfully excruciating.
There are parts of Set It Up that feel regressive, like they are stuck in the genre's '90s heyday. Charlie's roommate Duncan (Mr. Ariana Grande himself, Pete Davidson) is gay and, unfortunately, played like a punchline. The not-Harper girl Charlie is pursuing (played by model Joan Smalls) is an image-obsessed bimbo with no redeeming qualities. Elsewhere, Katie Silberman's script is thankfully more astute. By the end, you're as invested in the tricky relationship between Kirsten and Harper as you are in the romances, hoping that the former becomes the mentor the latter so desperately craves. There could be an entire other movie about the intergenerational resentment and affection that unfolds between these two ambitious women. On the male side of the narrative, Charlie's journey means ultimately rejecting the idea that Rick's macho bravado is a path to success. Meanwhile, Rick himself gets little bit more introspective, and it at least seems like the experience will result in him shedding some of his toxic masculinity. It's a function of the narrative that Liu and Diggs are best when they're interacting with their respective assistants; Rick and Kirsten's dynamic largely happens off-screen.
When it's crucial, Set It Up steals from the best. An engagement party toast from Harper's best friend (Meredith Hagner) presents an out-of-context riff on a William Faulkner "you love despite" maxim, which leads to a closing moment that echoes When Harry Met Sally's big confessional. But that's not to knock its pleasures. This little film is a worthy remix of classic tropes that lets you relish in those familiar melodies while grooving to an updated beat. Everyone loves to revisit their favorites: Set It Up posits that it can be a new one.
Sign up here for our daily Thrillist email and subscribe here for our YouTube channel to get your fix of the best in food/drink/fun.