Let's Talk About That Big Food Orgy in 'Sausage Party'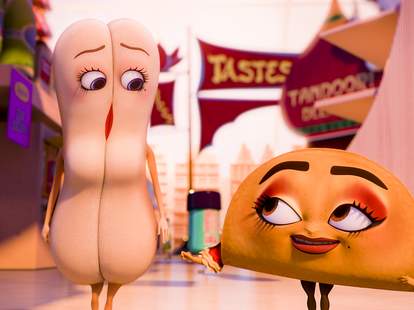 This post contains spoilers for Sausage Party. Yes, I just typed that.
Why didn't we believe Seth Rogen? Why did we think that, despite teeing up the idea of anthropomorphic wiener-bun intercourse during its opening musical number, his movie Sausage Party wouldn't go there? And not just go there, but become the Eyes Wide Shut of animated food movies?
Lesson: always believe Seth Rogen.
This weekend, Sausage Party earned $33.6 million at the North American box office, eclipsing predictions, breaking August records, and teaching Hollywood that R-rated cartoons have a place in the mainstream. Leading up to the release, Rogen was in equal disbelief. "When I look at the movie, I am more shocked at what we were able to get away with rather than what we had to take out," the actor-director told USA Today.
The movie lives up to the hype: Sausage Party's grand finale is a bacchanalia of cross-aisle consummation complete with baked-good bondage, condiment discharge, and enough sexual sketches to fill a Kama Sutra cookbook. The movie is good, but the orgy scene is one for the history books.
In case Sausage Party's food-porn ecstasy gave you momentary blindness, here are just a few of the sights Rogen packed into the sequence:
Frank the Hot Dog (Rogen) thrusts into Brenda the Bun (Kristen Wiig)
A ketchup bottle and mustard jar lock together in doggy-style
A Twinkie receives anal sex
Sammy the Bagel (Edward Norton) eats the ass of Lavash the Pita Bread (David Krumholtz)
Frank the Hot Dog pulls anal beads out of Brenda the Bun's behind
Mr. Grits (Craig Robinson) violently humps a box of crackers
Sticks of fresh gum give a chewed piece of gum a lap dance
Sammy the Bagel wears Lavash the Pita Bread's testicles like goggles
A lime masturbates a banana
A mushroom sucks off a radish
Barry the Misshapen Hot Dog tries to have sex with a smushed bun
Teresa the Taco (Salma Hayek) uses Frank the Hot Dog as a dildo to plunge through Sammy the Bagel and tickle Lavash the Pita Bread
On Howard Stern, Rogen admitted that when he and his team first submitted Sausage Party to the Motion Picture Association of America's ratings board, it came back with an NC-17 -- death to any movie looking to make a dime in the United States. The solution: push the cartoon sex so far over the top that, by the time censors were done stripping it down, Sausage Party would still be aggressively raunchy. "We probably added six things into the orgy that we were like, 'these are the sacrificial lambs that we're willing to lose,'" said Rogen, "... and we [only] lost an eighth of one of them."
Despite NC-17 risks, Rogen suggests that only 18 frames were cut from the movie to meet MPAA demands. The biggest cut involved "digitally shaving" hairs off of Lavash the Pita Bread's scrotum. Show business!
How did Sausage Party succeed where so many others fail? "The fact that this is a comedy, is animated and is food definitely helped their cause," Ethan Noble, whose Motion Picture Consulting works with producers to survive the MPAA submission process, told USA Today. "They could be way more over-the-top with the sexuality, push the envelope ... It's hard to show food items in such a sexual manner where it would feel really sexual ... as opposed to food in a comedy."
Besides a number of lingering questions (e.g., do all grocery store items have the same sexual organs? What does "blowing his load" really mean to Barry the Misshapen Hot Dog? Do the Cheez-Its inside a box of Cheez-Its feel pleasure when a box of Cheez-Its has sex with another snack?), the orgy speaks to Sausage Party's broader themes on religion and global difference. Maybe, just maybe, the world might be a better place if we tore down our ideological walls and screwed.
Sausage Party ends with set-up for a potential sequel: after realizing their sexual fantasies, Frank, Brenda, and the other talking foods enter a portal that takes them to "our world." In the inter-dimensional wormhole, we see Rogen's actual face, poised as the creator of this madness. The gang walks into the light to see what's up, and that's that. Maybe Sausage Party 2 will answer all of our food-sex-related questions?
Rogen says that while he's more interested in producing original R-rated cartoons (and he has a few ideas), a follow-up isn't out of the question. Sausage Party originally ended with Frank meeting Rogen, but the scene was cut because... well, it'd be weird.
"If that was the first scene of the next movie, it's probably not what you would want it to be, with them just seeing us," Rogen told Fandango. "But the idea of a live-action/animated movie, like a Who Framed Roger Rabbit?-style hybrid is also very exciting, mostly because Who Framed Roger Rabbit? is one of my favorite movies of all time."
Sounds insane? Reminder: always believe Seth Rogen, and never forget that orgy scene.
Sign up here for our daily Thrillist email, and get your fix of the best in food/drink/fun.
Matt Patches is Thrillist's Entertainment editor. He previously wrote for Grantland, Esquire.com, Vulture,
The Hollywood Reporter
, and
The Guardian
. Find him on Twitter @misterpatches.