Questions We Have About the 'Sex and the City' Revival
HBO Max announced that new episodes of 'SATC' are on the way.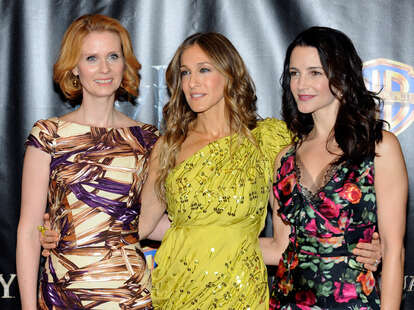 Ethan Miller/Getty Images
I couldn't help but wonder, now that everything's getting a reboot, how haven't the folks at HBO figured out a way to get more Sex and the City on the air? And just like that... HBO Max has announced that Carrie Bradshaw and her friends—well, two of them—are returning for a limited series titled, And Just Like That…
On Sunday, Sarah Jessica Parker, Kristin Davis, and Cynthia Nixon all posted Instagram teasers for the upcoming limited series, which is named for one of Carrie's turns of phrase, and finally put an end to speculation about a reunion. But the announcement also elicited many questions, starting with the most obvious one: What has become of Samantha? For now, let's put the pieces together.
What will And Just Like That... be about?
According to a press release, And Just Like That... will be a 10-episode limited series executive-produced by longtime showrunner Michael Patrick King that will follow writer Carrie, gallerist Charlotte and lawyer Miranda "as they navigate the journey from the complicated reality of life and friendship in their 30s to the even more complicated reality of life and friendship in their 50s." Beyond that, it's unclear where our heroines will be in their lives. Is Carrie still married to Big? How are Charlotte and Harry and Miranda and Steve doing? These questions have yet to be answered, but one thing is for sure. Samantha will not be present.
Wait—why no Samantha?
Though she is persona non grata in the press release, various reports have officially confirmed that Kim Cattrall, who has long maintained she has zero interest in doing any more Sex and the City, will not be participating. So where is Samantha? What would explain her absence? Did she... die? (She did have breast cancer in the final season.) It seems like this particular detail might not have been ironed out yet. When writer Taffy Brodesser-Akner posted a call for "your suggested plotline that explains Samantha's absence" on Twitter, Parker herself responded: "Pen and paper at ready. X"
Is this the long-awaited Sex and the City 3?
Well, it's not another Sex and the City movie, but it is more Sex and the City so make of that what you will. Parker and her other returning cast members had been open about their desires to make another Sex and the City movie, but it seemed any hope for a threequel was quashed in 2017, when Parker confirmed "it's over." This came after a long and tedious gossip cycle during which Kim Cattrall made it very clear that she had no interest in returning, reigniting long standing suspicions of a feud between Cattrall and the rest of her coworkers. There was apparently a script for the movie which involved the death of Carrie's husband Mr. Big (Chris Noth) and Miranda's now-teenage son Brady sending nudes to Samantha (which... yikes). It's unclear whether any of those plots will carry over into the HBO Max series sans Samantha.
Are the movies canon?
Given that Michael Patrick King wrote and directed both of the SATC movies, don't be surprised, but it's still unclear. However, I'm certain that no one would mind if the widely reviled Sex and the City 2 was just removed entirely from cultural memory
Would the series have happened if Cynthia Nixon had been elected governor of New York?
We'll never know! Probably not. However, New York would also likely have legalized marijuana by now, so you win some, you lose some.

When will HBO Max release And Just Like That…?
A premiere date hasn't been set, but shooting of the ten half-hour episodes is supposed to begin this spring.
Can you link out that video of Kim Cattrall scatting?
Sure. It's always worth a watch.