Everything You Need To Know Before Watching Netflix's Raunchy Teen Show 'Sex Education'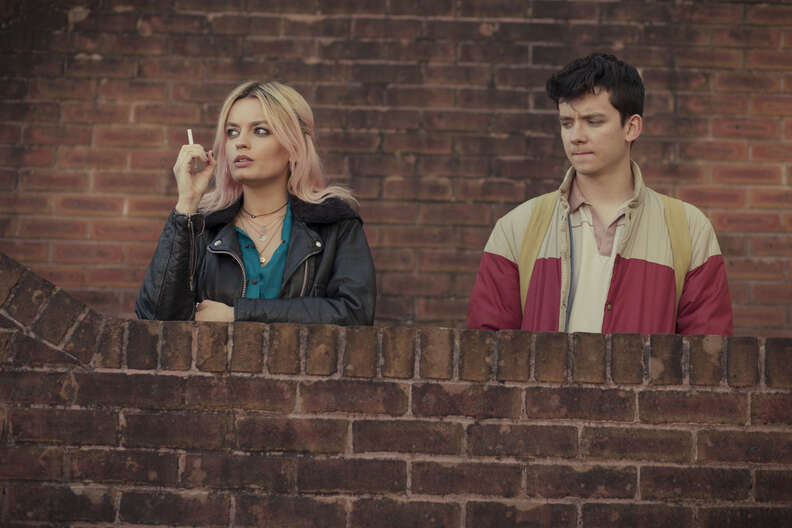 Netflix
Netflix
Any time a show has "sex" in the title, it's bound to elicit some attention. But Sex Education, Netflix's latest original series, is far from prurient. That's not to say it isn't preoccupied with matters of the bedroom: It very much is. But the British show from creator Laurie Nunn is more about the anxieties that accompany hormonal outbursts rather than the hormonal outbursts themselves. It's a charming binge. But before you get going -- or maybe even after you watched -- you may have some queries.
What's it about... other than sex?
This all stems from the show's clever hook: Otis (Asa Butterfield) is the shy son of the gregarious, bawdy sex therapist Jean (Gillian Anderson). This causes a host of emotional issues for him, but it puts him in a unique position in his secondary school, Moordale. When a bully with performance issues and a, uh, large member gets an overzealous erection thanks to some Viagra, Otis gives him some quick therapy from inside an abandoned bathroom -- and it works. Effortlessly cool feminist Maeve (Emma Mackey) hears this play out and spots a business opportunity: Otis will counsel his fellow teens on their sexual problems, Maeve will court the clients, and they'll split the earnings. (This is not unlike the underrated Anton Yelchin teen flick Charlie Bartlett, except Otis isn't writing any prescriptions here.)
Of course, nothing is that simple, and while the nervous Otis does have a strange gift for getting to the root of other people's problems, he can't even begin to deal with his own, which include an inability to masturbate, a crippling crush on Maeve, and a distance from his best friend Eric (Ncuti Gatwa). Meanwhile, Maeve, clearly the smartest person in school, is struggling to find her footing after being abandoned by her drug addict mother and her unreliable brother. A relationship with swim team star Jackson (Kedar Williams-Stirling) offers some stability, but he is also buckling under the pressure of being an athlete to watch. And then, to round out Otis and Maeve's trio, there's the boldly fashionable Eric, a gay man who has come out at school, but begins to feel more and more isolated as Otis becomes preoccupied with his burgeoning business.
Is it funny? Serious?
A little bit of both. It's definitely not as dramatic as, say, Skins -- its predecessor in the sexy British teen space -- but it does touch on serious issues like abortion, homophobia, and slut-shaming. Still, however dark it gets, it never manages to become maudlin. There's a zany energy that never wavers. It helps that the writers, including creator Laurie Nunn, seem to deeply love these characters and want the best for them, so even when they encounter hardship, it never seems like a punishment. Even as it avoids saccharine lesson-learning, the message of Sex Education is that adolescence is messy, but it's all going to be okay.
Are there other intriguing characters?
This is one of the many joys of Sex Education: Nearly all the students we meet at Moordale are fascinating in their own right. There's resident horny weirdo Lily (Tanya Reynolds), who has an elaborate fantasy life that involves making comics about alien sex, but can't get laid to save her life. The mean clique -- led by Anwar (Chaneil Kular) -- has surprising pathos as the episodes progress. And in the middle of the season, the narrative introduces Ola (Patricia Allison), who challenges Otis's obsession with Maeve.
Is there a Spartacus-inspired scene about a picture of a vagina?
Why, yes!
How much sex is actually in it?
Don't be fooled by the boobs in the first 30 seconds: There's a lot more discussion of sex then there is actual coitus on screen. Sure, there's frank talk about sexual subjects, ranging from blow jobs to vaginismus, but on screen, sex is rare and nudity is even rarer. Those first moments -- showing a tryst between the daffy, popular Aimee (Aimee Lou Wood) and the aforementioned well-endowed insecure bully Adam (Connor Swindells) -- are pretty much as graphic as it's going to get. Full warning: You do see some tentacle fetish art drawn by Lily, but it's nothing Mad Men hasn't shown before.
Will I recognize anyone in the cast?
Two, probably. Butterfield has been acting since he was just a kid, breaking out in the Martin Scorsese film Hugo before moving onto projects like Ender's Game. And then, of course, there's Anderson, a staple of TV screens since playing Dana Scully in The X-Files. The rest of the youngsters are a bunch of up and comers like theater actor Gatwa, and Mackey, for whom this is a second-ever on camera role. They seem to enjoy hanging out -- at least on Instagram where they have branded themselves "#goonsquad."
Wait, is that Margot Robbie playing Maeve?
No, it's not. We already said it's Emma Mackey. They do look a lot alike, however, a fact that a number of people have already pointed out. Now begins the campaign to get them cast as sisters.
When does the series take place?
Good question! It's not immediately evident. The aesthetic and even some of the music cues are pure 1980s -- including A-ha's "Take On Me" -- but the kids are using cell phones. To clear things up: Yes, Sex Education is set in the present day, but the throwback feel is an intentional nod to the teen media of yore like John Hughes movies, creator Laurie Nunn told Thrillist in an interview. "We really wanted to make the show have this feeling that it's an homage, have this nostalgic backdrop," she said. "But we are talking about very contemporary, modern themes and storylines for the characters. So in a way, we were trying to take these tried and tested tropes of the genre and then flip them on their head and show a different perspective on it."
Where does it take place?
The series was shot in Wales, but you won't find Moordale anywhere on a real map. "We really wanted to create a world that felt very British but also felt a bit elevated and that had a sort of fantasy feel," Nunn explained. "I think that's partly because the hook of our show is quite heightened and it's asking you to take a leap of faith, therefore it needed a filmic world that would match that." Also a fantasy: The insanely beautiful house in which Jean and Otis live. Yes, there's even a bit of real estate porn in this show about sex.
One more thing: Is Gillian Anderson from England?
This is actually a little more complicated than you might initially guess. If you want to get technical: She was born in the US, however, she did live in London for a time as a child. Now, she jumps back and forth between American and British accents with ease -- not just when she's playing characters, but in casual conversation as well.
Sign up here for our daily Thrillist email and subscribe here for our YouTube channel to get your fix of the best in food/drink/fun.