Netflix's 'Sex Education' Has a Protagonist Problem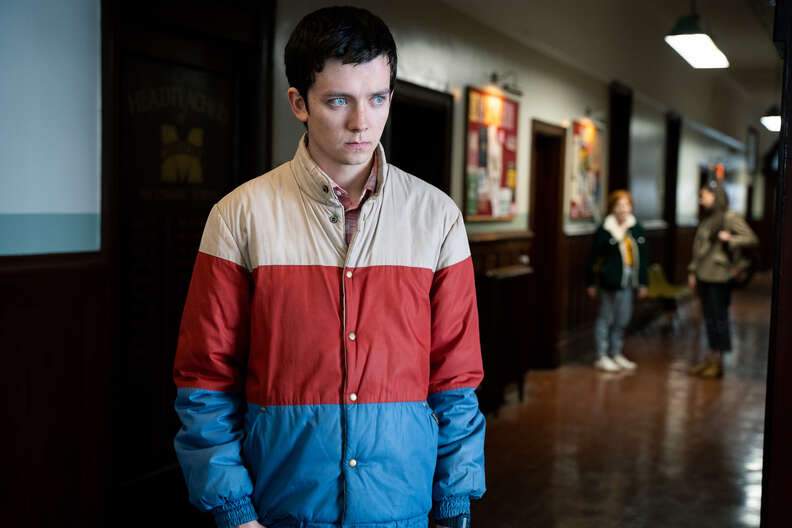 Note: This article contains spoilers for Season 2 of Netflix's Sex Education. Proceed with caution.
Last year's breakout Netflix teen series Sex Education had with a simple, charming conceit: Otis, the nervous son of a sex therapist, begins doling out advice to his horny high-school peers, despite not having much of any sexual experience himself. With so many colorful characters surrounding him -- including social outcast and fierce feminist Maeve (Emma Mackey), lovelorn and out best pal Eric (Ncuti Gatwa), daft and sweet Aimee (Aimee Lou Wood), or budding tentacle porn artist with vaginismus Lily (Tanya Reynolds) -- Asa Butterfield's Otis was the main attraction in concept only. By the end of the second season, however, Otis has morphed from necessary storytelling conduit into the show's Achilles heel, and he's infecting other elements of the otherwise addicting narrative.
There's still a lot to like in round two of the Netflix show created by Laurie Nunn. The cast is still a delight, and the series adroitly tackles tough subjects along with pleasantly frothy bits elsewhere. Aimee learning to accept her own trauma after being sexually assaulted by a masturbator on the bus turns into a genuinely touching moment of bonding between the disparate female characters. Maeve's tentative relationship with her junkie mother (the brilliant Anne-Marie Duff) is one of the strongest emotional through-lines. New characters like Chinenye Ezeudu's Viv and George Robinson's Isaac add welcome new perspective. Also, there's a musical version of Romeo and Juliet featuring metallic floating dicks and vagina hats.
Other elements start to grate the more you watch. Sometimes the show's fantastical '80s aesthetic feels off when it veers into tough topics. Similarly, the series never quite overcomes the ickiness of the coupling of Eric and his one-time bully, Adam (Connor Swindells), even if it makes attempts to turn that into a full-blown romance. But that all pales in comparison to Sex Education's second-season protagonist problem.
While his "sex clinic" quickly becomes inessential to the plot of Season 2, Otis himself remains at the center of the narrative, even when it becomes increasingly clear he's, well, sort of a dick. To Nunn's credit, she and her writers do try to wrestle with his budding entitlement that eventually becomes too loud to ignore. He plays his affections for his new girlfriend Ola (Patricia Allison) and his continued crush on Maeve against each other for much of the season until he drunkenly stands up at a small gathering he throws that has turned into a raucous house party and insults them both in front of the entire school, saying that he deserves more than both of them.
It's a speech that is borderline irredeemable, but the show is too enamored with Otis to hold him accountable. It's a recurring issue: Every time Otis does something loathsome, he's almost immediately absolved. The following episode, for example, deals with the repercussions of his intoxicated one-night stand with Ruby (Mimi Keene). She goes to lengths to tell him how much sweeter he was than other guys, whereas he can't even remember having had intercourse.
Despite his repeated offenses, Otis is completely absolved by the finale. His mother, Jean (Gillian Anderson), forgives him for being a sex therapist behind her back and being an asshole to her new boyfriend. Ola also gives him another chance, sweetly explaining to him that he tries so hard to be nice to avoid being like his jerk father (James Purefoy) that he ends up, well, just being a jerk. What should be a moment of harsh reality for our protagonist ends up letting him off the hook.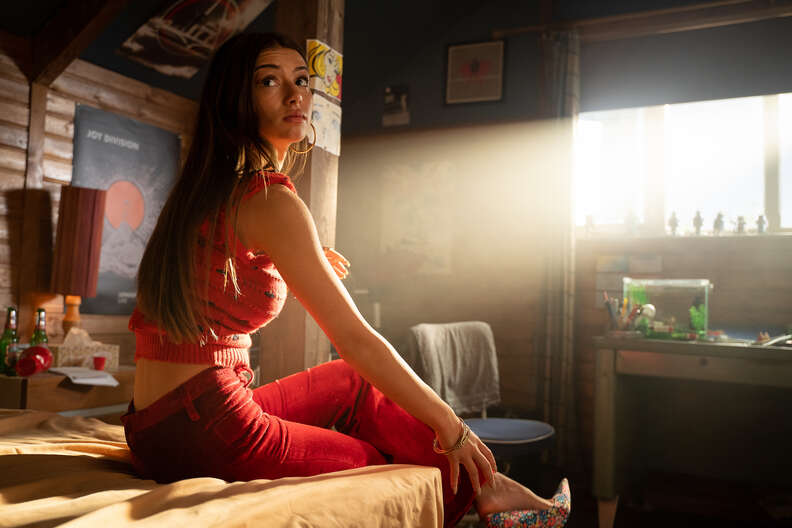 The last moments of the season flip the script on how last year's finale ended. Then, Maeve's attempt at declaring her love for Otis is thwarted by his first kiss with Ola; this time, Otis' revelation gets curtailed. Maeve has just left to go to the store when Otis, breathlessly looking to make amends, arrives at Isaac's trailer. He tells Isaac to tell her to check her voicemail, where he's left a passionate confession, but Isaac promptly deletes the message. (Why she doesn't have password-protect her phone is another matter entirely.)
This is supposed to read as a nefarious act from Isaac -- and, sure, it is a shit move -- but I found it difficult to empathize with Otis, who has done absolutely nothing to deserve Maeve's forgiveness. Nunn seems to believe that Otis and Maeve are the series' one true pair (or OTP in shippers' language), yet Maeve largely existed independently of him this season and had a compelling storyline on her own. The push to connect them seems left over from an early draft of the narrative that at this point should be abandoned completely.
Nunn's show is extremely empathetic, and that's mostly a good thing. It makes the world of Moordale a cozy place that you want to keep hanging out in. But every so often it could stand to be a little harsher on Otis. The same is true when it comes to Adam. Season 2 works hard to show that the former bad boy has reformed and become a more open-minded person through the acceptance of his own bisexuality. He makes a grand declaration of his love for Eric, who returns his affections and leaves his understanding (and very hot) boyfriend Rahim (Sami Outalbali) crying on a bench. Once again, we're supposed to root for a couple in which one member has been terrible to another -- and in this case, it's even worse, as Adam has been downright abusive to Eric in the past.
Perhaps the inevitable Season 3 will begin to explore why it keeps letting these white men get away with this kind of behavior, but I have my doubts. Sex Education is just too infatuated with redeeming the "nice guy" who isn't so nice after all.
Need help finding something to watch? Sign up here for our weekly Streamail newsletter to get streaming recommendations delivered straight to your inbox.