Everything We Know About 'Sex Education' Season 3
Class will be back in session at Moordale Secondary soon.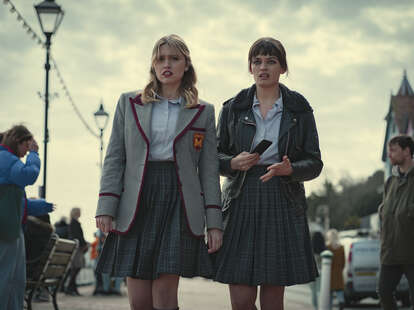 Aimee Lou Wood and Emma Mackey

| Sam Taylor/Netflix
Aimee Lou Wood and Emma Mackey

| Sam Taylor/Netflix
The lives of the students at Moordale Secondary School in Netflix's British comedy Sex Education are fascinating. But that's only part of what makes the streamer's hit teen series about an obviously unlicensed teenage sex therapist named Otis (Asa Butterfield), his classmates, and his actual sex therapist mother Jean (Golden Globe-winner Gillian Anderson) so great. The show from creator Laurie Nunn, which dropped its first season in January 2019 and its second in January 2020, is not only hilarious and incredibly wholesome, it's developed a beloved cast of diverse characters, each with their own nuanced story about adolescence and coming into their own.
Netflix confirmed the series was renewed for a third season back in February 2020, shortly after the second aired, which means more sexual frustrations and experimentation and learnings are definitely on the way. It's been awhile since new episodes hit Netflix, so it's fair to wonder when we'll be able to go to third base with Season 3 of the show. Below, we're looking at everything we know about Sex Education Season 3 so far.
When will Sex Education Season 3 be released?
School is back in session: Sex Education Season 3 will officially premiere on September 17. Netflix announced the release date in late June with a wholesome series of behind-the-scenes photos taken by cast member Tanya Reynolds. It may be much later than the series originally planned for new episodes—coming over a year and a half since Season 2—but at least it's arriving just in time for early fall when it somehow always manages to feel like the start of a new school year, even if you graduated years ago.
Is there a trailer for Sex Education Season 3?
Yes! After only giving fans a teaser for a couple months, Netflix finally dropped a trailer just a week and a half out from the release date. The teaser didn't offer any new, official footage of the upcoming season since it was more of a spoof than a preview—dubbed the "Official Advert" for Moordale Secondary and showing the students, much to their dismay, in uniforms at their most prim and proper—but the full-length trailer definitely expounds upon what direction the school is going in now that Headmaster Groff is no longer leading the charge.
The clip reveals that the season resumes at the start of a new school year when Moordale's gained a reputation as the unruly campus for sex fiends and there's an outbreak of STIs. We get a reveal of new cast member Jemima Kirke as the new headmistress, who, although looks Very Cool, is determined to rid the school of its reputation and force students to buckle down on academics. Of course, relationship drama seems inevitable for just about everybody. Otis has the semblance of a mustache and Maeve got cute tiny bangs. Looks like everything fans have been clamoring for and more!
How many episodes will there be?
It looks like we'll be getting eight new episodes, according to IMDb! Eight is the same number of episodes as Seasons 1 and 2, so that definitely makes sense.
Who in the cast will return?
Just about everybody will be back for Season 2. It's confirmed that our beloved Milburn family, Asa Butterfield who plays Otis and and Gillian Anderson who plays his mom Jean, are returning to teach us everything and more anybody ever wanted to know about human sexuality.
In terms of the rest of the core cast, this teen series isn't really the type to kill off characters left and right, and this time around, no one was shipped off to boarding school like Adam was in Season 1, so you can count on everybody else to be back, too. We'll see more of Ncuti Gatwa (Eric), Emma Mackey (Maeve), Connor Swindells (Adam), Kedar Williams-Stirling (Jackson), Aimee Lou Wood (Aimee), Tanya Reynolds (Lily), Patricia Allison (Ola), Mimi Keene (Ruby), Simone Ashley (Olivia), Chaneil Kular (Anwar), Chris Jenks (Steve), Jojo Macari (Kyle), Chinenye Ezeudu (Viv), and headmaster Groff himself, Alistair Petrie... and probably all of the other students who roam the Moordale halls and come to the Milburns with their burning questions.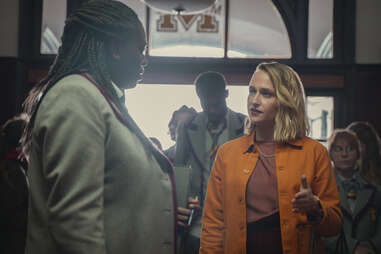 Are there any new cast members?
Once the series got back to filming in September 2020, Netflix announced some pretty exciting new castings for the upcoming season on social media. The streamer shared that former Girls star Jemima Kirke is headed to the halls of Moordale as a new headmistress named Hope, now that Headmaster Groff is on administrative leave. Based on the new photos of Season 3 Netflix released in summer 2021, featuring the high schoolers in uniforms, it looks like she's going to crack the whip even harder than Alistair Petrie's character. It's also certain that she'll clash with one of the other new additions to the ensemble—a nonbinary student named Cal who'll be played by recording artist Dua Saleh.
Jason Isaacs (The OA, the Harry Potter series) is another new cast member, and based on his role, Mr. Groff's leave won't be the only thing he'll be dealing with in the new season. Isaacs is joining as Peter Groff, Michael's "more successful" brother, so it sounds like he's in for a classic sibling rivalry to make him feel absolutely great about currently being a failure in his work and home life.
What will it be about?
Oh, baby! Netflix shared a video on Twitter narrated by Mr. Groff actor Alistair Petrie detailing some of what we can expect in Season 3, but the biggest Season 2 reveal was undeniably Jean Milburn's unexpected pregnancy. Given her age, Jean was shocked to hear the news, and Gillian Anderson confirmed to Collider that her character is still pregnant when the new season begins, so another baby Oatcake is definitely on the way. She said that means we'll see her navigating "how to deal with that in relation to Jakob and also Otis." Her relationship with Otis has been strained since Season 1 because, you know, teenage angst and all, but this could alter their relationship even more. Her relationship with her ex/Ola's father Jakob (Mikael Persbrandt) isn't in the best place either, as they did break up with a lot of feelings left unsaid, so it's unclear if this will bring them back together or cause even more conflict.
Sex Education isn't just about the Milburns, though. It seems as though all of Moordale Secondary is going to have to deal with (and probably clash with) their new headmistress, Mrs. Holly Haddon, played by Jemima Kirke. Based on the trailers that Netflix has dropped, it's likely that she's going to try to whip the school into shape, much to the dismay of the students. Based on early photos released of the new season, uniforms seem to be one of her new policies—and probably the first of many.
In terms of our beloved students, last season saw things get heated between Eric and Adam. If you can recall, Adam professed his interest in Eric in front of the whole school in the middle of their musical production of Romeo and Juliet, which meant Eric left his very sweet boyfriend Rahim (Sami Outalbali) in the dust. If the two decide to pursue a relationship, the coming episodes will likely explore that very different dynamic, which would be public for the first time and Adam having to confront his personal shame about his sexuality. It's also possible that the show will find Eric later having conflicting feelings, having left a kind-hearted person for someone who was at one point abusive towards him.
Season 2 also left open a pretty big cliffhanger for Maeve. While she's long been one of the most resilient characters on the show, she ended in a pretty emotional state, considering she called social services on her own mother and her friendship with Otis is still on the rocks. Otis may have fucked up every step of their relationship, but at the end of the season when he tried to apologize and salvage their friendship, Maeve's neighbor Isaac (George Robinson) deleted the voicemail. Isaac definitely has his own agenda (aka a big crush on Maeve) so he was just trying to protect her, but it's unclear how she's going to react to that, or what she would've thought about Otis' message at all. Clearly, there's still a lot of emotions between the two former business partners.
Asa Butterfield agrees. In an interview with Digital Spy, he said he "wants more of Otis and Maeve" going forward and thinks there will be, especially since they didn't share the screen all that much in Season 2. Before they can progress their relationship in any way, though, he thinks Otis has some growing up to do. He said, "I want Otis to come out of his shell a bit, and maybe do some other things he's never done before. He likes his bubble, and his safe space. I'd like to see Otis come out of that and start to tread on some new ground in Season 3." It makes sense, considering the will they/won't they between him and Maeve will probably carry on for some time, and for being a pseudo know-it-all sex and relationship therapist, he definitely has a lot of personal work to do, often being at the center of his own problems.
Aside from those main plot points that Season 2 left hanging for us, Sex Education will also likely return to form, exploring a handful of issues related to sex, intimacy, and adolescence through Moordale's eclectic student body.
Will this be the last season of Sex Education?
Netflix has a reputation for putting the kibosh on shows after their third season, but it hasn't been confirmed whether or not this will be Sex Education's final installment. However, that doesn't seem to be the plan, according to Gillian Anderson. The star told Collider that going well past Season 3 "has been discussed" and she doesn't see that changing, considering how much fans respond to the series. Hopefully that remains the case—we'd hate to see Sex Education go—but of course, it's all in the big streamer's hands.