Everything We Know About 'Sex Education' Season 3
The lives of the students at Moordale Secondary School in Netflix's British comedy Sex Education are fascinating. But that's only part of what makes the streamer's hit teen series about a self-proclaimed teenage sex therapist named Otis (Asa Butterfield), his classmates, and his actual sex therapist mother Jean (Gillian Anderson) so great. The show from creator Laurie Nunn, which dropped its first season in January 2019 and its second in January 2020, is not only hilarious and incredibly wholesome, it's developed a beloved cast of diverse characters, each with their own nuanced story about adolescence and coming into their own.
But now that Season 2 wrapped up (and left a handful of characters' relationships in new and potentially exciting places), fans are wondering if they're going to get to third base with the show with a Season 3. Here's everything we know about Sex Education Season 3, so far. 
Is there going to be a Season 3 of Sex Education? 
Oh...oh, my god...yes... yes…yes! More sexual frustrations and experimentation and coming-of-age is definitely on the way for the students at Moordale Secondary. In February 2020, Netflix announced on social media that they renewed Sex Education for a third season. The news came about just one month after the second season debuted on January 17, 2020.  
When will Sex Education Season 3 be released?
According to Deadline, we won't be seeing Otis, Eric, Maeve, and the rest of their classmates until sometime in 2021. Considering Season 1 dropped in January 2019 and Season 2 hit the streamer in January 2020, January or at least sometimes in winter 2021 seems like a sure bet. 
How many episodes will there be? 
While no official episode count has been released, eight seems likely, given Season 1 and Season 2 both featured eight installments.
Patricia Allison and Tanya Reynolds as Ola and Lily in 'Sex Education'

| Sam Taylor/Netflix
Who in the cast will return?
Since the show largely focuses on the Milburn family, Asa Butterfield who plays Otis and and Gillian Anderson who plays his mom Jean should definitely return. Anderson actually tweeted a selfie featuring some nice sperm decor with the caption "See you soon" (fit with a suggestive eggplant emoji) after the show was renewed, so figure she's in.
In terms of the rest of the core cast, this teen series isn't really the type to kill off characters left and right, and this time around no one was shipped off to boarding school like Adam was in Season 1, so you can count on just about everybody to be back, too. We'll probably see more of Ncuti Gatwa (Eric), Emma Mackey (Maeve), Connor Swindells (Adam), Kedar Williams-Stirling (Jackson), Aimee Lou Wood (Aimee), Tanya Reynolds (Lily), Patricia Allison (Ola), Mimi Keene (Ruby), Simone Ashley (Olivia), Chaneil Kular (Anwar), and headmaster Groff himself, Alistair Petrie... and probably everyone else who roams the Moordale halls and comes to the Milburns with their burning questions. (Plus, considering Alistair Petrie appeared in Netflix's video announcement of the new season and references Maeve, Otis, Adam, Eric, Ola, Lily, Aimee, and Jackson, it doesn't seem like their stories are ending any time soon).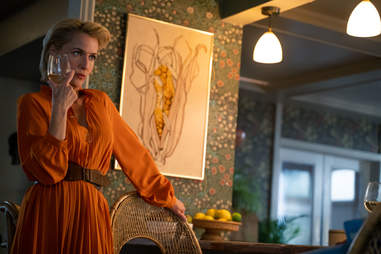 Gillian Anderson as Jean Milburn in 'Sex Education'

| Sam Taylor/Netflix
What about the showrunners? 
As with the cast, everything is speculation right now in terms of who'll be behind the scenes as well, but since series creator Laurie Nunn oversaw the first two installments, and told LADBible she's already brainstorming ideas for the new season, she'll likely be showrunning the third, too. In addition, she told them she's hopeful director Ben Taylor, who's been behind the camera for a handful of episodes, will return. 
Also, Jamie Campbell and Jon Jennings produced both seasons, so they'll probably lead the third, as well.
What will it be about? 
Oh, baby! Netflix shared a video on Twitter narrated by Mr. Groff actor Alistair Petrie detailing some of what we can expect in Season 3, but the biggest reveal Season 2 left us with is undeniably Jean Milburn's unexpected pregnancy. Given her age, Jean was shocked to hear the news, so right now it's hard to say whether she'll terminate the pregnancy or see it through, meaning another baby Oatcake would be on the way. Whatever happens it'll probably have a big effect on her and those close to her. Her relationship with Otis has been strained for quite some time because, you know, teenage angst and all, but this could alter their relationship even more. Since the father is most likely Jean's ex-boyfriend/Ola's father Jakob (Mikael Persbrandt), the pregnancy will probably bring Jean and him back together in some capacity, but TBD what that means for their relationship that ended with a lot of feelings left unsaid.  
Sex Education isn't just about the Milburns, though. Things were left pretty interesting concerning Eric and Adam, as Adam professed his interest in Eric very star-crossed lovers-like in front of the whole school in the middle of their musical production of Romeo and Juliet, leaving Eric's current boyfriend Rahim (Sami Outalbali) in the dust. If they pursue a relationship, it'll be a whole different, public dynamic for them, meaning Adam will have to confront his personal shame more head-on. 
Season 2 also left a pretty big cliffhanger for Maeve. While she's long been one of the most resilient characters on the show, she was left in a pretty emotional state, considering she called social services on her own mother and her friendship with Otis is still on the rocks. Otis may have fucked up every step of the way in their relationship, but at the end of the season when he tried to apologize and salvage their friendship, Maeve's neighbor Isaac (George Robinson) deleted the voicemail. Isaac definitely has his own agenda (AKA a big crush on Maeve) so he was just trying to protect her, but it's unclear how she's going to react to that, or what she would've thought about Otis' message at all. Clearly, there's still a lot of emotions between the two former business partners.
Aside from those main plot points that Season 2 left hanging for us, Sex Education will also likely return to form, exploring a handful of issues related to sex, intimacy, and adolescence through Moordale's eclectic student body. Right now, though, we'll just have to keep speculating because we've got awhile to go before we can go all the way with the third season.
Continue to check back, as we'll keep updating this post as more news regarding Sex Education Season 3 gets announced.
Need help finding something to watch? Sign up here for our weekly Streamail newsletter to get streaming recommendations delivered straight to your inbox.