Sex Tips for Boring People will take your sex life from vanilla to passion fruit. Or at least from vanilla to vanilla bean. Find more sexy advice right here.
As you become more and more advanced along the ladder toward Complete Sex God, there are a few rungs to watch out for along the way. These wild cards are thrown in to separate the boys from the men and the guy who buys condoms versus the guy who buys lotion. Fortunately, we're here to help you spot those tricky trip-ups so that you handle them with ease and style to help you maintain your Sex God status, and not that of Really Good (and frequent) Masturbator.
 
Is a mid-romp butt slap sexy or creepy?
On the scale of sexual risk, going for a quick little spank is pretty low: just above doggy style but waaaaay below putting it in the butt "by accident." (Come on, dude!) Some women can't get enough of the butt slap, as it signals that you, the man, are in control, but in a safe, playful, non-chauvinistic way. You totally still respect our thoughts and feelings, and you don't mind that we make more money than you. On the other hand, there are women who believe that the butt slap is a little ridiculous and a tad, well, demeaning. There's no way to really ask, "Hey is it cool if I slap your butt right now?" So really you just have to go for it and see what's up. You'll get your response pretty quickly. Fortunately, it's not much of a fornication faux pas, so if she's not into it you'll probably still get to finish anyway.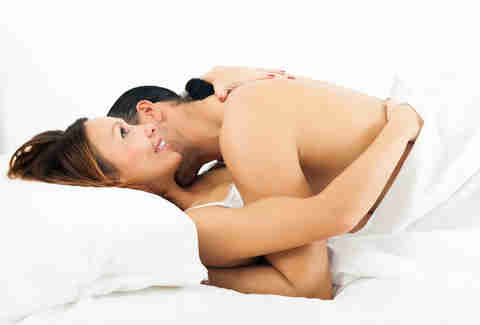 How can I tell that somebody is faking it?
You can't. At least, not if we're good at it. Most women have had to fake it at least once in their lives, and many fake it on the reg. I promise you, someone has even faked it with you. We have our reasons. Maybe we're really distracted, or we're tired and kinda just want it to be over. Maybe we know that there's one last piece of chocolate cake in the fridge, and as soon as this is over we can eat it. Or maybe you really are just terrible and we know we aren't going to sleep with you again, so there's no point in correcting you. It's easier for us to fake it and go home.
Whatever our reasons, we know what we're doing, because out of anyone else, we have made ourselves orgasm the most. We know the faces and noises we make and what our bodies do at the particular "moment." Spotting a really good faker is like trying to find Waldo in a sea of candy canes, barbershop poles, and other people dressed like Waldo. But hey, here's a tip: if she's, like, porn-star loud or adds any unnecessary level of pomp and circumstance, it's probably not real. Sorry. I'm sure you were doing great, though.
Is it polite to bring up a partner's implants, or should I just enjoy them quietly?
Ahhh implants. A sly, silicone elephant in the room. You know they're fake. She knows they're fake. She knows YOU know they're fake. But that's really as far as this acknowledgement should go.
Women get implants for all sorts of reasons beyond just vanity, and if you don't know the reason, you ought to tread lightly. Maybe there's a sad story behind them, or maybe she just really wanted to fill out her sweater and 36 Cs weren't quite cutting it. The point is, she got them so she could feel sexy and better about herself, whether or not you agree with that. To point them out could embarrass her. If she says, "Hey, do you like my implants?" that's a different story (and the answer is "YES"). But until then, keep your mouth shut and enjoy the damn view.
Sign up here for our daily Thrillist email, and get your fix of the best in food/drink/fun.
Meagan Drillinger is a freelance writer for Thrillist and she has definitely faked it for the promise of chocolate cake. Follow her on Twitter, Instagram and Facebook at @drillinjourneys.