The 10 Sexiest Movies of 2017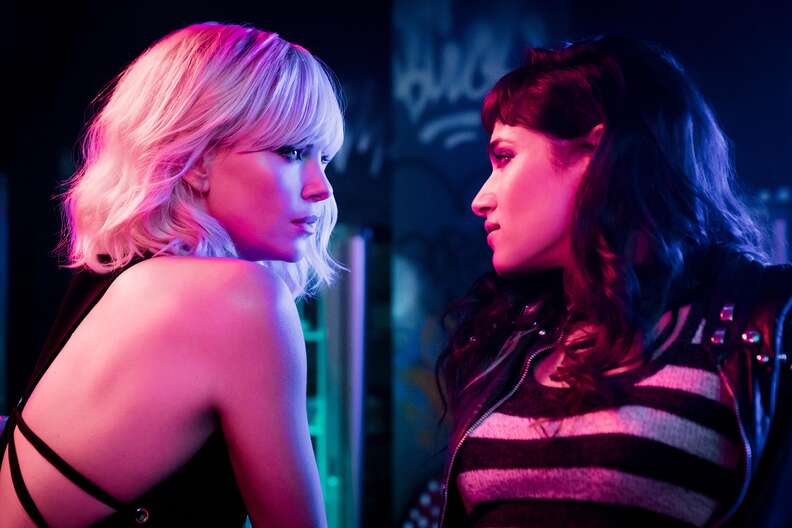 Atomic Blonde

| Focus Features
Atomic Blonde

| Focus Features
2017 has been such a taxing year for us all that it's become an especially great relief to shut off the news or log off from our endlessly horrifying Twitter timelines and turn to the magic of cinema.
We've been served sexy helpings of movies all year, from the Fifty Shades sequel to erotic cannibal films (yes, multiple ones!) to period pieces with repressed, throbbing desires, a movie about a HFILF (Hot Fish I'd Like to... you know) and two movies that are now associated with sexual fruit symbols: the peach and the grapefruit. As this draining year comes to an end, let's turn to fantasy once more and look back at 2017's sexiest films.
Personal Shopper
A movie about a woman texting with a ghost doesn't have any right to be this sexy, but it is, thanks in large part to the brooding Kristen Stewart as the title character. There is some sexually charged tension in the iMessages (and while not explicitly sexting, it's still weird considering she might be communicating with the ghost of her dead brother), but that's not why Personal Shopper belongs on this list. Mere montages of Stewart trying on beautiful clothes -- as directed by French auteur Olivier Assayas -- are some of the sexiest scenes you'll see this year, but there's one especially hot scene when she is, against the rules, trying on a bondage suit and getting frisky by herself in her client's bed.
Call Me By Your Name
A movie that's become synonymous with the peach emoji should obviously belong on this list. This period, gay romance finds Timothée Chalamet (as the teenaged Elio) and Armie Hammer (playing his older lover, Oliver) in an all-consuming, unforgettable summer fling, as friendly male competitiveness -- and even mild annoyance at first -- blossoms into something tender, sexual, and subtextual. Even though the camera pans away from more explicit sex scenes, there's still that tangible excitement of discovering each other's desires; you'll practically shudder with elation yourself at their first touch. Other honorable mentions for sexiness include Armie Hammer wearing short shorts and an instantly iconic scene of him dancing to a Psychedelic Furs track at a club.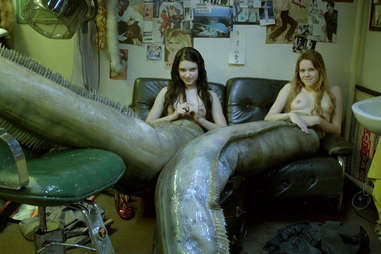 The Lure
This fantastical Polish musical is about man-eating mermaid sisters who perform at a nightclub. It sounds wacky as hell, but it's beautiful and odd and, yes, totally sexy! As the title suggests, their job is to literally lure men -- they flirt and sing until they're irresistible and men fall right into their traps. Director Agnieszka Smoczynska spruces up the weird little horrors with sequins, glitter, and colorful musical montages. It may seem all fun and games but things get complicated when one of the sisters falls for a human boy and decides to sacrifice her fins and magical powers for a normal (sex) life.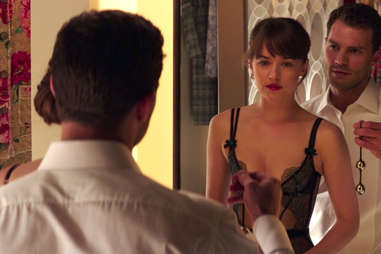 Fifty Shades Darker
Well, duh the Fifty Shades sequel is on this list. The sex in this melodramatic sequel is way more vanilla than you'd expect (there's not a ton of freaky BDSM stuff Christian Grey is supposedly into). A Chronicles of Riddick poster in Christian's childhood bedroom colors his character more comic than smoldering. A scene where he works out to The Police's "So Lonely" is too cheesy to ignore. However, this is also the movie that introduced the G-spot-stimulating silver balls to the franchise and, umm, Anastasia. Who doesn't love an unplanned public orgasm at a fancy function?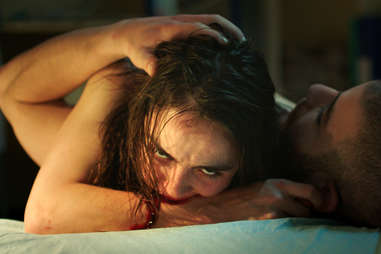 Raw
2017 is the year cannibalism got sexy. Following The Lure, we got the French coming-of-age shocker horror Raw, about a college freshman who is hazed by her veterinarian classmates and turns into a voracious, new woman hungry for human flesh. Raw is way sexier than you'd be comfortable admitting. From pulsating club scenes to feeling-yourself-in-front-of-the-mirror moments in which the virginal Justine debuts a new look and a new shade of lipstick (the go-to cinematic transformation of a girl becoming a woman), Julia Ducournau's impressive debut feature oozes with sex and bodily fluids. Here, hungry and horny aren't so different.
Atomic Blonde
"What if John Wick, but with Charlize Theron" is already sexy enough, but Charlize Theron -- with a hairdo worthy of the title -- gets suited up and booted up and goes the extra mile with her sexiness, which has a lot to do with how much ass she kicks and how unbothered she looks at the end of the day. She casually assassinates her KGB enemies then gets in a slinky black dress and smokes a cigarette with a withering look that would absolutely destroy everyone. But y'all know the real reason Atomic Blonde belongs on this list: that spy-on-spy lesbian sex scene she shares with Sofia Boutella.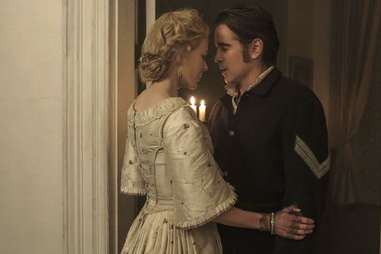 The Beguiled
Though not as horny as Don Siegel's original 1971 film starring Clint Eastwood, this remake, directed by Lost in Translation's Sofia Coppola, still fogs up the screen with all the Southern humidity and sexual tension. The arrival of an injured soldier (Colin Farrell) makes the faculty and pupils of an all-girls school salivate. Some of the younger girls try more innocent flirting tactics (like putting on earrings), while others (ahem, Elle Fanning) bring their innuendo A-game. But it's Kirsten Dunst's bodice that rips, sending buttons flying. We're fanning ourselves over here just thinking about it.
Unforgettable
If only this movie was as unforgettable as its title promises. This Rosario Dawson vs. Katherine Heigl flick will mostly make you nostalgic for the era of erotic thrillers (the downside of Unforgettable is that it's not quite erotic enough), but it's certainly not without some truly memorable moments, especially when Katherine Heigl's psychotic ex-wife character vapes while Facebook stalking the new woman, Rosario Dawson's Julia, and also... masturbates? The jealous, paranoid Julia also ups the heat with a scorching bathroom sex scene to keep the flame between and her beau alive.
Girls Trip
If Call Me By Your Name owns the peach, the emoji gods needs to make a grapefruit for Girls Trip ASAP. Girls Trip is a rated-R comedy that's more lewd than sensual and one of the climactic scenes involves Jada Pinkett Smith pissing all over herself and a bunch of strangers (decidedly not sexy). But a girls reunion that involves reawakening their wild past, especially in the boozy city of New Orleans, undoubtedly involves some sexy situations. And once again: grapefruit.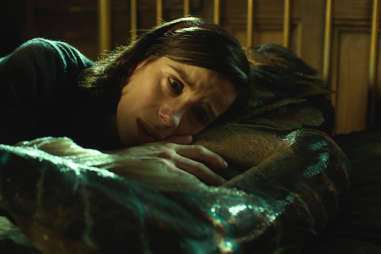 The Shape of Water
Don't tell me your interest is not even a little bit piqued by the idea of a woman having sex with a fish creature. In Guillermo del Toro's wet dream of a movie, we not only get Sally Hawkins getting in the bathtub naked with a giant fish man and doing it, but also explaining the mechanics of his penis to her best friend (Octavia Spencer). It's an unbelievable premise that begs the question, "How did this get made?" but it's anchored by a sweet story that'll surely bring a tear to your eye.
Sign up here for our daily Thrillist email and subscribe here for our YouTube channel to get your fix of the best in food/drink/fun.
Kristen Yoonsoo Kim is a New York-based writer. She is literally always watching movies and will often tweet about them @kristenyoonsoo.