The 10 Sexiest Movies of 2016
This year at the movies, we watched Anthony Weiner get in trouble (again) for his inability to keep it in his pants (Weiner), Colin Farrell cruelly blue-balled (The Lobster), and Isabelle Huppert pursue her rapist in a way that still has us questioning how to feel about it (Elle). But all that sex at the movies isn't necessarily sexy.
No, sexy is two people forbidden to love each other having a late-night rendezvous in their dystopian society. Or a master and her servant sharing an erotic moment during "innocent" bath time. Smoldering glances between two people work, too, and a lot of times, yes, sexy is actual sex. The following 10 movies were 2016's finest examples of the art form -- you just might want to think twice before queuing them up for family movie time this holiday season.
Everybody Wants Some!!
I mean, it's right there in the title. Richard Linklater's spiritual sequel to his 1993 stoner comedy
Dazed and Confused
is so much sexier and funnier, it's almost like the
you-vs.-the-guy-she-told-you-not-to-worry-about
meme by comparison. In this '80s-set comedy, Linklater gathers a house full of hot college baseball players at peak sexual awakening and lets them party. It's actually much deeper than your average
"horny college bro"
movie, but it does feature a lot of hard bodies, tight jeans, and even some male crop tops.
Where to watch it
: Stream on Amazon Prime, rent on iTunes, VOD
The Neon Demon
While the movie's bloody climax is a bit far from a turn-on, there's a lot of sexual imagery to reckon with here.
The Neon Demon
idolizes youth to the point of sexually fetishizing it, features Keanu Reeves saying things like, "real Lolita shit," and models discussing whether they are "fruit or sex" when it comes to lipstick shades.
Drive director
Nicolas Winding Refn's vanity project plays on the kind of sexy that borders on ugly, which hinges on one unforgettably repulsive sex scene with Jena Malone, and, well… you'll see.
Where to watch it:
Stream on Amazon Prime; rent on iTunes
The Handmaiden
The graphic lesbian sex scenes in The Handmaiden between a noblewoman and her housemaid are salacious enough to give Blue Is the Warmest Color a run for its money, especially when a later act revisits one encounter in a much more explicit manner. The two women start off by "practicing" kissing each other, which eventually escalates to full-blown sex as they imagine the lady of the house's wedding night to the rich count. It's explosive and orgasmic and even kind of hilarious (the handmaiden coos directly into her lady's vagina) -- and, most importantly, a rare moment of freedom between two women stifled by the men in their lives. Aside from the money shot everyone talks about, there's an early scene where the handmaiden gives the lady a bath -- and files down a sharp tooth with her finger in her mouth -- that trembles with more sexual tension than you may be able to handle.
Where to watch it: Stream on Amazon Prime, rent on iTunes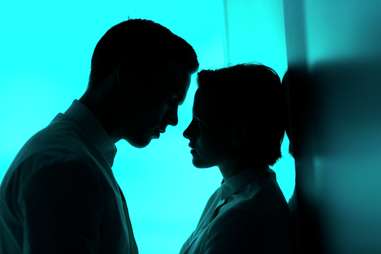 Equals
What is it about forbidden love that's so damn hot? Casting Kristen Stewart and Nicholas Hoult in a movie together already fulfills the sexy quota, but in Drake Doremus' futuristic flick, they're flung into a dystopian society where romance is strictly forbidden (those who catch feelings they can't shake are thrown in an asylum). Nia and Silas (Stewart and Hoult) fall for each other, and start a dangerous -- and frankly, very hot -- love affair with secret, late-night rendezvous, even though getting caught would result in dire consequences.
Where to watch it: Stream on Amazon Prime; rent on iTunes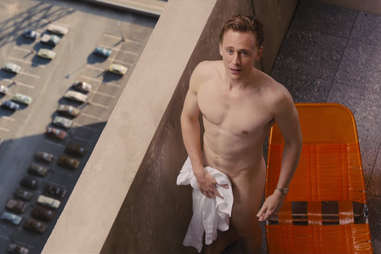 High-Rise
There are a lot of things that don't work in Ben Wheatley's dystopian J.G. Ballard adaptation, but it did come out months before
the whole Hiddleswift mess
, meaning we had a small window to guiltlessly
enjoy Tom Hiddleston
dancing down a corridor with a posse of flight attendants to the tune of Sister Sledge. There's also a pretty hot dress-tearing sex scene between him and Sienna Miller, both residents in a high-rise that's set up with poor people at the bottom and the rich on top (and the richest in the penthouse). It all ends with a messy bang -- quite literally, with a penthouse orgy that feels extra-decadent as shot under the movie's stylistic lens.
Where to watch it:
Stream on Netflix; rent or buy on Amazon or iTunes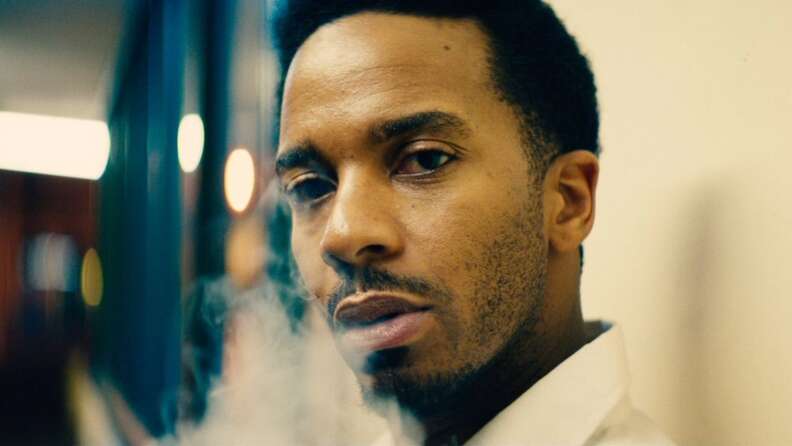 Moonlight
Though it doesn't immediately come to mind when we talk about sex, Moonlight's most romantic scenes are achingly sexy. And I'm not talking about the formative scene in which our protagonist Chiron experiences a sexual awakening with his friend Kevin at night on the beach. (Although that scene of him grasping the sand beneath his fingers... oh man!) The sexiest parts of Moonlight come in the final act, when grown-up Kevin (the ever-sexy André Holland, looking GQ-perfect) blows smoke into the camera outside of his diner and grown-up Chiron (Trevante Rhodes), looking better than ever, sits across from him, pained with longing as Barbara Lewis' "Hello Stranger" plays from the jukebox. Ow ow ow.
Where to watch it: Stream on Amazon Prime; rent on iTunes
The Love Witch
The Love Witch is a candy-colored concoction of vintage dresses, pentagram rugs, and love potions -- and it just oozes sex. Much of that is thanks to the movie's sexy lead, Samantha Robinson, a silver-screen version of Lana Del Rey. It's also owed in great part to director Anna Biller, who pays homage to the sexploitation films of the '70s while spinning them under her own feminist lens, creating a retro-looking feature about a woman who seduces men and kills them using "sex magic." It's not hard to see why she's so irresistible. Deeply satisfying as that premise is alone, The Love Witch is also exquisitely directed and set-designed, with plenty of gorgeous custom-made lingerie.
Where to watch it: Stream on Amazon Prime; rent on iTunes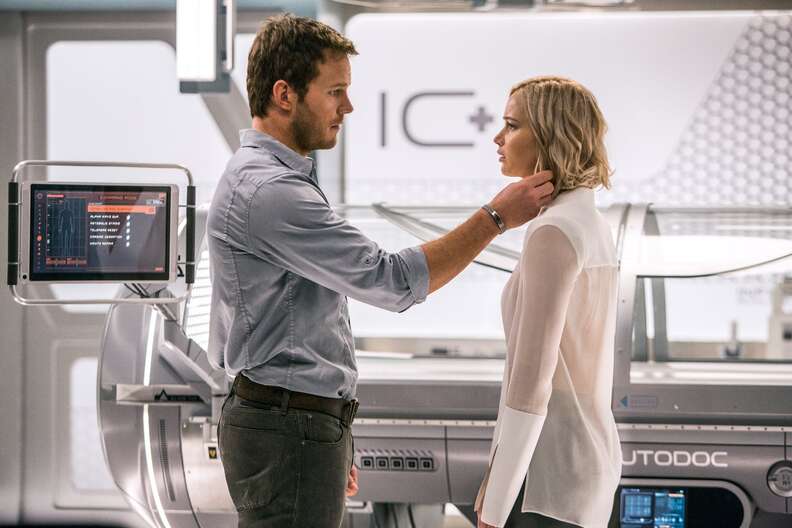 Passengers
A sexy movie is not necessarily a good movie, and Passengers certainly proves that. This space-age romance action flick is not the brightest star in the sky, and a bit problematic -- but Jennifer Lawrence and Chris Pratt are both just casually hot as hell, and they have 90 years to kill in space, so of course there's gonna be some boning. After months of panicking because they woke up way too early from their hibernation pods, these two accept their fate and kill time by smashing... a ton. If only there were a scene where they had gravity-defying sex.
Where to watch it: Rent or buy on Amazon or iTunes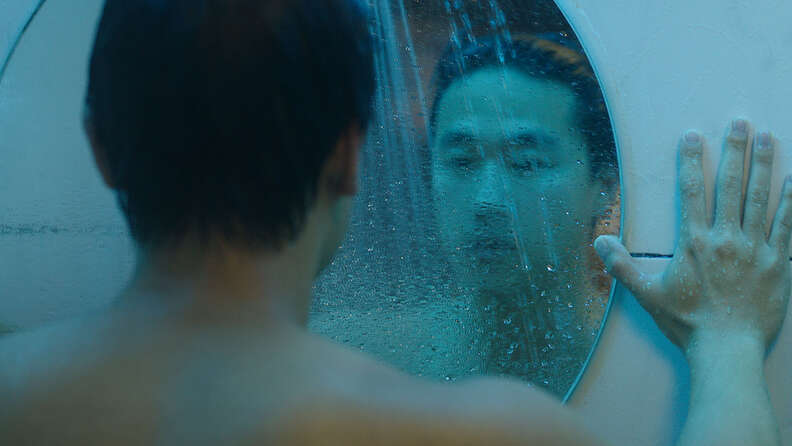 Spa Night
First-time director Andrew Ahn's coming-of-age story follows a college-age Korean-American boy named David struggling with his bi-national identity, along with all the other anxieties of growing up. Coming from a struggling family who can barely afford to pay for his education, David secretly takes up a menial job at a 24-hour spa, where he begins to question his sexuality. During his shift, he observes the men who use this safe space to act out their sexual desires, and eventually dips his own toes into the water. Though the movie is not as sexually explicit as some of its peers on this list -- and doesn't feature the spa as much as its title promises -- it sure has its steamy moments. Literally.
Where to watch it: Stream on Netflix; rent or buy on iTunes or Amazon
The Legend of Tarzan
Remember when I said sexy movies don't necessarily have to be
good
movies? Knowing literally no one would be interested in a new
Tarzan
movie in the Year of our Lord 2016, they made
actual human sculpture Alexander Skarsgard
the titular jungle-raised Tarzan, who returns home after leading years of gentrified life as John Clayton III. Back home, he rightfully rips his shirt right off, showing off a ridiculous set of abs. The sex scene between him and fellow perfect human Margot Robbie got some buzzy press before the movie's release, when word got out that
things actually got "rough"
during the shooting of this scene.
Where to watch it:
Stream on HBO Go or HBO Now; rent or buy on Amazon or iTunes
Sign up here for our daily Thrillist email, and get your fix of the best in food/drink/fun.