The Sexiest Movies on Amazon
It's getting hot in here.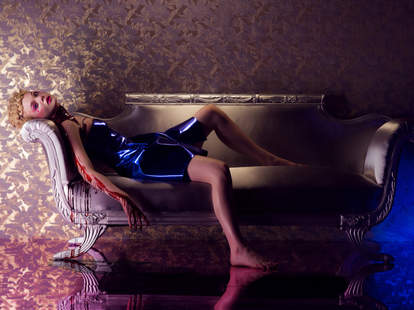 Sex appeals to just about everyone, and it's no secret that the internet has made it as readily available as the paper towels you order off Amazon. But sex is so much more than the physical act; the buildup, the tension, the obstacles, the emotion -- in short, the story -- make the difference between cheap erotic thrills and a movie worth two hours or so of your time.
Good news: Amazon has also made those movies as easy as ordering those paper towels, provided you're a Prime subscriber. Give these movies a shot the next time you want a tantalizingly horny storyline. 
Gaumont
Adore (2013)
This movie came out in 2013, and some of us felt a little too judged to hand our tickets to the theater attendants. Most critics agreed that Naomi Watts' and Robin Wright's characters having sex with each other's sons was too eyebrow-raising to truly work (and raised a lot more questions we didn't want to think about), but it's still a fascinating idea. Watch these moms stare hungrily at the boys' beach bodies: They resist at first, then surrender, then keep surrendering. Bonus points for the lush scenery and ample butt-shots.
Miramax Films
Bridget Jones's Diary (2001)
One of the quintessential early-aughts rom-coms, and possibly the seminal modern romance based around a notebook (sorry, The Notebook!) Bridget Jones is a wickedly funny Pride and Prejudice remake that forces Renee Zellweger's discombobulated anti-heroine to choose between two equally dashing Brits-with-Jane-Austen-acting-credits: Colin Firth's prissy Mark Darcy and Hugh Grant's womanizing Daniel Cleaver. The ultimate rom-com Sophie's Choice.
Bleecker Street
Disobedience (2017)
Rachel Weisz is an artist living in New York who returns to North London when her father, an orthodox Rabbi, has died. At first this movie seems like another clash between tradition and modernity, until some secrets of a forbidden attraction to her female friend from the community (Rachel McAdams) get uncovered. Importantly, everyone is ultimately a good person in this story, which is why their struggles are so upsetting. How can you be on every character's side if it means someone is going to end up getting hurt? If you thought Blue Is The Warmest Color pushed the envelope for a lesbian sex scene, well, let's just say some novel things happen to that envelope in this one.
A24
Gloria Bell (2019)
Hollywood may be somewhat immune to telling stories about middle-aged women -- but contrary to popular belief, they do lead interesting lives, including some pretty hot romances. Gloria Bell is a rare gem that focuses on a woman over 50 and her pursuit to "get back out there" post-divorce. It's actually the American remake of director Sebastian Lelio's own Chilean original Gloria, and stars the inimitable Julianne Moore in the titular role as a woman who just wants to take herself out to nightclubs and find love on the dance floor. The romance that unfolds is a whirlwind and charming even in its awkwardness, until it turns to chaos. But it's just as sexy seeing Gloria Bell come into her own.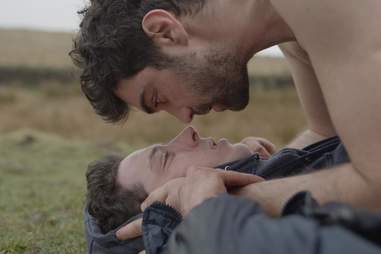 Picturehouse Entertainment
God's Own Country (2017)
God's Own Country is a British drama that tells the story of Johnny and Gheorghe, two young men who fall for each other while working on Johnny's family farm. Johnny, who shirks his responsibilities at home in pursuit of fleeting sexual encounters of men, is forced to work with Gheorghe, a Romanian hired to help out with lambing season. After the two are forced to camp out together, they connect both on a personal and sexual level. The film has been praised as a kind of British Brokeback Mountain for its frank treatment of concepts like national identity, queerness, and familial obligation. 
CJ Entertainment
The Handmaiden (2016)
Some movies splash across the screen, others turn scenes into bold brushstrokes. The Handmaiden, an erotic thriller with twists and turns and thrusts aplenty, is Park Chan-wook's drip painting. Set in 1930s Korea, the movie follows Sook-hee, a pickpocket, who slips undercover into the staff of a sheltered heiress, with hopes of luring the deep-pocketed woman into the romantic grasp of her con-man partner in crime. The problem: Sook-hee falls madly, lustfully in love with her target. In The Handmaiden, single, sensual drops -- a prolonged glance, the zipping up of a dress, whispered white lies -- fan out through the entire two-and-a-half-hour narrative into the unexpected.
A24
High Life (2019)
French filmmaker Claire Denis makes movies that claw at the brain and activate the senses, and with High Life, she crafted a story that's equal parts heady prison thriller, psychosexual medical mystery, and bong-rip journey through the cosmos. Bouncing backwards and forwards in chronology, the story tracks quiet inmate Monte (Robert Pattinson) as he raises a baby in a cavernous, dorm-like shuttle in one timeline and attempts to thwart the secretive plans of an oddball scientist (Juliette Binoche) in another thread. Exactly how Monte ends up alone with the baby, playing the role of single parent in the stars, would be the central question of a more conventional sci-fi narrative, and there are surprising plot twists and shocking violent acts committed here. But Denis fills the movie with curious images and wild ideas that complicate the dystopian set-up. High Life resists the solutions of puzzle-box filmmaking, choosing instead to explore its own perilous terrain of desire.
A24
Hot Summer Nights (2018)
Hot Summer Nights is a neon-soaked neo-noir that's oozing in camp and stars Timothée Chalamet, so, yes, it is indeed a "hot summer night." In it, Chalamet plays a newbie drug dealer selling marijuana on Cape Cod in the summer of 1991, getting in over his head once he falls for his partner's sister (Maika Monroe). The plot may fall flat but the chemistry between Chalamet and Monroe is as blazing as that Fourth of July sun, and their melodramatic teenage desire only intensifies their affair. Between the two leads and one super swoon-worthy sequence in particular soundtracked by Modern Lovers' "Hospital," Hot Summer Nights will leave you feeling love-stoned. 
Oscilloscope Laboratories
The Love Witch (2016)
Director Anna Biller's stylish film is both parody and incisive social commentary, telling the tale of a modern witch (Samantha Robinson) who uses her powers to seduce men. The Technicolor landscape, the cutting humor, and the pathetic men combine to make The Love Witch irresistibly attractive, much like its protagonist. You'll cringe and laugh in equal measure, but mostly you'll admire the confidence with which Biller creates her unique world.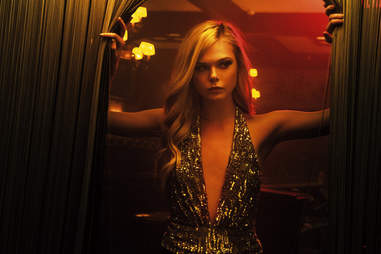 Amazon Studios
The Neon Demon
While the movie's bloody climax is a bit far from a turn-on, there's a lot of sexual imagery to reckon with here. The Neon Demon idolizes youth to the point of sexually fetishizing it, features Keanu Reeves saying things like, "real Lolita shit," and models discussing whether they are "fruit or sex" when it comes to lipstick shades. Drive director Nicolas Winding Refn's vanity project plays on the kind of sexy that borders on ugly, which hinges on one unforgettably repulsive sex scene with Jena Malone, and, well… you'll see.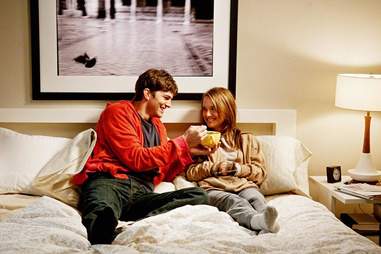 Paramount Pictures
No Strings Attached (2011)
You may remember 2011 as the year that now-married couple Ashton Kutcher and Mila Kunis made essentially the same movie with different co-stars. No Strings Attached -- not to be confused with the Kunis-starring Friends With Benefits -- is the Kutcher and Natalie Portman version of the very similar movies, but Kutcher and Portman do in fact bring the chemistry in this raunchy rom-com. It's a flirtatious film where the two play long-time friends Emma and Adam who decide to enter a strictly casual sex relationship when Adam's life is turned upside and he needs some form of connection. It's a carefree, satisfying model, until they starting feeling the feels, and that's what's even more pleasurable to watch play out on screen. 
Lionsgate
A Simple Favor (2018)
A Simple Favor is probably best marketed as "Blake Lively wears a lot of high fashion menswear and drinks martinis" -- and while that would not be wrong, it's important to note that it's also a delicious twisty thriller, like Gone Girl though an Instagram filter. Director Paul Feig, known more for comedies like Bridesmaids and Spy, moves into more of a middle ground that remains funny despite its murderous themes. Lively plays the impossibly glamorous and filterless Emily Nelson who starts hanging out with Anna Kendrick's overachieving YouTube mom Stephanie Smothers after their children demand a playdate. Both women have some significant skeletons in their respective closets, which start to emerge after Emily goes missing.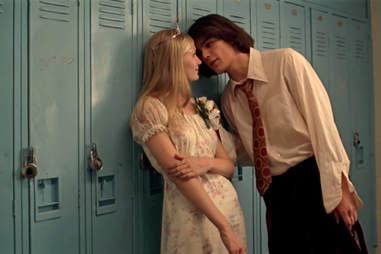 Paramount Pictures
The Virgin Suicides (1999)
Sofia Coppola's adaptation of Jeffrey Eugenides' novel of the same name will put you in a daze; it's a cinematic representation of feeling 16, with all the attendant desire and melodrama. The voyeuristic film tells the story of several young boys' obsession with understanding the mythos behind the sheltered but painfully beautiful Lisbon sisters, who live under the domineering veil of their strict, devout parents. As the tantalizing Lux Lisbon, Kirsten Dunst seduces with a bite, and while the girls gasp for release, Coppola validates their youthful pain in the way that only her unapologetically feminine lens can.
Need help finding something to watch? Sign up here for our weekly Streamail newsletter to get streaming recommendations delivered straight to your inbox.
Follow the Thrillist Entertainment editors on Twitter: @ThrillistEnt.