The Sexiest Movies on Amazon Prime Right Now
It's getting hot in here.
Sex appeals to just about everyone, and it's no secret that the internet has made it as readily available as the paper towels you order off Amazon. But sex is so much more than the physical act; the buildup, the tension, the obstacles, the emotion—in short, the story—make the difference between cheap erotic thrills and a movie that's a steamy good time. Good news: Amazon has also made movies as easy as ordering those paper towels for anyone with an Amazon Prime account. Give these good movies on Amazon a shot the next time you want a tantalizingly horny storyline.
ALSO READ: Our curated lists of the Sexiest Movies on Netflix, the Sexiest Movies on HBO Max, and the Hottest TV Shows Currently Streaming
Black Snake Moan (2006)
For much of Black Snake Moan, Christina Ricci doesn't wear all that much, aside from a giant chain around her waist that keeps her locked inside Samuel L. Jackson's house. Her character Rae ends up there after her military boyfriend leaves town, which causes her knack for sex and partying to spiral out of control, and let others take advantage of her, until Jackson's blues musician Lazarus comes to her aid. It's a pretty outrageous plot for a movie. Although, there's more to Craig Brewer's raunchy thriller than it initially leads on, taking cues from blaxploitation films and with messages about race and trauma. It's as hot and heavy as a blues club in the deep South.
Black Swan (2010)
First and foremost, Darren Aronofsky's Black Swan is a terrifying psychological thriller. Itself mirroring the plot of Swan Lake, the film chronicles a New York City Ballet ballerina's (Natalie Portman) trying pursuit of the principle role of the White Swan in an upcoming production, which increasingly makes her go mad when she finds herself up against a new dancer (Mila Kunis), who at first seems like a better fit for the Black Swan. As dark as the film is, pseudo-sexual themes run throughout each movement and the tension between the two leads (which culminates into quite the steamy scene). At large, it's about the intersection of perfectionism and sanity—it'll make your skin crawl, but you'll feel your blood boil a bit, too.
The Handmaiden (2016)
Some movies splash across the screen, others turn scenes into bold brushstrokes. The Handmaiden, an erotic thriller with twists and turns and thrusts aplenty, is Park Chan-wook's drip painting. Set in 1930s Korea, the movie follows Sook-hee, a pickpocket, who slips undercover into the staff of a sheltered heiress, with hopes of luring the deep-pocketed woman into the romantic grasp of her con-man partner in crime. The problem: Sook-hee falls madly, lustfully in love with her target. In The Handmaiden, single, sensual drops—a prolonged glance, the zipping up of a dress, whispered white lies—fan out through the entire two-and-a-half-hour narrative into the unexpected.
Jennifer's Body (2009)
If you've heard any talk recently about director Karyn Kusama and writer Diablo Cody's horror-comedy masterpiece Jennifer's Body, it's probably due to the recent resurgence of praise for the movie, crowning it a feminist cult classic of the modern era, tragically underappreciated in its time. The movie stars Megan Fox as a demonically possessed high school student whose spirit is driving her to murder her male classmates, while her best friend, played by Amanda Seyfried in nerd glasses, tries everything she can to stop her.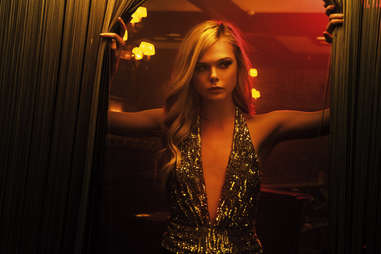 The Neon Demon
While the movie's bloody climax is a bit far from a turn-on, there's a lot of sexual imagery to reckon with here. The Neon Demon idolizes youth to the point of sexually fetishizing it, features Keanu Reeves saying things like, "real Lolita shit," and models discussing whether they are "fruit or sex" when it comes to lipstick shades. Drive director Nicolas Winding Refn's vanity project plays on the kind of sexy that borders on ugly, which hinges on one unforgettably repulsive sex scene with Jena Malone, and, well… you'll see.
Nymphomaniac Vol. 1 & 2 (2013)
Provocateur Lars von Trier (Antichrist, Melancholia) made headlines for filling his orgastic opus with unsimulated sex. While the four-hour-long journey is filled with explicit scenes—everything from train-car blow jobs to threesomes to fetish whipping where a riding crop takes care of the stimulation—von Trier has more on his mind than pornographic subversion. His sardonic Nymphomaniac questions sexuality, the roles of men and women in one another's lives, and storytelling on a macro level.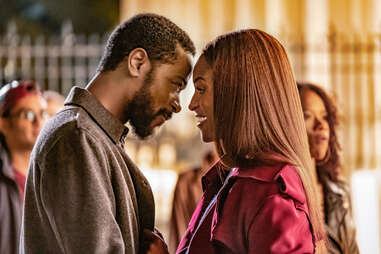 The Photograph (2020)
The Photograph, writer and director Stella Meghie's time-shifting romance starring Issa Rae and Lakeith Stanfield, is the type of movie that smolders like an old Al Green song for its entire runtime. Whenever its plot, which follows the daughter of a famous photographer named Mae (Rae) falling in love with a commitment-phobic journalist (Stanfield), threatens to intensify or boil over, the movie finds a way to dial back the conflict. Occasionally, particularly in the flashback sections about Mae's mother, that skittishness towards melodrama can be frustrating. But in the scenes between Rae and Stanfield, who share a low-key chemistry, the film achieves a sweet balance between indie-movie naturalism and rom com sweetness that's all too rare on screen these days.
A Simple Favor (2018)
A Simple Favor is probably best marketed as "Blake Lively wears a lot of high-fashion menswear and drinks martinis"—and while that would not be wrong, it's important to note that it's also a twisty thriller, like Gone Girl though an Instagram filter. Director Paul Feig, best known for comedies like Bridesmaids and Spy, moves into more of a middle ground that remains funny despite its murderous themes. Lively plays the impossibly glamorous and filter-free Emily Nelson, who starts hanging out with Anna Kendrick's overachieving YouTube mom after their children demand a play date. Both women have some significant skeletons in their respective closets, which start to emerge after Emily goes missing.
Suspiria (2018)
It takes a lot of guts to remake what is arguably the finest horror film of Dario Argento's career—and fans of the original film should be deeply grateful that a new rendition was handed to director Luca Guadagnino (Call Me By Your Name), who clearly knows and loves the original. What we have here is an epic horror film that follows the quiet but very ominous activities of an elite Berlin dance school faculty, and the unfortunate young women who begin to suspect the truth about the school. Even given the original movie's place in the horror film hall of fame, there's something truly, wildly, indelibly ambitious about this beautifully scary, sensual film. And that score by Thom Yorke!
The Twilight Saga (2008–2012)
Was Twilight a massive, global phenomenon because it had cool vampires or because there was a lustful teenage undead-human romance at the center of it? Maybe both, but largely because of the latter. The dangerous love story between the innocent Bella Swan and the icy, mysterious Edward Cullen, and eventual triangle between them and a werewolf with abs for days, is what drew people into the franchise, and kept their pulses racing until the very end. The entire saga, featuring the sublimely attractive Kristen Stewart and Robert Pattinson, is available to stream on Amazon, and there's no shame in marathoning them. Just "hold on tight, spider monkey:" They're as hot as they are action-packed.
The Virgin Suicides (1999)
Sofia Coppola's adaptation of Jeffrey Eugenides' novel of the same name will put you in a daze; it's a cinematic representation of feeling 16, with all the attendant desire and melodrama. The voyeuristic film tells the story of several young boys' obsession with understanding the mythos behind the sheltered but painfully beautiful Lisbon sisters, who live under the domineering veil of their strict, devout parents. As the tantalizing Lux Lisbon, Kirsten Dunst seduces with a bite, and while the girls gasp for release, Coppola validates their youthful pain in the way that only her unapologetically feminine lens can.
The Voyeurs (2021)
There are hardly any new erotic thrillers these days, but this recent movie from Michael Mohan intends to bring the genre back. Taking cues from Hitchcock and genre classics like Brian De Palma's Body Double, the movie peers behind the blinds and into one alluring couple's sex life when another young couple, played by Justice Smith and Sydney Sweeney, move into the building across the way. Obsession and intrigue, obviously, follow. With tantalizing sequences and a fair share of mind-boggling twists, the genre film dares to make a voyeur out of you.