The Sexiest Movies on Amazon Prime Right Now
It's getting hot in here.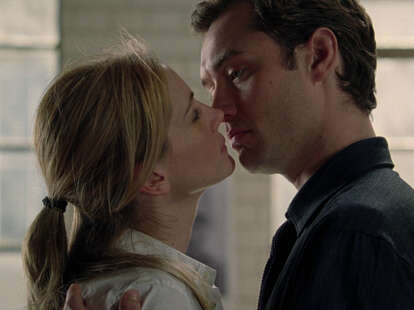 Sex appeals to just about everyone, and it's no secret that the internet has made it as readily available as the paper towels you order off Amazon. But sex is so much more than the physical act; the buildup, the tension, the obstacles, the emotion—in short, the story—make the difference between cheap erotic thrills and a movie that's a steamy good time. Good news: Amazon has also made movies as easy as ordering those paper towels for anyone with an Amazon Prime account. Give these good movies on Amazon a shot the next time you want a tantalizingly horny storyline.
ALSO READ: Our curated lists of the Sexiest Movies on Netflix, the Sexiest Movies on HBO Max, and the Hottest TV Shows Currently Streaming
Closer (2004)
"Lying is the most fun a girl can have without taking her clothes off, but it's better if you do." How could you forget the iconic scene in which Natalie Portman delivers that line—clad in a neon pink wig while giving a lap dance? You couldn't! Plus, it went on to inspired not one, but two Panic! at the Disco songs. The tantalizing scene captures the provocative, deceitful flavor of the film, which sees the demise of two relationships when a man from one couple and the woman from another can't quit an affair. Although the infidelity never appears on screen, Portman, Clive Owen, Jude Law, and Julia Roberts are all on their A game, and you feel the betrayal, seduction, and their characters' brokenness in every flirtation and fight.
The Handmaiden (2016)
Some movies splash across the screen, others turn scenes into bold brushstrokes. The Handmaiden, an erotic thriller with twists and turns and thrusts aplenty, is Park Chan-wook's drip painting. Set in 1930s Korea, the movie follows Sook-hee, a pickpocket, who slips undercover into the staff of a sheltered heiress, with hopes of luring the deep-pocketed woman into the romantic grasp of her con-man partner in crime. The problem: Sook-hee falls madly, lustfully in love with her target. In The Handmaiden, single, sensual drops—a prolonged glance, the zipping up of a dress, whispered white lies—fan out through the entire two-and-a-half-hour narrative into the unexpected.
Jennifer's Body (2009)
If you've heard any talk recently about director Karyn Kusama and writer Diablo Cody's horror-comedy masterpiece Jennifer's Body, it's probably due to the recent resurgence of praise for the movie, crowning it a feminist cult classic of the modern era, tragically under-appreciated in its time. The movie stars Megan Fox as a demonically possessed high school student whose spirit is driving her to murder her male classmates, while her best friend, played by Amanda Seyfried in nerd glasses, tries everything she can to stop her.
The House Bunny (2008)
Anna Faris is very funny—so funny that, at least in the '00s, she was underrated and underused in movies. Thanks to The House Bunny, she finally got her time to shine, playing a Playboy bunny who ends up as a house mother to a sorority struggling to stay afloat when she's forced to retire from the Playboy mansion at 27. It's a silly, kinda misogynist set-up for sure, but it's the kind of movie that's basically begged to be watched at sleepovers (AKA super enjoyable) and has a stellar ensemble of women (Emma Stone, Kat Dennings) who all do a heartwarming job at painting their characters as multidimensional, especially Faris' ditzy, misunderstood Shelley. She gives a performance that's almost Goldie Hawn-like, meaning even though she never got to be the centerfold she hoped to be, she remains a centerfold in our hearts.
The Love Witch (2016)
Director Anna Biller's stylish film is both parody and incisive social commentary, telling the tale of a modern witch (Samantha Robinson) who uses her powers to seduce men. The Technicolor landscape, the cutting humor, and the pathetic men combine to make The Love Witch irresistibly attractive, much like its protagonist. You'll cringe and laugh in equal measure, but mostly you'll admire the confidence with which Biller creates her unique world.
The Neon Demon
While the movie's bloody climax is a bit far from a turn-on, there's a lot of sexual imagery to reckon with here. The Neon Demon idolizes youth to the point of sexually fetishizing it, features Keanu Reeves saying things like, "real Lolita shit," and models discussing whether they are "fruit or sex" when it comes to lipstick shades. Drive director Nicolas Winding Refn's vanity project plays on the kind of sexy that borders on ugly, which hinges on one unforgettably repulsive sex scene with Jena Malone, and, well… you'll see.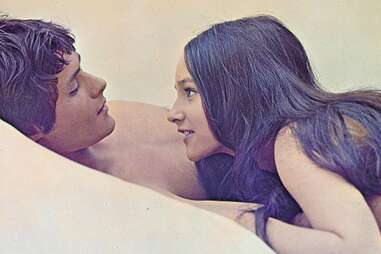 Romeo and Juliet (1968)
You probably watched Franco Zeffrelli's adaptation of the Shakespeare classic in high school literature class, but do you recall how painstakingly gorgeous (not to mention steamy!) it is? Leonard Whiting and Olivia Hussey as the titular star-crossed lovers are a match made in Heaven, and the then newbie actors imbue their performances with an impeccable purity. Of course, it's a tragedy, but this adaptation makes forbidden teenage love out to be as beautiful as William himself intended.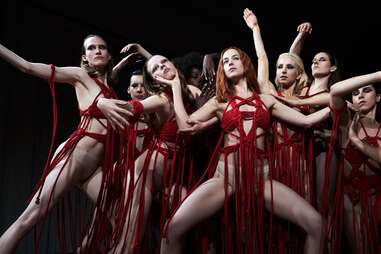 Suspiria (2018)
It takes a lot of guts to remake what is arguably the finest horror film of Dario Argento's career—and fans of the original film should be deeply grateful that a new rendition was handed to director Luca Guadagnino (Call Me By Your Name), who clearly knows and loves the original. What we have here is an epic horror film that follows the quiet but very ominous activities of an elite Berlin dance school faculty, and the unfortunate young women who begin to suspect the truth about the school. Even given the original movie's place in the horror film hall of fame, there's something truly, wildly, indelibly ambitious about this beautifully scary, sensual film. And that score by Thom Yorke!
The Voyeurs (2021)
There are hardly any new erotic thrillers these days, but this recent movie from Michael Mohan intends to bring the genre back. Taking cues from Hitchcock and genre classics like Brian De Palma's Body Double, the movie peers behind the blinds and into one alluring couple's sex life when another young couple, played by Justice Smith and Sydney Sweeney, move into the building across the way. Obsession and intrigue, obviously, follow. With tantalizing sequences and a fair share of mind-boggling twists, the genre film dares to make a voyeur out of you.