The Sexiest Movies on HBO and HBO Max Right Now
For when you want to get in the mood.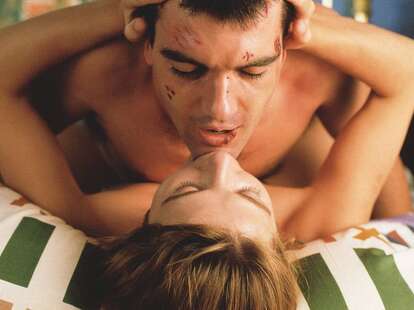 HBO may be known as the king of original prestige dramas, but it also has a long history of airing sexually ripe shows and movies. Whether it's the "after dark" classics Real Sex and Cathouse: The Series, the sexual pursuits of characters on Girls and Sex and the City, or the risqué movies that might feel more apt on its satellite network Cinemax (a.k.a. Skinemax), HBO doesn't shy away from blush-inducing programming. Now that HBO's offerings have been paired with the Warner Bros. movie catalog and much more on HBO Max, we're highlighting the best steamy options available that you can watch right now.
*Indicates titles only available on HBO Max
ALSO READ: The sexiest movies streaming on Netflix and the sexiest movies streaming on Amazon
...And God Created Woman (1956)
This wasn't Brigitte Bardot's first film, but it was the first of hers to spark controversy when it launched in America, and propelled her into her image as a sex symbol. Created by frequent Bardot-collaborator Roger Vadim, the erotic drama follows an 18-year-old orphan (Bardot) in St. Tropez through her series of affairs, including a love triangle with two brothers. It's a simple story, but Bardot's calculated combination of innocence and agency as a sexually liberated woman makes it both ahead of its time and worth a watch for her performance alone.
Basic Instinct (1992)
Has any movie ever done more for ice-based weapons? '90s bad-boy director Paul Verhoeven gave us this lurid tale of a damaged cop, played with real scumbag glee by Michael Douglas, investigating an icepick-wielding serial killer, but Sharon Stone is the real star of this show. Unlike the late-night premium-cable schlock that attempted to steal its sleazy style, this pulp classic has a sense of humor and a Hitchcockian playfulness to go along with all the nudity, violence, and cheesy one-liners.
Belle de Jour* (1967)
Luis Buñuel's Belle de Jour is a classic, and French icon Catherine Deneuve is a bombshell in the leading role. She plays Séverine, an unfulfilled housewife in a chaste marriage with a husband she adores who turns to fantasizing about debasement and eventually sex work in order to feel satisfied. Much is left to the imagination, but the surrealist film is a must-watch erotic movie, as much about fantasy and wish fulfillment as it is suppression.
Behind the Candelabra (2013)
Director Steven Soderbergh took the story of pianist Liberace and his lover, Scott Thorson, to HBO because there were too many scenes of graphic homosexual acts for studios to take a chance on it. Which is a shame, because Michael Douglas and Matt Damon deliver wildly entertaining performances as Liberace and Thorson, respectively, in a story based on Thorson's memoir of their relationship. The film, like so many tales of fame, takes a tragic and downright creepy turn (don't force your lover to get plastic surgery to look like you, folks), but it's a no-holds-barred look at one of the world's most public personalities who managed to keep his personal life private for the vast majority of his career.
Body Heat* (1981)
It may be set against the backdrop of a searing, humid Florida summer, but Body Heat, directed by the first Star Wars trilogy and Raiders of the Lost Ark co-writer Lawrence Kasdan, is like a heatwave in itself. The hot neo-noir finds Kathleen Turner as a femme fatale set on doing away with her husband with the help of her new lover, played by William Hurt. Meanwhile, there are bodies to be buried and arson crimes to be committed, and the assistant deputy prosecutor (played by Ted Danson) and a detective (J.A. Preston) follow the trail to the explosive end. It's the formula for a pinnacle erotic thriller, and this one in particular will make you sweat.
Bridget Jones's Diary* (2001)
One of the quintessential early-aughts rom-coms, and possibly the seminal modern romance based around a notebook (sorry, The Notebook!) Bridget Jones is a wickedly funny Pride and Prejudice remake that forces Renee Zellweger's discombobulated anti-heroine to choose between two equally dashing Brits-with-Jane-Austen-acting-credits: Colin Firth's prissy Mark Darcy and Hugh Grant's womanizing Daniel Cleaver. The ultimate rom-com Sophie's Choice.
Dress to Kill (1980)
First and foremost, any viewing of Brian De Palma's Dressed to Kill should err on the side of caution because it's one of the many films of the 20th century that perpetuated false ideas about gender and mental illness, making it extremely problematic. As an auteur of the thriller genre, though, De Palma is at the top of his game, taking cues from giallo movies and adding a style and eroticism to create the film (and usher in a whole decades-worth of erotic thrillers). After a sex worker named Liz Blake (Nancy Allen) witnesses the murder of a sexually frustrated house wife who was indulging in an affair (Angie Dickinson), she finds herself both hunting for and hunted by the killer, making for a titillating mystery of kinky sex and suspense.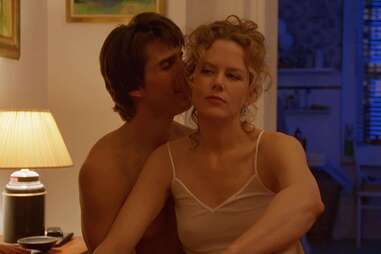 Eyes Wide Shut* (1999)
Eyes Wide Shut is the best psycho-sexual odysessy is also a movie that'll resuscitate your Christmas spirit. Through Tom Cruise and Nicole Kidman's erotic tension, you'll see Christmas trees placed in the background of multiple scenes by notoriously meticulous director Stanley Kubrick, cementing this deeply Freudian meditation on desire a true "holiday" film. At the same time, the last scene of marital reconciliation does play out during a light-strewn shopping trip. It's the most mind-bending, brooding, orgy-filled Christmas movie ever made.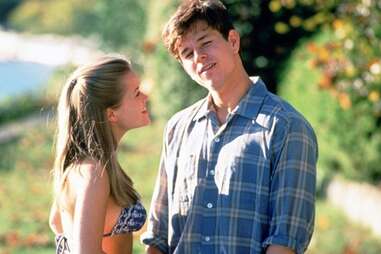 Fear (1996)
Fear has maintained notoriety mostly thanks to one scene: The roller coaster ride. It's easy to see why, because this moment sums up how far the ridiculous erotic thriller goes to ratchet up both the eroticism and the thrills. The film, which features Mark Wahlberg as an older guy into 16-year-old Nicole (Reese Witherspoon), chronicles their relationship from infatuation to obsession. You won't be surprised to learn that things take a potentially fatal turn when Wahlberg's David becomes increasingly possessive and abusive, battling Nicole's father (William Petersen) for dominance in her life. David's obsession and penultimate intrusion sequence are the stuff of nightmares, but they come off as comically melodramatic and ill-fitting in the movie's noir tone—all of which makes Fear a ridiculously fun rollercoaster ride.
Gia (1998)
Angelina Jolie stars as Gia Marie Carangi, considered by some to be the first "supermodel," in this tragic biopic that doesn't skimp on the rejection of sexual convention that helped define her early career. You may be familiar with the nude photoshoot behind a chain-link fence, which leads to Gia's relationship with makeup artist Sandy Linter, a scene unflinchingly recreated in the film, but the depth Jolie brings to Gia's character makes this much more than a typical "unknown shoots to fame before a tragic fall" narrative arc.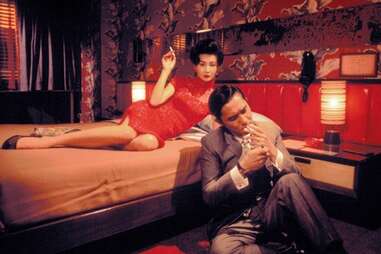 In the Mood for Love* (2000)
Wong Kar-wai's In the Mood for Love has gone down as one of the best, and certainly most breathtaking, films of all time. The Hong Kong film chronicles a story of unrequited love between two neighbors (Tony Leung, Maggie Cheung) who discover their spouses are having an affair. Set in the '60s and later torn apart by war, the immensely sensual romance is about the beauty and lust in even the subtlest moments when every gesture, or trip down the block to pick up noodles, can mean so much.
Magic Mike (2012)
Steven Soderbergh's story of a Tampa exotic dancer with a heart of gold has body-rolled its way to Netflix. Sexy dance routines aside, the movie loosely based on star Channing Tatum and his 8,000 abs' own experience is just gritty enough to be subversive. The Ginuwine dance sequences are truly works of art, but this one is really all about how not hot capitalism is, baby. Did we mention Matthew McConaughey shows up in a pair of assless chaps?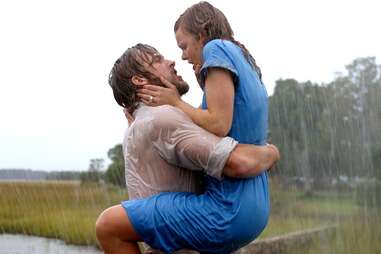 The Notebook* (2004)
"If you're a bird, I'm a bird." It's a simple statement and a declaration of devotion that captures the staying power of this Nicholas Sparks classic. The film made Ryan Gosling a certified heartthrob, charting his working class character Noah's lovelorn romance with Rachel McAdam's wealthy character Allie. The star-crossed lovers narrative is enough to make even the most cynical among us swoon, but given that their story is told through an elderly man reading (you guessed it!) a notebook to a woman with dementia, it hits all of the tragic romance benchmarks to make you melt. Noah's commitment to following his heart—and that passionate kiss in the rain—make this a love story for the ages.
Romance and Cigarettes (2005)
Did you know that James Gandolfini once starred in a musical? And that John Turturro directed said musical? And that Kate Winslet co-stars in it as Gandolfini's brazen mistress? It's true, and Romance and Cigarettes is that extremely campy movie. Through lip-synced popular songs and a Coen Brothers-esque quirky sensibility, the movie navigates a working class Queens man's internal and familial turmoil as he debates leaving his wife (Susan Sarandon) for a younger woman (Winslet). It's an off-beat one, but you'll find bombshell performances from Winslet, Sarandon, and Mandy Moore, who plays one of Gandolfini's daughters.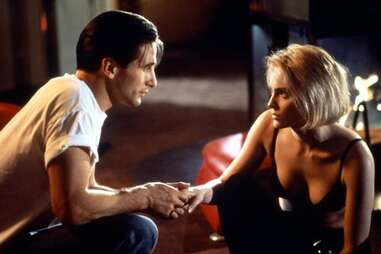 Sliver (1993)
While some erotic thrillers like Fatal Attraction are known for being trashy but good, others are outright bad. That doesn't mean they're lacking in the erotic department, though! That's like Sliver, which stars known erotic thriller actress Sharon Stone as the newbie resident, who moves into her Manhattan high rise just after a former tenant mysteriously died. The film managed to scrape by with an NC-17 rating following a handful of reshoots, but that just means it's still full of explicit shots of the affairs that unfold in Building 113. It's ridiculous and will get your heart pounding in more way than one with all of its voyeuristic qualities.
A Star is Born (2018)
This is a movie of competing voices: On one end of the spectrum, you have the guttural croak of Jackson Maine, the hard-living, cowboy-rock troubadour played by the film's director, producer, and co-writer Bradley Cooper; on the other end is the soulful roar of Ally, the waitress harboring dreams of stardom played by IRL pop icon Lady Gaga. The contrast between the two vocal deliveries is part of what makes the film's Oscar-winning power ballad "Shallow" so immediately alluring, the sonic equivalent of your goosebumps getting goosebumps, and that same tension drives the film's most compelling scenes. A claustrophobic movie about fame, A Star Is Born works best in its completely captivating first hour, which explores the creative and romantic spark of Jackson and Ally's relationship. You have to believe in this fiery relationship for the story to work—and their sizzling chemistry certainly makes you believe in the fantasy of a black SUV providing a portal to another life of jam-packed festival stages, booze-soaked backstage parties, and tightly choreographed SNL performances.
Tie Me Up! Tie Me Down!* (1990)
Spanish director Pedro Almodóvar has carved out a niche for himself telling stories about troubled men and women crashing into each other's lives. His 1990 dark romantic comedy Tie Me Up! Tie Me Down! is perhaps the most simplistic of his many narratives. A recently released mental patient (Antonio Banderas) falls for an actress (Victoria Abril) and decides to hold her hostage until she loves him. The actress has been on a downward spiral for a while, fighting drug dependency while accepting a lesser role in a goofy thriller. Despite the squeamishness of its premise, Almodóvar crafts a sweet, surprisingly innocent romance. His superpower as a director is making even the most unpalatable stories go down with a splash of color and a childlike optimism that shapes the motives of his characters.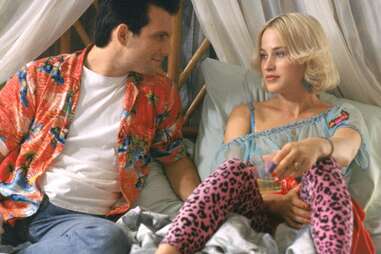 True Romance* (1993)
The minute Dennis Hopper's ex-cop Clifford launches into a racial epithet-filled dissection of Sicilian lineage (or by the opening scene, as Christian Slater's Clarence pitches Patricia Arquette's Alabama on the wonders of kung fu movies), you know Quentin Tarantino is behind the wheel of this twisted crime romance. Directed the hell out of by Tony Scott (Top Gun), it's a wild road movie, seated shotgun next to a pair of outrageous newly weds as they trek across the country with stolen drugs and mobsters on their tail. Tarantino's ecstatic dialogue, the pop culture references, and oh-so-'90s shootouts have made it a cult film to remember, but it's Clarence and Alabama's true romance at the movie's coked out heart that fuels all that passion.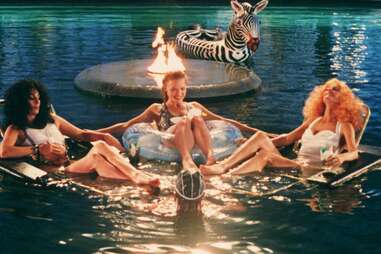 Witches of Eastwick* (1987)
Cher, Michelle Pfeiffer, and Susan Sarandon play best friends who accidentally form a coven and conjure up their ideal man, who's played by an unhinged Jack Nicholson, in this movie. Which is to say: It's super horny, but also a hilarious, campy dark comedy about men and women's fantasies. Through their seduction and eventual use of a little bit of Voodoo to bring down their dream man once he turns satanic, everybody in the cast is irresistible. Playing into the divine feminine, Witches of Eastwick has the power to put a spell on you.