The Sexiest Movies on HBO Max Right Now
For when you want to get in the mood.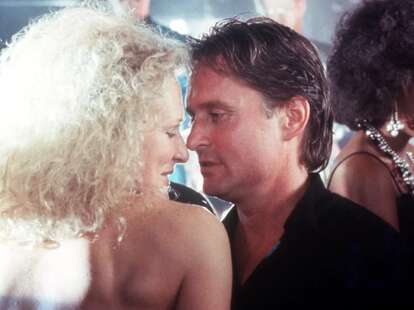 HBO may be known as the king of original prestige dramas, but it also has a long history of airing sexually ripe shows and movies. Whether it's the "after dark" classics Real Sex and Cathouse: The Series, the sexual pursuits of characters on Girls and Sex and the City, or the risqué movies that might feel more apt on its satellite network Cinemax (a.k.a. Skinemax), HBO doesn't shy away from blush-inducing programming. Now that HBO's offerings have been paired with the Warner Bros. movie catalog and much more on HBO Max, we're highlighting the best steamy options available that you can watch right now.
ALSO READ: The sexiest movies streaming on Netflix and the sexiest movies streaming on Amazon
...And God Created Woman (1956)
This wasn't Brigitte Bardot's first film, but it was the first of hers to spark controversy when it launched in America, and propelled her into her image as a sex symbol. Created by frequent Bardot-collaborator Roger Vadim, the erotic drama follows an 18-year-old orphan (Bardot) in St. Tropez through her series of affairs, including a love triangle with two brothers. It's a simple story, but Bardot's calculated combination of innocence and agency as a sexually liberated woman makes it both ahead of its time and worth a watch for her performance alone.
Anna Karenina (2012)
Adapted by renowned playwright Tom Stoppard, this take on Leo Tolstoy's classic Russian novel is anything but stuffy, historical drama. Keira Knightley, Jude Law, Aaron Taylor-Johnson, Domhnall Gleeson, Alicia Vikander are all overflowing with passion and desire, heating up the chilly backdrop of St. Petersburg. But it's director Joe Wright's unique staging—full of dance, lush costuming, fourth-wall-breaking antics, and other theatrical touches—that reinvent the story for more daring audiences.
Atonement (2007)
This sweeping romantic epic, based on the Ian McEwan novel of the same name, sees young lovers Robbie (James McAvoy), the working-class son of a housekeeper, and Cecilia (Kiera Knightley), an heiress, pulled apart by WWII and damning accusations that Cecilia's younger sister (Saoirse Ronan) makes against Robbie. While the tragically beautiful film from Joe Wright becomes a war drama, the first half sees some of the most affectionate pining in cinema history (all that British restraint! the fountain scene! explicit love letters!), which then culminates in one of the most passionate sex scenes there is. The movie will make you feel the pain of their separation, and then ultimately have your heart broken many times over.
Belle de Jour (1967)
Luis Buñuel's Belle de Jour is a classic, and French icon Catherine Deneuve is a bombshell in the leading role. She plays Séverine, an unfulfilled housewife in a chaste marriage with a husband she adores who turns to fantasizing about debasement and eventually sex work in order to feel satisfied. Much is left to the imagination, but the surrealist film is a must-watch erotic movie, as much about fantasy and wish fulfillment as it is suppression.
Behind the Candelabra (2013)
Director Steven Soderbergh took the story of pianist Liberace and his lover, Scott Thorson, to HBO because there were too many scenes of graphic homosexual acts for studios to take a chance on it. Which is a shame, because Michael Douglas and Matt Damon deliver wildly entertaining performances as Liberace and Thorson, respectively, in a story based on Thorson's memoir of their relationship. The film, like so many tales of fame, takes a tragic and downright creepy turn (don't force your lover to get plastic surgery to look like you, folks), but it's a no-holds-barred look at one of the world's most public personalities who managed to keep his personal life private for the vast majority of his career.
Bridget Jones's Diary (2001)
One of the quintessential early-aughts rom-coms, and possibly the seminal modern romance based around a notebook (sorry, The Notebook!) Bridget Jones is a wickedly funny Pride and Prejudice remake that forces Renee Zellweger's discombobulated anti-heroine to choose between two equally dashing Brits-with-Jane-Austen-acting-credits: Colin Firth's prissy Mark Darcy and Hugh Grant's womanizing Daniel Cleaver. The ultimate rom-com Sophie's Choice.
Chicago (2002)
This Broadway-to-screen adaptation was the first musical to pick up the Best Picture Oscar in 34 years, and for good reason. Jubilant, raunchy, and bold enough to stage musical numbers in the least realistic ways possible, Chicago is an unabashed Hollywood production where the star-studded cast of Renée Zellweger, Catherine Zeta-Jones, Richard Gere, Queen Latifah, John C. Reilly doesn't so much disappear into roles like the murderous Roxie Hart or the manipulative Billy Flynn as it does completely own them. A good movie to play in the background for the tunes but a great movie to sit down and soak up. "Pop, six, squish, uh-uh, Cicero, Lipschitz," baby!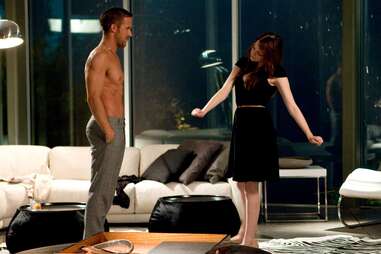 Crazy, Stupid, Love. (2011)
Many of us could probably learn a thing or two about romance and seduction from the ultra-charming Ryan Gosling. Steve Carell takes his advice (to some success) in this lovable comedy about a middle-aged man separated from his wife (Julianne Moore) and trying to get his game back with the help of a young playboy (Gosling). It's the interconnected kind of rom-com that actually works, largely because of the all-star cast and the transfixing chemistry between Gosling and frequent co-star Emma Stone. The movie may ultimately have more heart than it does sex appeal (although, Gosling's Dirty Dancing-inspired trick to get girls into bed is interesting), but even as it proves how tough love can be, it's an easy flick to fall for.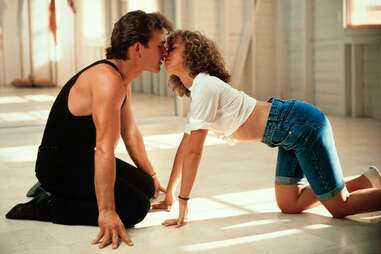 Dirty Dancing (1987)
Nobody puts Dirty Dancing in a corner. More than 30 years after its release, this Patrick Swayze star-maker remains a cultural touchstone for generations of kids who hated going on family vacation. The ultimate fantasy combines wish fulfillment on several levels: escaping your family's grasp; rebelling against a stuffy, conservative society; and achieving a personal sexual awakening in the process. It's all captured in Swayze's dance instructor Johnny Castle and Jennifer Grey's 17-year-old Baby Houseman, who engage in a fraught relationship that centers around—you guessed it—dancing during the Housemans' vacation in a Catskills resort. Plenty of Swayze hip thrusts ensue.
Dressed to Kill (1980)
First and foremost, any viewing of Brian De Palma's Dressed to Kill should err on the side of caution because it's one of the many films of the 20th century that perpetuated false ideas about gender and mental illness, making it extremely problematic. As an auteur of the thriller genre, though, De Palma is at the top of his game, taking cues from giallo movies and adding a style and eroticism to create the film (and usher in a whole decades-worth of erotic thrillers). After a sex worker named Liz Blake (Nancy Allen) witnesses the murder of a sexually frustrated house wife who was indulging in an affair (Angie Dickinson), she finds herself both hunting for and hunted by the killer, making for a titillating mystery of kinky sex and suspense.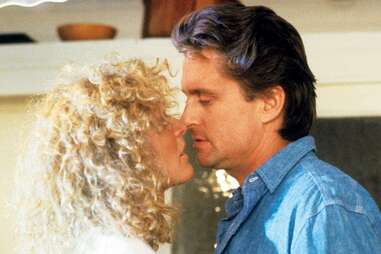 Fatal Attraction (1987)
In the years since its release, Fatal Attraction has been boiled (pun intended) down to its most iconic moments. The poor bunny, for instance. But when you actually give it a watch, you remember how skillful and sexy Adrian Lyne's iconic thriller is. You know the basic premise: Michael Douglas, the king of this genre, is Dan Gallagher, a lawyer with a great apartment and a kind wife (Anne Archer) and a cute daughter who are looking to move out of the city. When his brood is away, Dan meets book editor Alex Forrest (Glenn Close) with wild hair and a cigarette dangling from her lips. They have an innuendo-filled lunch and start an affair. But whereas Dan thinks it's a brief thing, Alex has other plans. What's remarkable is that even after you know where things are going, the chemistry between Dan and Alex is so intense you sort of get why he keeps coming back.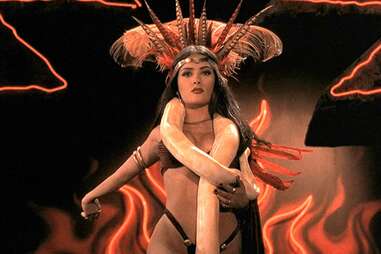 From Dusk Till Dawn (1996)
You've see pulpy crime movies and you've seen vampire movies—but have you seen the ultra-violent mash-up of them both? From Dusk Till Dawn, written by Quentin Tarantino and directed by Robert Rodriguez, criticizes the cheap, big studio genre movies of the time by throwing the concepts into a blender, along with some Tarantino-esque bloodiness, to create a ridiculous, yet trendy, cult film. Tarantino takes a leading role in the film, opposite George Clooney, as the two play criminals who take a family (featuring patriarch Harvey Keitel) hostage and across the Mexican border. It's there at a dingy desert strip club that they make the fine introduction with a group of bloodthirsty vampires—including Selma Hayek in an iconic appearance—and campy gruesomeness ensues.
Gia (1998)
Angelina Jolie stars as Gia Marie Carangi, considered by some to be the first "supermodel," in this tragic biopic that doesn't skimp on the rejection of sexual convention that helped define her early career. You may be familiar with the nude photoshoot behind a chain-link fence, which leads to Gia's relationship with makeup artist Sandy Linter, a scene unflinchingly recreated in the film, but the depth Jolie brings to Gia's character makes this much more than a typical "unknown shoots to fame before a tragic fall" narrative arc.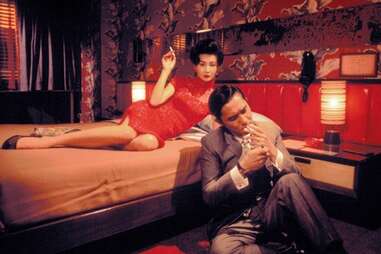 In the Mood for Love (2000)
Wong Kar-wai's In the Mood for Love has gone down as one of the best, and certainly most breathtaking, films of all time. The Hong Kong film chronicles a story of unrequited love between two neighbors (Tony Leung, Maggie Cheung) who discover their spouses are having an affair. Set in the '60s and later torn apart by war, the immensely sensual romance is about the beauty and lust in even the subtlest moments when every gesture, or trip down the block to pick up noodles, can mean so much.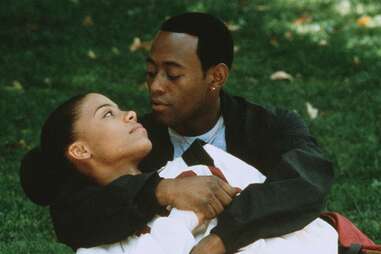 Love & Basketball (2000)
The great Gina Prince-Bythewood—who has since made the sensitive and steamy Beyond the Lights and the fierce The Old Guard—made her feature film debut with this timeless love story about two teenage basketball players. There's a hint of autobiography to the material given that Prince-Bythewood herself was a high school basketball player who later ran track at UCLA, which is why the portrayal of the protagonist Monica (Sanaa Lathan) and her competitive drive still feels so rare. Yes, Love & Basketball is great because of the undeniable chemistry between Lathan and Omar Epps—as well as one of the best virginity loss scenes in film—but also because we so infrequently get to see female athletes like Monica on screen.
The Lure (2015)
The Lure is a Polish horror movie/musical about two mermaids who meet a band, follow them to a nightclub, and get a gig there as a pair of showgirls, seducing and falling for human boys left and right. All around very conventional, right?! Seriously, though, the '80s-set, disco-fied version of The Little Mermaid is an inventive, stylish film from Agnieszka Smoczyńska about objectification and our fascination with bodies, and it's even got original songs. Like beautiful creatures from the deep, it'll lure you in with all of its flashy elements before devouring you whole.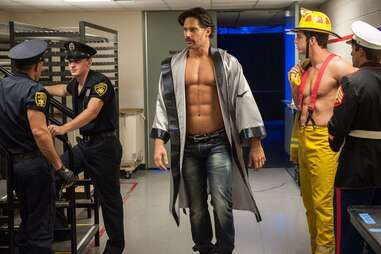 Magic Mike XXL (2015)
Magic Mike XXL improves upon its predecessor immeasurably, but not how you'd expect. Instead of replicating or even expanding upon the original, XXL, ahem, strips it down, excising extraneous plot to focus exclusively on pleasure. The result is a refreshing, even radical movie, and one that doesn't care remotely for the obligations of convention with Channing Tatum and the rest of the six-packed crew setting out on the road for one last hurrah at a male stripper convention. It's one of the purest iterations of a hanging out with your boys movies—making your heart equally warm and taken with with Xquisite talent. Who knew convenience store strip teases could be both hot and the peak example of dude camaraderie?
Moonstruck (1987)
If you have not yet been initiated into the cult of Moonstruck, this is your official sign. Norman Jewison's classic rom-com about a widowed Italian-American woman who falls in love with her new fiancé's asshole brother has only grown its fanbase over the years. Nothing, literally nothing, is more romantic than watching Cher and Nic Cage just screaming at each other—and few have ever looked as incredible in a performance as they do.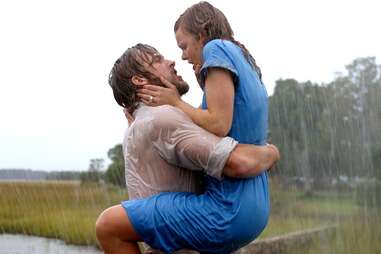 The Notebook (2004)
"If you're a bird, I'm a bird." It's a simple statement and a declaration of devotion that captures the staying power of this Nicholas Sparks classic. The film made Ryan Gosling a certified heartthrob, charting his working class character Noah's lovelorn romance with Rachel McAdam's wealthy character Allie. The star-crossed lovers narrative is enough to make even the most cynical among us swoon, but given that their story is told through an elderly man reading (you guessed it!) a notebook to a woman with dementia, it hits all of the tragic romance benchmarks to make you melt. Noah's commitment to following his heart—and that passionate kiss in the rain—make this a love story for the ages.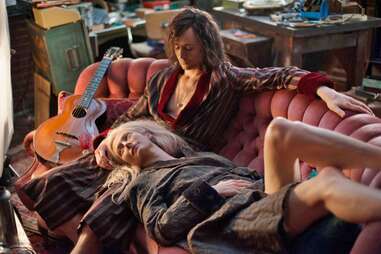 Only Lovers Left Alive (2013)
This vampire movie from indie filmmaker Jim Jarmusch (Broken Flowers, Night on Earth) isn't like the vampire franchises that were popular in the 2010s. It is a Jarmusch movie, after all—but you can count on it to have a passionate, centuries-old romance between Tilda Swinton and Tom Hiddleston, no matter how blasé their undead characters are about life. In the film, Jarmusch hews closely to the hyper-referential, offbeat style he cultivated in '80s indie classics like Stranger Than Paradise, Down By Law, and Mystery Train, flipping familiar blood-sucker mythology on its head for a poetic meditation on love, death, and the passage of time. If you let it sink its fangs in, the movie lingers longer than its sparklier counterparts.
Pride & Prejudice (2005)
This is the modern cinematic retelling of Pride and Prejudice that you need in your life. Taking Jane Austen's literary classic and tricking it out with gorgeous long takes, director Joe Wright turns the tale of manners into a visceral, luminescent portrait of passion and desire. While Matthew MacFadyen doesn't quite make you forget Colin Firth from 1995's BBC adaptation, Keira Knightley is a revelation as the tough, nervy Lizzie Bennett. With fun supporting turns from Donald Sutherland, Rosamund Pike, and Judi Dench, it's a sumptuous period romance that transports you from the couch to the ballroom of your dreams—without changing out of sweatpants.
Risky Business (1983)
It's the movie that made Tom Cruise a star, and easily the most stylishly directed teen sex comedy ever made. Cruise's nerdy main character is all ready to go to Princeton, but then he gets a taste of the wild life courtesy of Rebecca De Mornay's reckless sex worker. They have sex. Cars get wrecked. Parties get thrown. Furniture gets stolen. He basically acts out what many straight, red-blooded American, teenage boys would like their coming-of-age to be. Oh, and he lip-syncs to Bob Seger in his underwear.
Tie Me Up! Tie Me Down! (1990)
Spanish director Pedro Almodóvar has carved out a niche for himself telling stories about troubled men and women crashing into each other's lives. His 1990 dark romantic comedy Tie Me Up! Tie Me Down! is perhaps the most simplistic of his many narratives. A recently released mental patient (Antonio Banderas) falls for an actress (Victoria Abril) and decides to hold her hostage until she loves him. The actress has been on a downward spiral for a while, fighting drug dependency while accepting a lesser role in a goofy thriller. Despite the squeamishness of its premise, Almodóvar crafts a sweet, surprisingly innocent romance. His superpower as a director is making even the most unpalatable stories go down with a splash of color and a childlike optimism that shapes the motives of his characters.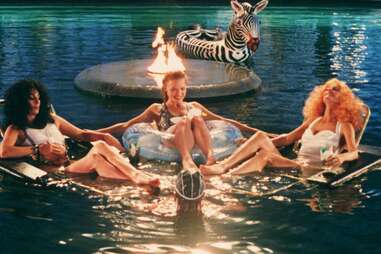 Witches of Eastwick (1987)
Cher, Michelle Pfeiffer, and Susan Sarandon play best friends who accidentally form a coven and conjure up their ideal man, who's played by an unhinged Jack Nicholson, in this movie. Which is to say: It's super horny, but also a hilarious, campy dark comedy about men and women's fantasies. Through their seduction and eventual use of a little bit of Voodoo to bring down their dream man once he turns satanic, everybody in the cast is irresistible. Playing into the divine feminine, Witches of Eastwick has the power to put a spell on you.