The Sexiest Movies on HBO
HBO might have gotten rid of its late night adult entertainment, but there's still plenty of Hollywood-approved hot stuff to get your blood pumping.
HBO has a reputation when it comes to sexually ripe programming. With "after dark" hits like Real Sex and Cathouse: The Series, the pay-cable network has and will probably never completely abandon the porn-like series that have become more synonymous with its satellite network Cinemax (a.k.a. Skinemax). Really, HBO is more upfront about the offerings than anything resembling "softcore" --  it doesn't get much more blatant than "G String Divas."
HBO's late-night programming isn't for everyone. If you're looking for a more traditionally sexy route, check out these Hollywood-approved movies currently streaming on the platform.  
HBO
Behind the Candelabra (2013)
Director Steven Soderbergh took the story of pianist Liberace and his lover, Scott Thorson, to HBO because there were too many scenes of graphic homosexual acts for studios to take a chance on it. Which is a shame, because Michael Douglas and Matt Damon deliver wildly entertaining performances as Liberace and Thorson, respectively, in a story based on Thorson's memoir of their relationship. The film, like so many tales of fame, takes a tragic and downright creepy turn (don't force your lover to get plastic surgery to look like you, folks), but it's a no-holds-barred look at one of the world's most public personalities who managed to keep his personal life private for the vast majority of his career. 
Miramax
Chocolat (2000)
Before Nicholas Sparks dominated the scene like a sappy Boss Tweed, there was this ​gooey rom-dram, a '90s movie for the new millennium. Running with the chocolate-as-the-ultimate-aphrodisiac pseudoscience, Chocolat pairs the illustrious Juliette Binoche with then-heartthrob Johnny Depp, rubbing them together in a small French village for maximum friction. As Binoche's imported morsels help local villagers get their freak on, she combats claims of religious heresy and steams up the room with Depp. Piping hot, like the best cup of cocoa.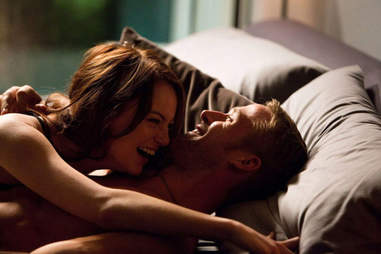 Warner Bros. Pictures
Crazy, Stupid, Love. (2011)
Many of us could probably learn a thing or two about romance and seduction from the ultra-charming Ryan Gosling. Steve Carell takes his advice (to some success) in this lovable comedy about a middle-aged man separated from his wife (Julianne Moore) and trying to get his game back with the help of a young playboy (Gosling). It's the interconnected kind of rom-com that actually works, largely because of the all-star cast and the transfixing chemistry between Gosling and frequent co-star Emma Stone. The movie may ultimately have more heart than it does sex appeal (although, Gosling's Dirty Dancing-inspired trick to get girls into bed is interesting), but even as it proves how tough love can be, it's an easy flick to fall for.
Warner Bros. Pictures
Dangerous Liaisons (1988)
Dangerous Liaisons is all about the art of seduction, and Stephen Frear's 1988 adaptation of the classic 18th century French novel is definitely a grandiose masterpiece on the craft. The film garnered a handful of Oscar nominations, and hails a cast of Glenn Close, John Malkovich, and Michelle Pfeiffer who are all at their most delicious and deceitful when a calculated game of lust unravels between them. Dangerous indeed!
HBO
Gia (1998)
Angelina Jolie stars as Gia Marie Carangi, considered by some to be the first "supermodel," in this tragic biopic that doesn't skimp on the rejection of sexual convention that helped define her early career. You may be familiar with the nude photoshoot behind a chain-link fence, which leads to Gia's relationship with makeup artist Sandy Linter, a scene unflinchingly recreated in the film, but the depth Jolie brings to Gia's character makes this much more than a typical "unknown shoots to fame before a tragic fall" narrative arc. 
20th Century Fox
How Stella Got Her Groove Back (1998)
A vacation fling -- you know the kind where you have a limited amount of time with a virtual stranger you meet on a trip -- is a very special breed of steamy affair. It is, in fact, how Stella (Angela Bassett) gets her groove back as she retreats to Jamaica to get away from her mundane life and meets a much younger man (Taye Diggs) who falls for her. With chemistry that melts like the condensation on the glass of a mojito between the strong leads, it's the kind of escapist fantasy story that rom-coms are meant for.
20th Century Fox
John Tucker Must Die (2006)
Sometimes nothing is as pleasurable as revenge. The entire plot of this classic, raunchy teen comedy toys with the game of seduction as three high school girls from different cliques realize they're all being taken advantage of and cheated on by the titular school hot shot, John Tucker (Jesse Metcalfe), and plot with a new girl (Brittany Snow) to break his heart. In all of its absolute ridiculousness, the naughty aughts flick is still tempting and delicious like a cherry lipgloss-smeared make out sesh.
United Artists
Last Tango in Paris (1973)
Even if you've never seen Bernardo Bertolucci's Last Tango in Paris, you probably know the premise: A crusty American businessman (Marlon Brando) heads to Paris to clear his head after his estranged wife kills herself. There, he meets a beautiful young woman (Maria Schneider) and they begin a wild, frequently sadomasochistic affair based purely on sex. But there's a darker psychology happening here, if you can look past Brando's bare ass to see it.
Though it was widely hailed as an erotic masterpiece when it was originally released, its problematic production has tainted its reputation over time. In one of the film's most can't-unsee-it scenes, a stick of butter is used as a lubricant as Brando forces himself upon Schneider. The actress has since gone on record to say that this scene was not in the script, and she felt humiliated by it, but was too young and inexperienced to speak up. Now that contemporary attention has turned to the rampant abuse throughout Hollywood (and virtually every industry), Last Tango in Paris has become emblematic of a culture that not only permitted abusive behavior, but celebrated it. Matters were made worse two years after Schneider's death, when Bertolucci admitted he and Brando had conspired to create the scene without Schneider's consent. Bertolucci earned an Oscar nomination for Best Director for the film (Brando scored a Best Actor nod, too), while Schneider -- just 19 during production, compared to Brando's 48 and Bertolucci's 31 -- never received accolades for her performance. All of which explains why, when Bertolucci passed away on November 26, 2018, Last Tango in Paris was the film most frequently mentioned in his many obituaries.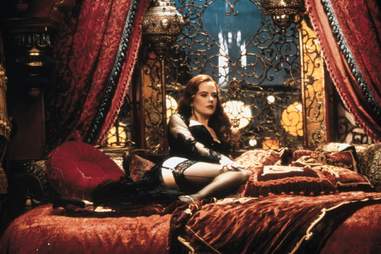 20th Century Fox
Moulin Rouge! (2001)
Baz Luhrmann's Moulin Rouge! is sugary pop and sexy excess served on a glitzy silver platter. Set at the titular Parisian nightclub in 1899, the film is a now classic jukebox musical about the love story between a struggling bohemian poet (Ewan McGregor) and cabaret performer/courtesan (Nicole Kidman). Considering it's a Luhrmann film, the director obviously doesn't hold back on the production: the corsets, cancan skirts, and boudoir sets take you to the 19th Century even as the cast is singing singing "Smells Like Teen Spirit." It's really all about the power of love, though, and it never strays from being a genuine, passionate romance. "Voulez-vous coucher avec moi ce soir?" Voulez-vous coucher avec moi, baby!
20th Century Fox
Mr. and Mrs. Smith (2005)
Ah, Mr. and Mrs. Smith -- or the movie where (then not-yet-public real-life couple) Brad Pitt and Angelina Jolie play a very hot couple who are also assassins hired to kill the other. It's an action blockbuster first and foremost, but when the two both botch a job and learn of each other's previously secret professions (how???), and are forced to see that one of them ends up dead, it becomes quite the domestic squabble. (The tension of that at-home action sequence cannot be overstated). If you need any refresher of why the Brangelina craze was such a big deal in the '00s, their on-screen hotness here should do the trick. 
Focus Features
Nocturnal Animals (2016)
Seven years after A Single Man, his directorial debut, fashion designer Tom Ford stepped back behind the camera to construct a relationship thriller that rings of Cormac McCarthy. Only Ford could put together a movie this stylish and gritty about a woman (Amy Adams) haunted by her ex-husband's (Jake Gyllenhaal) latest revenge novel that unfolds on the screen with every page turn. It'll leave you wondering, "What the hell did I just watch?" in the best way possible.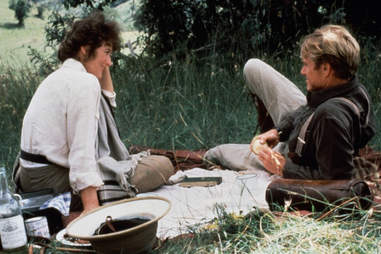 Universal Pictures
Out of Africa (1985)
Meryl Streep. Robert Redford. Need we say more? This Best Picture winner is a romantic epic that focuses on the real life of Karen Blixen, a Danish baroness transplanted to Kenya to invest in a coffee farm where she meets a big game hunter played by Redford. Tragedy may be abound, but the affair that develops between them is as sprawling as the film's iconic shots of the African plains. It's like an Old Hollywood love story, and, as ever, the two leads bring on the charm.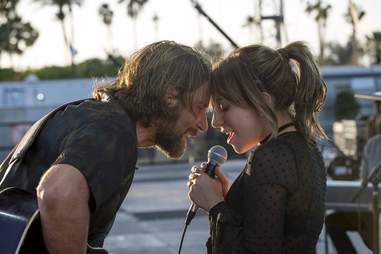 Warner Bros. Pictures
A Star is Born (2018)
This is a movie of competing voices: On one end of the spectrum, you have the guttural croak of Jackson Maine, the hard-living, cowboy-rock troubadour played by the film's director, producer, and co-writer Bradley Cooper; on the other end is the soulful roar of Ally, the waitress harboring dreams of stardom played by IRL pop icon Lady Gaga. The contrast between the two vocal deliveries is part of what makes the film's Oscar-winning power ballad "Shallow" so immediately alluring, the sonic equivalent of your goosebumps getting goosebumps, and that same tension drives the film's most compelling scenes. A claustrophobic movie about fame, A Star Is Born works best in its completely captivating first hour, which explores the creative and romantic spark of Jackson and Ally's relationship. You have to believe in this fiery relationship for the story to work -- and their sizzling chemistry certainly makes you believe in the fantasy of a black SUV providing a portal to another life of jam-packed festival stages, booze-soaked backstage parties, and tightly choreographed SNL performances. 
Need help finding something to watch? Sign up here for our weekly Streamail newsletter to get streaming recommendations delivered straight to your inbox.